By Allison Sicking
What is Sian Ka'an?
Sian Ka'an is officially designated as a Biosphere Reserve and a UNESCO World Heritage Site. Meaning "Where the sky is born" in Mayan, Sian Ka'an is a tranquil nature reserve that is home to thousands of different species of flora and fauna, marine animals, birds, and other wildlife.
Disclosure: This article contains affiliate links. Making a purchase through an affiliate link will mean a small commission for this website. This will not affect your price.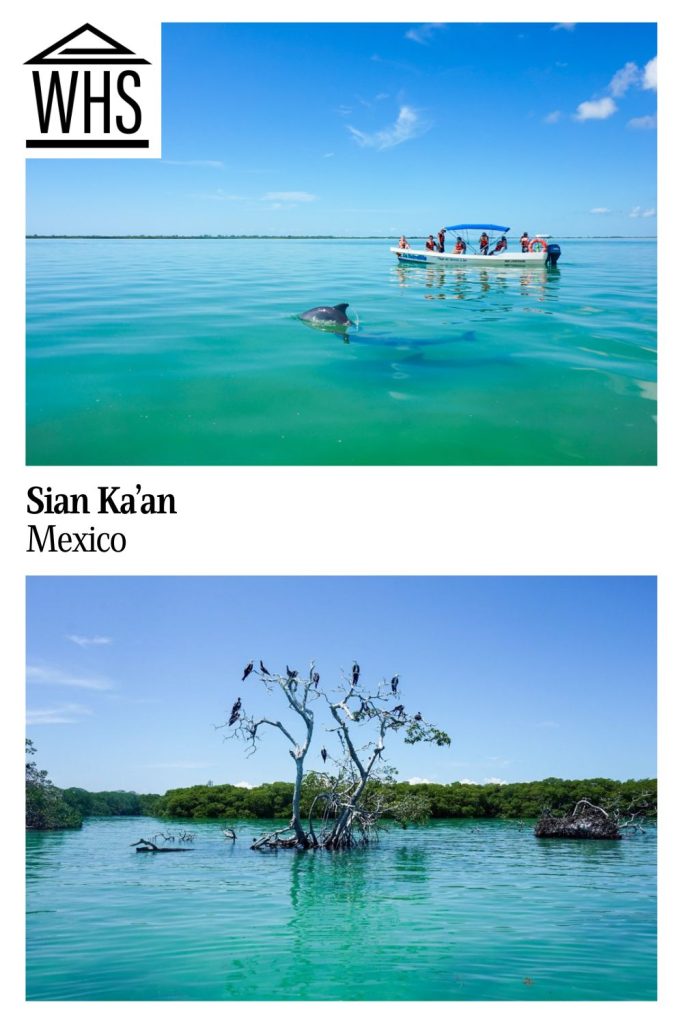 Sian Ka'an is comprised of a variety of diverse ecosystems including tropical forests, palm savannah, wetlands, coral reefs, lagoons, cenotes, and mangroves, as well as sandy beaches and dunes. Covering over 652,000 hectares (1.6 million acres), it is one of the largest protected areas in Mexico and offers the unique opportunity to observe wildlife in its natural habitat.
Why is Sian Ka'an a UNESCO World Heritage site?
Sian Ka'an is a UNESCO World Heritage site because of the diverse wildlife found in its intricately linked marine, coastal and terrestrial ecosystems. According to UNESCO's website, "the scale and conservation status of Sian Ka'an and its ecosystem diversity support a fascinating range of life forms." Sian Ka'an promotes conservation and adheres to strict regulations to keep the area preserved.
What can you expect on a visit to Sian Ka'an?
Due to its remote location, the easiest way to visit Sian Ka'an is through a guided eco-tour, which is a full-day wildlife expedition offering a small boat tour, snorkeling, and nature observation. On the tour you'll encounter a variety of wildlife including crocodiles, dolphins, sea turtles, stingrays, starfish, and native birds – all in their natural habitat.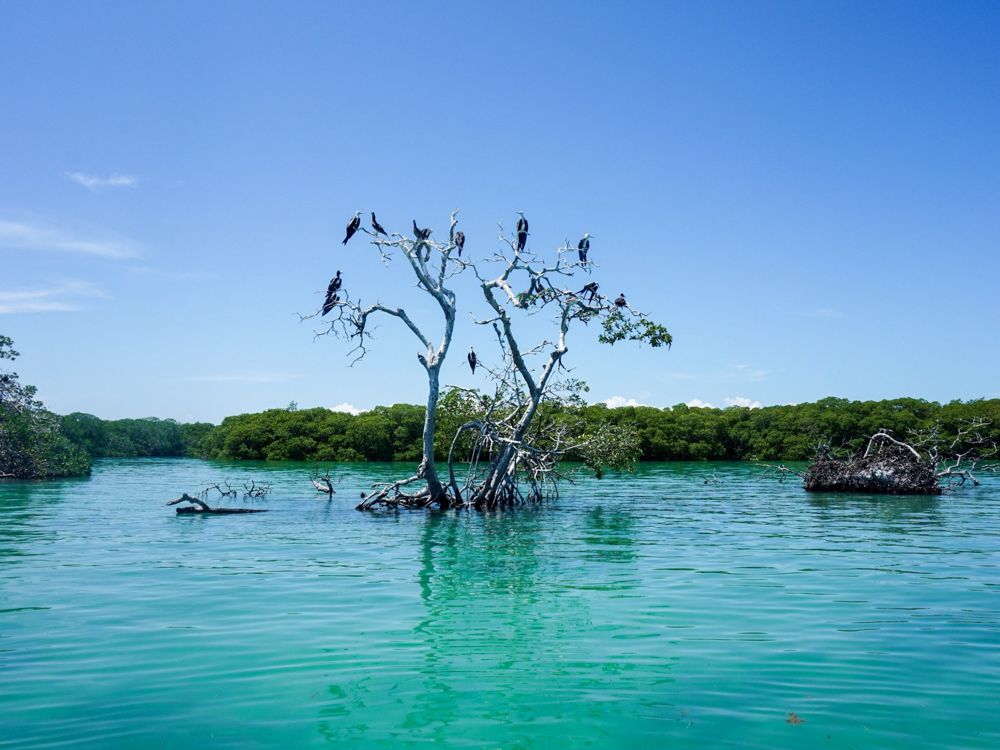 While swimming in the areas with the marine animals is prohibited, visitors are permitted to snorkel in the coral reefs, which offer some of the best snorkeling in the region. You'll also get to visit "Isla de Pajaros" (Bird Island), where you'll see an impressive population of bird species.
Small group tours of Sian Ka'an typically also include a visit to Punta Allen, which is a small fishing village with tropical beaches and picturesque Caribbean views.
Is Sian Ka'an worth visiting?
Sian Ka'an is a less well-known destination and is definitely worth visiting for the unique opportunity to observe marine animals, wildlife, and exotic plant varieties all in their native habitat. Sian Ka'an is a highly protected area that has been untouched by mass tourism, a sharp contrast to many of the nearby tourist attractions in Tulum, Playa del Carmen, and Cancun.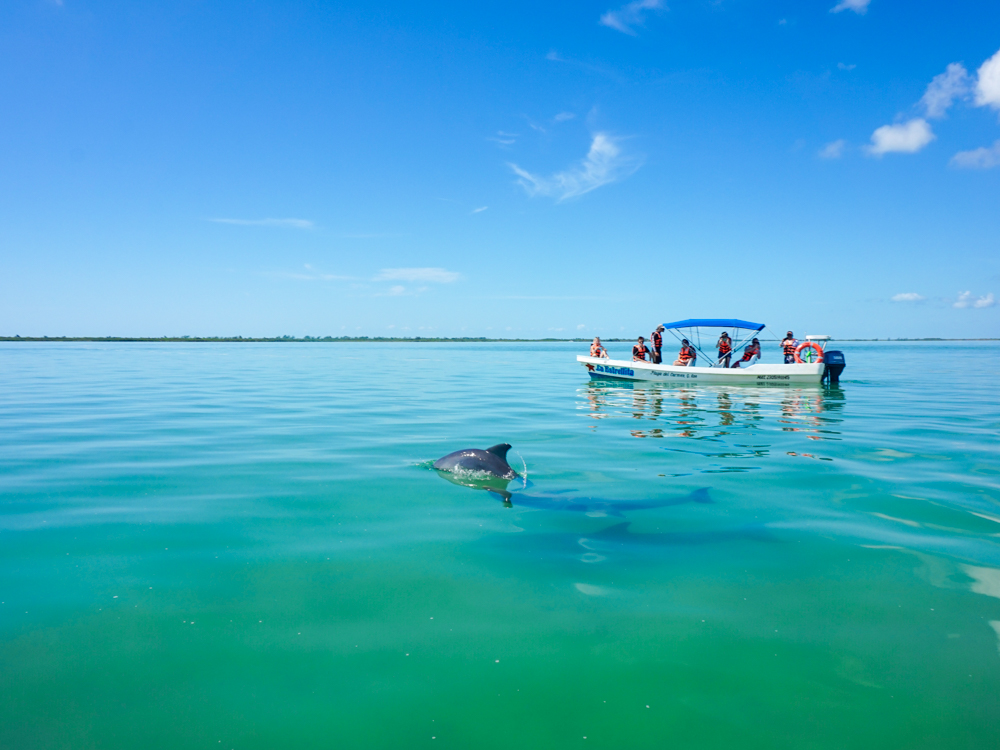 What sorts of travelers would like Sian Ka'an?
Visiting Sian Ka'an is perfect for nature lovers seeking an outdoor adventure experience. It is a tranquil place for responsible eco-conscious travelers to observe the untouched natural beauty of the Mexican Caribbean.
Tips for visiting Sian Ka'an
When booking a Sian Ka'an tour, it's best to choose a small group or private tour from a reputable tour operator that is committed to minimizing environmental impact.
As Sian Ka'an is a protected area, all types of sunscreen are prohibited (even biodegradable). It can be quite sunny on the boat so you'll definitely want to bring a rash guard, sun hat, or protective clothing for sun protection.
Due to its remote location, there is no cell service at Sian Ka'an. While visiting, expect to be totally unplugged and be sure to attend to any important matters before departing.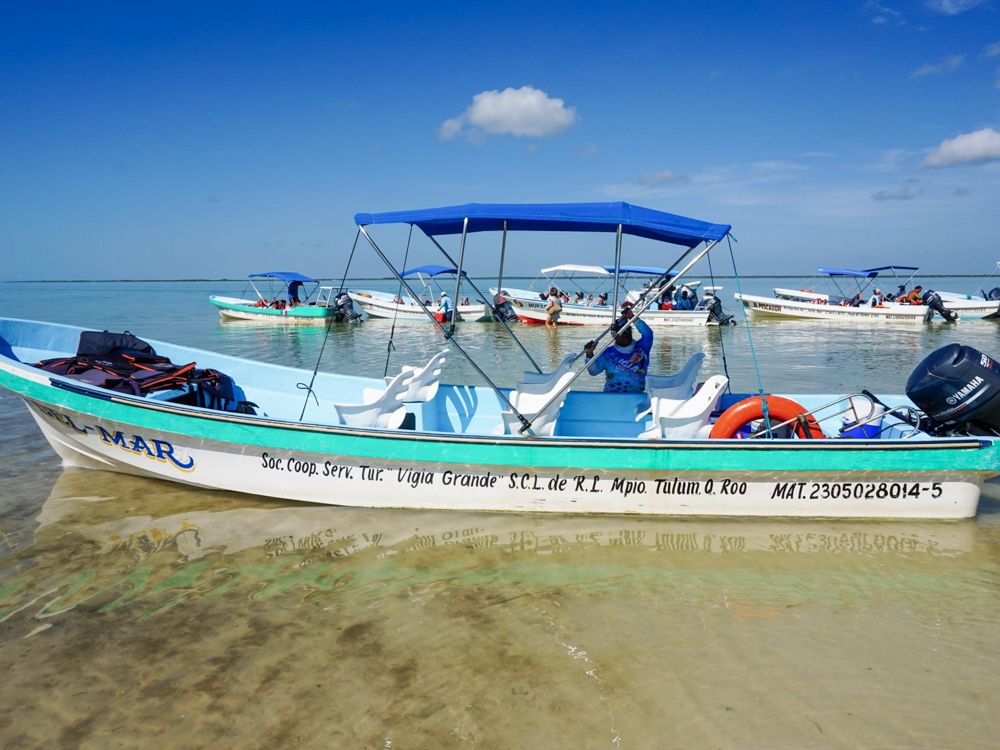 Where is Sian Ka'an?
Sian Ka'an is located on Mexico's Caribbean coast, just south of Tulum or about two hours south of Playa del Carmen. Due to its very limited access points and because most of Sian Ka'an can only be accessed by boat, it is best to visit on a small group tour with professional guides and transportation included. It is extremely difficult to reach Sian Ka'an on your own or through public transportation.
Book your accommodations in Tulum using the map below:
For more information about Sian Ka'an, its opening hours and admission fees, see its official website.
Text and photos provided by Allison Sicking of Viva La Travelista. Allison is a travel blogger with a passion for Spanish and a love of Latin America travel. She created her travel blog while living in Playa del Carmen, Mexico to empower others to travel safely and confidently in Spanish speaking countries.
Have you been to Sian Ka'an? If so, do you have any additional information or advice about this UNESCO World Heritage site? Please add your comments below!