Palaces and Parks of Potsdam and Berlin
By Ali Garland
What are the Palaces and Parks of Potsdam and Berlin?
The Palaces and Parks of Potsdam and Berlin is a large group of palaces and green spaces. Most of the buildings and lands are located in Potsdam, but a handful are in bordering areas of Berlin. They date back to the 18th and 19th centuries.
Disclosure: This article contains affiliate links. Making a purchase through an affiliate link will mean a small commission for this website. This will not affect your price.
Though there are more than 100 parks, palaces, and other buildings, here are just a few of the most important and well-known places to visit:
Sanssouci Palace and Park
Sanssouci Palace was built as a summer residence for Frederick the Great. The king had this palace built in the mid-1700s, and it is a great example of the German rococo architectural style. The rooms are still decorated with the original furnishings.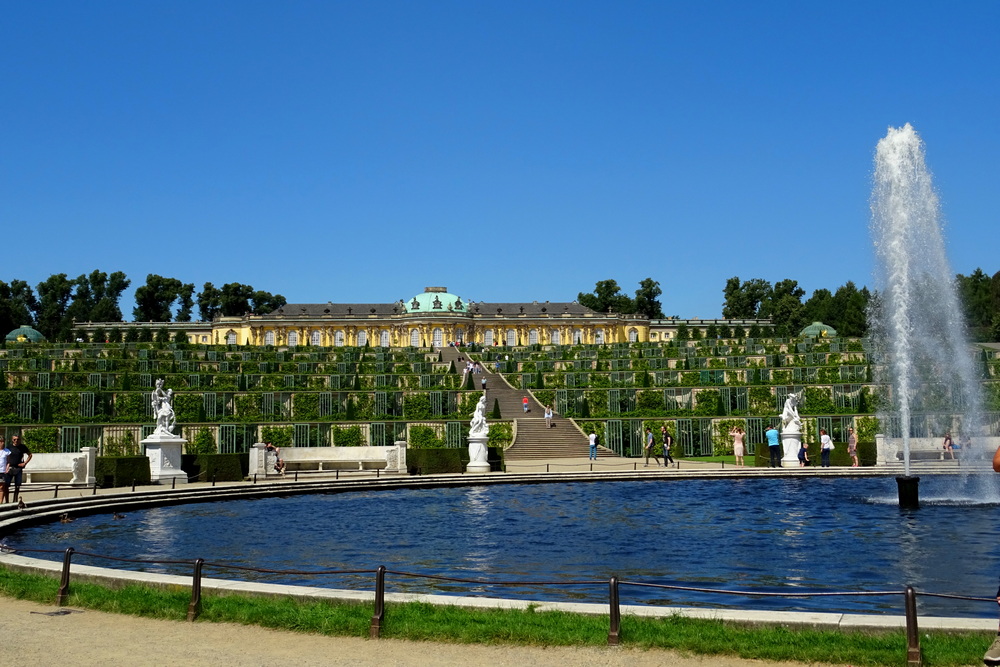 Babelsberg Palace and Park
Built from 1833 to 1835, Babelsberg Palace was the summer residence for 50 years for Prince William of Prussia and his wife Princess Augusta of Saxony-Weimar. Though this palace started as a small cottage, it gained extensions and additions over the years. Unfortunately the palace fell victim to looting after World War II and lost its furniture, but it was recently renovated and is quite impressive.
Peacock Island
Located in the southwest corner of Berlin, Peacock Island is a gorgeous island in the River Havel that has a unique fairy tale castle and peacocks that roam the grounds. Friedrich Wilhelm II had a summer palace built here in the late 1700s, and though it appears to be made of white marble, it is actually painted wood.
Why are the Palaces and Parks of Potsdam and Berlin a UNESCO World Heritage Site?
The ensemble of palaces and parks located in Potsdam and spilling over into southwestern Berlin is a unique collection of history and culture. It is a UNESCO World Heritage Site due to its important cultural and historical qualities. According to UNESCO, "This ensemble, having an outstanding artistic rank, has its origin in the work of the most significant architects and landscape gardeners of their time in Northern Germany…"
What can you expect on a visit to these palaces and parks?
Since the Palaces and Parks of Potsdam and Berlin cover such a large area, it's impossible to see it all in one visit. The sections in Potsdam cover a huge portion of the city and include several large parks. The sections in Berlin are close to Potsdam, but not within walking distance from the city.
Many of the palaces are now museums where you can explore and learn about the history of each one. Although most of the palaces charge an entrance fee, the gardens and parks are free and beautiful to wander through. I enjoyed walking through Sanssouci Park and seeing the different palaces and other significant buildings located among the carefully landscaped gardens.
The palaces and other buildings are all different from each other, but all are impressive. The Potsdam palaces and parks are often compared to Versailles, and it's easy to see why. Take time to really enjoy the ornate gardens and admire the buildings. Aside from Sanssouci Palace, the New Palace is also quite impressive. And for more recent history, check out Cecilienhof Country House, venue for the historic Potsdam Conference in 1945.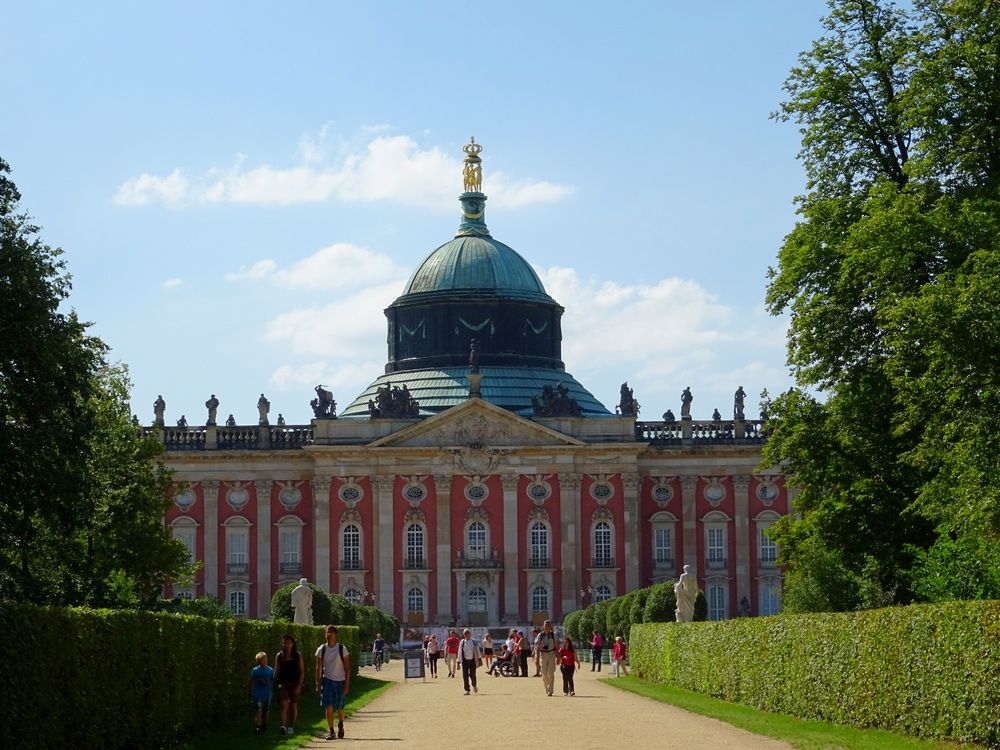 Are the Palaces and Parks of Potsdam and Berlin worth visiting?
The Palaces and Parks of Potsdam and Berlin are definitely worth visiting! Potsdam is one of the most popular day trips from Berlin for good reasons. The palaces and parks are beautiful and filled with interesting history and cultural significance. Visiting also gives you a different experience from your Berlin exploration, so it's nice to have the contrast.
Since there is so much to explore, I recommend at least half a day or even a full day to see as much as possible. You can visit on your own, but a tour might help you see more locations in a short time as well as providing more information.
Use the map below to look for accommodations in Potsdam or Berlin:
What sorts of travelers would like them?
A visit to Potsdam is appealing to many types of travelers, but especially those who enjoy palaces and museums and learning about their history. Since some of the palaces have original furnishings, travelers who enjoy getting a glimpse of royal life from the 18th and 19th centuries will do well here. Even for travelers who aren't so crazy about museums, seeing the outsides of the palaces and taking a stroll through the gardens can be quite enjoyable.
Tips for visiting
You are likely to do a lot of walking while visiting the Palaces and Parks of Potsdam and Berlin, so I recommend wearing comfortable shoes and bringing water. If you're traveling in the summer, don't forget your sunscreen and sunglasses for the outdoor sections.
Since Potsdam is so popular, it's best to avoid peak times if possible. Come early in the day, and if you're able to plan your trip for spring or fall, there will be fewer people. Also, make sure you check opening days and times for the specific palaces you want to visit because many of them are closed one day a week.
Where are the Parks and Palaces of Potsdam and Berlin ?
Most of the palaces and parks are located in the city of Potsdam, which is southwest of Berlin. The sections that are in Berlin itself are in the southwest corner of the city near the Berlin/Brandenburg border.
Getting there by car
Potsdam is about 35 km/21 miles from Berlin Hauptbahnhof (central train station), and it can take more than an hour to drive there depending on traffic and road construction. There are several paid parking garages within 15 minutes' walk from Sanssouci Palace. Some palaces that aren't as close to central Potsdam have even fewer parking options. Peacock Island is car-free, so you have to take a ferry across to the island and explore on foot.
Getting there by public transportation
Public transportation is usually a better option for most people. From the Berlin Hauptbahnhof, the regional train takes only 25 minutes to reach Potsdam Hbf. Take the RE1 heading towards Brandenburg Hbf, or stay on for a few more minutes and get out at Potsdam Charlottenhof or Park Sanssouci Potsdam. Note that there is another RE1 route that ends in Magdeburg, and though it stops in Potsdam Hbf, it does not stop in the secondary Potsdam stations.
For more information about the Palaces and Parks of Potsdam and Berlin, including opening hours and admission fees for each palace, see the two cities' official websites: Potsdam and Berlin.
Text and photos provided by Ali Garland of Berlin Travel Tips. Ali is a full time travel blogger who travels with only carry-on luggage whenever possible. She loves showing people how to explore her adopted home city of Berlin where she now lives with her husband and Yorkshire terrier. Follow her on Pinterest, Facebook, Twitter, and Instagram.
Have you been to any of the Palaces and/or Parks of Potsdam or Berlin? If so, do you have any additional information or advice about this UNESCO World Heritage site? Please add your comments below!