Historic Centre of Santa Ana de los Ríos de Cuenca
By Megan
What is Historic Center of Santa Ana de los Ríos de Cuenca?
The Historic Center of Santa Ana de los Ríos de Cuenca, more commonly referred to as Cuenca, is the bustling capital city of the Azuay Province in Ecuador. The city of Cuenca is a beautiful colonial city and is nestled snugly in the Andes Mountains. It may just literally take your breath away: the city sits at 2,560 meters (8,400 feet). The historical center is filled with churches, lovely plazas, traditional markets, and has four picturesque rivers that flow through the city and the valley.
Disclosure: This article contains affiliate links. Making a purchase through an affiliate link will mean a small commission for this website. This will not affect your price.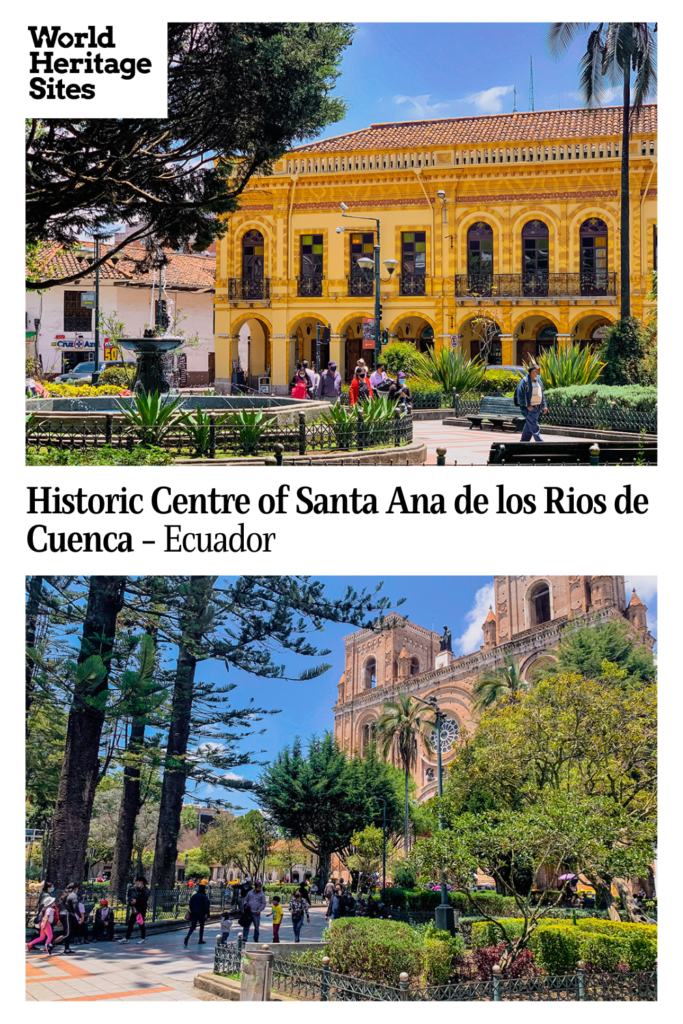 Why is Cuenca's Historic Center a UNESCO site?
According to the UNESCO World Heritage Site, "Cuenca is an outstanding example of a planned inland Spanish colonial town." It also "clearly bears witness to the successful fusion of the different societies and cultures of Latin America."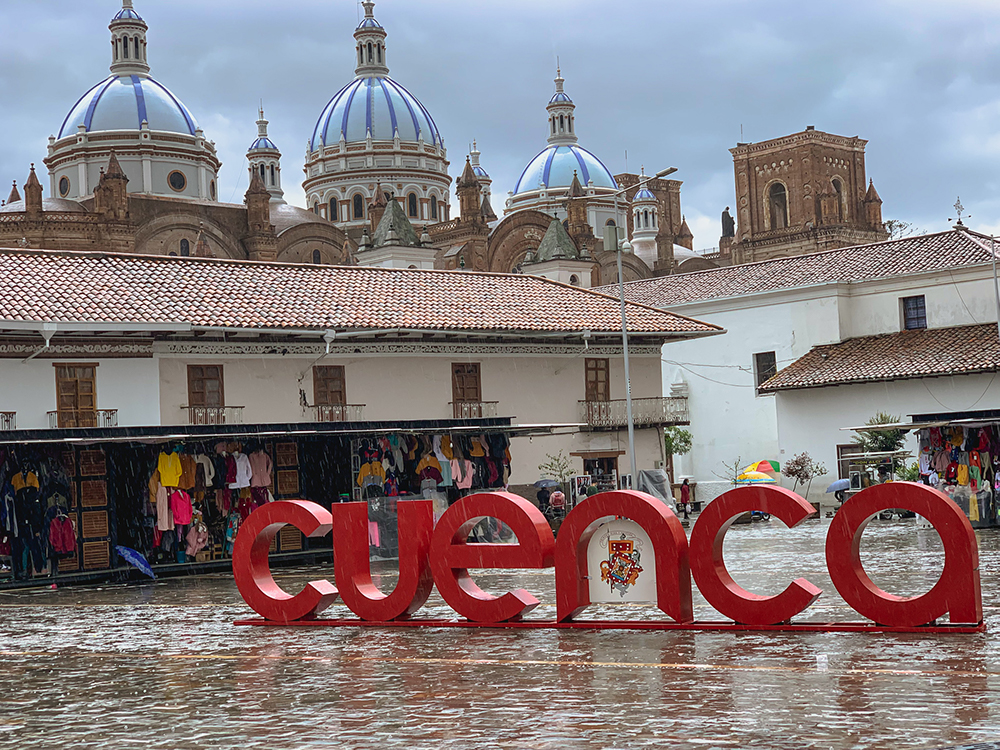 What can you expect on a visit to Cuenca?
The Historic Center of Cuenca offers so many awesome things to do. Wander through the cobblestone streets and appreciate the centerpiece of the city, the Cathedral of the Immaculate Conception with its bright blue signature domes. There are picturesque plazas to explore, many showcasing artisanal products made in nearby villages. Many of the museums in the city are free to enter, including Pumapungo Museum, which houses Inca ruins smack-dab in the heart of the city. Take a stroll down the lovely Tomebamba River walk. Make sure to catch a sunset from the Turi Mirador to savor one of the best views of Cuenca.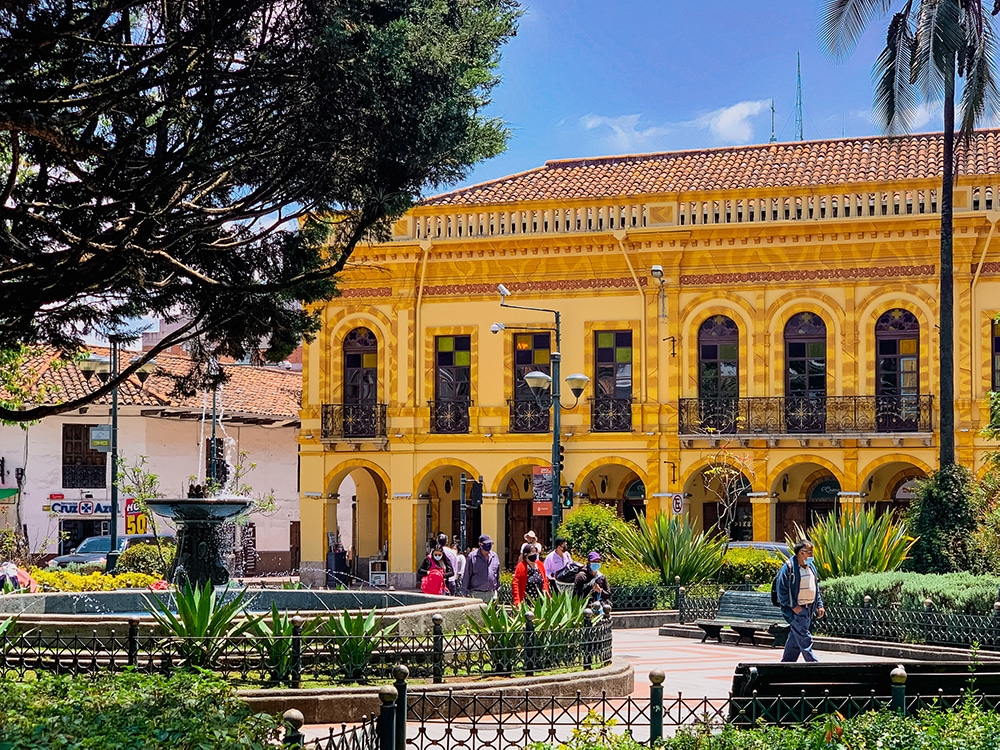 While the historic center is charming to explore, there are many worthwhile day trips to take from Cuenca. Visit one of many artisanal villages close to Cuenca that still use traditional methods to make handcrafted goods. Find items such as toquilla straw hats, macanas (like a shawl), and delicate jewelry. Nature lover's can hike around Cajas National Park or visit the towering waterfall in charming Girón. Ecuador's largest Inca ruins are over an hour away at Ingapirca. Don't miss a chance to soak in the hot springs above the city in Baños de Cuenca. These curative waters come from an old volcano and are popular with locals and tourists alike.
Is Cuenca worth visiting?
Cuenca is definitely worth visiting and oftentimes a highlight of travelers passing through Ecuador. With so much to do and see in the city and nearby villages, it's best to slow down and spend at least 3-5 days here. However, many travelers enjoy the city so much, they end up moving here.
What sorts of travelers would like Cuenca?
Cuenca has so much to offer that any type of traveler will enjoy it. Budget travelers will love the free things to do in the city and sampling typical Ecuadorian dishes at the market for under $3. However, there's a growing food scene here with coffee shops and upscale restaurants. The public transportation is cheap and easy to use. Cuenca now boasts a slick new streetcar.
Find your accommodations in Cuenca by clicking on the map below:
Tips for visiting Cuenca
Ecuador uses the U.S. dollar as their currency.
The city center is completely walkable, but the public transportation is easy to use. Purchase a Movilízate Card for $1.75 and load up the card. Each ride costs 30¢. Don't have a card? Simply give 30¢ to someone on the bus and they will swipe their card.
The main bus terminal in Cuenca connects to all major land-based Ecuador destinations. Dimes are valuable! There is a 10¢ fee to exit the bus terminal. It is paid via an automatic machine.
Try the street food! It is cheap, delicious, and usually the most authentic food in the city.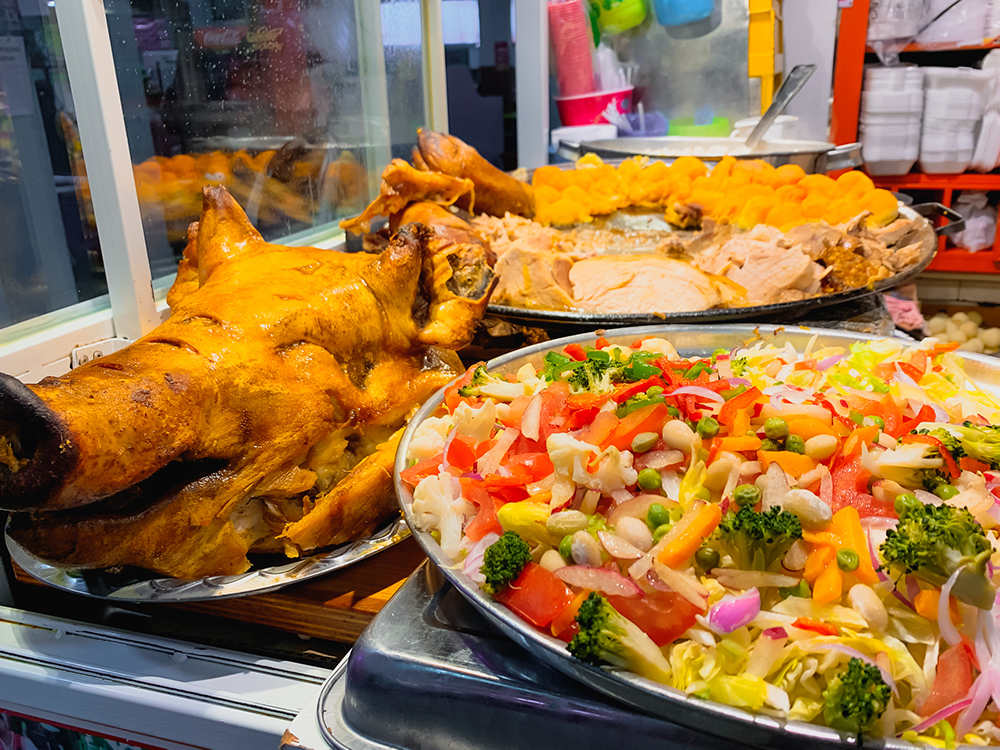 Where is Cuenca?
Cuenca is located in the south of Ecuador and is the country's third largest city. It is well connected to the rest of Ecuador and to popular destinations in South America. It has its own airport and large bus terminal.
For more information about Cuenca, visit the official tourism website here.
Text and photos provided by Megan of Packing up the Pieces. Megan has been traveling for over 10 years and focuses on slow and budget travel. You can find her savoring a fresh cup of coffee, planning her next big trek in the mountains, and seeking out the most authentic travel experiences.
Have you been to Cuenca? If so, do you have any additional information or advice about this UNESCO World Heritage site? Please add your comments below!