Berlin Modernism Housing Estates
By Ali Garland
What are the Berlin Modernism Housing Estates?
The Berlin Modernism Housing Estates is a group of six apartment complexes that were built in the early 1900s. The architects used new and innovative approaches to housing policies when they designed these estates.
Disclosure: This article contains affiliate links. Making a purchase through an affiliate link will mean a small commission for this website. This will not affect your price.
At the time, many apartment buildings, especially those built for low-income families, were cramped and had little access to fresh air and natural light. The architects of the Berlin Modernism Housing Estates understood how important it was to have fresh air, natural light, sufficient space, and outdoor space, and they made these elements priorities in their designs.
There are six different housing estates located in different sections of Berlin.
Wohnstadt Carl Legien
The architects who designed Wohnstadt Carl Legien were going for airy, light, and modern when they designed this estate. There's lots of outdoor space in between the buildings, the garden courtyards are different colors, and overall there's a community feel here. This is also one of the closest estates to the city center, so if you only have time for one, this is your best choice.
Gartenstadt Falkenberg
Falkenberg Garden City is located in southwest Berlin, and the goal was to provide living space that combined both urban and rural elements of life. This is the most colorful of all the estates, and the homes aren't symmetrical. The estate was also designed with lots of plants, trees, and flowers to round out the garden feel.
Siedlung Schillerpark
This housing estate was designed with flat roofs, which were more common in the Netherlands, instead of the more traditional gabled roofs. The estate includes big courtyards throughout, and there's even a huge park to the south of the estate. Siedlung Schillerpark is easy to combine with Weiße Stadt if you're interested in seeing two different estates.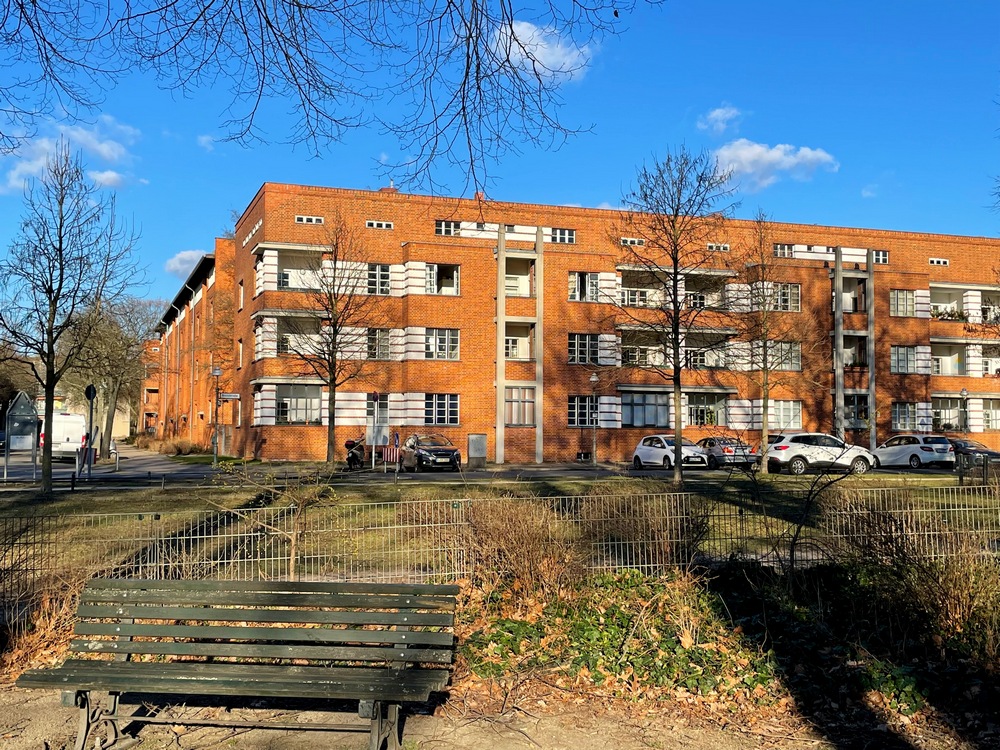 Weiße Stadt
This estate was built in the 1920s, and its name, white city, comes from the fact that the buildings are all white. There's plenty of outdoor space between the buildings, promoting light and air. The most well-known building in this group is the bridge building, which actually spans across Aroser Allee with cars driving underneath it.
Großiedlung Britz (Hufeisensiedlung)
Hufeisensiedlung means Horseshoe Estate, and this name comes from the fact that the main building in this estate is shaped like a giant horseshoe. There's lots of outdoor space here, and lots of colors were used in designing the homes. Many residents have lived here for decades.
Großiedlung Siemensstadt (Ringsiedlung)
This group of apartments was built for employees of the nearby Siemens plant with the idea of providing affordable housing. Instead of the traditional block-style buildings and dark backyards, the architects designed buildings that provided access to fresh air and plenty of sunlight. Each unit is similar in size, though there are different details since there were several architects.
Read about other Berlin UNESCO sites: Palaces and Parks of Potsdam and Berlin and Museumsinsel (Museum Island).
Why are the Berlin Modernism Housing Estates a UNESCO World Heritage site?
Though not as high profile as some other UNESCO World Heritage sites, this is a great one for its historical value and how it changed the way people viewed the importance of outdoor space, light, and hygiene when it comes to urban housing.
According to UNESCO, "The property is an outstanding example of the building reform movement that contributed to improving housing and living conditions for people with low incomes through novel approaches to town planning, architecture and garden design."
Many other estates in Berlin were built with these new ideas, but the six that are included in the UNESCO site were chosen because they sustained little or no damage during World War II.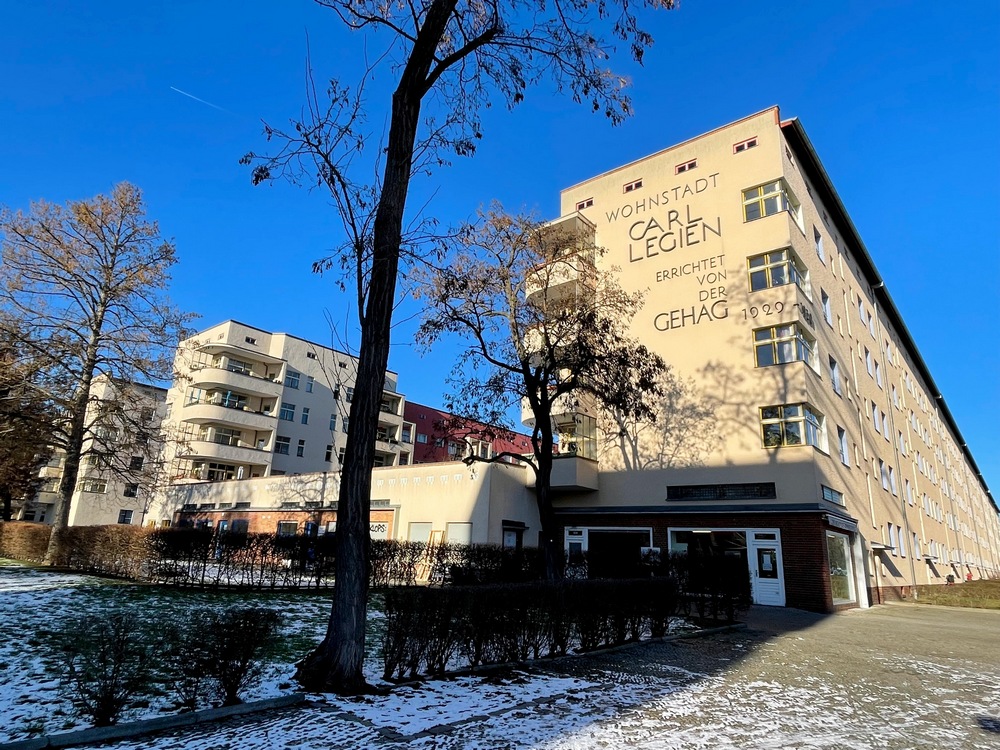 What can you expect on a visit to the Berlin Modernism Housing Estates?
Visiting these housing estates means wandering through the streets where the buildings are located. Some of them have a small info station, but for the most part, this is a self-guided experience.
It can be difficult to understand why these apartment buildings have UNESCO status, but as you're looking at them, try to remember what life would have been like 100 years ago. The amount of outdoor space provided and the unique details of the designs were not things that were normally done in that time period.
Are the Berlin Modernism Housing Estates worth visiting?
Although these estates have important historical value, they're probably not high on most tourists' Berlin bucket list, especially since most of them are pretty far from the center of the city. The types of travelers who would appreciate visiting the estates are those who are very interested in architecture or urban planning, or those who are enthusiastic UNESCO list tickers.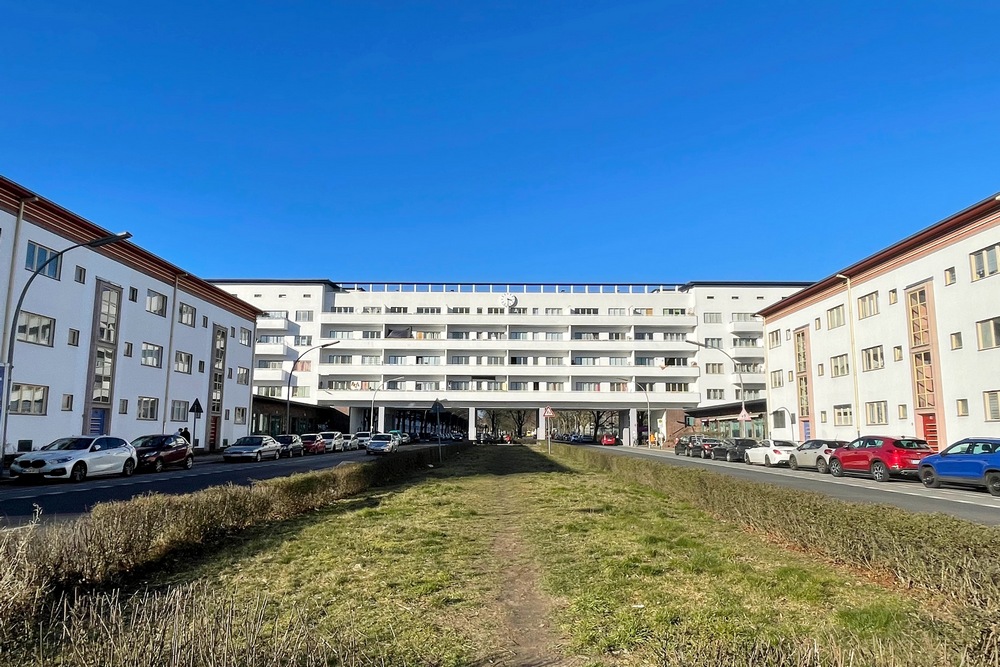 Tips for visiting the Berlin Modernism Housing Estates
Remember that these estates are still people's homes. Be respectful of the property, and don't take pictures of people. Wear comfortable shoes since you're likely to do a decent amount of walking.
Since visiting these apartments takes you away from the city center, it's worth looking at what else you want to do with your day and planning out your transport options. You probably can't get to all six locations in one trip let alone one day.
Use the map below to find and compare accommodations in Berlin. Each of the six housing estates is also marked on the map.
Where are the Berlin Modernism Housing Estates?
The Berlin Modernism Housing Estates are located in different parts of the city, and they're all outside of the Ringbahn. There are a few in the northern part of the city, one to the northwest, one to the northeast, one to the south, and another to the southeast. Addresses are listed below.
Getting there by car
Wohnstadt Carl Legien: The building with the words on it is at the corner of Erich-Weinert-Straße and Gubitzstraße, 10409 Berlin.
Gartenstadt Falkenberg: Akazienhof 4, 12524 Berlin.
Siedlung Schillerpark: Oxforderstraße Ecke, Bristolstraße, 13349 Berlin.
Weiße Stadt: Schillerring 15, 13407 Berlin, but the bridge building is around the corner on Aroser Allee. (Note that you can also search for "Weisse Stadt" since that's easier for non-German speakers.)
Großiedlung Britz (Hufeisensiedlung): Fritz-Reuter-Allee 48, 12359 Berlin.
Großiedlung Siemensstadt (Ringsiedlung): Goebelstraße 55A, 13627 Berlin.
Getting there by public transportation
Each of the Berlin Modernism Housing Estates is within walking distance of public transport, and this is probably easier than driving and trying to find parking. Here are the closest transport stations to each estate.
Wohnstadt Carl Legien: S Prenzlauer Allee on the Ring or Erich-Weinert-Straße tram stop on the M2.
Gartenstadt Falkenberg: Grünau Sbahn station on the S8, S85, or S46 lines.
Siedlung Schillerpark: U Rehberge on the U6 line.
Weiße Stadt: U Paracelsus-Bad or U Residenzstr on the U8 line.
Großiedlung Britz (Hufeisensiedlung): U Blaschkoallee or U Parchimer Allee on the U7 line.
Großiedlung Siemensstadt (Ringsiedlung): U Siemensdamm on the U7 line.
For more information about the Berlin Modernism Housing Estates, see Visit Berlin and Deutsche Wohnen, which runs 4 of the 6 properties.
Text and photos provided by Ali Garland of Berlin Travel Tips. Ali is a full-time travel blogger who travels with only carry-on luggage whenever possible. She loves showing people how to explore her adopted home city of Berlin where she now lives with her husband and Yorkshire terrier. Follow her on Pinterest, Facebook, Twitter, and Instagram.
Have you been to Berlin and visited any of the housing estates of this UNESCO site? If so, do you have any additional information or advice about it? Please add your comments below!