Brimstone Hill Fortress National Park
By Steph
What is Brimstone Hill Fortress National Park?
Brimstone Hill Fortress National Park is a historic site dating back to 1690 when the British first placed cannons on top of the volcanic hill. The fortress was designed by British military engineers and built by African slaves to defend the island of St Kitts from coastal attacks by the French, who wished to seize the strategic island for their own uses.
Disclosure: This article contains affiliate links. Making a purchase through an affiliate link will mean a small commission for this website. This will not affect your price.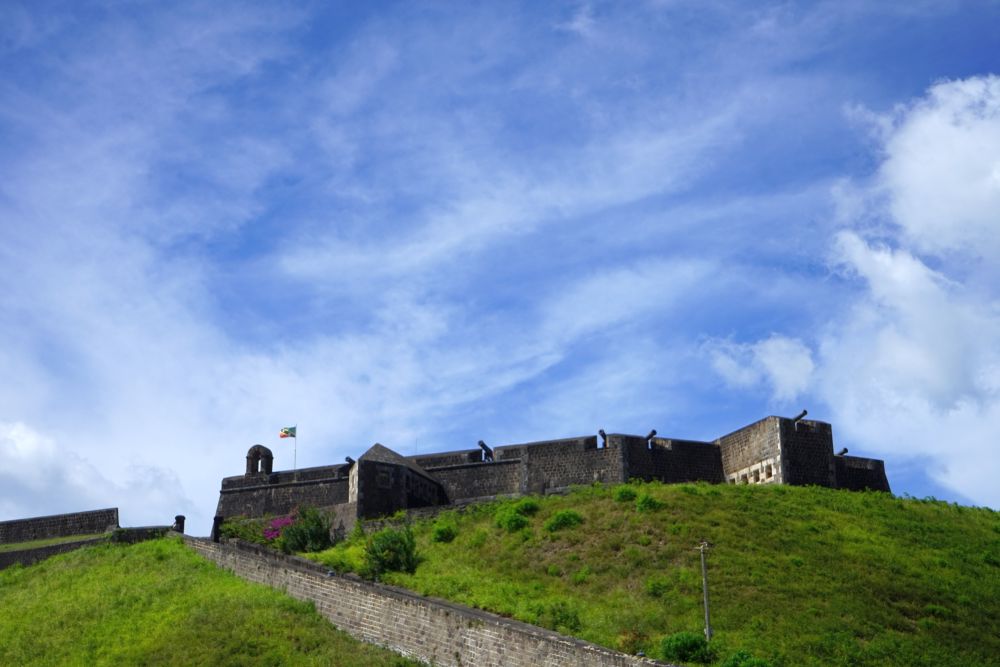 Why is Brimstone Hill Fortress a UNESCO World Heritage site?
According to UNESCO, "Brimstone Hill Fortress National Park is a remarkable example of European military engineering dating from the 17th and 18th centuries in a Caribbean context." The British fortress was built using slave labour "to the exacting standards of the British military."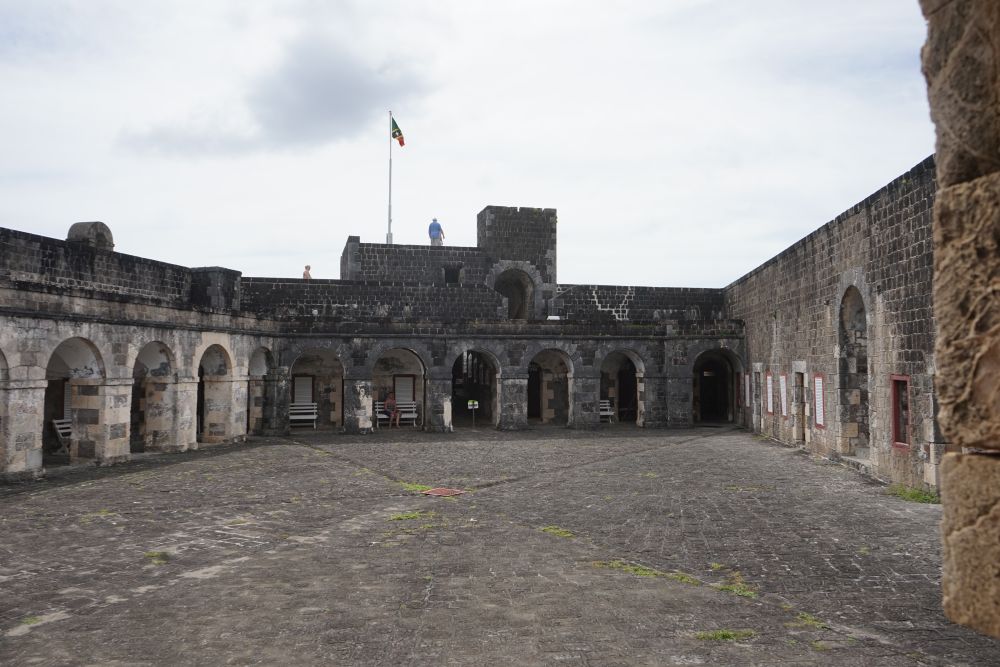 What can you expect on a visit to Brimstone Hill Fortress?
Brimstone Hill fortress is a fascinating look into military and slave life during the 17th and 18th centuries. The site has multiple levels with different areas to visit but the main attraction is the citadel which sits on one of two peaks. The citadel, also known as Fort George, is the earliest surviving example of the "Polygonal System" of fortress design and it remains largely intact. Wandering around the site you can see the unique structure and design of the building with various rooms such as the kitchen, cells and the long drop (a hollow channel dug deep into the ground and used for toileting) reconstructed as they were originally.
Also in the citadel is a museum showcasing the daily life of the soldiers and the slaves at the time when the fortress was built. There are also replica uniforms and a memorial museum for Caribbean soldiers from both world wars. Being the first island colonised by Europeans, St Kitts and Nevis have a long and sometimes dark history which you can learn about at Brimstone Hill Fortress.
Although some of the buildings were demolished when the site was abandoned by the British in 1853, many of them have been reconstructed including barracks, bastions, walls, and roads. Due to the elevation of the site, it also has outstanding panoramic views of the Caribbean Sea and on a clear day the neighbouring island of Sint Eustatius.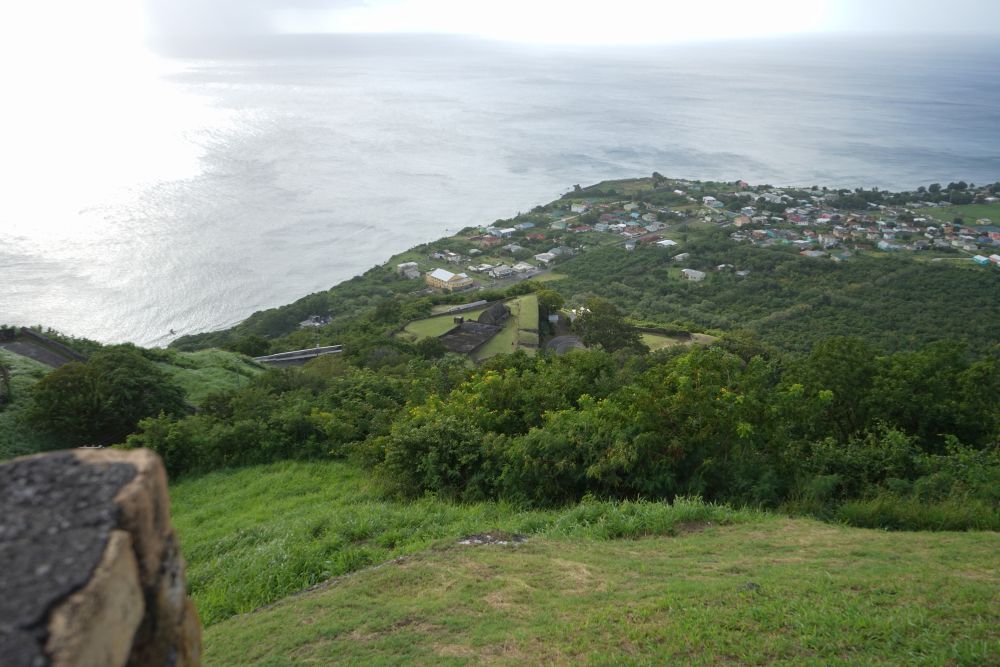 Is Brimstone Hill Fortress worth visiting?
Definitely! Brimstone Hill Fortress is one of the best things to do on St Kitts and Nevis and no trip to the island would be complete without visiting, no matter what kind of traveller you are. If you are a history buff or a culture fanatic then Brimstone is for you, but also if you enjoy beautiful scenic views then it's worth visiting. Because the site is extensive and spread out over approximately 15 hectares it takes a good couple of hours to see everything, so plan accordingly.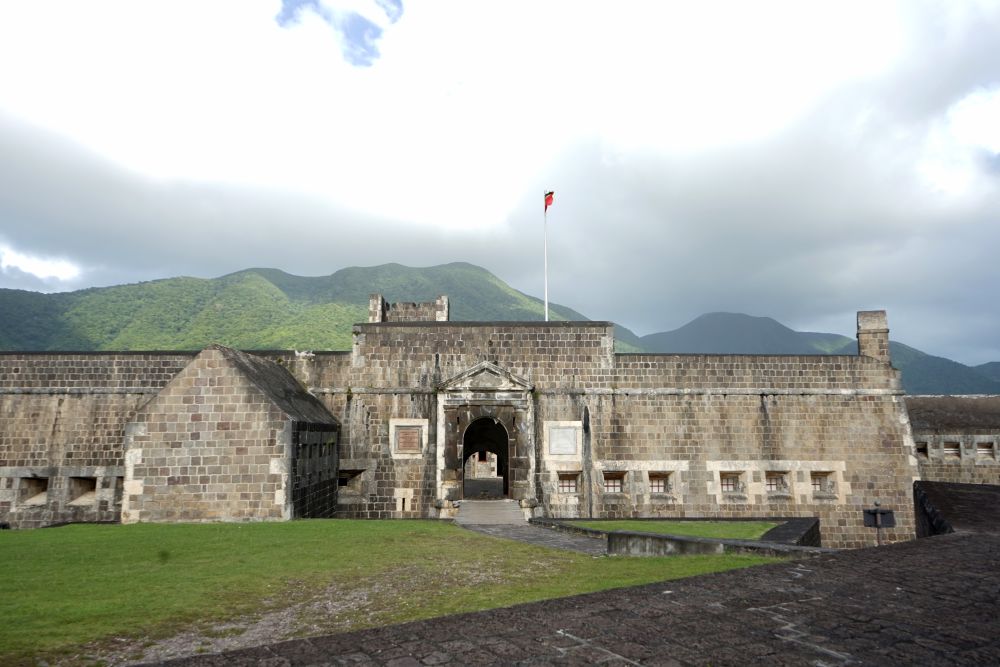 If colonial military architecture interests you, you might like to read about Puerto Rico's La Fortaleza UNESCO site as well.
Tips for visiting Brimstone Hill Fortress
Take plenty of water and wear comfortable shoes. Also make sure to pack a sun hat and sunscreen because there is not much shade around the majority of the site.
Due to its location on the hillside, Brimstone Hill is not ideal for wheelchair users and less able-bodied people may struggle with the steep hills.
Use the map below to find your perfect accommodations on St. Kitts:
Where is Brimstone Hill Fortress?
Address: Brimstone Hill Fortress National Park, Island Main Road, Sandy Point Town, St. Kitts.
The site is accessible by car and takes approximately 25 minutes from Basseterre. Free parking is available, and you can drive right into the grounds of the fortress.
If you are not hiring a car, then a taxi would be the easiest way to get there, and any driver will know where to go. Prices vary depending on the number of passengers.
If you wish to arrive by public transport, you can get the H bus from Basseterre going west and get dropped off outside the entrance. Buses cost around $5XCD one way. Be aware that because the fortress is at the top of a volcanic hill, the entrance is a long winding road uphill and is not for the fainthearted.
For more information about Brimstone Hill Fortress National Park, its opening hours and admission fees, see its official website.
Text and photos provided by Steph of Book It Let's Go! Steph is a registered veterinary nurse and the blogger behind Book It Let's Go! She is an expat originally from England currently residing in St Kitts. She packed up her old life, her husband and their 2 cats in 2019 to leave the cold and wet behind in exchange for beaches and palm trees. Now she teaches at Ross University School of Veterinary Medicine on St Kitts and since making the leap to move abroad, she has no plans to return anytime soon. She is currently enjoying being based in the Caribbean and plans to do some island hopping while planning her next big adventure.
Have you been to Brimstone Hill Fortress? If so, do you have any additional information or advice about this UNESCO World Heritage site? Please add your comments below!