Pre-Hispanic City of Chichen Itza
by Shelley
The ancient Chichen Itza Mayan Ruins are both a Mexico UNESCO World Heritage Site — and also one of the Seven Wonders of the World.
Disclosure: This article contains affiliate links. Making a purchase through an affiliate link will mean a small commission for this website. This will not affect your price.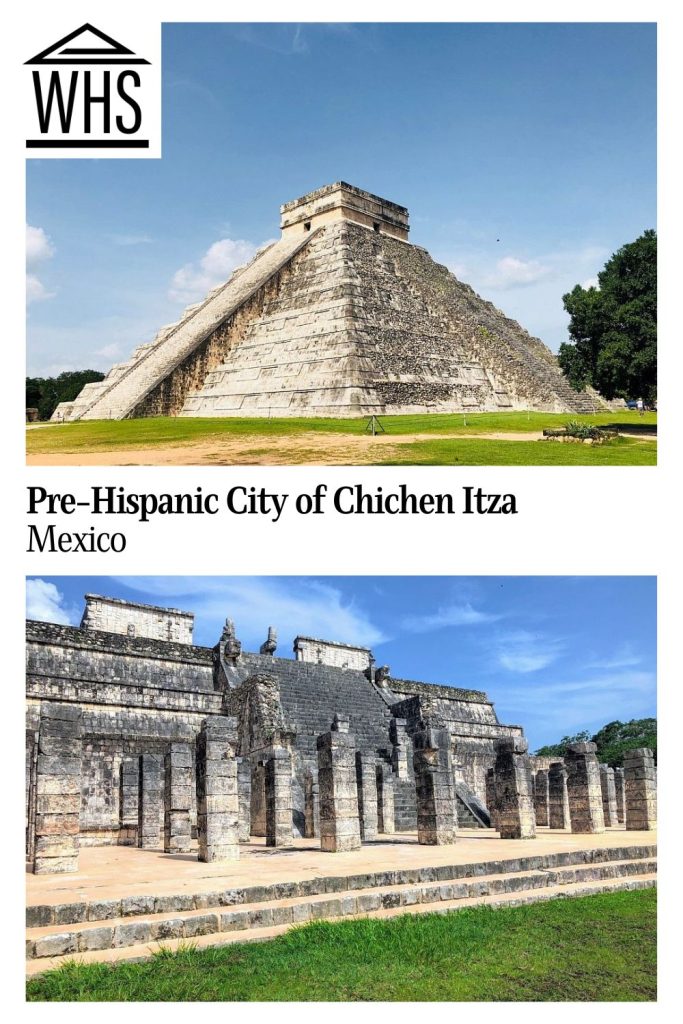 The site is located in the Yucatan Peninsula, near the colorful colonial city of Merida, Mexico, and also not too far from Cancun, Tulum, Playa del Carmen and the Riviera Maya. It is one of the most visited ancient sites in all Mexico, and the most popular of all Mayan Ruins in Mexico.
What is Chichen Itza?
In Maya, Chichen Itza means "at the mouth of the well of the Itza." The Itzá were a pre-Hispanic people who once held political and economic dominance in much of the Yucatan Peninsula. The "well of the mouth" is a reference to the Sacred Cenote (more on that below).
The site was abandoned in the 1400s, though was once used for religious rituals, important ceremonies, commerce and trade. It was declared a UNESCO World Heritage Site in 1988. Today, Chichen Itza sees about two million annual visitors.
Why is Chichen Itza a UNESCO World Heritage Site?
According to UNESCO, Chichen Itza makes the list because "This sacred site was one of the greatest Mayan centres of the Yucatan Peninsula." This expansive social, religious and commerce center was inhabited by the Maya and Toltec people throughout its heyday, and many buildings still stand today.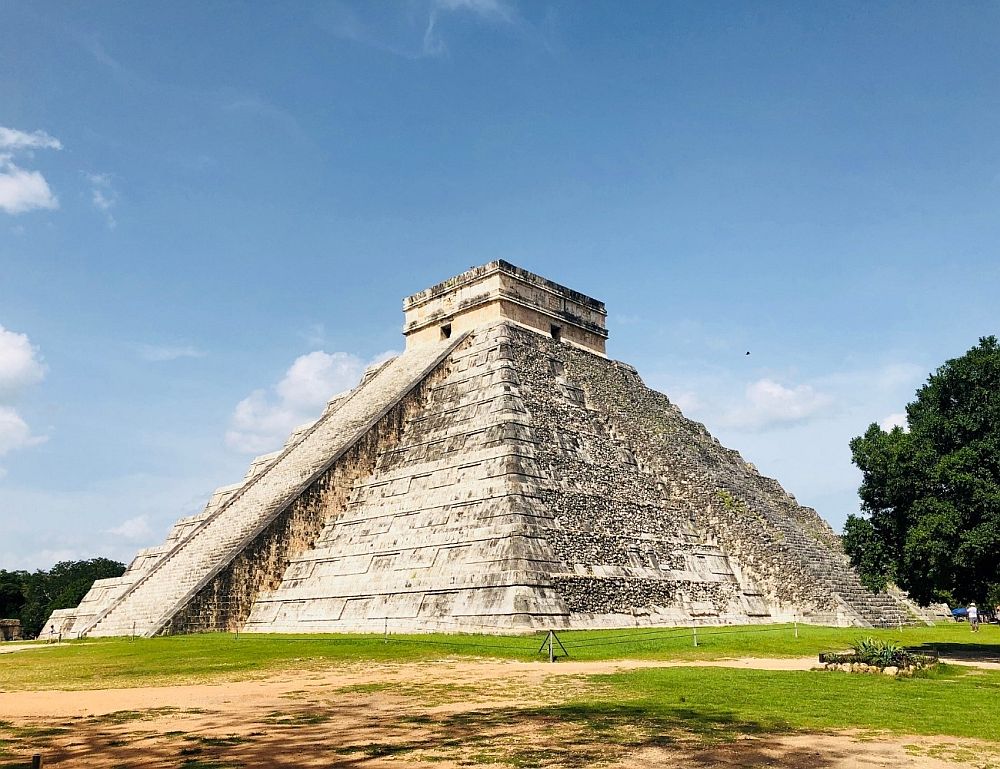 What can you expect on a visit to Chichen Itza?
Chichen Itza is one of the largest known Mayan archeological sites in the world, with about two square miles (5 km²) to explore. Visitors usually spend three to five hours exploring the site, as there are more than 10 structures to see.
Structures at Chichen Itza
The most famous Mayan pyramid at Chichen Itza – the one you've likely seen in photos – is El Castillo (which means The Castle). It is also called the Temple of Kukulcan, in honor of the Mayan's feathered serpent deity, Kukulcan (pronounced coo-cool-can).
Besides this, there's the Temple of the Warriors, Group of a Thousand Columns, Platform of the Skulls, Great Ball Court, El Caracol Astrological Observatory, Las Monjas Temple, and more.
Chichen Itza Sacred Cenote
As mentioned, Chichen Itza means "at the mouth of the well of the Itza." This "well" refers to the Cenote Sagrado (meaning Sacred Cenote). Cenotes are essentially freshwater jungle pools located throughout the Yucatan Peninsula, and the Sacred Cenote is one of the largest in the peninsula.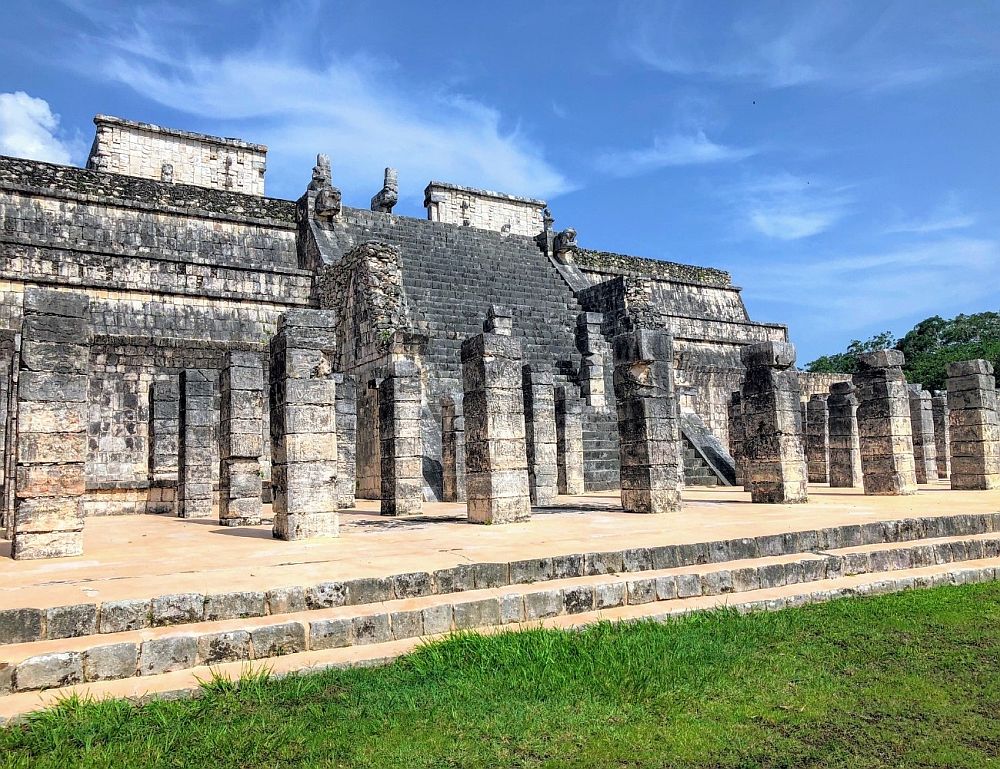 Is Chichen Itza worth visiting?
Absolutely! It's a great place to learn about Mayan history, architecture, symbolism, and get an insight to how this ancient society operated. Also, Chichen Itza is one of the New Seven Wonders of the World, so it's always fun to cross one of those off your travel bucket list.
What sorts of travelers would like Chichen Itza?
Most travelers will enjoy visiting Chichen Itza – from adult history buffs to younger children – though it's not the most wheelchair or stroller friendly place. The one thing to keep in mind is how long you'll stay there, as kids might lose their attention span, and some folks might not do so well in the heat and humidity.
Tips for visiting Chichen Itza
As one of the most visited places in Mexico, the crowds here can get massive, especially on weekends. If possible, visit on a weekday and arrive as soon as they open. Also, it gets very hot, so wear comfy shoes and a sun hat, and bring your water bottle.
Those coming by rental car can visit a cenote after touring the site. While the Sacred Cenote at Chichen Itza is great to see, you can't swim in it. However, there are a few cenote pools nearby, like Cenote Ik-Kil and Cenote Suytun, which make the perfect places to cool down after a long day at Chichen Itza.
Where is Chichen Itza located?
Chichen Itza doesn't have an address, but you can easily find it by just putting "Chichen Itza" in your GPS. It is located in Yucatán state, Mexico, in the Yucatan Peninsula.
There are Chichen Itza tours you can take from all over the area, or you can take a bus or drive. There is a parking lot onsite for 30 pesos (about US$1.50) per day. Depending on where you're coming from, the ADO bus costs about US$10-20 round trip.
The closest small town to Chichen Itza is Valladolid, Mexico. This is a charming town, with plenty of nice accommodation options. Valladolid is only about 20 minutes by car and 45 minutes by bus from Chichen Itza.
Click on the map below to find accommodations:
For those wanting to stay in a larger city, Merida, Mexico, is the closest. It is located about two hours by car and 2.5 hours by bus from Chichen Itza. Cancun, Tulum, Riviera Maya and Playa del Carmen are all about 3.5 hours from Chichen Itza, by car or bus.
For more information about Chichen Itza Mayan Ruins in Mexico, its opening hours and admission fees, see its official website, chichenitza.com.
Text and photos provided by Shelley of Travel To Merida. Shelley is a former Miami travel magazine editor who ditched the office for the world! After traveling solo to 16 states in Mexico, she settled down in Merida, Mexico, in 2019. Today, she runs the blog to help travelers plan their dream trip to Merida and the Yucatan.
Have you been to Chichen Itza? If so, do you have any additional information or advice about this UNESCO World Heritage site? Please add your comments below!