By Marjut Jogisoo
What is Iguaçu National Park?
Iguaçu National Park is a 170,000-hectare national park in southern Brazil. It contains a pristine subtropical rainforest teeming with wildlife and it shares a border with its sister World Heritage Site Iguazu National Park in Argentina.
Disclosure: This article contains affiliate links. Making a purchase through an affiliate link will mean a small commission for this website. This will not affect your price.
Undeniably the most famous attraction in the park is the Iguazu Falls, one of the 7 Natural Wonders of the World. Stretching for 2.7 kilometers along the border of Brazil and Argentina and boasting hundreds of individual waterfalls, it is one of the world's largest and most beautiful waterfall systems.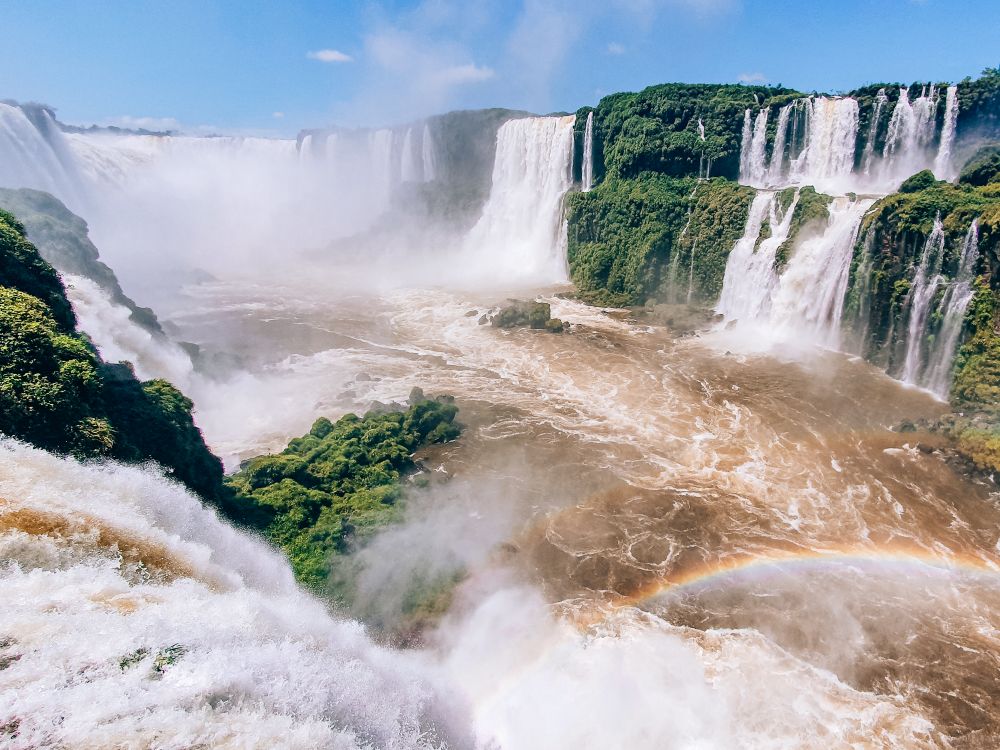 Why is Iguaçu National Park a UNESCO World Heritage site?
According to UNESCO, Iguaçu National Park is listed as a World Heritage Site for two reasons:
Together with the neighboring Iguazu National Park in Argentina, it conserves "one of the largest and most spectacular waterfalls in the world, comprised of a system of numerous cascades and rapids nearly three kilometers wide."
Iguaçu National Park also forms with the adjacent Iguazu National Park in Argentina "one of the largest protected remnants of the Paranaense subtropical forest, belonging to the Interior Atlantic Forest." Known for its rich biodiversity, the forest is home to jaguars, ocelots, pumas, margays and several other endangered or vulnerable species.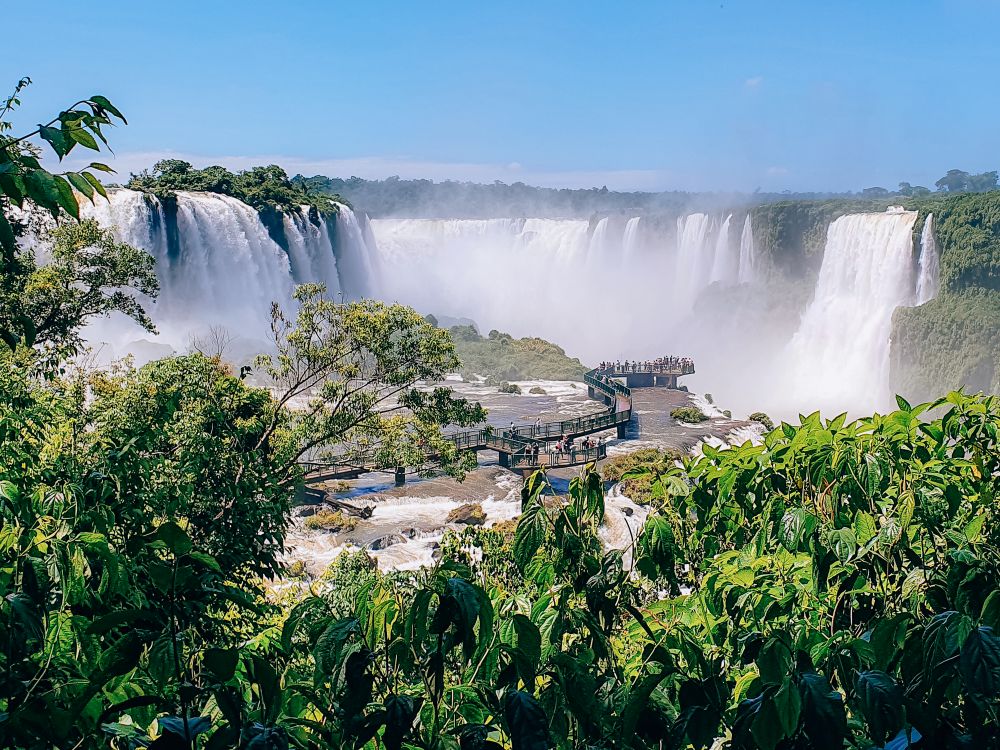 What can you expect on a visit to Iguaçu?
The majestic waterfalls and the surrounding rainforest of Iguaçu National Park are astonishingly beautiful and capture the hearts of many travelers.
The best way to see the waterfalls is to walk the park's 1.5-kilometer-long footpath that takes you through a verdant jungle and offers awe-inspiring panoramic views of the cascades. The highlight along the path is a footbridge that leads you over the roaring waters and allows you to take a look inside the Devil's Throat – the most impressive part of the entire waterfall system. On sunny days, the mist from the powerful waterfalls creates many rainbows that make this special place even more magical.
As you walk along the trails, there's a good chance that you'll see some wildlife like coatis, capuchin monkeys, large lizards and toucans. Some of the animals might be very curious but be aware that touching and feeding them is prohibited.
Besides admiring the waterfalls from the walking trails and viewpoints, you can also go on a thrilling boat tour that will take you right to the base of the waterfalls. Be ready to get completely soaked!
Is Iguaçu National Park worth visiting?
With its breathtaking waterfalls and thriving biodiversity, Iguaçu National Park is definitely worth a visit! Witnessing the grandeur and the power of these waterfalls is a one-of-a-kind experience that is impossible to forget. Anyone with the slightest interest in nature and wildlife will fall in love with this place.
Set aside at least one full day to explore the national park. If you have time, allocate another day to visit the Argentinian side of Iguazu Falls as it offers a completely different perspective.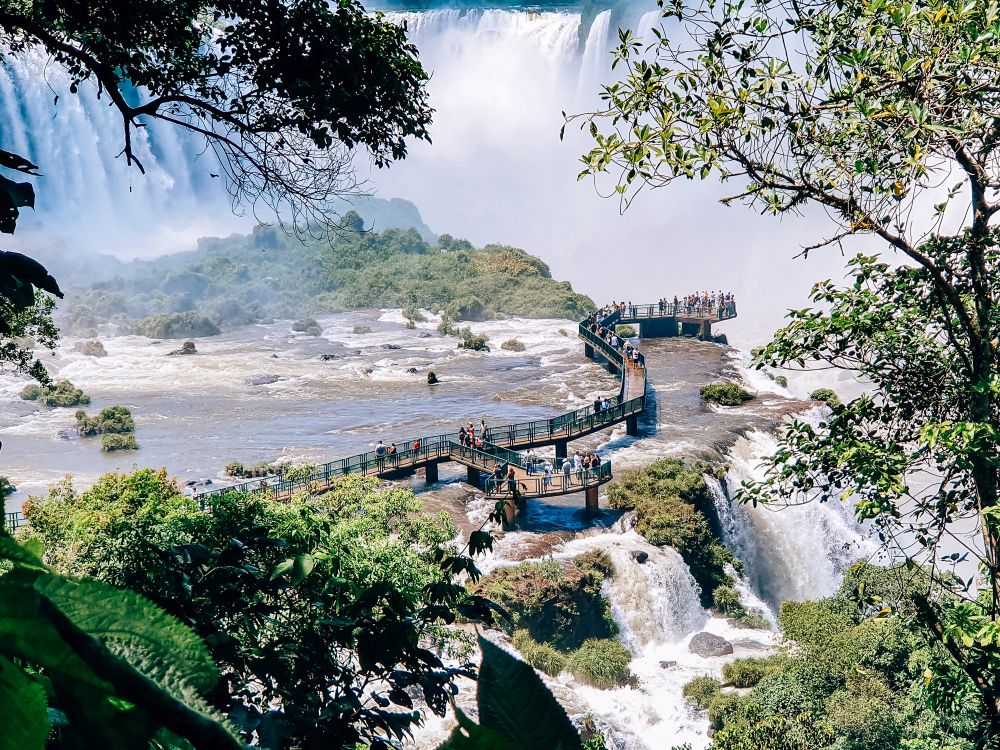 Tips for visiting Iguaçu National Park
Make sure to wear comfortable shoes when visiting Iguazu Falls. Although the walking trails are pretty short and well-maintained, there are quite a lot of stairs. If you have limited mobility, you can use elevators that take you to the main viewpoints.
Due to the park's popularity, it can get very crowded, so it's better to visit during weekdays or early in the morning.
In some parts of the trail, there's a lot of mist coming from the waterfalls. If you don't want to get soaked, bring a waterproof poncho and take care of your camera/phone.
Besides Iguaçu National Park, other notable attractions in the area are Itaipu Dam, one of the largest hydroelectric power plants in the world, and Parque Das Aves, a sanctuary for Atlantic rainforest birds.
Where is Iguaçu?
Iguaçu National Park is located in southern Brazil in the State of Parana. The official visitor center and the main entrance to the park are situated 15 kilometers southeast of Foz do Iguaçu, which is the nearest city.
Use the map below to book your accommodation in Foz do Iguaçu:
If you're traveling by car, it takes only 20-30 minutes to get from Foz do Iguaçu city to the Iguaçu National Park visitor center. Parking is available every day from 8am to 6pm and costs around 25 Reals per day.
It is also possible to get to the visitor center by public transport. For that, you'd need to take bus number 120 from the main bus terminal in Foz do Iguaçu. The trip takes around 40 minutes.
Alternatively, book a tour (with or without a boat component):

For more information about Iguaçu National Park, its opening hours and admission fees, see its official website.
Text and photos provided by Marjut Jogisoo of The Smooth Escape, a travel blog featuring destinations with outstanding natural beauty. Whether she's conquering volcanoes, hunting hidden waterfalls, discovering remote beaches or spotting wildlife, Marjut loves being surrounded by nature. Follow her adventures around the globe on Instagram or Facebook.
Have you been to Iguaçu National Park? If so, do you have any additional information or advice about this UNESCO World Heritage site? Please add your comments below!