By Kathryn Bird
What is Wartburg Castle?
Wartburg Castle sits on a hill high above Eisenach, a city in Thuringia in the middle of Germany. The castle dates from the Middle Ages (believed to be around 1067), although much of it was restored in the 19th century. It is regularly mentioned as being the inspiration for King Ludwig II to build Neuschwanstein Castle.
Disclosure: This article contains affiliate links. Making a purchase through an affiliate link will mean a small commission for this website. This will not affect your price.
Wartburg is also famous for being the site where Martin Luther hid in exile and translated the New Testament Bible into German, and it's the former home of St Elisabeth of Hungary, a princess who became a Catholic saint.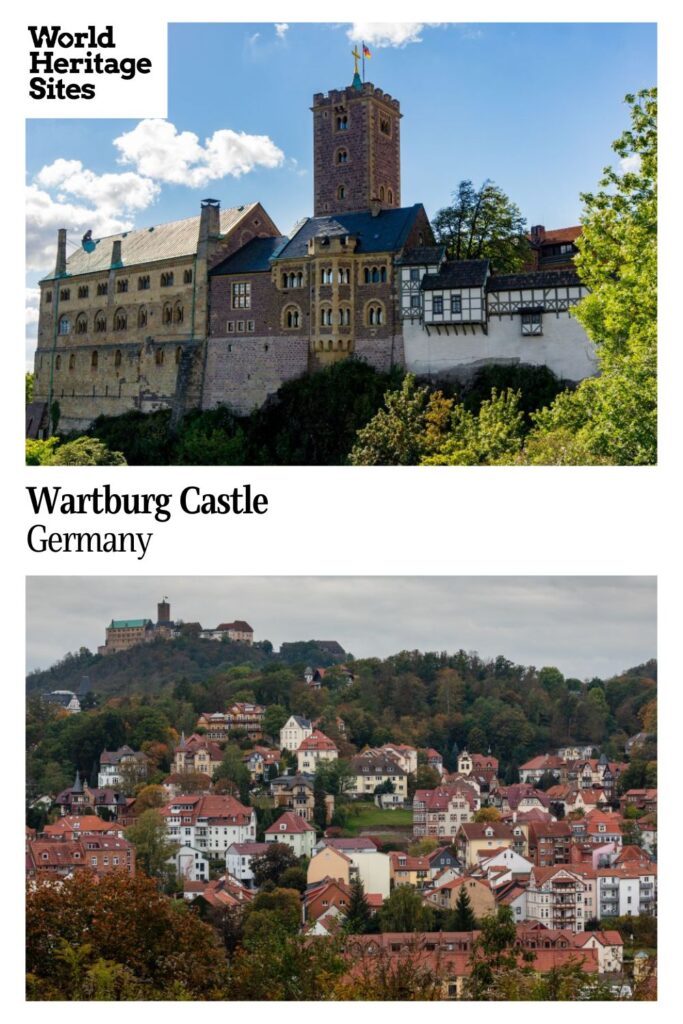 Why is Wartburg Castle a UNESCO World Heritage site?
UNESCO added the castle to its World Heritage listings in 1999, stating "The Wartburg Castle is an outstanding monument of the feudal period in central Europe" and "is rich in cultural associations. It is a powerful symbol of German integration and unity."
What can you expect on a visit to Wartburg Castle?
Visiting Wartburg is an experience. Driving up towards it is imposing – the place looks like a fortress, although it has never been used as a military stronghold. If you're driving or motorcycling in Germany, you'll find plenty of parking areas, although all require a walk up to the castle if you are able. Those who are not can take a free shuttle up to the entrance.
The walk isn't too strenuous (certainly not compared to Hohenzollern or Neuschwanstein) and is only about 500 meters (1/3 mile), although some parts are steeper than others. Be careful in icy conditions – it can be slippery.
Once you enter via the bridge and tunnel, you'll be able to wander inside at your leisure unless you have a guide (well worth it to get the most out of your visit and fully understand the history of the place.)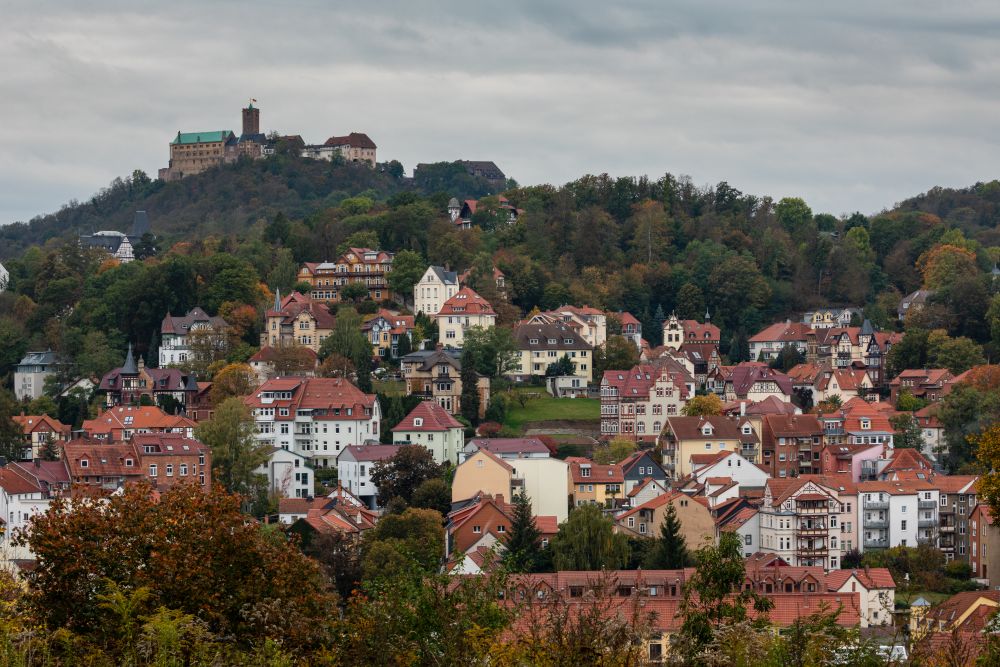 Inside you can see wooden beams from the 12th century, stone carvings, including replica reliefs from the medieval period and the incredible Mosaic room, which looks like something you'd find in the Middle East instead of Germany. Of course, you can also see the rooms where Martin Luther stayed, including a replica of the desk he worked on (The original collapsed after years of pilgrims slicing away a little at a time as a souvenir.).
Don't miss the Festival Hall, which is the site of the first democratic meeting on German soil, organised by university fraternities in 1817. Today it's used for concerts and other events.
There's a gift shop where you can buy a range of souvenirs and gifts and, if you're lucky enough to be visiting in December, there is also a Christmas market to enjoy.
Is Wartburg Castle worth visiting? (and for whom?)
If you enjoy castles in Germany and learning the history which shaped a place, Wartburg should definitely be on your list. The effect this castle has had on German history over the years is astounding.
If you're religious or a religious scholar, you'll find the history of Martin Luther and the struggles he overcame equally fascinating.
Having been, I probably wouldn't make a special trip just to visit, as it only takes an hour or two to look around, but if you're already enjoying a German road trip then it's definitely worth adding to your itinerary.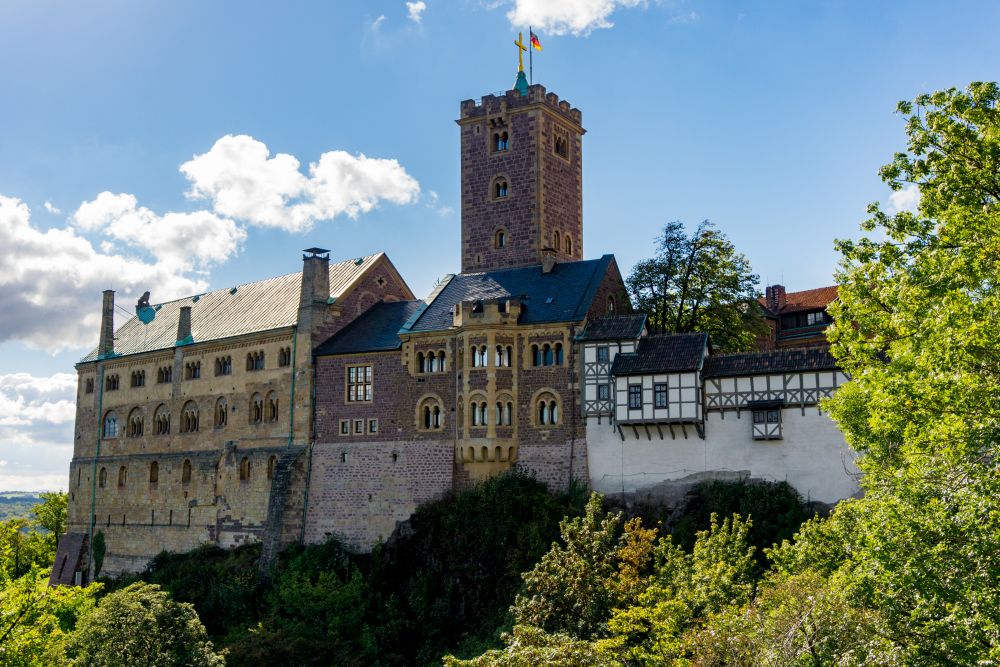 Tips for visiting Wartburg Castle
TOP TIP: Get here early if visiting in summer – it can get very crowded later when the tour buses arrive. The busiest rooms are usually the Martin Luther rooms so go there first if you can whilst it's quiet.
Book accommodations nearby so you can reach the castle early. Use the map below to find your hotel:
Visiting outside peak season is a good idea, especially if you can visit in autumn, when the leaves in the forests around the castle burst into colour and the views are breathtaking.
Don't forget to pay for parking – otherwise they will fine you.
If you're on a road trip, you'll find some of the best roads in Europe around the area. Spend some time in Eisenach – there are many historical landmarks around the area to visit and enjoy.
Where is it?
Address: Auf d. Wartburg 1, 99817 Eisenach, Germany
How to get there:
By car, it takes about 10 minutes from Eisenach. There is parking which you need to pay for.
By public transport, you can take the 'Luthershuttle' which is a hop-on, hop-off bus from Eisenach. Depending on where you get on, it shouldn't take more than 20-30 minutes to arrive.
For more information about Wartburg Castle, its opening hours and admission fees, see its official website.
Kathryn Bird never planned to get her own motorcycle. She certainly never planned to quit her job and set off to explore the world. In the past three years she has visited 17 countries and driven nearly 30,000 miles (not including the times she was lost.) She is passionate about inspiring others to experience the freedom of travel, whether it's a long weekend or a month away. You can read more about Kathryn's adventures, tips and 'How to' guides at www.bikergirllife.com Follow her adventures on Youtube, Instagram or Facebook.
Have you been to Wartburg Castle? If so, do you have any additional information or advice about this UNESCO World Heritage site? Please add your comments below!