Routes of Santiago de Compostela: Camino Francés and Routes of Northern Spain
By Carol Guttery
What is the Camino de Santiago?
The Camino de Santiago de Compostela is an ancient pilgrimage route which ends in Santiago de Compostela, Spain, where the remains of Saint James are interred. There are many routes to Santiago which spring up all over Europe. However, the UNESCO-designated routes are the Camino Francés and the Camino Norte routes.
Disclosure: This article contains affiliate links. Making a purchase through an affiliate link will mean a small commission for this website. This will not affect your price.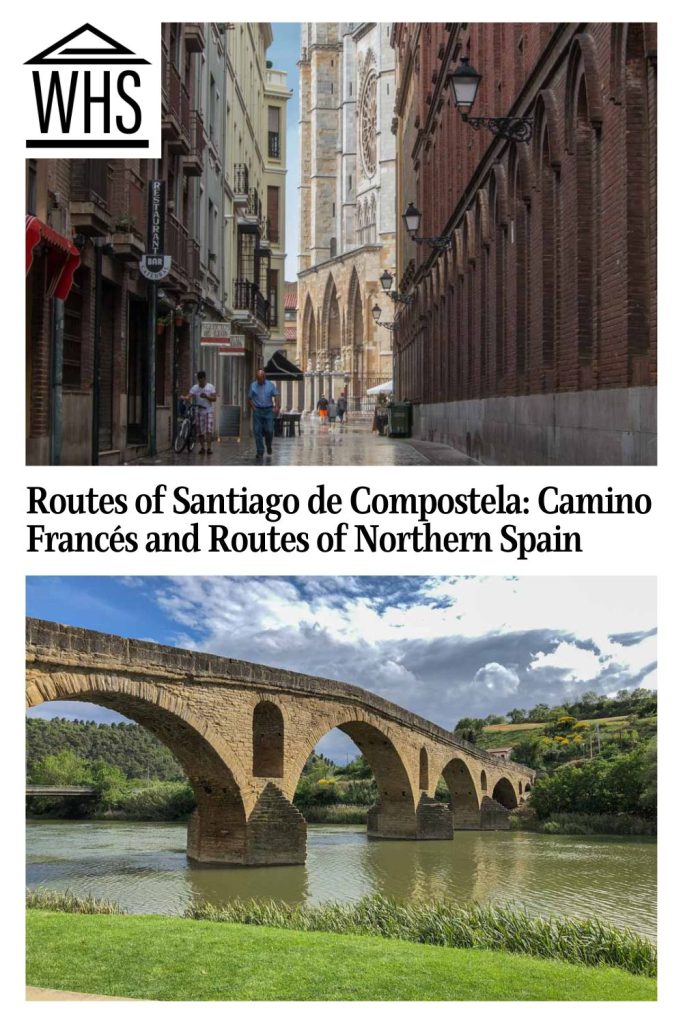 The Francés starts in the small French town of St. Jean Pied De Port and it runs 804 kilometers (500 miles) to Santiago. The route goes through historic cities like Pamplona, Burgos and Leon.
The most popular of the Northern Routes include the Coastal and the Primitivo. The Coastal starts in Irún and goes 865 kilometers (537 miles) through the coastal cities of San Sebastián, Bilbao and Llanes. The Primitivo route (sometimes called the Original Route) is 320 kilometers (199 miles) long and transits from Oviedo through Lugo and Sarria.
Why are these routes a UNESCO World Heritage site?
These routes developed eleven centuries ago as a pathway for pilgrims to visit the remains of Saint James, and to seek forgiveness for their sins. Services sprang up to serve the physical and spiritual needs of the pilgrims, so the routes today contain stunning examples of historic cathedrals, stone bridges, monasteries, templar sites and even some miraculous chickens.
In addition to historic preservation, UNESCO credits the Camino with playing a key role in bringing together cultures and people from all classes, not only in the Middle Ages, but through the centuries, as well as building connections between the Iberian Peninsula and the rest of Europe.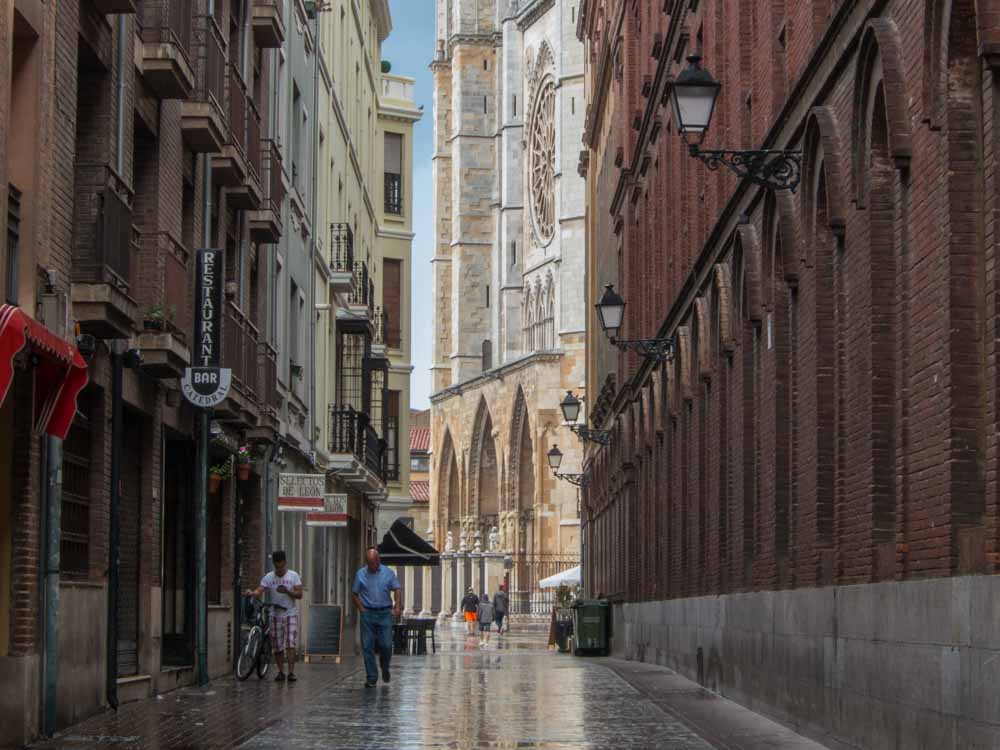 What can you expect if you walk the route?
Doing the Camino (especially solo) is a life-altering experience for most pilgrims. Even people who aren't religious find it a profound exercise in faith, resilience and self-awareness.
Doing a Camino is an exercise in simplicity. You simply strap on a backpack with three days of clothing and head west. The daily Camino is a very simple regime, from your meals to your modest lodgings. It's very liberating to let the trappings go and simply put one foot in front of the other.
That said, hiking 20-25 kilometers (12-16 miles) day after day is also an exercise in…exercise. It takes no small amount of grit and stamina to tackle the longer Camino routes.
Fortunately, you can do as much or as little of the Camino as you wish. If you want to earn a Compostela, then you'll need to do at least 100 kilometers (62 miles) of consecutive mileage into Santiago. The Compostela is a certificate of completion, which also comes with an ecclesiastical benefit that forgives some sins.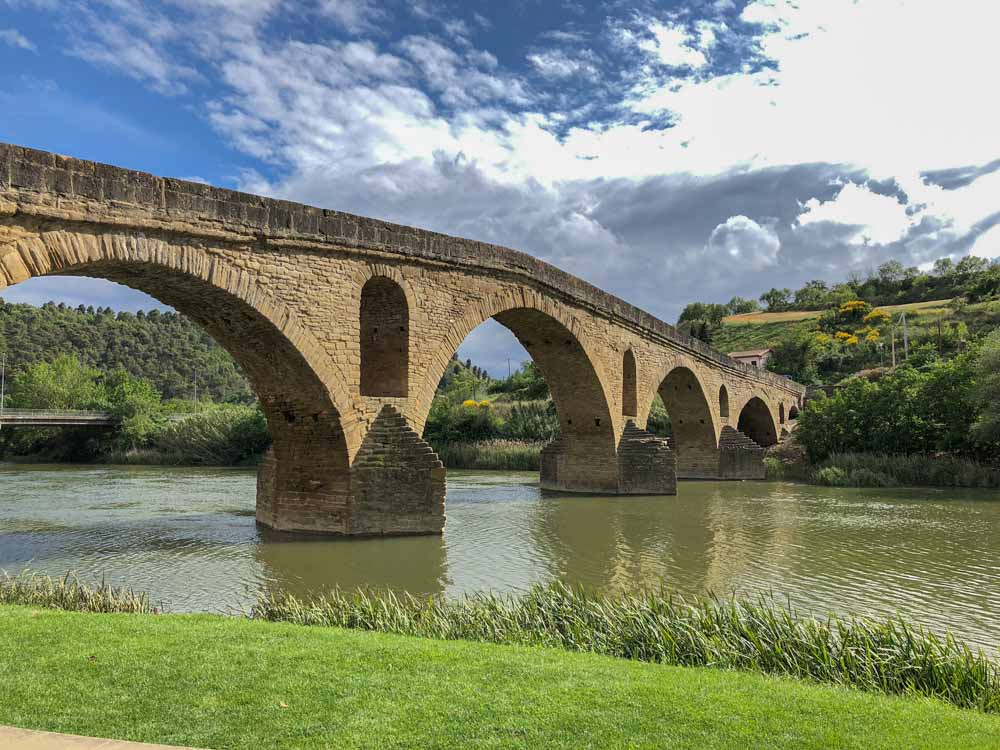 Is the Camino worth doing?
Hiking the Camino isn't for everyone, but experiencing the Camino in some way is certainly worth it for anyone interested in European history, Catholic history, mediaeval architecture and Templar lore.
You can get a taste of those things by visiting some key (and easily accessible) historic sites on the Francés. These include: old town Pamplona, Santo Domingo de la Calzada (and their miraculous chickens), the Burgos and Leon cathedrals, the Samos monastery and the ancient Cruz de Ferro. And of course, Santiago.
If you visit Santiago de Compostela as a tourist, rather than a pilgrim, make a point of striking up a conversation with a pilgrim. They are easy to spot on the plaza in front of the cathedral and they will be happy to tell you some tales.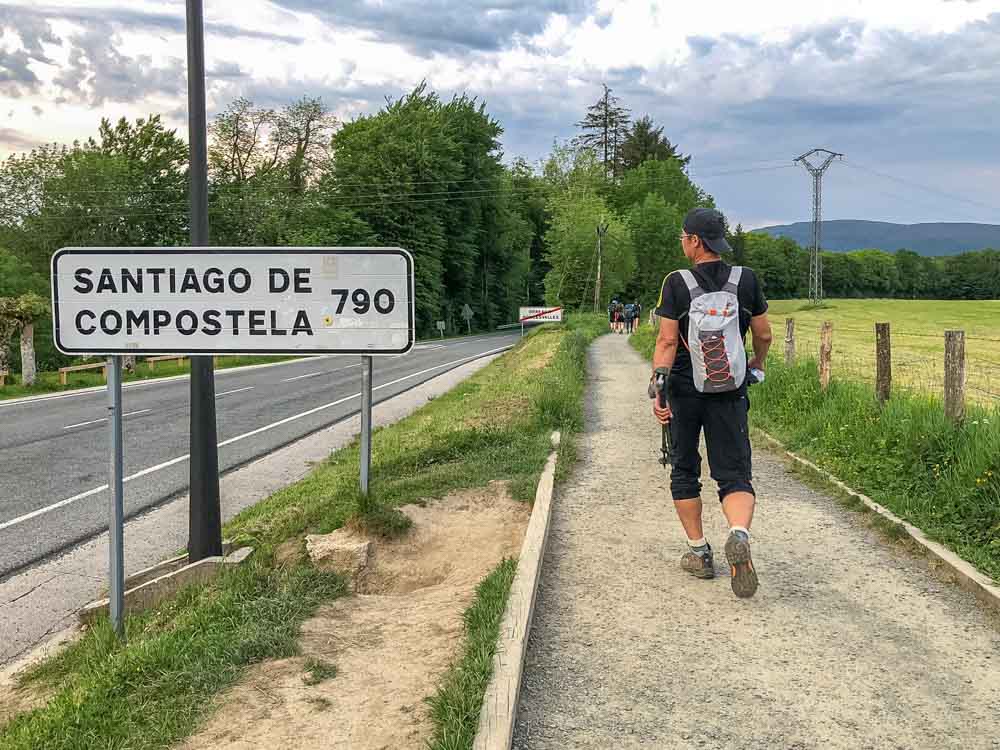 Tips for planning a Camino
Don't worry about "doing the whole thing". Doing some part of the Camino will be good for your soul. That said, try to negotiate as much time off as possible.
Don't overthink the training. You do need to train, but you don't need to be a super athlete. The Camino isn't a marathon; it's a slow stroll across Spain. People who are old, overweight, or out of shape can be successful pilgrims.
Despite what UNESCO says, your Camino begins when you leave your front door.
Where is the Camino de Santiago?
The most popular starting points for the Camino are the following cities (in order of popularity): Sarria, St. Jean Pied De Port, Porto, Tui, Ferrol, León and Oviedo. (Links will take you to accommodations listings.)
All of these towns and cities are fairly easy to get to by bus or train from Madrid, Santiago de Compostela or Lisbon. Travel time from these cities will typically be 5-6 hours.
Here is the official website for the Pilgrim office in Santiago.
Use this link for accommodations in Santiago de Compostela.
Text and photos have been provided by Carol Guttery of Wayfaring Views. She's a serial pilgrim who has been on the Camino Frances (twice) and who plans to tackle the lovely countryside of the Camino Primitivo next.
Have you walked the Camino? If so, do you have any additional information or advice about this UNESCO World Heritage site? Please add your comments below!