Port, Fortresses and Group of Monuments, Cartagena
By Carol Guttery
What is Cartagena?
Cartagena de Indias was founded in 1533 by Spanish commander Pedro de Heredia, on the former site of an indigenous village. The city sits perched on the edge of the Caribbean in perfect alignment with the trade winds that blew Spanish trading ships east from Panama.
Disclosure: This article contains affiliate links. Making a purchase through an affiliate link will mean a small commission for this website. This will not affect your price.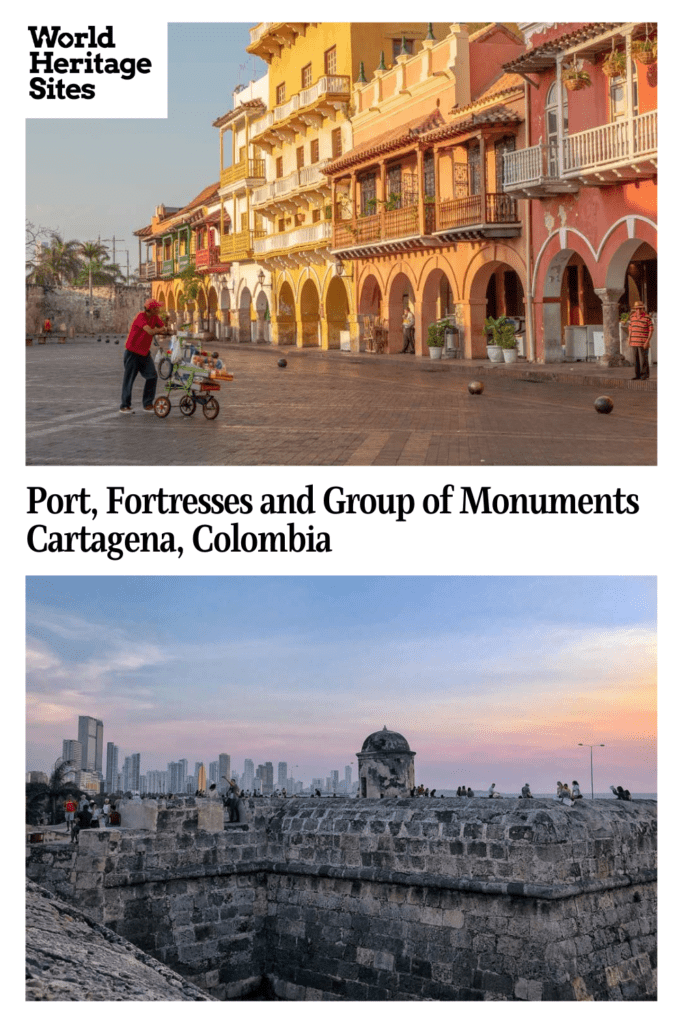 Cartagena's strategic position made it a very valuable asset, and thus a target for attack from competing colonial nations. Starting in the 1600s, the city built a series of fortifications, many of which are still standing today.
The old town is surrounded by a wall fortification and there is another large fort that looms over the city.
Why is Cartagena a UNESCO World Heritage site?
Cartagena was the site of a series of confrontations. It was attacked by the English (1656), then the French (1697), and then the English again (1741). Spain held on until 1811, when Colombia gained independence.
Because of this, the main reason that Cartagena has UNESCO status is for its excellent examples of military architecture. But in addition, the city's strategic location on the Caribbean meant that it (literally) fed and watered the great maritime explorers of the time.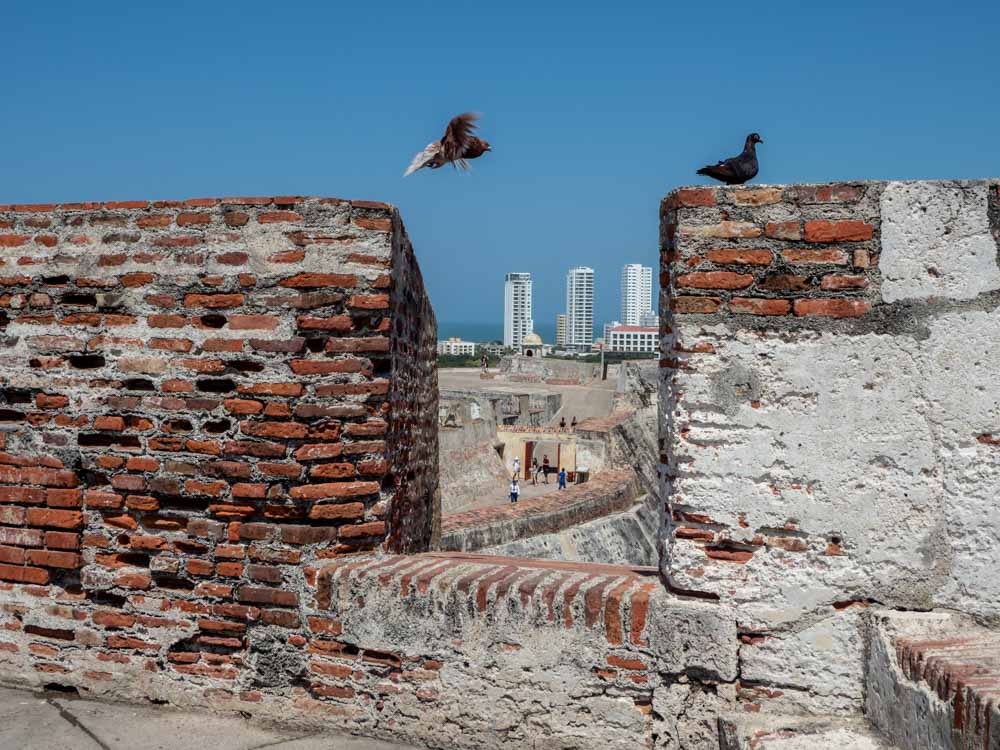 What can you expect on a visit to the Cartagena sites?
The key things to do in Cartagena that pertain to the UNESCO status are to visit the Castillo de San Felipe de Barajas fort and stroll the walls that encircle the city. The former is best done during the day when you can get great views of the city. The latter is best done at sunset as the waning light sparkles over the Caribbean.
But beyond that, there are plenty of other reasons to visit Cartagena. It's a very literary city. Gabriel Garcia Marquez lived in Cartagena and wrote many books set in Colombia from his home there.
There are lots of lovely plazas dotted throughout the city. The Getsemani neighborhood has amazing food and some cool street art. And the Palacio de la Inquisition is also worth a visit.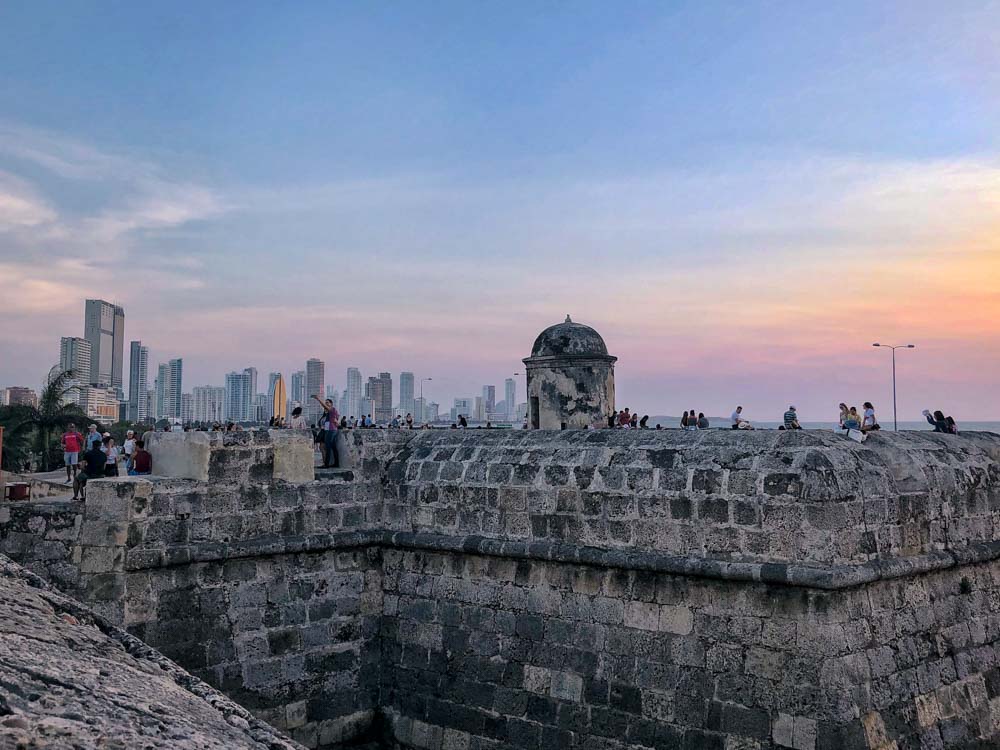 Is Cartagena worth visiting?
Cartagena is definitely worth visiting for both its colonial history and also for the melting pot of culture that simmers there. It sits firmly on the border between the Latino and Afro-Caribbean cultures, and lives comfortably in both.
Some people just stop there for a day as part of a cruise. But if you have more time, Cartagena is worth at least two days. And you can also use Cartagena as a base for day trips to beach clubs and snorkeling excursions.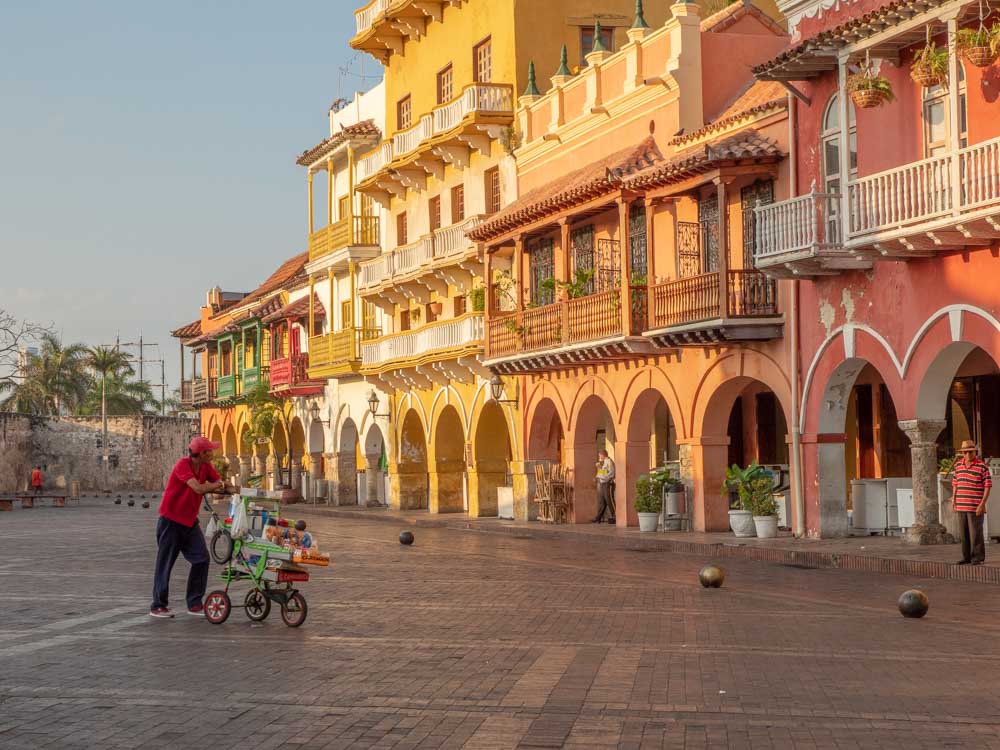 What sorts of travelers would like Cartagena?
Cartagena is great for people who love exploring international destinations and who are mad for history. It's not totally on the beaten path, but it's not so far off of it either, which makes it a fairly easy place to visit. Some knowledge of Spanish doesn't hurt, but you can get by without it.
It's a good add-on for any Colombia itinerary or an easy side-visit from Panama.
Tips for visiting Cartagena
Cartagena is really beautiful in the early morning when no one is around. Strike out then and you'll have the streets to yourself. It's perfect for photographers.
It's also worth taking the free walking tour – which isn't really free, because they expect you to tip, but the tour is worth it anyway.
Book your accommodations in Cartagena through this link!
Where is Cartagena?
Old Town Cartagena (which includes the UNESCO sites) is located in the far northwest of Colombia.
It's well-served by the Cartagena (CTG) airport with many direct flights from within Colombia and international service from Lima, Panama City, Amsterdam, Montreal, Toronto, New York, Miami and Fort Lauderdale.
Getting into town from the airport is an inexpensive ~$10.
The old city walls are walkable anytime, but the Castillo de San Felipe de Barajas is open daily 8am-6pm.
Text and photos provided by Carol Guttery of Libro Maniacs. She loves literary travel, and in addition to chasing down Marquez in Cartagena, she's traveled to UNESCO City of Literature locations in Iceland, England, Wales, Estonia and Australia.
Have you been to Cartagena? If so, do you have any additional information or advice about this UNESCO World Heritage site? Please add your comments below!