By Carol Guttery
What is the Burgos Cathedral?
Our Lady of Burgos is a stunning Gothic cathedral set in north-central Spain. Construction began in the 13th century but it took until the 16th for it to be completed. The cathedral's massive stone edifice dominates the historic center of Burgos and the interior is studded with ornate architecture, art, choir stalls, tombs and stained glass.
Disclosure: This article contains affiliate links. Making a purchase through an affiliate link will mean a small commission for this website. This will not affect your price.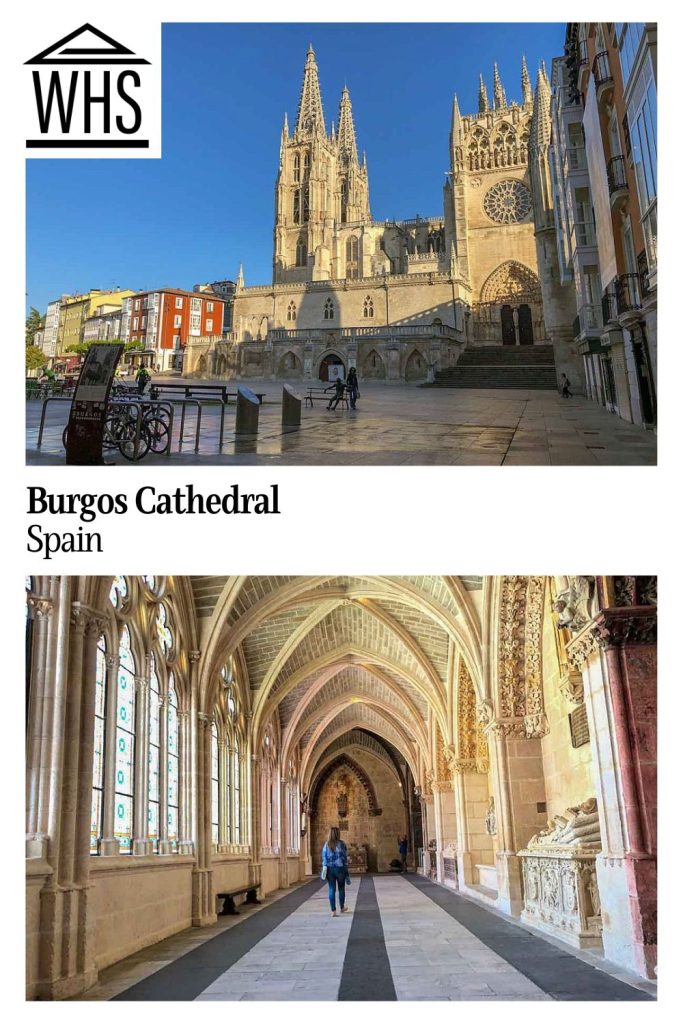 Spain has painstakingly maintained the cathedral and it's still a working church today.
Why is Burgos Cathedral a UNESCO Heritage site?
Spain has some of the highest concentrations of UNESCO destinations in Europe, including religious sites like the Seville cathedral, Extra-Muros churches and San Millán Yuso and Suso Monasteries.
But the Burgos Cathedral is really something else.
UNESCO's listing for the Burgos Cathedral notes several criteria for its inclusion in the program. This is largely because it's such a stunning example of the Gothic architectural style. The layout is based upon a Latin cross and the interior spaces soar with vaulted ceilings, ornately grilled choir stalls and gold-plated chapels and family tombs.
In addition to the architecture, the Burgos Cathedral was an important workshop for artists and builders of the 16th century. It's also linked to the Reconquista and El Cid is buried at the cathedral.
The Burgos Cathedral sits squarely on the ancient Camino de Santiago pilgrimage route. Many pilgrims start their pilgrimage in Burgos, or pass through it on their way to Santiago de Compostela (which is also a UNESCO site).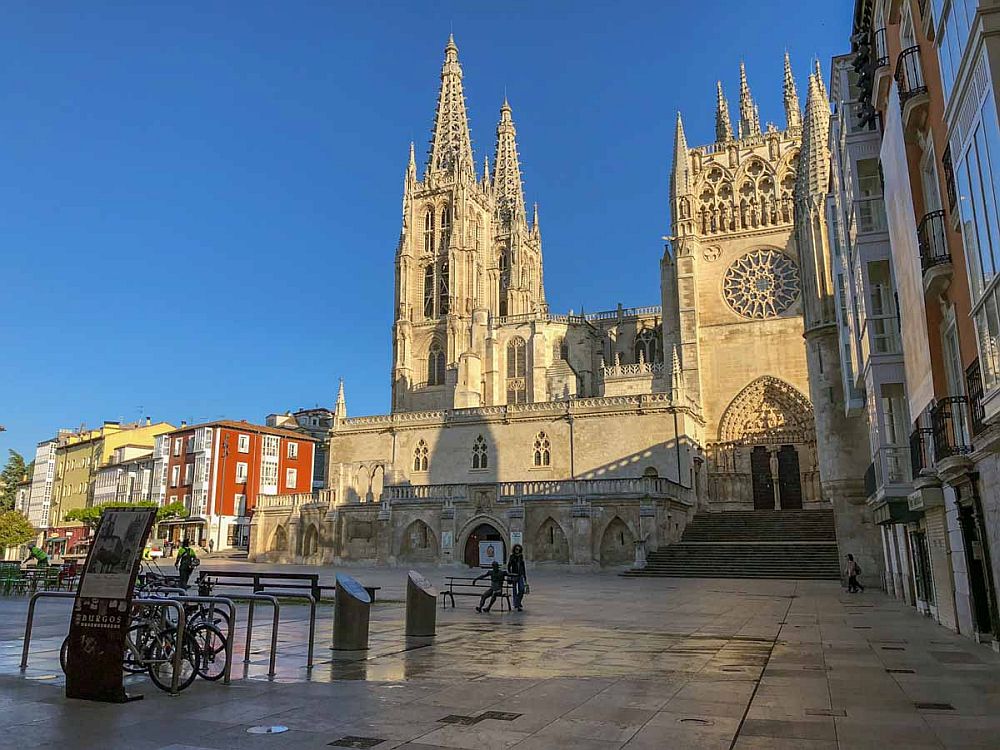 What can you expect while visiting Burgos Cathedral?
The cathedral has a one-way self-guided walking tour through the interior. Be sure to stop into the chapel, which is a soaring, light-filled space. There is a side room with ornately-carved choir seats.
As you work your way around the building, you'll go past a series of family tombs. Someone forgot their vow of poverty here, because the tombs are covered in gold and precious paintings.
There is also an additional section of the cathedral which features museum-style exhibits with sculptures and information on the cathedral's construction.
In addition to touring the interior, you should also spend some time lapping the exterior of the cathedral. You'll get a great view of the carved door lintels and get a sense of the massive scale of the church.
If you have time, climb up to the Castillo de Burgos ruin. It will give you a bird's eye view of the cathedral and all of Old Town Burgos.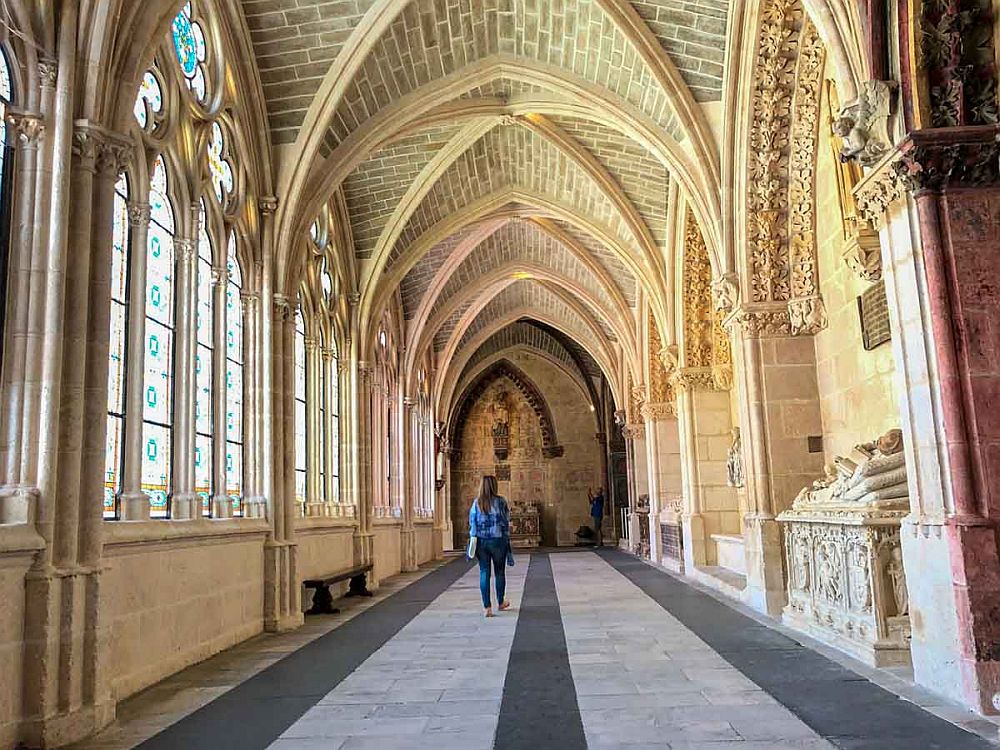 Is the Our Lady of Burgos Cathedral worth visiting?
Absolutely. It will be especially interesting for folks who like to explore layers of history or Gothic architecture.
It's also an important stop for pilgrims walking the Camino Frances. Burgos makes an excellent rest day along the trail.
Book your accommodation in Burgos using the map below:
Tips for visiting Burgos Cathedral
If you aren't a pilgrim, then plan to visit earlier in the day and you'll avoid some crowds that way. Give yourself at least an hour (more is better) to explore the cathedral.
Where is Burgos Cathedral?
Burgos Cathedral is located in Old Town Burgos. You can't miss it; just look up and follow the spires to the main square.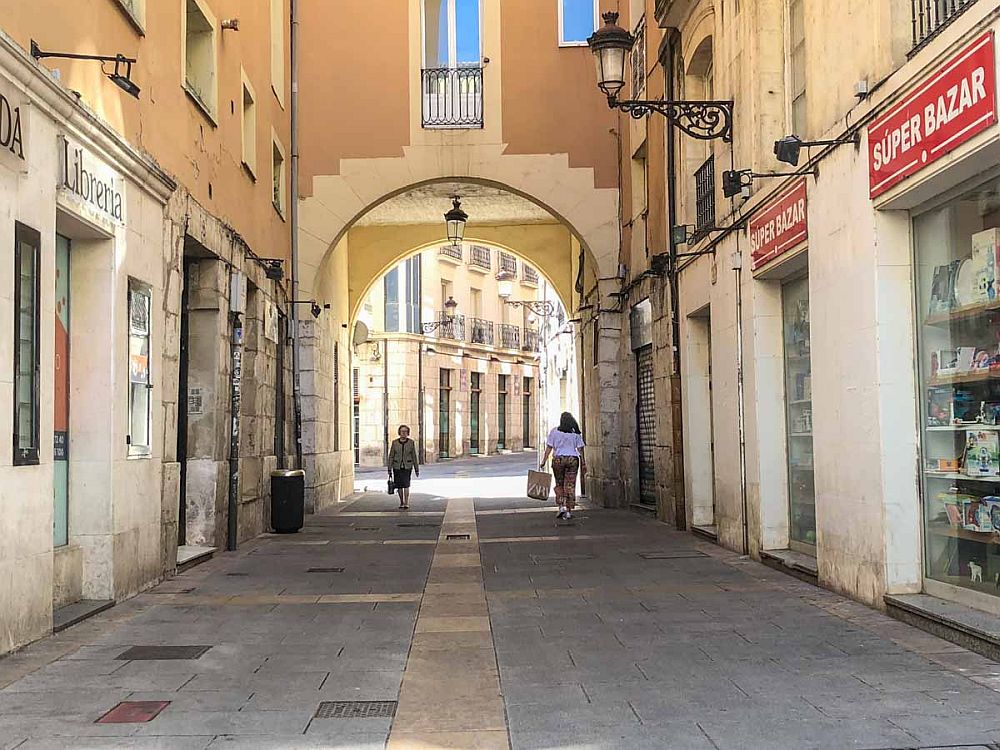 Burgos has generous bus and train connections from Madrid, Pamplona, and Leon.
For more information about Burgos Cathedral, its opening hours and admission fees, see its official website (only in Spanish; use Google translate).

Text and photos have been provided by Carol Guttery of Wayfaring Views. She's a serial pilgrim who has been on the Camino Frances (twice) and who plans to tackle the lovely countryside of the Camino Primitivo next.
Have you been to Burgos Cathedral? If so, do you have any additional information or advice about this UNESCO World Heritage site? Please add your comments below!