By Cindy Carlsson
What is Vilnius Historic Center?
Often referred to as Old Town Vilnius, this UNESCO site includes the city's original medieval street layout and a wide range of architecture constructed over 500 years. It incorporates over 3.5 square kilometers (nearly 900 acres) and all types of historic buildings and land uses.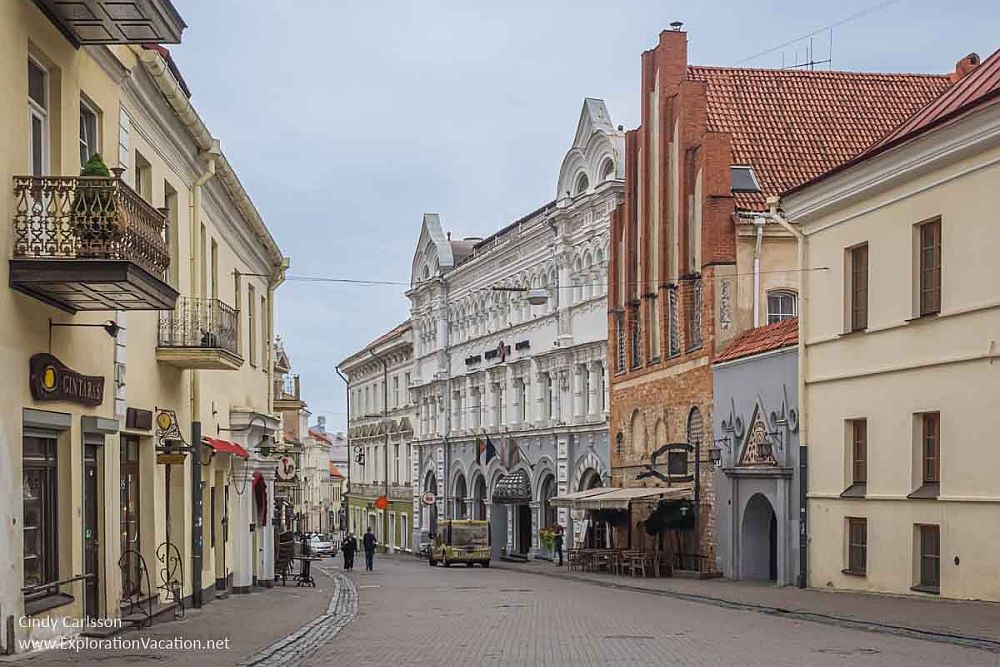 Why is Vilnius a UNESCO World Heritage site?
The historic center of Vilnius is considered an outstanding example of the medieval development pattern that shaped Eastern European cities. UNESCO also notes that "In the townscape and the rich diversity of buildings that it preserves, Vilnius is an exceptional illustration of a Central European town which evolved organically over a period of five centuries."
Although Baroque architectural forms are the most common, the historic area also includes Gothic, Renaissance, and Neoclassical structures, as well as a few pre-Gothic foundations.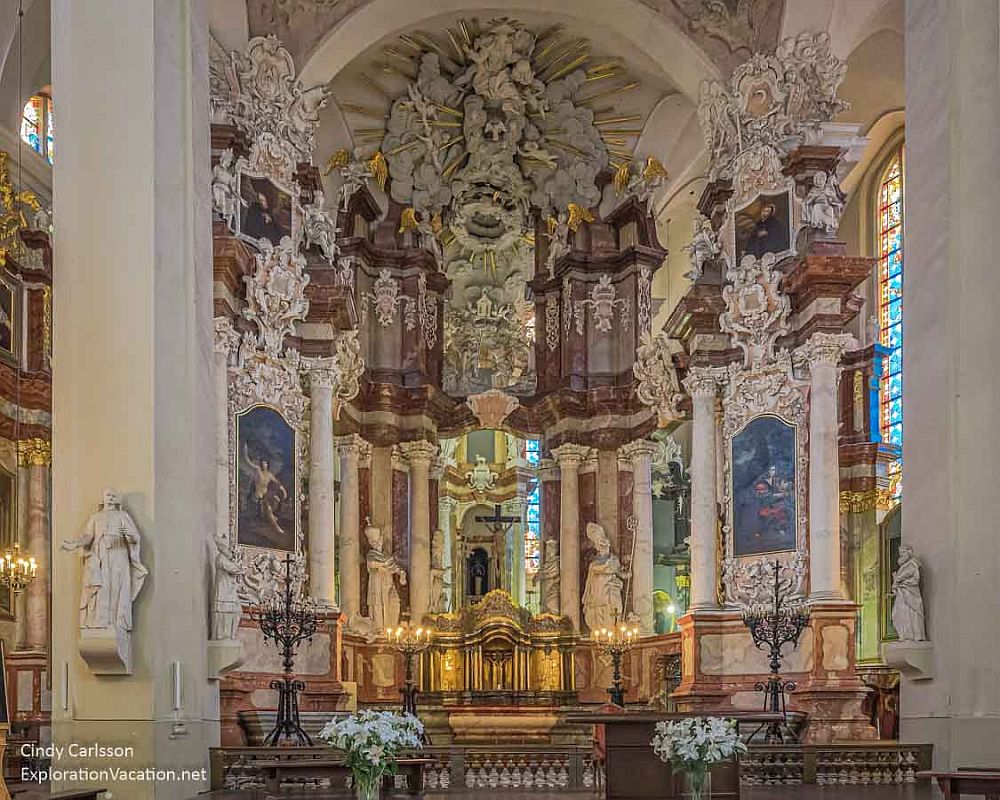 What can you expect on a visit to Vilnius?
Centuries of architectural change can be seen in Vilnius' historic center. Almost all buildings in the area are historic and house a variety of uses, including specialty shops, restaurants, housing, hotels, churches, museums, government offices, and Vilnius University. It makes for an interesting streetscape that's a lot of fun to explore. Limited traffic and unexpected art-filled squares also make for pleasant walking.
This area goes back to the 15th century, when Vilnius was the capital of the largest country in Europe. Today some of that period and the centuries that followed remain visible in the streetscape. But other bits of the city (and country's) history are found in the area's many museums.
The city's history is also found in more unusual places, like the sculptures, monuments, and memorials found in every square and outside many buildings. Or at Vilnius University, where the university's history comes to life on the frescoed ceiling of Littera bookshop. The medieval street layout is itself clearly visible from the city's belfries or the hilltop tower marking the location of the city's first brick castle. The city's long history is uniquely visible in the built environment all around you.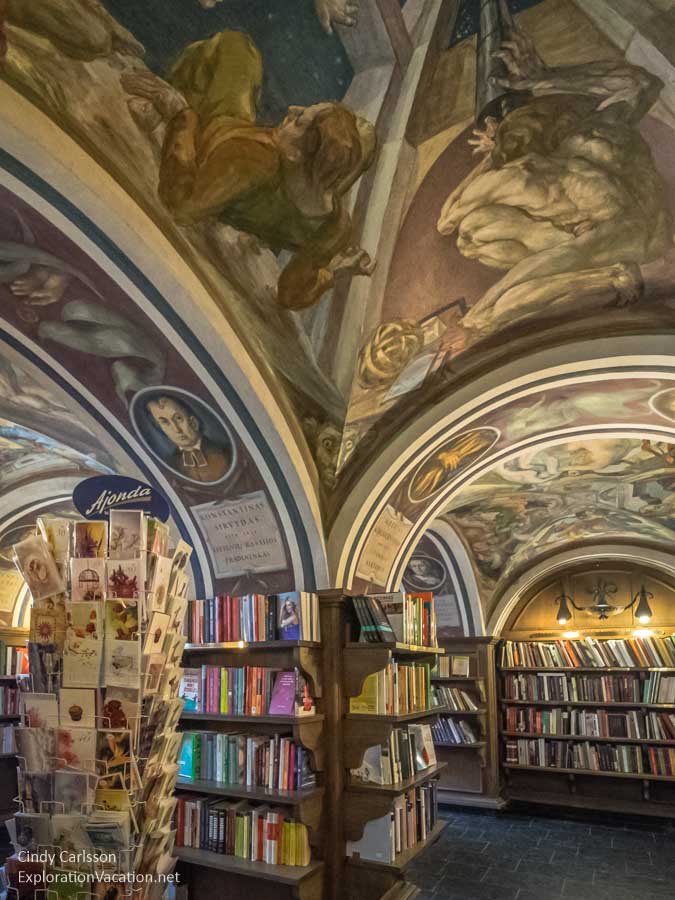 Read more about taking a walking tour through Old Town Vilnius here.
Is Vilnius worth visiting?
Vilnius is worth visiting while traveling through this part of Europe. It lacks the dramatic architecture of the historic center of Riga or the lost-in-time feeling of Old Town Tallinn. But it's still an interesting place to explore.
Architecture buffs will find Vilnius particularly interesting, but anyone who slows down and gets to know the city a bit will find plenty to like. And it's not nearly as crowded or touristy as its more popular historic neighbors!
You can see all the key sites in a day. A walking tour will take you by the Cathedral and Belfry, the Gate of Dawn in the old wall, a number of churches, castle ruins, palaces, a couple of significant public sculptures, Vilnius University (but not through the campus), and memorials like the one at the site of the Great Synagogue (destroyed by the Nazis – along with the city's large Jewish community – and then obliterated by the Soviets). But a single day doesn't allow time to explore the museums, churches, University campus, or the lovely little courtyards hidden just off the street.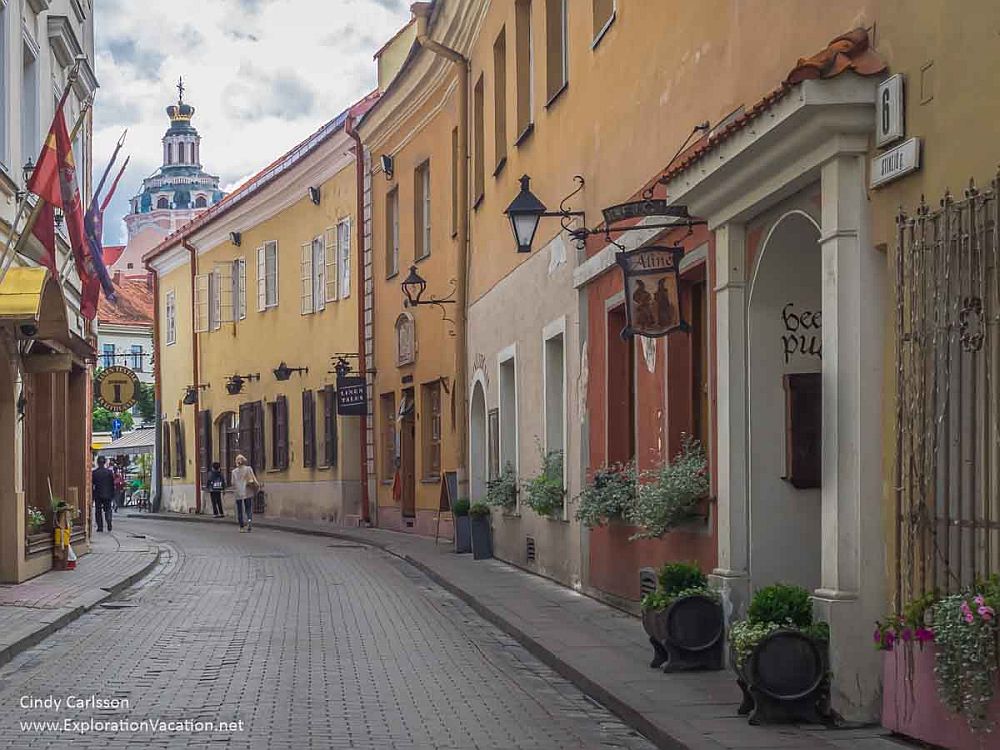 Tips for visiting Vilnius
Stay right in Vilnius' historic center. A variety of lodging is available and you can walk everywhere. You can see your accommodation options on the map below:
Museums in Vilnius are so inexpensive that they are almost free. But the city takes its history seriously, so take advantages of those low prices to learn a little more about the history and culture of Lithuania.
While a few very popular sites like the Belfry at Vilnius Cathedral or Littera bookstore at the University will always be crowded, you'll have many of the city's finest sites almost to yourself most of the time.
The University of Vilnius claims to be the oldest in Europe and the campus has many wonderful historic buildings. Parts of the campus are open to visitors, but most are only open for guided tours and require a reservation. Plan ahead if you want to see this historic and art-filled campus.
Trakai castle sits on an island about a half-hour from Vilnius. It's as picture-perfect a site as you will find anywhere and makes a great day trip.
Where is Vilnius?
Lithuania is located along the Baltic Sea, with a bit of coastline between Latvia and the Russian outpost of Kaliningrad. Poland and Belarus are the country's other neighbors.
Vilnius is located in southeastern Lithuania, near the border with Belarus.
Rail options are pretty limited in the Baltics, making flying a good option for getting to Vilnius unless you are planning a road trip through the region.
Vilnius is about 300 kms (190 miles) from Riga, about a 4-hour drive or one-hour flight.
A road trip to Vilnius from Tallinn is a minimum of 600 km (375 miles) and an 8-hour drive. It's the same distance from Gdansk, but a slightly quicker drive.
Flying time from either Stockholm or Helsinki is about 1½ hours. (Slightly longer from Helsinki.) Flying from Amsterdam takes at least 2 hours.
Traveling via transit between the Vilnius airport and the historic city center takes about 20-30 minutes.
Google maps does a reasonable job of identifying the city's historic center as Vilnius Old Town. Both transit and parking are limited in this area, making walking the best way to get around. But there are plenty of lodging options in or within easy walking distance of Old Town, so it's easy to walk most places.
For more information about the Vilnius Historic Centre, including opening hours and admission fees for most sights and self-guided walking tours, see the city's official website.
Text and photos provided by Cindy Carlsson, the always-curious traveler and photographer behind the website ExplorationVacation. Cindy loves diving deep into the places she visits and sharing her discoveries to help you travel better. Visit the website, Facebook, or Instagram for more travel inspiration.
Have you been to Vilnius? If so, do you have any additional information or advice about this UNESCO World Heritage site? Please add your comments below!