By Cindy Carlsson
What is Vlkolínec?
Vlkolínec is a small rural Slovakian village that consists almost entirely of traditional folk buildings. These include wooden three-room houses, outbuildings, and the site's oldest structure – the 1770 bell tower. Although most structures only date back as far as the 19th century, they are constructed like those from centuries earlier. As a result, Vlkolínec has the look and feel of a Medieval village.
Disclosure: This article contains affiliate links. Making a purchase through an affiliate link will mean a small commission for this website. This will not affect your price.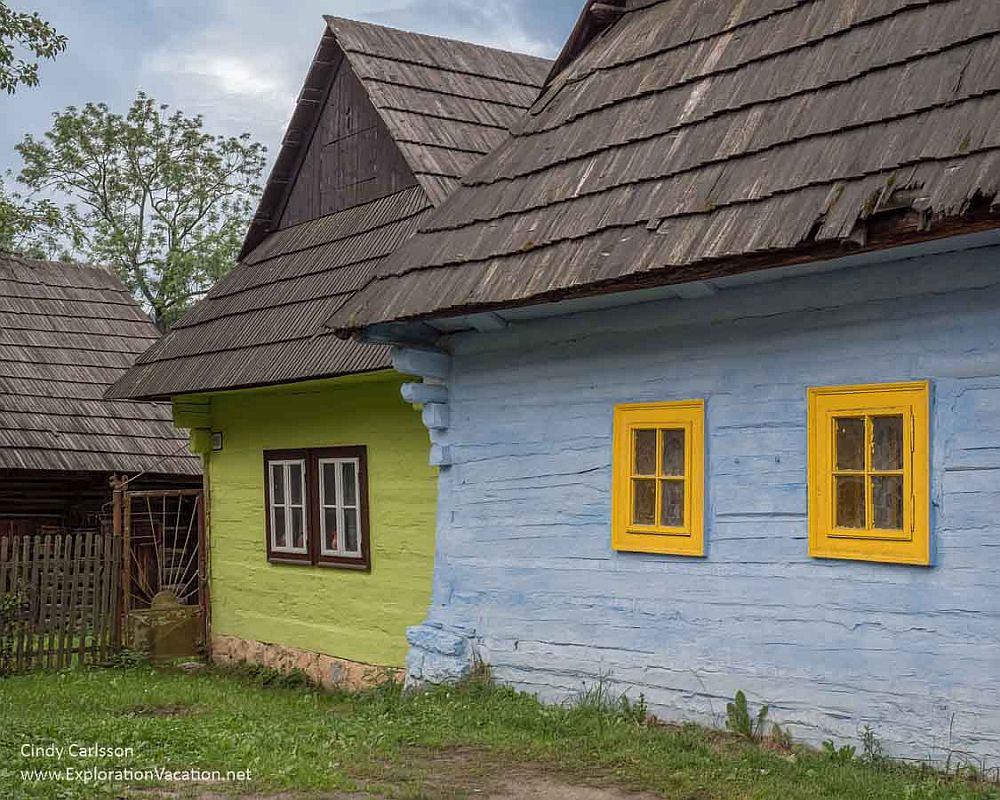 Why is Vlkolínec a UNESCO World Heritage site?
UNESCO describes Vlkolínec as a "remarkably well preserved rural medieval settlement featuring wooden architecture typical of hillside and mountain areas."
It's unusual both because so many traditional structures survive together without modern intrusions and because the surrounding landscape also looks much as it has for hundreds of years. As such, it's an excellent example of the settlements once found throughout mountainous areas of the region.
What can you expect on a visit to Vlkolínec?
If you can look past the villagers' automobiles and the t-shirt-clad tourists, it's not hard to imagine you've been transported several hundred years back in time when you visit Vlkolínec. You can spot a few modern street lights and electric connections as you wander the picturesque streets, but most signs of the modern world are well-hidden.
And wandering is the thing to do in Vlkolínec. The log houses have unusual architectural details and a colorful lime coating that creates a lost-in-time scene. However, because this is an actual village and not a museum, visitors are largely limited to looking at the houses from the street. This also puts the intriguing collection of outbuildings behind each house mostly off-limits to visitors as well.
Fortunately, a few houses and outbuildings are open to visitors. These let you see the interior layout and maybe a few historic furnishings while watching traditional weaving, other crafts, or a cooking demonstration, or shopping for locally-produced items. A few outbuildings are also open for woodworking and other demonstrations. The farm museum, church, school, and two art galleries are also located in historic buildings and are open to visitors.
Read more about what you'll see in Vlkolínec here.
Is Vlkolínec worth visiting?
The Vlkolínec UNESCO site is not very big. With 45 buildings, a handful of which are open to the public, you can easily walk through the site in an hour or so.
Visitors with an interest in folk architecture will want more time to take a close look at how these buildings are constructed and maybe watch a woodworking or construction demonstration. Visitors interested in traditional Slovak crafts and/or food will want time to take in a demonstration or two and browse in the shops. Families should allow at least a couple of hours to give children plenty of time to see the animals at the farm museum, look inside open buildings, maybe watch an intriguing demonstration, and eat a snack.
For most travelers, Vlkolínec probably isn't a stand-alone destination. It's an unusual place, but you can't go in most buildings and most of the craft and cooking demonstrations are not unique to this village. It's quite similar to another UNESCO site, Holašovice in Czechia, in that it is all about vernacular architecture but isn't worth a separate trip.
However, this is a good region for a road trip, as the scenery is gorgeous and laced with hiking trails. It's also within a two-hour drive of several other UNESCO World Heritage sites, including Banská Štiavnica, most of the "Wooden Churches of the Slovak part of the Carpathian Mountain Area," and the city of Levoča and Spišský Hrad castle.
For those interested in spending more time exploring the village, hiking the mountains, or just relaxing, some of the historic houses in Vlkolínec are available as vacation cottages. While the exteriors still look as if it's the 1600s, the interiors generally include modern features like running water and electric lighting. But plan well ahead, as these are very popular with Slovakian vacationers.
If you zoom out in the map below, you'll see more accommodations in the area:
Tips for visiting Vlkolínec
Wear good shoes that can handle uneven ground and mud. The "streets" are not paved.
Expect crowds on weekends and Slovak summer holidays. Vlkolínec is very popular with Slovak vacationers.
Almost all the property in the village is privately owned. Be respectful and stay out of areas that are not clearly open to the public. Don't open gates or enter yards unless invited to do so.
While food is available at the site, the options are limited and the lines can be long.
If rain is a possibility, be prepared to stay out in it. On a busy day there are far more visitors than sheltered spots to wait out wet weather.
Several festivals are held in Vlkolínec during the summer. Check the site's webpage (provided below) to see what's scheduled.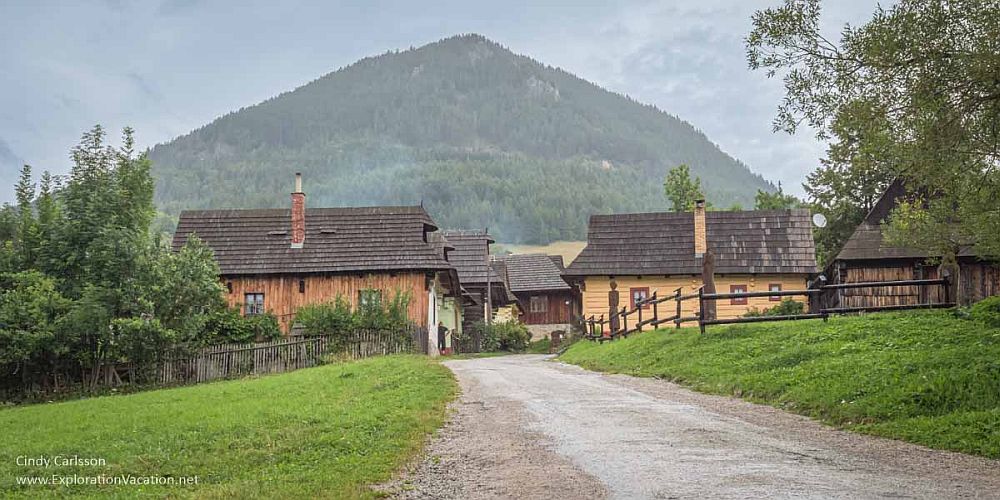 Where is Vlkolínec?
The Vlkolínec UNESCO World Heritage site is located in north central Slovakia, not too far from the borders with Czechia and Poland.
Vlkolínec is part of the town of Ružomberok.
Ružomberok is about 265 km (165 miles) from Bratislava, or about a 3-hour drive. The fastest train service between Bratislava and Ružomberok (sometimes with a train change in Zilina) takes slightly longer at 3½ hours. Bus service is also available with travel times around 5 hours and up.
It's a little faster to get there from Kraków, Poland. That route is about 165 km (100 miles) and takes about 2½ hours to drive. The bus is the best transit option from Poland, with the fastest travel time taking just over 3 hours. However, the train goes to Ostrava, Czechia, before heading to Ružomberok. That increase the total travel time by rail to almost 6 hours. (Of course, if traveling directly from Ostrava, the train can get you into Ružomberok as fast or faster than you can drive there.)
While Vlkolínec is considered part of Ružomberok, they are about 7 km (just under 4.5 miles) apart. (Type Vlkolínec UNESCO into Google maps to see exactly where the village and parking are located.)
Usually, a public bus serves Vlkolínec fromRužomberok on a regular, summer-only schedule. Taxis and bike rentals are also available in Ružomberok.
If you are driving, Google's directions can be confusing. Fortunately, the Vlkolínec website explains exactly how to get to the World Heritage site from Ružomberok via auto, bus, and bike. They even describe the options for hiking there through the park!
Parking for private automobiles is available at two places, including just below Vlkolínec village. (This is also where the public bus stops.) From there, it's an easy walk up a slight rise to get to the village and the fee to park here is very small. Visitors are not allowed to drive into the village itself.
For a great deal more information about Vlkolínec, its opening hours, admission fees, and detailed direction on how to get there, see the site's official website.
Have you been to Vlkolinec? If so, do you have any additional information or advice about this UNESCO World Heritage site? Please add your comments below!
Text and photos provided by Cindy Carlsson, the always-curious traveler and photographer behind the website ExplorationVacation. Cindy loves diving deep into the places she visits and sharing her discoveries to help others travel better. Visit the website, Facebook, or Instagram for more travel inspiration.