Waterton-Glacier International Peace Park
By Jen Ambrose
What is Waterton-Glacier International Peace Park?
Waterton-Glacier International Peace Park is a transnational UNESCO site comprised of two national parks, one on each side of the U.S.-Canada border: Glacier National Park in Montana and Waterton Lakes National Park in Alberta. The two joined together in 1932 to create the world's first international peace park, a Rotary Club initiative promoting peace and goodwill between the U.S. and Canada and highlighting the international nature of wilderness and the cooperation needed to preserve it.
Disclosure: This article contains affiliate links. Making a purchase through an affiliate link will mean a small commission for this website. This will not affect your price.
On both sides of the border, the Peace Park offers some of North America's most stunning landscapes – the namesake glaciers and lakes are just the beginning. Today, visitors can go to either park, or experience both in one trip (so long as the border is open – and you remember to bring your passport!).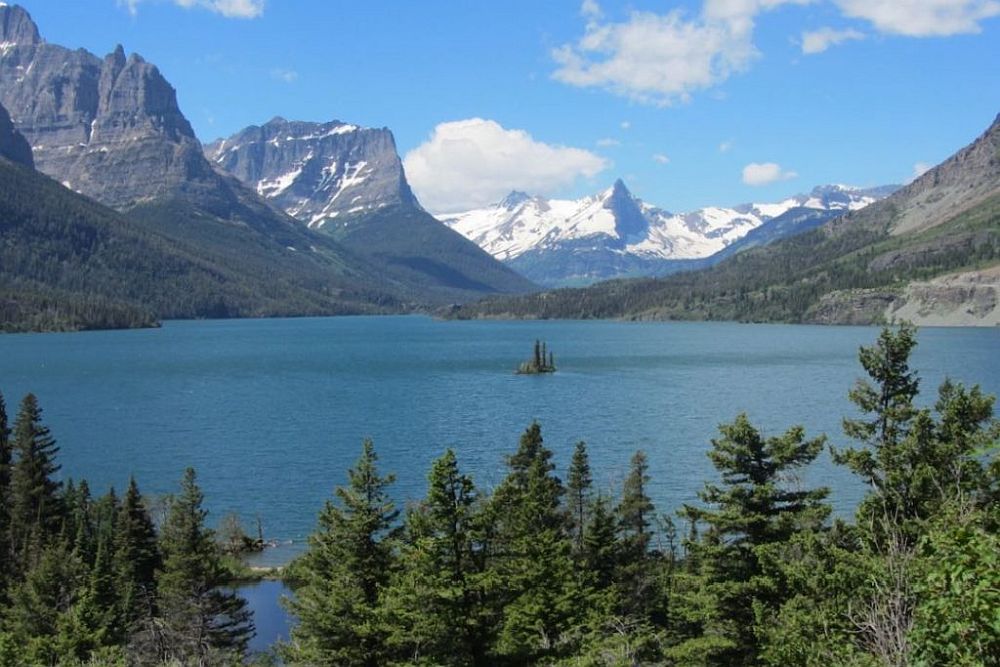 Why is Waterton-Glacier a UNESCO World Heritage site?
Waterton-Glacier International Peace Park is a UNESCO site thanks to its "distinctive climate, physiographic setting, mountain-prairie interface, and tri-ocean hydrographical divide." This area is truly nature at its finest, with stunning landscapes, towering mountains, unique geological features, abundant wildlife, and diverse plant life on both sides of the border.
What can you expect on a visit to Waterton-Glacier?
Visitors to the Peace Park can expect a superlative outdoors experience, with jaw-dropping scenery, wildlife-spotting opportunities, hundreds of miles of hiking trails, front and backcountry camping, cultural events, educational programs, and even snow sports during the winter. And since Waterton-Glacier is made up of national parks, the experience is as rugged as you want it to be.
Glacier
On the Glacier side, taking a scenic drive along Going-to-the-Sun Road (typically open July through October) is one of the most popular things to do. The road is crowded, but it offers some of the best and most accessible views of the park's famous landscapes.
You can also choose from dozens and dozens of hikes in the park, with Avalanche Lake, Hidden Lake Overlook, and Highline Trail being among the most popular. And save time to swim, kayak, or stand-up paddleboard in Lake McDonald.
Activities and tours available in Glacier National Park.
Finally, the park's Native America Speaks program features speakers and performances from members of the Blackfeet, Salish, Kootenai, and Pend d'Oreille tribes. If there's one happening during your visit, don't miss it.
Waterton Lakes
On the Waterton Lakes side, one of the top things to do is cycle the Red Rock Canyon Parkway, a 5.5-mile paved road that's gloriously closed to cars. Be warned that it's a little hilly, so it might be a challenge for kids or anyone who's not accustomed to being on a bike.
Like Glacier, Waterton has way too many hikes to tackle in one trip, but Bear's Hump, Bertha Lake, and Crypt Lake are some of its best trails. And while you're in Waterton Lakes National Park, you have to get out on Waterton Lake – be it in a kayak, on a stand-up paddleboard, or as part of a boat tour.
When you need a break from all the activity, head indoors to the Prince of Wales Hotel (open May through September), located right inside the park, for their beloved Afternoon Tea. You can also stay at the Prince of Wales.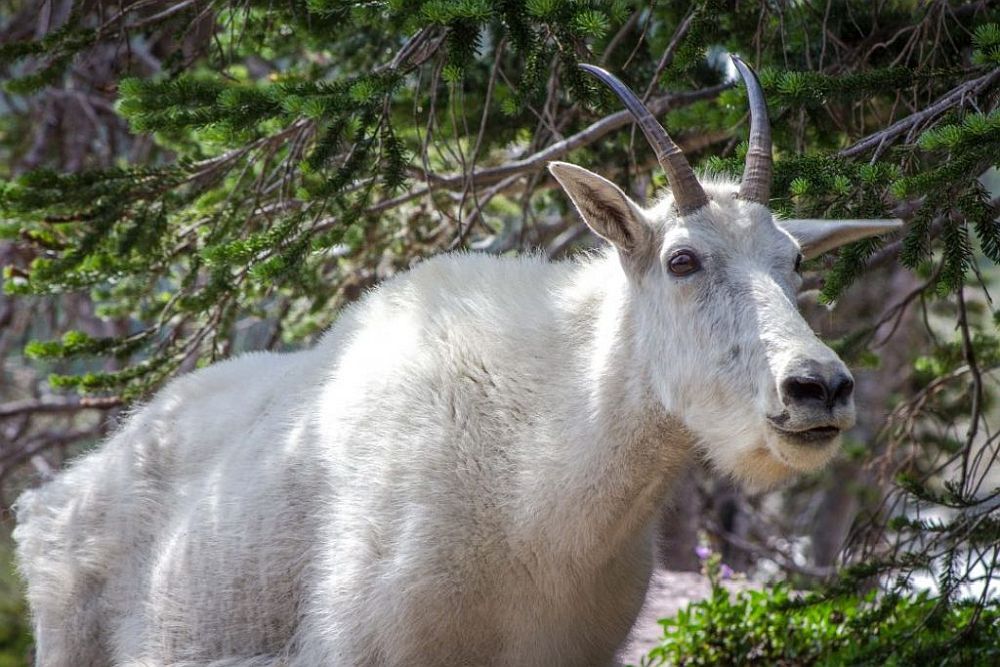 Is Waterton-Glacier International Peace Park worth visiting?
The Peace Park is absolutely worth visiting, whether you head to the American or Canadian side, or both. People travel from across the continent and around the world to visit this area, and outdoors enthusiasts could easily spend a week there. But even if you only have time for a day trip, it's still more than worth a visit.
If you prefer a hotel rather than camping, click here to book accommodations near the west entrance to Glacier in the US or in Waterton Park in Canada.
What sorts of travelers would like Waterton-Glacier?
Anybody who loves the outdoors or just appreciates stunning scenery will enjoy visiting Waterton-Glacier. Hikers and kayakers will be in paradise, but many of the park's attractions – scenic drives, stunning overlooks, visitor centers, historic buildings, cultural and educational programs – are easily accessible and can be enjoyed by nearly anyone, no strenuous activity required.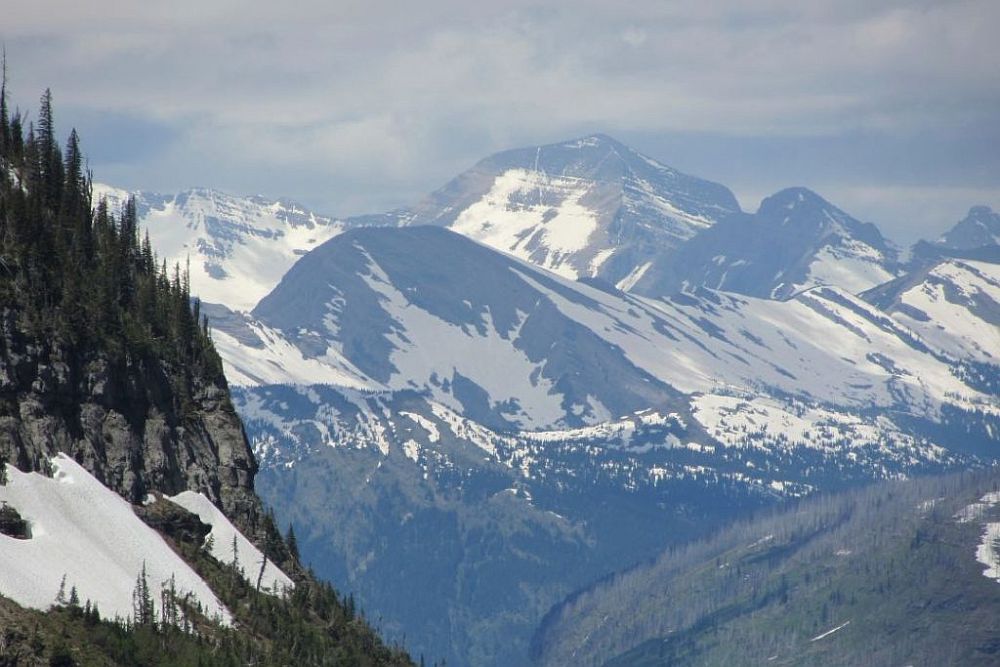 Tips for visiting Waterton-Glacier International Peace Park
Be prepared for crowds during peak season (July through September), particularly on the Glacier side. Make reservations far in advance, and avoid visiting over holiday weekends if possible.
Check the forecast, and dress in layers (especially if you're camping). Summer daytime temperatures in the park are in the 80s and even 90s, but overnight lows can be in the 30s. And sometimes it even snows in July!
Be a responsible visitor: dispose of trash properly, keep your distance from wildlife, stay on designated trails, and follow all posted policies.
Where is Waterton-Glacier?
Waterton-Glacier International Peace Park spans northwest Montana and southwest Alberta.
By car: Waterton-Glacier is more easily accessible on the U.S. side, since the West entrance of Glacier National Park is only about a half-hour drive from Glacier Park International Airport in Kalispell, Montana. Parking throughout the park is included in the admission fee to either Waterton Lakes or Glacier.
By public transportation: Public transportation is minimal in this area – however, there is one option that's an incredibly memorable experience in itself. On the U.S. side, Amtrak runs straight along the southern edge of the park, on its way from Chicago to Seattle and Portland. It's a 14.5-hour ride from Seattle or a 31-hour ride from Chicago – but a bucket list-worthy one for any train travel enthusiast. Shuttles connect West Glacier Train Station with the park and run along Going-to-the-Sun Road inside the park.
For more information about Waterton-Glacier International Peace Park, its opening hours, and admission fees, see the official websites for Glacier Park and Waterton Lakes Park.
Text and photos provided by Jen Ambrose of Montana Discovered. She is a freelance writer, yoga teacher, and former international development professional originally from Montana. Jen and her husband quit their office jobs and got rid of most of their belongings in 2016, and have been exploring, blogging, and promoting responsible travel ever since.
Have you been to Waterton-Glacier International Peace Park? If so, do you have any additional information or advice about this UNESCO World Heritage site? Please add your comments below!