By Nick Kembel
What is Dinosaur Provincial Park?
The Dinosaur Provincial Park UNESCO site encompasses the largest section of badlands in Canada. The landscape was created by the Red Deer River, which carves a deep valley into the surrounding plains, exposing the prehistoric layers below. As a result, numerous important dinosaur fossil discoveries have been made on site.
Disclosure: This article contains affiliate links. Making a purchase through an affiliate link will mean a small commission for this website. This will not affect your price.
Why is Dinosaur Provincial Park a UNESCO World Heritage site?
Dinosaur Provincial Park is significant because it contains one of the highest concentrations of dinosaur fossils on Earth. According to the UNESCO official site, "The property is unmatched in terms of the number and variety of high quality specimens which, to date, represent more than 44 species, 34 genera and 10 families of dinosaurs, dating back 75-77 million years."
Besides its abundance of fossils, Dinosaur Provincial Park is valued for its stunning badlands scenery, which includes windblown sandstone formations known as hoodoos. Lastly, the region of the park adjacent to the Red Deer River protects an undisturbed riparian habitat.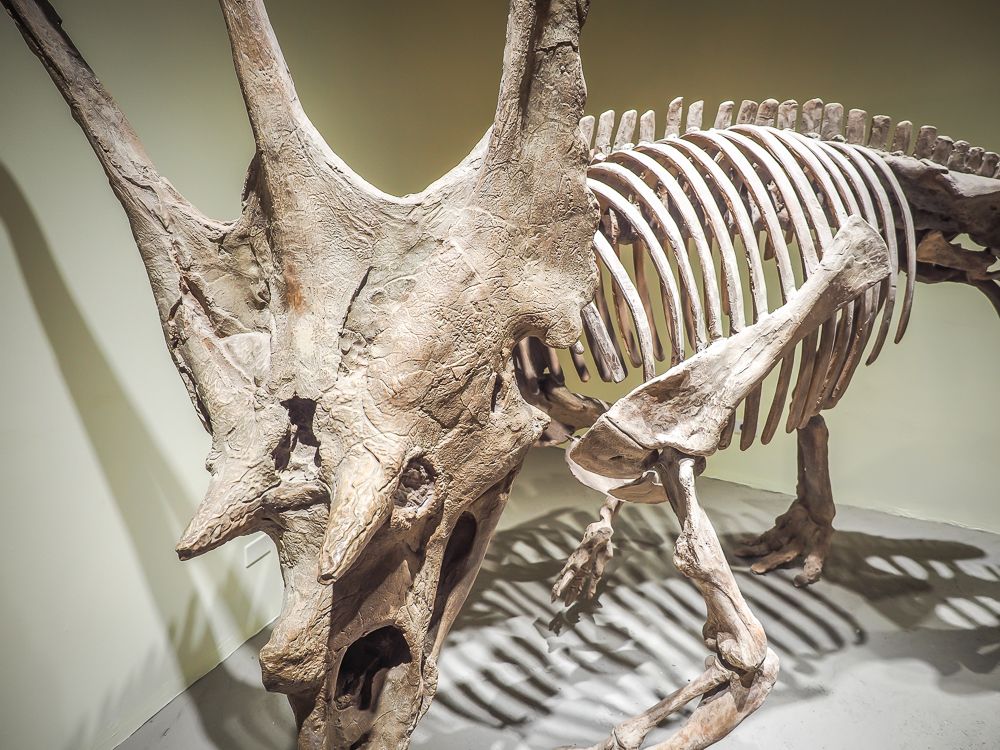 What can you expect on a visit to Dinosaur Provincial Park?
The entry road to the park descends steeply into the Red Deer River Valley, with the full landscape opening up dramatically. A Visitor's Centre on the way down contains a museum with numerous dinosaur skeletons on display.
Hiking is one of the best things to do in Dinosaur Provincial Park. Visitors to the park can easily stumble upon dinosaur fossil fragments simply by taking a stroll on one of the park's half dozen designated walking trails. Disturbing or taking any fossils is strictly forbidden and results is a hefty fine.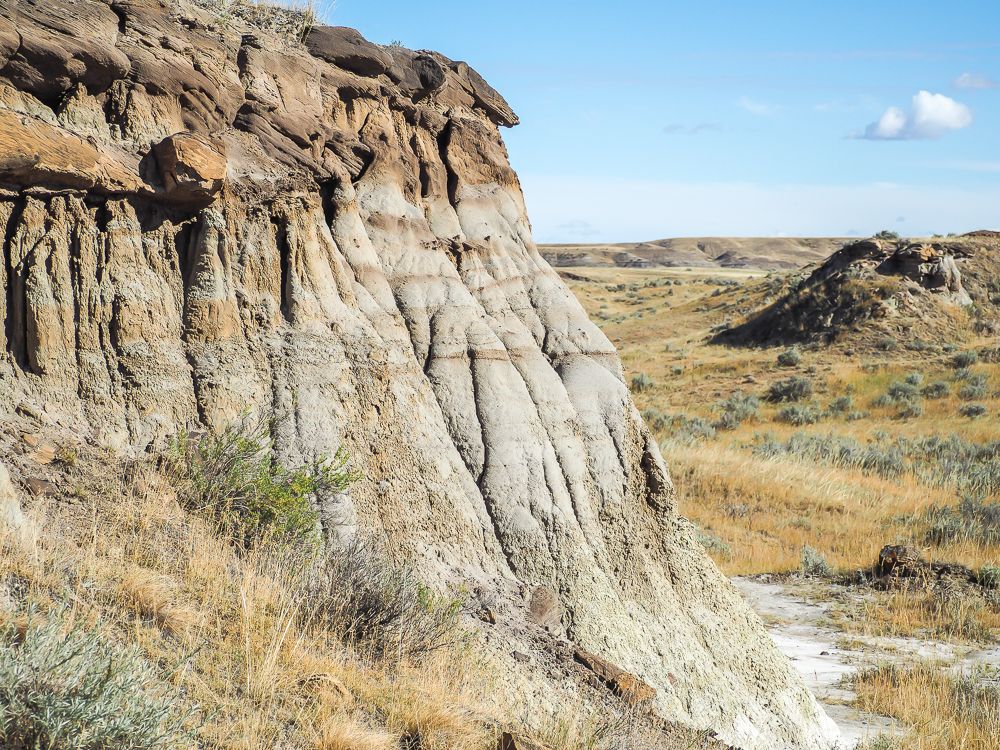 A driving loop through the park provides access to some of these trails, as well as two fossil houses where real dinosaur skeletons can be observed in situ, still half buried in the ground.
The Park also contains a popular provincial campground, where visitors can stay overnight surrounded by typical badlands.
Much of the park is a restricted nature reserve, where some of the most important fossil-bearing lands lie. The only way visitors can access the reserve is by taking one of a variety of interpretive tours operated by the park.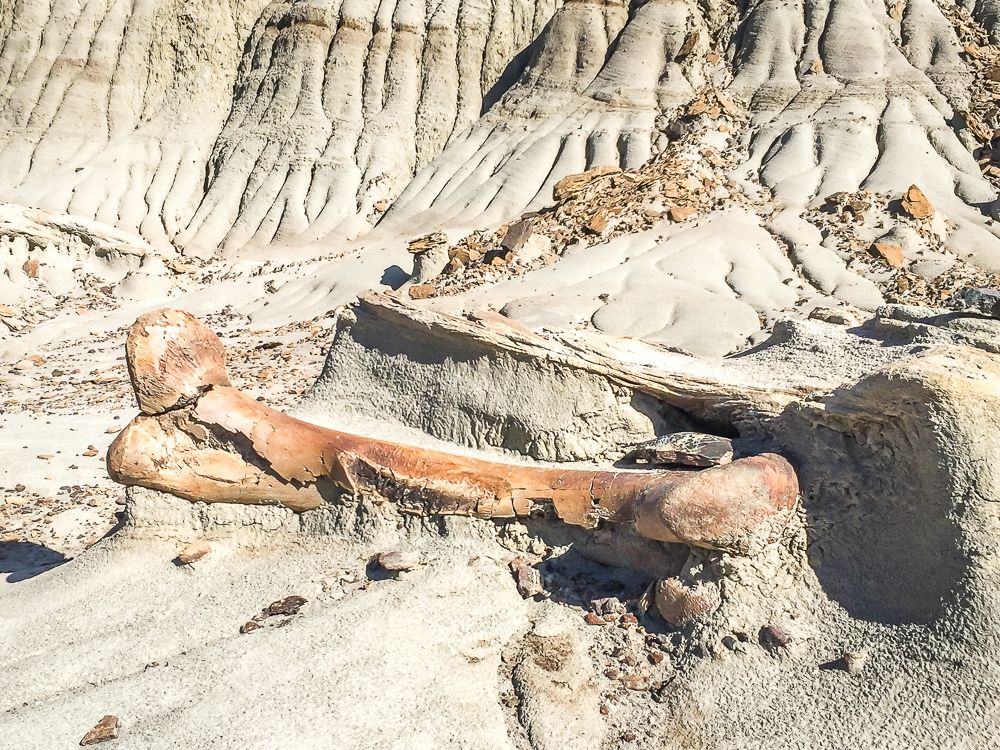 Is Dinosaur Provincial Park worth visiting?
There are few other places in the world where casual visitors can so easily access actual dinosaur fossil excavation sites. Although Dinosaur Provincial Park is lesser known than Drumheller, a touristy dinosaur-focused town just under two hours away, it offers a more authentic and natural experience.
What sorts of travellers would like Dinosaur Provincial Park?
One does not have to be a dinosaur-loving child to appreciate Dinosaur Provincial Park (though kids will certainly love it). Anyone who enjoys unique landscapes (including photographers), hiking, camping, and destinations with very few tourist amenities will love the park.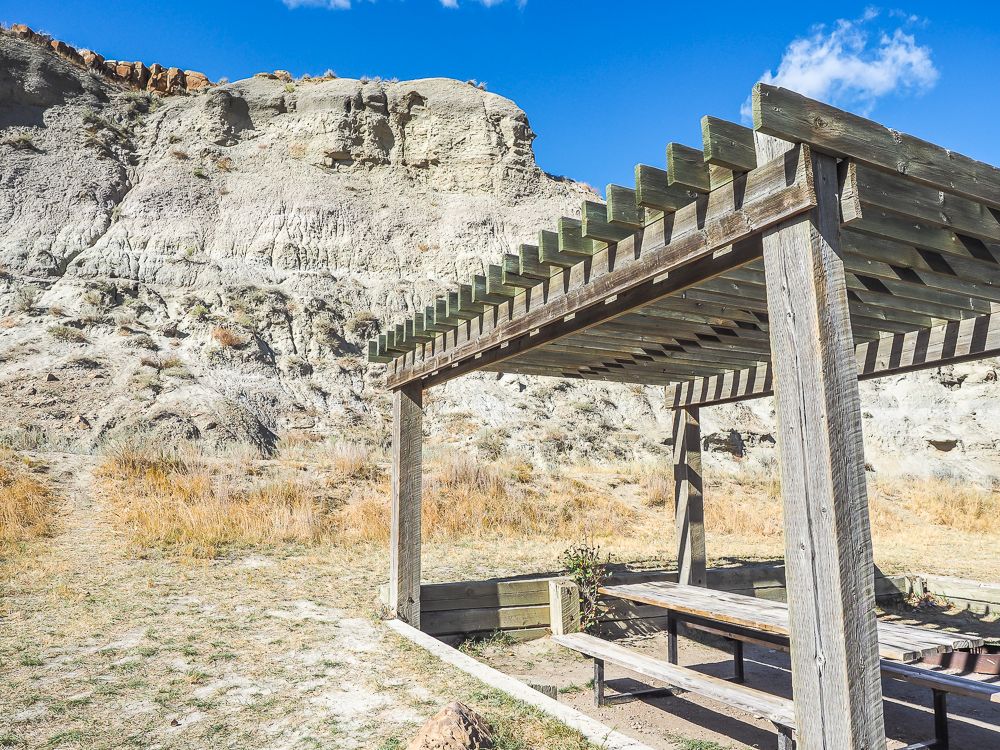 Tips for visiting Dinosaur Provincial Park
In summer, when most people visit, Dinosaur Provincial Park can be very hot and there are few trees. Adequate protection from the sun and plenty of water are musts.
The Park is also very dry, so lip balm can be useful.
There are rattlesnakes and cacti in the park, so keep an eye out for them when hiking.
The best way to experience the park is by spending the night in the campground, but it is quite popular and must be booked well in advance. The campground head office sells firewood and has a small restaurant.
The interpretive tours into the nature reserve are excellent and highly recommended.
For dinosaur lovers, you may also want to combine Dinosaur Provincial Park with a visit to Drumheller, which has a similar landscape to Dinosaur Provincial Park. Drumheller offers many restaurants, dinosaur statues, activities aimed at children, and the Royal Tyrrel Museum, arguably the world's best dinosaur museum.
Click on the map below to find accommodations near Dinosaur Provincial Park, if you're not planning to camp:
Where is Dinosaur Provincial Park?
Dinosaur Provincial Park is in southeastern Alberta. The closest city is Medicine Hat (1 hr 15 min by car), which is on the Trans-Canada Highway. The closest major city with an international airport is Calgary (2 hr 15 min by car). There is a large, free parking lot on site.
There is no public transportation to the Park.
For more information about Dinosaur Provincial Park, its opening hours and admission fees, see its official website.
Post and photos contributed by Nick Kembel of Fun World Facts. Nick is an Alberta native and father of two dinosaur-loving kids.
Have you been to Dinosaur Provincial Park? If so, do you have any additional information or advice about this UNESCO World Heritage site? Please add your comments below!