Rebecca McKellips
What is Viñales Valley?
Viñales Valley is located on the island of Cuba. It is a beautiful valley surrounded by ancient mountains known as the Sierra de los Organos. These dome-shaped limestone outcrops are known as mogotes and can be as tall as 300 meters. The valley is known globally for its world-famous tobacco and coffee agriculture.
Disclosure: This article contains affiliate links. Making a purchase through an affiliate link will mean a small commission for this website. This will not affect your price.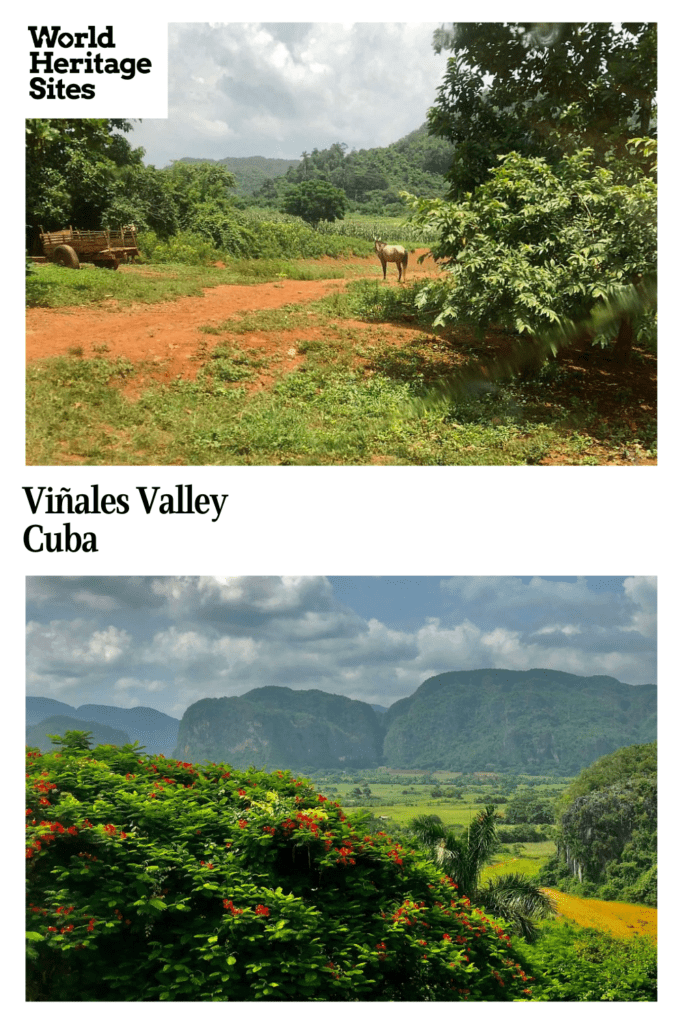 The traditional methods of agriculture are still utilized. They still air-dry the tobacco in drying sheds, and use animals to till the land. The area is incredibly rural, and the village of Viñales has many examples of colonial-era wood-frame architecture.
Why is Viñales Valley a UNESCO World Heritage site?
Viñales Valley is a UNESCO World Heritage site because of the natural beauty of the karst landscape, and the culture and authenticity of the farmers living and working the land. "The quality of this cultural landscape is enhanced by the vernacular architecture of its farms and villages, where a rich multi-cultural society survives, its architecture, crafts and music illustrating the cultural development of Cuba and the islands of the Caribbean." The traditional methods of agriculture, crafts, and music in the area also require protection.
What can you expect on a visit to Viñales Valley?
Visiting Cuba and especially Viñales Valley can be difficult from many parts of the world as getting a visa can be an obstacle to entering the country. Once you leap that hurdle you will be so glad you did.
Viñales Valley is a drive from Havana – about 180 km (112 miles) – but believe me: it is worth it. It might be best to go with a tour, as they can take you to the tobacco growers: you can watch them roll a cigar, and even smoke one freshly rolled. Many tours will also take you horseback riding or to a coffee farm where you can see the coffee plant and get your fix of Cuban coffee.
Exploring the valley, there are some lovely family-owned restaurants, with views of the valley and the mogotes that will blow your mind. As they are some of the oldest mountains in the Caribbean you will be awed to be in their presence.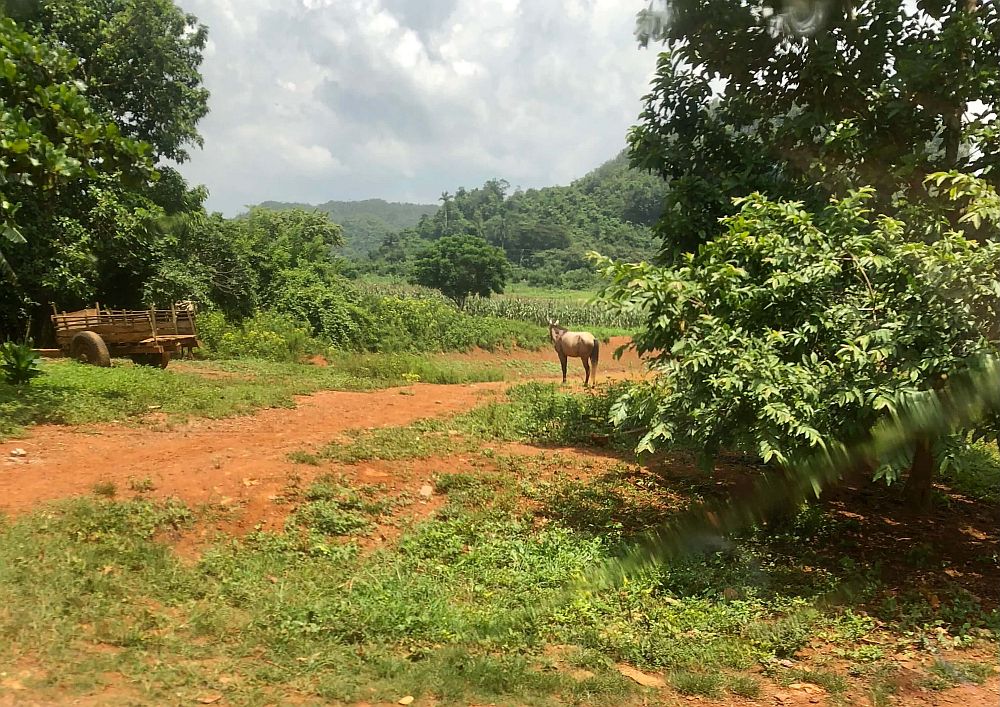 Is Viñales Valley worth visiting?
Viñales Valley is very much worth visiting: the culture and history are unique and you won't regret your time there. The only real obstacle is getting there, but there are tours available that can take you.
Use the map below to find your accommodations in Viñales Valley:
What sorts of travelers would like Viñales Valley?
Viñales Valley is for the traveler who is not afraid to get a little dirty, is interested in Cuban cigars (you can buy them for much cheaper here) and traditional forms of agriculture, and for those who want to truly admire the lovely landscape.
Tips for visiting Viñales Valley
Wear your walking shoes as you might do some walking, or even horseback riding.
If you are interested in cigars, or you need a gift to bring back, you can bring back quite a lot of cigars from this area because they are considered souvenirs, not in the official Cuban cigar count (if you are coming from a country that restricts them).
Enjoy the local food, but if you don't have the strongest stomach you may want to avoid uncooked vegetables.
Taking a tour may be the best way to see and do it all. You can likely go exploring on your own, but the area is very rural and you might end up driving around for a while. If you are staying in Havana, make your way back to the city before nightfall; the roads can be a bit tricky and are not well marked or lit.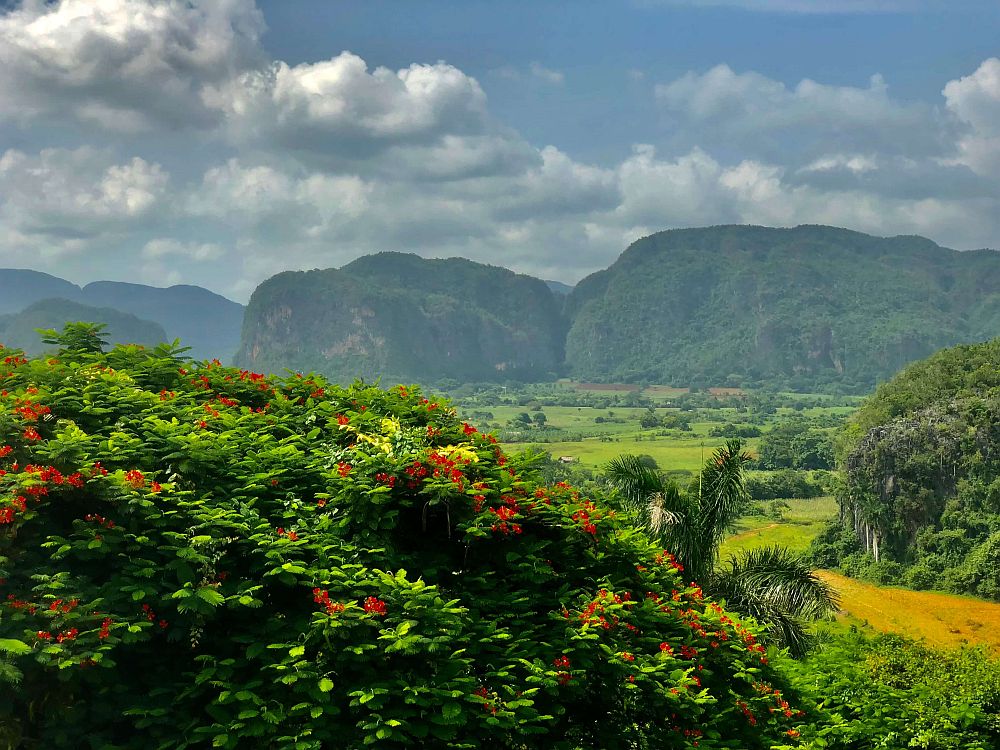 Where is Viñales Valley located?
Viñales Valley is located in Viñales, just north of the Pinar del Río Province. There is no official address or visitor center but the coordinates are 22°37′N 83°43′W. You can read more about Viñales on the TripCuba website.
Text and photos provided by Rebecca McKellips of Whatever Packs Your Bag. Rebecca is an avid traveler, finding new experiences and exploring new places. She is working on visiting all 50 of the United States. She also enjoys reading classic novels. She started blogging in 2019 and has been working on documenting her travels ever since.
Have you been to Viñales Valley? If so, do you have any additional information or advice about this UNESCO World Heritage site? Please add your comments below!