By Lori Sorrentino
What is the Val d'Orcia?
The Val d'Orcia (Orcia Valley) lies in the region of southern Tuscany, stretching between the Orcia River south of the city of Siena to the border between the provinces of Siena and Grosseto. The entire iconic area is protected as a World Heritage Site by UNESCO.
Disclosure: This article contains affiliate links. Making a purchase through an affiliate link will mean a small commission for this website. This will not affect your price.
The highlight of this stunning swath of valley is its rolling landscape dotted by lush vineyards, green forests, wheat fields, and picturesque narrow cypress-lined roads that lead to ancient mansions and stone farmhouses – it has everything that defines the unique landscape of Tuscany.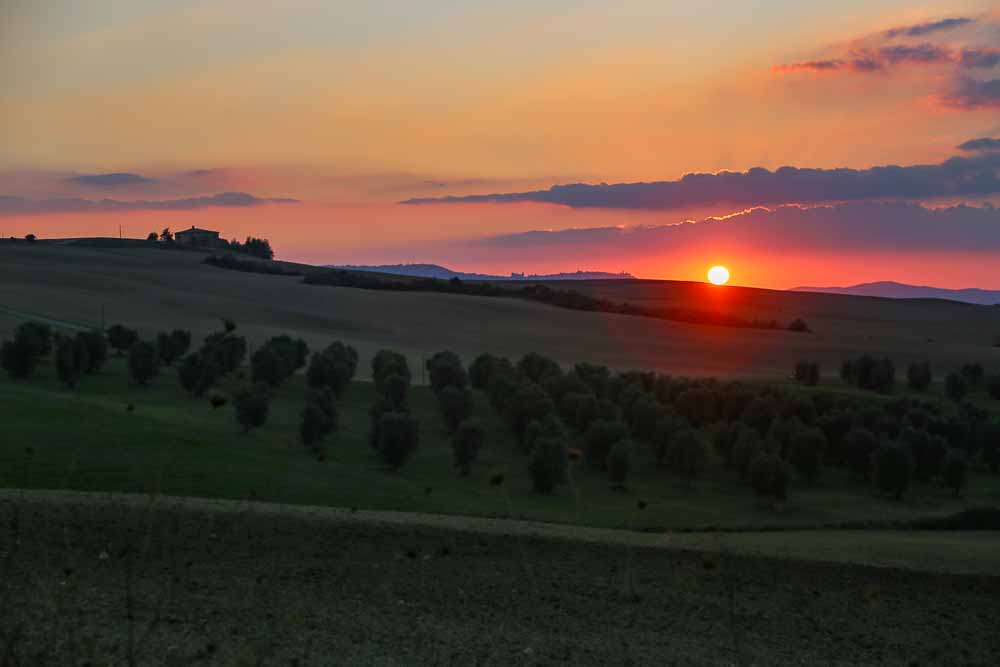 Why is the Val d'Orcia a UNESCO World Heritage site?
The Val d'Orcia has an agricultural heritage that retains much of its Renaissance layout, character, and aesthetic. The landscape holds evidence of human occupation and settlement extending over thousands of years. This includes the Etruscan period and the era of the Roman Empire.
The images portrayed by various artists through the ages, particularly the Renaissance Sienese School, exemplify the beauty of this well-managed Renaissance gem. The UNESCO inscription includes "an agrarian and pastoral landscape reflecting innovative land-management systems; towns and villages; farmhouses; and the Roman Via Francigena and its associated abbeys, inns, shrines, and bridges." The Via Francigena was an important religious and trade route linking Rome and northern Italy.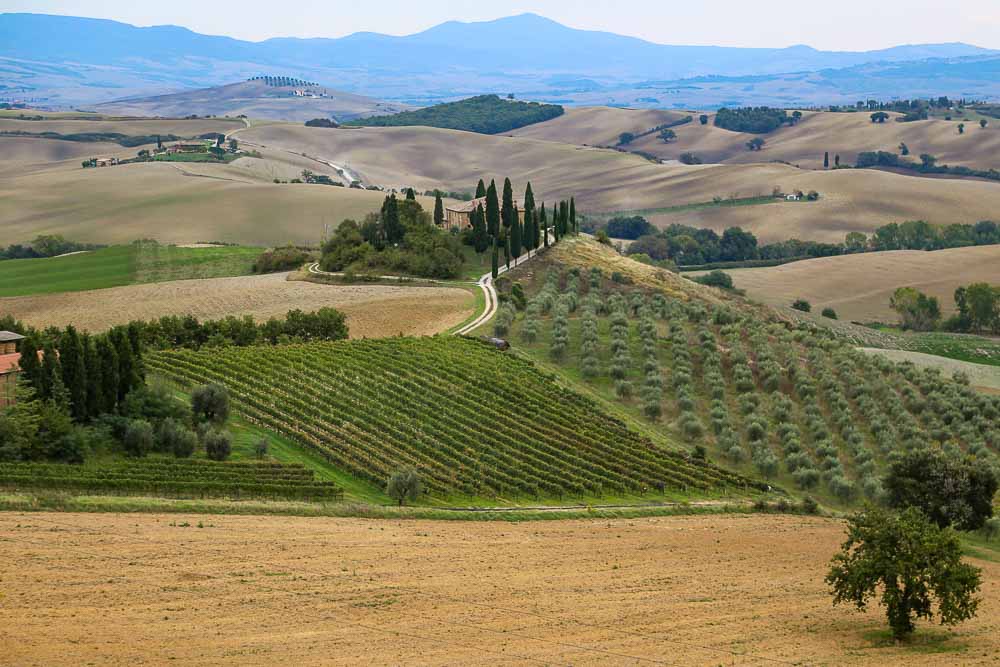 What can you expect on a visit to the Val 'Orcia?
Most travelers base themselves in Florence and day trip to Val d'Orcia. However, to fully experience the area, consider renting a car and road-tripping Tuscany for a few days, staying between Siena and Montepulciano. Here you'll find lovely inns, agriturismos, and a few small resorts.
The accommodations map below is centered on Siena. Zoom out to get an overview of what's available southwards toward Montepulciano:
The Val d'Orcia is even more picturesque and mesmerizing than any painting or photograph. The beauty and history never seems to end. Visit small towns like Pienza with its Renaissance palace and the medieval city of Montalcino, producer of excellent Brunello wine. And you'll definitely want to visit the Romanesque Abbey of Sant' Antimo, an incredible example of medieval monastic architecture.
If you need a break from the driving and sightseeing, head to the thermal springs in the town of Bagno Vignoni or nearby Bagni di San Filippo.
For a taste of authentic Tuscan food, try the locally produced pecorino cheese in Pienza, extra virgin olive oil, chestnuts, truffles, wild boar, and of course, the incredible wines that Tuscany is famous for.
Tips for visiting the Val d'Orcia
It can't be stressed enough: walking the cobbled lanes and alleys of medieval towns demands sensible and supportive shoes for walking and traipsing about the countryside.
In the towns and wineries, merchants accept most major credit cards. To be safe, carry some euros with you so you don't miss out on that special souvenir from a small vendor.
The most beautiful photos of Tuscany come from the Val d'Orcia so don't forget to bring your camera, and a few extra memory cards!
Definitely consider renting a car. Driving through the Val d'Orcia is one of the best ways to experience the area. You can wander freely at your own pace and stop where and when you want to get that once-in-a-lifetime photo.
Alternatively, a wide range of day tours is available in the area.
Where is the Val d'Orcia?
The Val d'Orcia is located in southern Tuscany between Siena and Grosseto. Siena is just over an hour south of Florence, and Montalcino just under an hour from Siena.
Parking lots are available usually just outside the city and have metered parking that will accept a credit card if you don't have enough euros.
Trains and buses run from Florence to Siena in about 2 hours, and from Florence to Montalcino in over 3 hours. The duration to come and go makes public transportation unsuitable for a day trip. Not only that, there's the problem of getting from one town to another in the Val d'Orcia by public transportation.
For more information about Val d'Orcia in Tuscany, Italy, see Tuscany's official website.
Text and photos provided by Lori Sorrentino of Travlinmad, a slow travel blog to unique destinations around the world, with tips on how to slow travel wherever you are.
Have you been to Val d'Orcia? If so, do you have any additional information or advice about this UNESCO World Heritage site? Please add your comments below!