By Carine & Derek
What is the Maya Site of Copan?
Located in the town of Copán Ruinas in Honduras (yes, the town bears the same name as the site), the Copan Ruins (or Copán Ruinas in Spanish) are one of the country's most important landmarks. These Mayan ruins were added to the list of UNESCO World Heritage sites in 1980.
The entire Copán Ruinas site includes more than 4,500 structures which are spread over 24 sq km (9 sq mi).
Disclosure: This article contains affiliate links. Making a purchase through an affiliate link will mean a small commission for this website. This will not affect your price.
Most of the focus is placed on the main site which covers around two square kilometers. There is a secondary area which is located about one kilometer away from the main site and is known as Las Sepulturas.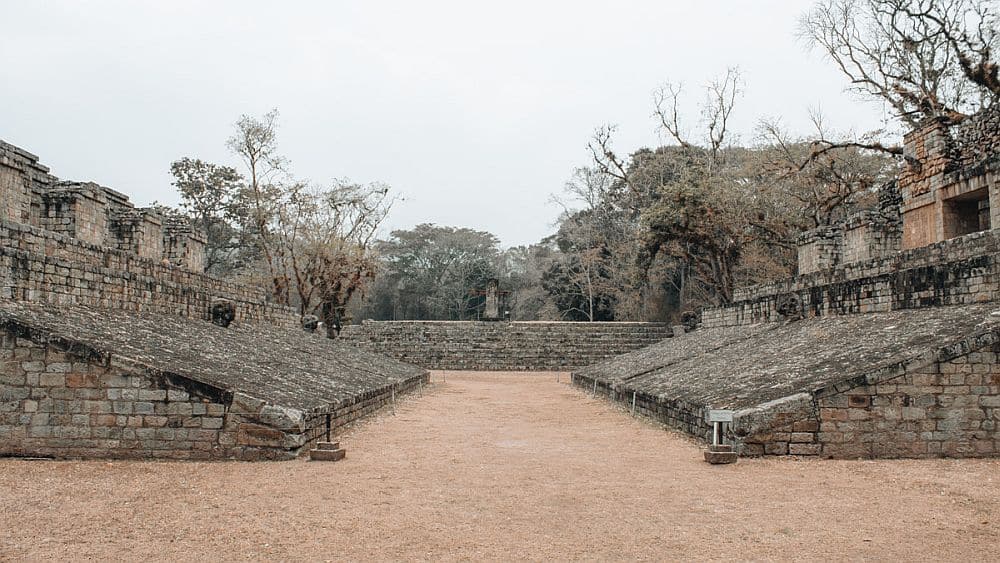 Why is Copan Ruins a UNESCO World Heritage site?
This ruins complex is known for its beautiful stone temples, altars, hieroglyphs, and stelae. And considering how well-preserved this site is, it's no surprise that it's a UNESCO World Heritage site.
In fact, the Copan Ruins complex we have today was mostly built between 400 and 800 AD, when it served as the capital city of a major Classic period kingdom. Back in those days, Copán was a powerful city ruling a vast kingdom in the southern Maya area.
According to UNESCO's listing, "The Maya site of Copan represents one of the most spectacular achievements of the Classic Maya Period because of the number, elaboration and magnitude of its architectural and sculptural monuments. The stelae and altars at the Plaza form one of the most beautiful sculpture ensembles in the region."
In addition, UNESCO cites the historical importance of the long Hieroglyphic Stairway.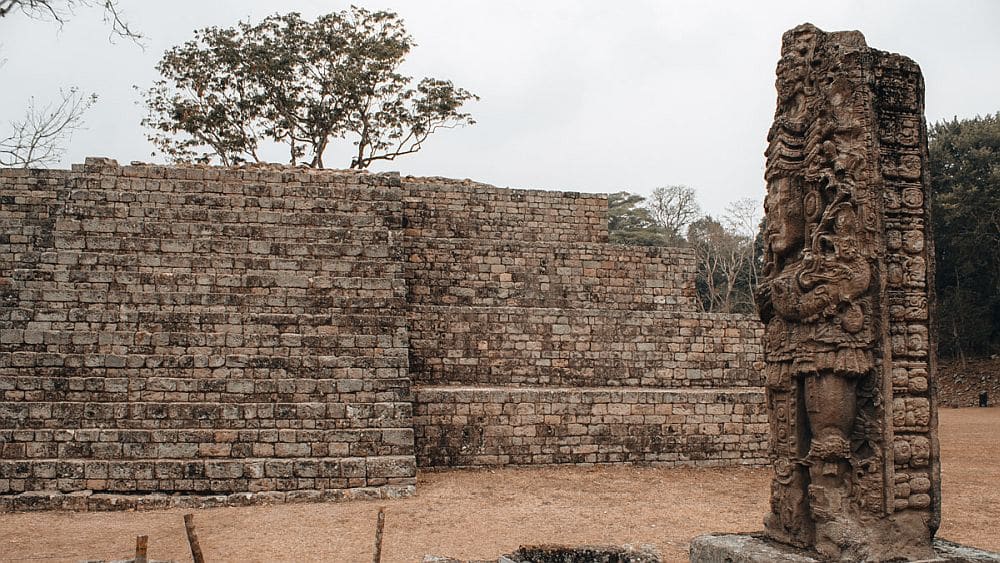 What can you expect on a visit to Copan Ruins?
Although much has changed since Copán's heyday, the Copan Ruins are still a beautiful and historical place to discover. Because many tourists avoid Honduras as being a dangerous place to visit, Copán Ruinas is an amazing place as you'll likely have the place to yourself. Rest assured that the town is very safe.
Exploring the Copan Ruins, you'll be transported to the olden days of its glory. Unlike many other Mayan ruins like the ones found in Mexico, the ruins in Copán are much less commercial. You won't have countless vendor stalls trying to sell you souvenirs and trinkets.
Walking in, you'll be greeted by the many macaws that live in the surrounding jungle. The site will likely be almost empty, except for a few tourists walking around the main ruins site. The Sepulturas are seldom visited, which is great if you want to take the site in by yourself.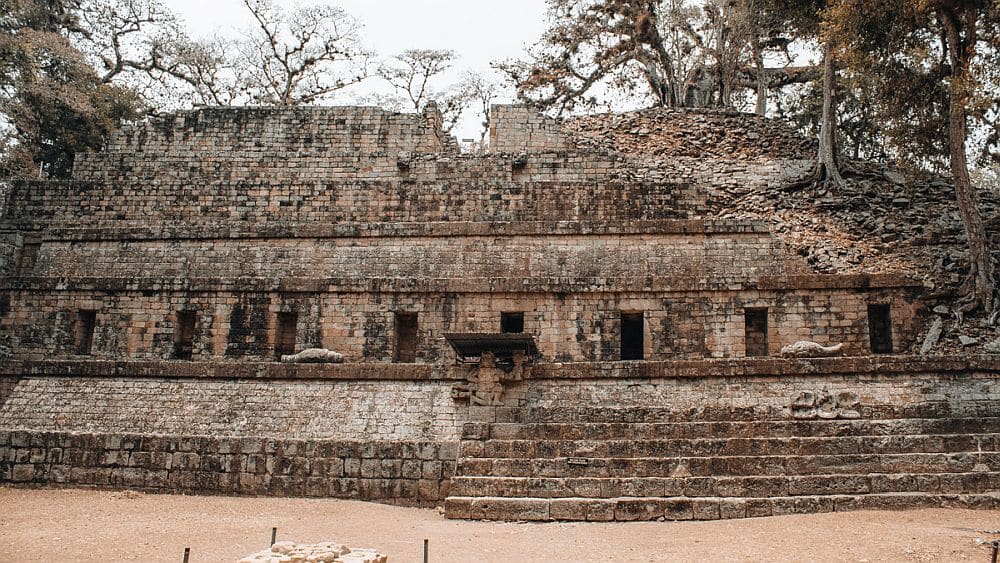 On the main site, expect to find the impressive Acropolis and other important plazas. In fact, there are five plazas that compose the Ceremonial Plaza, including an impressive stadium opening onto a mound with many intricately sculptured monoliths and altars.
You will also find the Hieroglyphic Stairway Plaza, with a monumental stairway at its eastern end – one of the outstanding structures of Mayan culture. On the risers of this 100 m wide stairway, you can find more than 1,800 individual glyphs which constitute the longest known Mayan inscription. This is quite impressive to see!
You can roam around freely on the site, or choose to hire a guide to get more in-depth knowledge about the place, its significance and how people lived back in the glory days of Copán Ruinas.
Is the Mayan Site of Copan worth visiting?
If you are in Honduras, or even in Guatemala, the Copan Ruins are well worth the detour. They are one of the most impressive landmarks to visit. For history buffs and those who love to discover Mayan ruins, they are quite incredible, not only because of their size, but also because of how well they have been preserved.
Tips for visiting the Copan Ruins
Visiting the Copan Ruins will take a good 2-3 hours out of your day. It's best to visit before noon as the hot sun and heat are unbearable in the afternoon, especially considering there is little shade on the site.
Regardless of what time you visit, make sure to wear a hat and sunscreen, as well as bringing plenty of drinking water.
Also, wear comfortable walking shoes – the site is quite large to explore and you can climb up certain pyramids and structures. You can do it in sandals too, but expect to get very dusty.
Your entry ticket includes access to both the main site and Sepulturas.
If you are staying in town for a few days, there are many things to do in Copan. We would recommend visiting the main area on one day and the Sepulturas the next day, simply because visiting both sites makes for a very long day.
Book your Copan accommodations here.
Where are the Copan Ruins?
The Copán Ruinas archaeological site is located about 1 km (less than a mile) outside of the city of Copán. There is parking available on site, but the easiest way to reach the archaeological site is by walking there from the city's central park (Parque Central). Simply head south on Av. Copan and then merge east on the CA11 Avenue until you reach the ruins to your right.
The Copán Ruinas are about 6 km (4 mi) from the border with Guatemala, if that is an easier place to visit from.
Copán Ruinas is about 180 km (112 mi) southwest from San Pedro Sula or 420 km (261 mi) northwest from Tegucigalpa, Honduras' capital city. You can take a bus from either city to Copan, and explore from there.
If you don't walk, you can take a moto-taxi or tuk-tuk which will only cost a dollar or two.
There is no official website for Copán Ruinas. As of this publication (September 2022) the admission fees are as follows: $15 USD for adults for the 2 main sites, including Copan and Las Sepulturas. The Museum of Mayan Sculpture has a separate entrance fee of $7. To enter the two tunnels open to the public – "Rosa Lila" Tunnel and "Los Jaguares" Tunnel – you'll pay an additional fee of $15 and you must visit with a guide.
Text and photos provided by Carine & Derek of WeDidItOurWay.com. We're two Canadians in love with each other, the environment and this world. We left our old routines behind to discover all the wonders our planet has to offer. We want to inspire everyone to chase their dreams and leave a positive impact on Earth.
Have you been to the Maya Site of Copan? If so, do you have any additional information or advice about this UNESCO World Heritage site? Please add your comments below!