Great Living Chola Temples
By Ami Bhat
What are the Great Living Chola temples?
Built in the 11th and 12th century, the Great Living Chola temples are a testament to the architectural prowess of the Chola kings. The site consists of three Hindu temples – Brihadeeshwara Temple in Thanjavur, Brihadeeshwara Temple in Gangaikonda Cholapuram and Airavatesvara temple in Darasuram. Taking the oldest and the biggest one in Thanjavur as the base, the other two temples are located to its north-east at a distance of 70km (43mi) and 40km (25mi) respectively.
Disclosure: This article contains affiliate links. Making a purchase through an affiliate link will mean a small commission for this website. This will not affect your price.
Each of these temples has its share of unusual sculptures, bronze castings, paintings and inscriptions that give an amazing insight into the history of the once-mighty Chola empire. The temples are gigantic.
Why are the Great Living Chola Temples a UNESCO World Heritage site?
The three Great Living Chola Temples represent the "development of architecture of the Chola empire and the Tamil civilization in South India," according to UNESCO. They show an "outstanding creative achievement" in the architecture of the temples.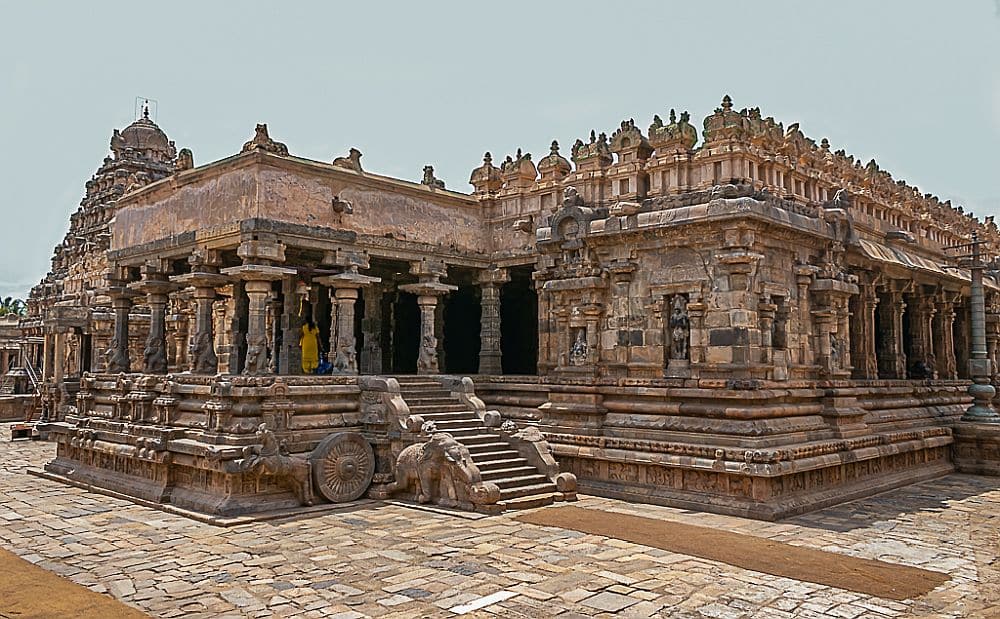 What can you expect on a visit to the Great Living Chola Temples?
Each of these temples will wow you with their sheer scale and grandeur. Made from granite, which was not native to this locality, exquisite carvings adorn every inch of the place – most depicting stories from Hindu mythology. Dedicated to Lord Shiva, these temples are the perfect destination to witness centuries-old Hindu customs and traditions.
Brihadeeswara Temple in Thanjavur
The oldest among the three, Brihadeeswara Temple in Thanjavur, has a huge vimana (temple tower), measuring 66m (217ft) in height. In those days, this made it the tallest structure in South India. It is interesting to consider how they might have constructed this huge tower with a giant capstone weighing 80 tons. The vimana is richly decorated with carved images and the temple walls carry murals.
Brihadeeswarar Temple in Gangaikonda Cholapuram
The Brihadeeswarar Temple in Gangaikonda Cholapuram is similar to the Thanjavur temple and has a vimana that is 53m (174ft) in height. It also holds "exceptional quality" sculpture work, according to UNESCO, including some in bronze.
Airavatesvara Temple in Darasuram
Airavatesvara Temple, on the other hand, has a vimana measuring 24m (79ft), but in my opinion it is the most beautiful of the three. Built in the form of a chariot, the temple includes carvings that are far more detailed and intricate, compared to the other two. It also has a unique set of stairs in its Nandi mandapam (pavilion with a statue of the sacred bull Nandi looking at a statue of Shiva). Called the musical stairs, they echo the seven notes of a musical scale.
Are the Great Living Chola Temples worth visiting?
Definitely! There are tons of stories and mysteries entrapped within the walls of these temples that include secret passages and inscriptions.
If you enjoy history and culture, you'll love the Great Living Chola temples. Anyone interested in ancient architecture too, will find these temples exciting.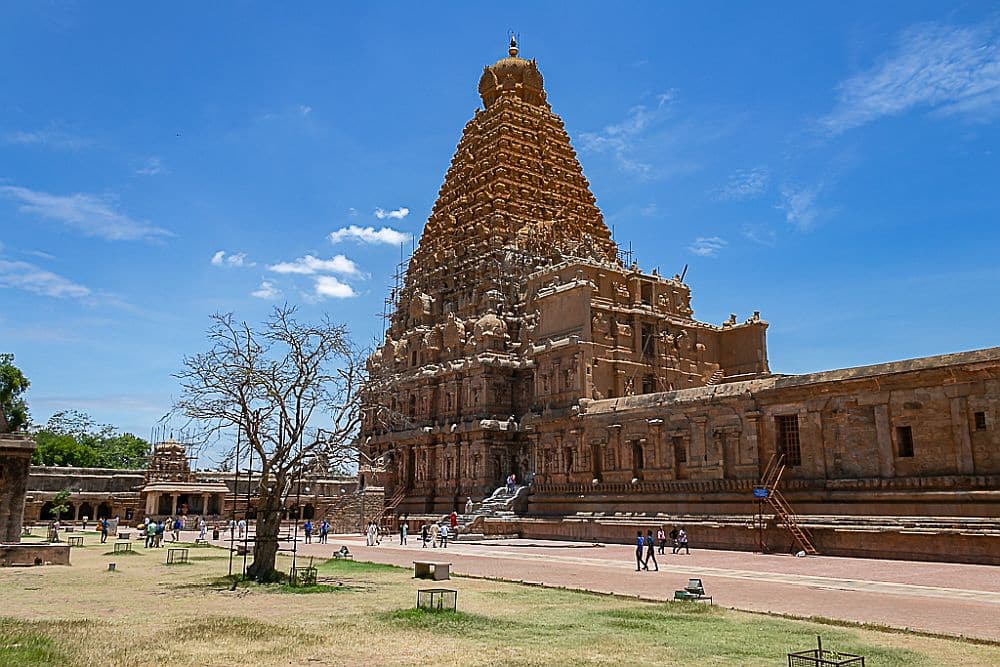 Tips for visiting the Great Living Chola Temples
You might need around two days to visit all of these temples as they are some distance apart. Each temple will take about 2-3 hours.
Don't forget to hire a guide when you get there.
Begin with the Thanjavur temple and then proceed to Airavatesvara temple. You can visit the Gangaikonda Cholapuram temple on the 2nd day. It is best to visit these temples either in the morning or early evening since afternoons can get really hot. Also, the temples are closed between 1 and 4 pm.
Visit these temples between the months of October and February, when these places are not so hot. The temples are extra festive during Mahashivaratri (usually in the month of February).
Shoes are not allowed inside the temples as they are still living temples. Avoid sleeveless tops and shorts. Knee-length dresses are fine.
Where are the Great Living Chola Temples?
Tanjore or Thanjavur is an important town in the state of Tamil Nadu. The closest airport to it is Trichy (1 hour by road from Thanjavur). From Trichy, one can get regular buses or trains to Thanjavur. The temple is in the center of the town and any local transport can get you to it. Thanjavur has its own railway station, making trains a good option to reach the place.
Keep Thanjavur as your base to visit the other two temples. Book your accommodations in Thanjavur here.
Gangaikonda Cholapuram is a small village 70km (43mi) from this town while Darasuram is around 40 km (25 mi) away. You will need to use the public or tourist buses to get to these villages. Alternately, you can hire a cab from Thanjavur to get to these two temple towns.
An easier option is to take this two-day tour, which includes all three temples and other sites.
All three temples are marked on the map below:
Text and photos provided by Ami Bhat of www.thrillingtravel.in. She is a marketing post-graduate by qualification who has turned into a full-time travel writer and blogger by passion. A travel enthusiast who loves sports, photography and dancing with equal passion, Ami believes in planning a get-away for every long weekend that can come up through the year.
Have you been to any of the Great Living Chola Temples? If so, do you have any additional information or advice about this UNESCO World Heritage site? Please add your comments below!