By Annick Lenoir-Peek
What is Suomenlinna?
Suomenlinna (which means Fortress of Finland) is a fortress located on six islands just off the shore of Helsinki, Finland. The 18th-century structure, also known as Sveaborg, is a sea fortress located a short distance from the Finnish capital.
Disclosure: This article contains affiliate links. Making a purchase through an affiliate link will mean a small commission for this website. This will not affect your price.
Suomenlinna is a popular destination for both tourists and locals.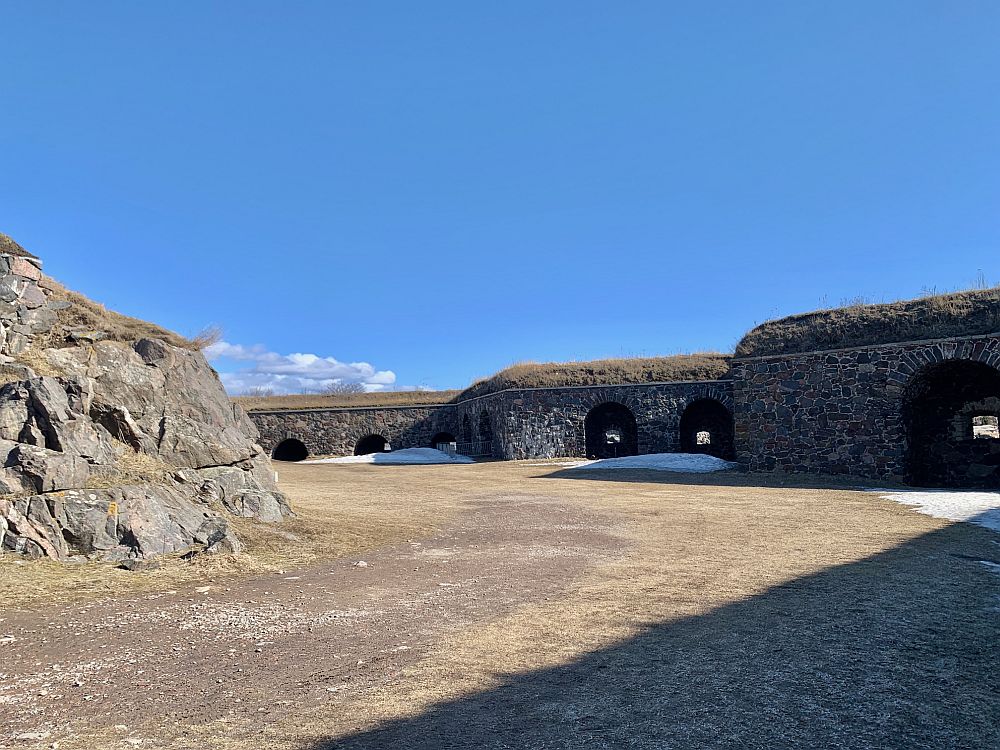 Why is Suomenlinna a UNESCO World Heritage site?
"Built in the second half of the 18th century by Sweden on a group of islands located at the entrance of Helsinki's harbour, this fortress is an especially interesting example of European military architecture of the time," according to its UNESCO listing.
Because Suomenlinna extends over six islands, the traditional fortress structure had to be adapted to the landscape. The fortress has protected three countries over time: Sweden, Russia, and Finland.
What can you expect on a visit to Suomenlinna?
Suomenlinna is one of the best day trips from Helsinki.
Depending on the time of year you visit, the ferry ride is one of the most fun parts of the visit. In colder weather, guests will hear and see the ferry break through the ice as it travels from Helsinki to Suomenlinna. During warmer weather, guests enjoy seeing the islands that dot the way.
The fortress includes 200 buildings: barracks, defensive walls, and many others. Some have been converted to apartments and workplaces.
There are a number of sights to see at Suomenlinna. Follow the "blue route" of about 1.5km to see the main historical buildings and to read the informational signs about them. There are also six different museums, most of which are history-related, including a World War II submarine and a toy museum, on the island.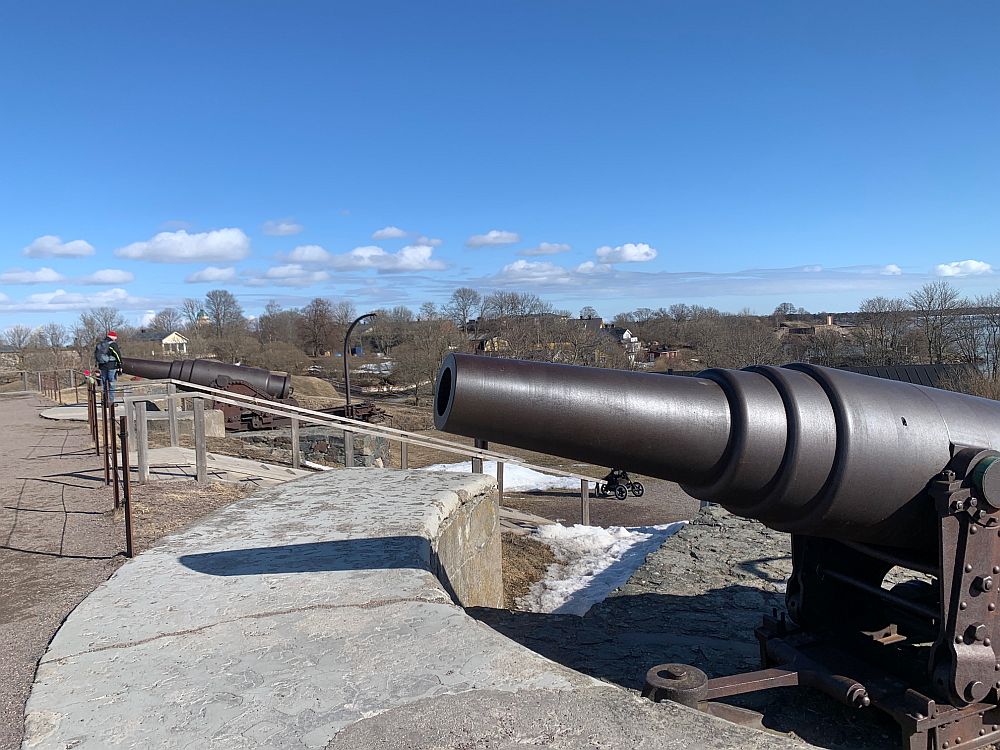 Is Suomenlinna worth visiting?
If you're visiting Helsinki, Suomenlinna should be added to your list of places to see.
Set aside at least two hours to walk around Suomenlinna, in addition to the time it takes to go back and forth on the ferry, for a total of at least three hours. If you plan on visiting some of the museums, allocate additional time.
Suomenlinna is a beautiful little village. Visitors will learn about the role this fortress played in protecting the area. It's a perfect day trip from Helsinki.
Book accommodations in Helsinki.
What sorts of travelers would like Suomenlinna?
Between museums, tunnels, and historic buildings, history buffs will love Suomenlinna. The beautiful scenery and hiking trails make Suomenlinna an excellent visit for pretty much every type of guest. Lovers of military history will appreciate Suomenlinna for its defensive value, and a couple of the museums relate to military history as well. Nature lovers and hikers will enjoy the fortress' trails and environment.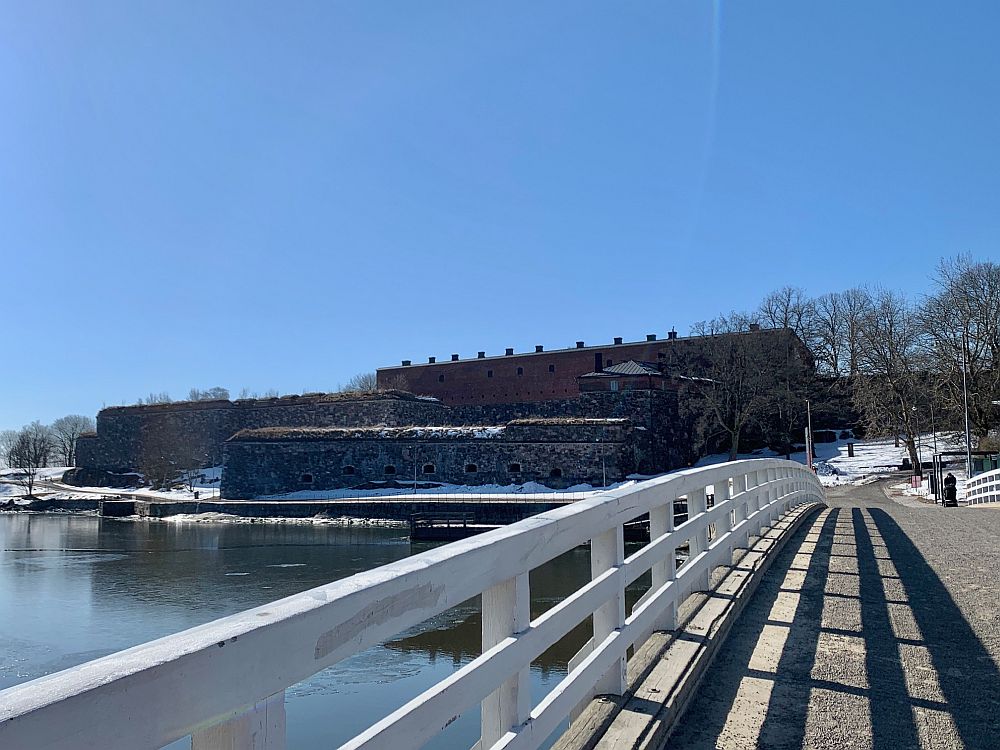 Tips for visiting Suomenlinna
Wear good walking shoes as several trails are cobblestones or dirt.
Due to its location on an island, Suomenlinna tends to be colder and windier than Helsinki, so bring additional clothing.
People live on the island, so do not approach buildings or look into houses that are not identified as public land.
Bring a picnic basket with you and watch a glorious sunset!
Schedule a guided tour to learn more about the history of this island fortress.
Suomenlinna only has limited wheelchair accessibility. There's a "more accessible" route, but it is recommended to have a carer with you to help you over rougher sections.
Where is Suomenlinna?
Suomenlinna is located on an island just offshore from Helsinki, Finland.
Suomenlinna can only be reached by ferry or water bus from the pier at Market Square in Helsinki, Finland. Tickets can be purchased using a mobile app or from vending machines located on the pier. The ride takes about 15-20 minutes. Bring a bicycle if you have one; it is a great way to explore the site.
For more information about Suomenlinna, its opening hours, and admission fees, see its official website.
Text and photos provided by Annick Lenoir-Peek of The Common Traveler. Annick loves encouraging travelers to go out and explore – even if they're solo!
Have you been to the Fortress of Suomenlinna? If so, do you have any additional information or advice about this UNESCO World Heritage site? Please add your comments below!