Historic Walled Town of Cuenca
By Carole Terwilliger Meyers
What is the Historic Walled Town of Cuenca?
Cuenca was once a lookout town, built by the Moors and then conquered by the Castilians in the 12th century. Its cliffs and the rivers Jucar and Juecar, which converge here, form a moat on three sides, serving as a natural fortress. Houses hang precariously off cliffs over the gorge: a picturesque sight. The upper town is reached via a corkscrew road through an 18th-century gate.
Disclosure: This article contains affiliate links. Making a purchase through an affiliate link will mean a small commission for this website. This will not affect your price.
Why is Cuenca a UNESCO World Heritage site?
Because the location is unique, "an unusual development of the vernacular architecture" has evolved, according to UNESCO. This refers to the dramatic way the structures perch on the edges of the gorge. The architectural ensemble itself is special not so much because there are any particularly exceptional buildings, "but rather in the way in which the architecture blends into the urban fabric."
"The Old Town of Cuenca is an outstanding example of the medieval fortress town that has preserved its original townscape remarkably intact along with many excellent examples of religious and secular architecture from the 12th to 18th centuries."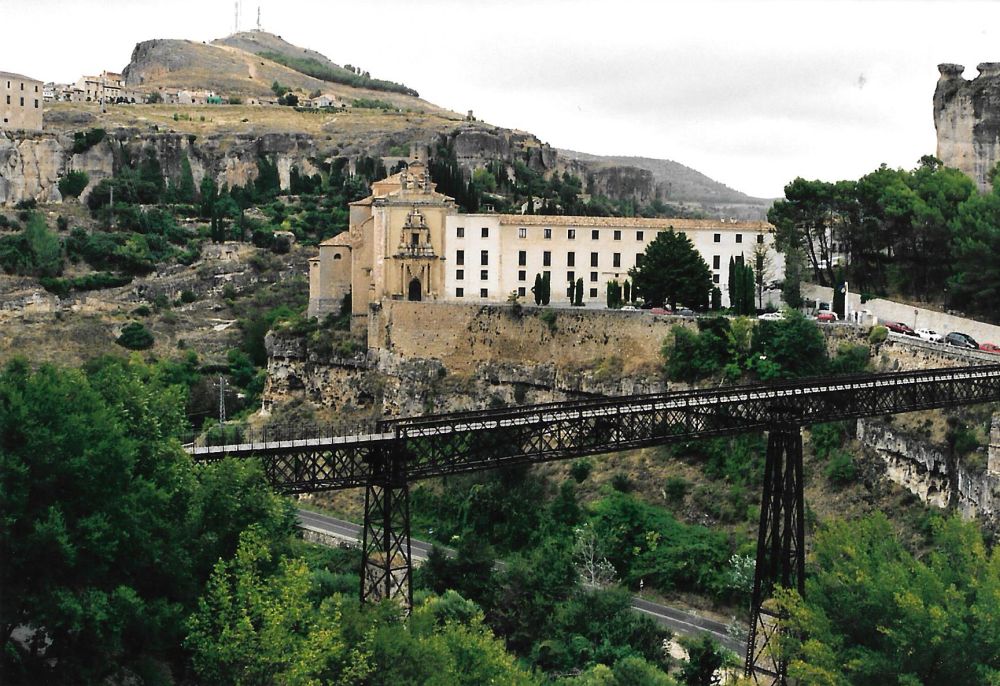 What can you expect on a visit to Cuenca?
Since this town is famous for its hanging houses and very few remain, do visit the Museo de Arte Abstracto Espanol (Museum of Spanish Abstract Art) which is situated inside three adjoining 15th-century houses whose wooden balconies are cantilevered over the town's steepest cliff. One of these houses holds Meson Casas Colgadas, reputedly the best restaurant in town and with a traditional Castilian menu, a wine list emphasizing big Tempranillo-based reds, and views over the river gorge.
Spend some time strolling and exploring the quiet town. Visit the main square, the Plaza Mayor, where you'll also find the cathedral, the town hall, and a convent. The gothic Cathedral de Santa Maria de Gracia dates to the middle of the 13th century, though it has gone through changes since then.
A footbridge (Puente de San Pablo) leads across the gorge to Parador de Cuenca. This repurposed 16th-century convent is perched on another rocky promontory across the gorge from town. Authentically restored in line with Spain's famous paradores lodging, it has a central cloister garden and a good restaurant.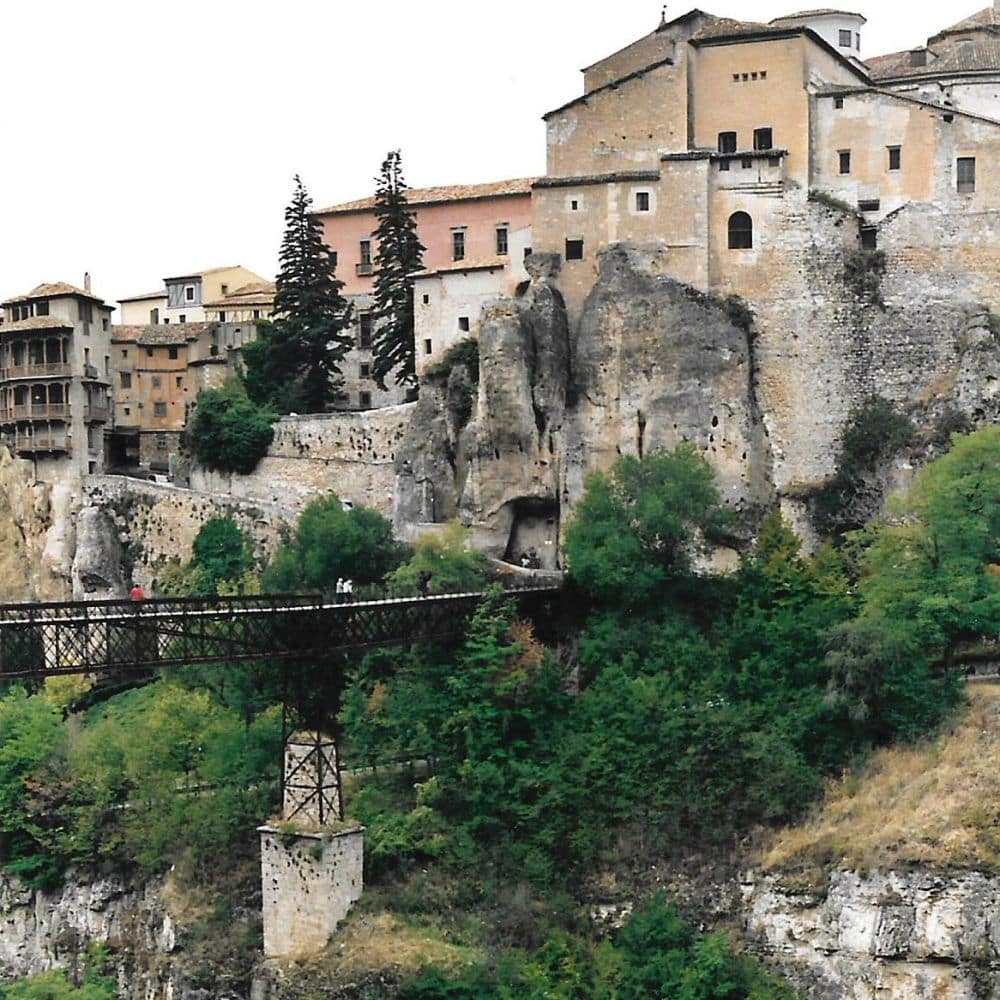 Is Cuenca worth visiting?
Cuenca is an easy day trip from Madrid, and that is enough time for a decent visit. But better would be to spend the night in the Parador de Cuenca or at the Posada de San Jose in the center of the walled city. That will allow you the time to also visit the famous windmills of La Mancha that you will pass on the main highway to and fro.
Look at other Cuenca, Spain, accommodations here.
What sorts of travelers would like the Walled Town of Cuenca?
Travelers who enjoy scenic, out-of-the-way places; art; architecture; history; and refined cuisine will be happy here.
Click on the images below to see a number of tour options in Cuenca.
Tips for visiting Cuenca
Crossing the footbridge is a must if you can manage it, but if you have a fear of heights you can see a lot without doing that.
Try the local digestive resoli, a coffee liqueur flavored with orange and cinnamon.
Check ahead for museum open times so that you don't find yourself here with everything closed.
There are other UNESCO sites not too far away, so make sure to consider them too in your planning.
Where is Cuenca?
Cuenca is 104 miles southeast of Madrid. Travel time is about 2 hours. You can also get here by train, which takes about 1 hour.
For more information about Cuenca, see Madrid's tourism website.
Text and photos provided by award-winning travel writer Carole Terwilliger Meyers of Berkeley and Beyond.
Have you been to the Walled Town of Cuenca? If so, do you have any additional information or advice about this UNESCO World Heritage site? Please add your comments below!