Historic City of Ahmedabad
By Rahuldev Rajguru
What is the Historic City of Ahmedabad?
Gujaratis pronounce Ahmedabad as "Amdavad." In 2017, UNESCO declared Ahmedabad the first World Heritage city in India. Founded in 1411 by Sultan Ahmad Shah, Ahmedabad has a unique heritage of multiple religions and multiple cultures. It is home to a complex and densely-packed collection of vernacular houses dating to the Sultanate period, with a blend of medieval Indo-Islamic, European, Persian and Chinese architecture.
Disclosure: This article contains affiliate links. Making a purchase through an affiliate link will mean a small commission for this website. This will not affect your price.
Ahmedabad was also an important city during the Indian independence movement. Mahatma Gandhi lived and worked at his ashram here during his struggle for Indian independence. The Dandi Salt March, which started from the ashram, played a pivotal role in India's independence struggle. Because of this association with Mahatma Gandhi, the city attracts tourists from all over the world.
The Sabarmati River separates Ahmedabad into two distinct parts, with the modern city on the western side and the old walled city on the east bank. Even though Ahmedabad is a bustling metropolis of six million people with a rapidly growing economy, it is also deeply rooted in tradition.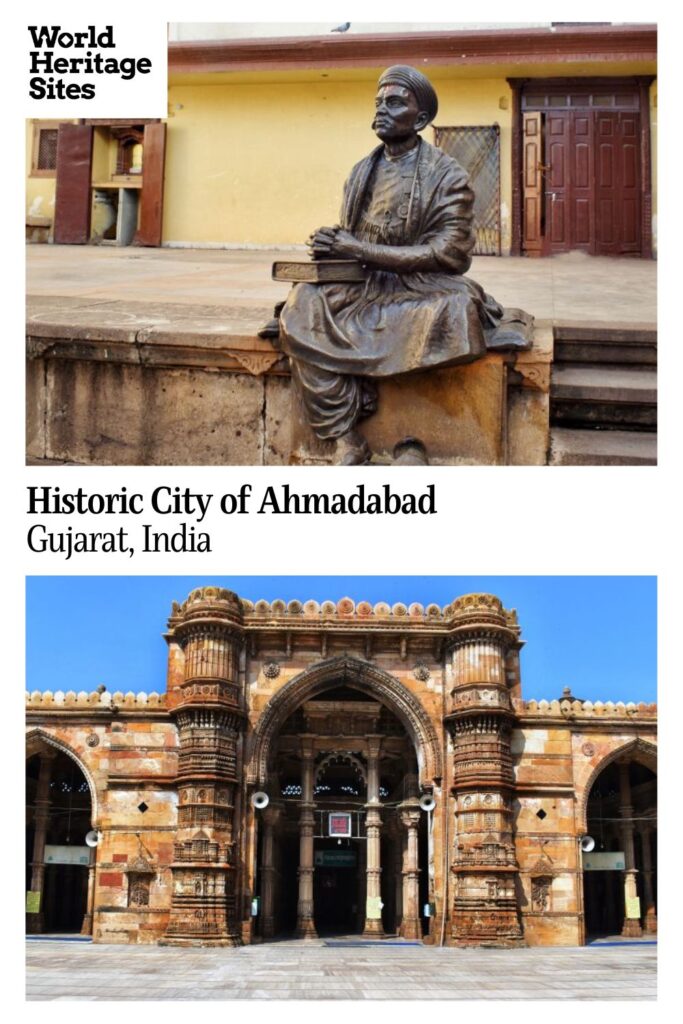 Why is Ahmedabad a UNESCO World Heritage site?
Ahmedabad is a UNESCO site because of its rich architectural heritage, including its pols, the traditional gated communities dating back to the Middle Ages. According to UNESCO, the urban planning of this city "is representative of the local wisdom and sense of strong community bondage."
There are many architectural monuments in the city's historic center, known as the Walled City, including ornate temples, grand mosques, and beautifully-crafted stepwells. Additionally, it boasts a network of narrow streets and alleyways that help keep the city cooler in the hot, arid climate.
The wooden architecture is part of the reason for Ahmedabad's World Heritage status. It was developed by local craftsmen practicing their indigenous styles, particularly in the building of mosques. "The resultant architecture developed a unique provincial Sultanate idiom unknown in other parts of the subcontinent where local traditions and crafts were accepted in religious buildings of Islam, even if they did not strictly follow the tenets for Islamic religious buildings," according to UNESCO.
It is important to note that during the massive earthquake of 2001, when modern high-rise buildings collapsed like a house of cards, a maze of centuries-old closely-packed vernacular houses in the walled city held their ground.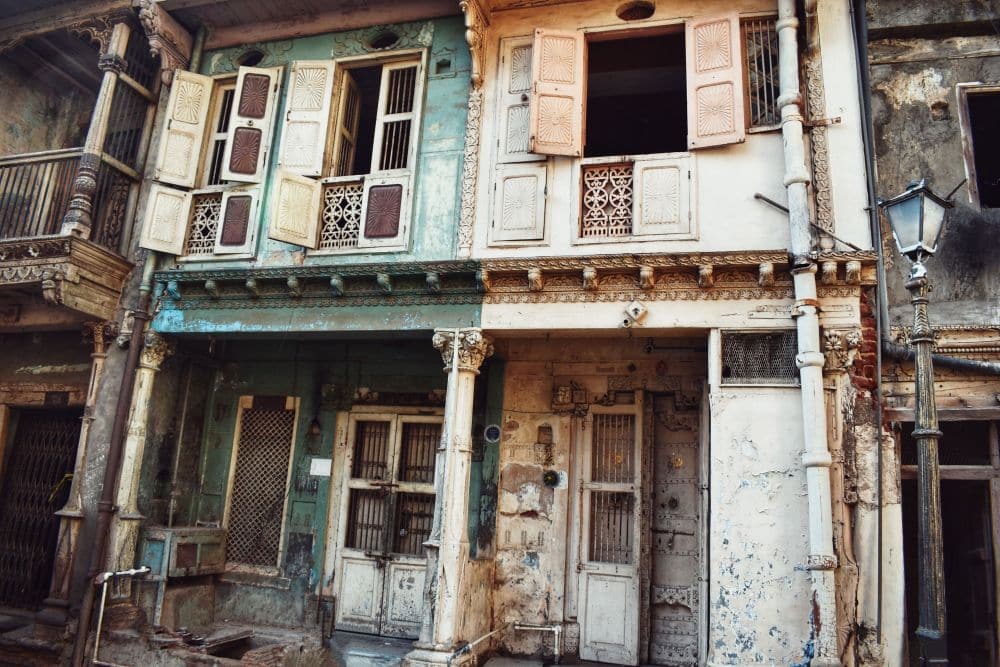 What can a visitor expect from Ahmedabad?
Ahmedabad is known for its multicultural heritage. Among the structures you can view are the citadel, the walls and gates of the fortress city, numerous mosques and tombs, stepwells, and ancient Hindu and Jain temples. In many of these, the combinations of cultural heritages are visible in the stylistic details of the buildings.
The following are some of the places to see within the UNESCO-designated walled city:
Shree Swaminarayan Mandir Kalupur: A spiritually-significant Hindu religious site dating to 1882 and built on land gifted by the British Imperial Government. Still an active temple today.
Kavi Dalpatram Chowk: a live memorial to Gujarati poet and reformer Kavi Dalpatram Dahyabhai ("kavi" means poet). This is called a "live" memorial because rather than the usual statue of a standing man, he is sitting, which invites others to sit and join him in conversation.
Kuvavalo Khancho: This small square has four homes around it with distinctive Persian, Maratha, Mughal and Colonial architecture. Notice the original images above their doors.
Ahmedabad's Old Stock Exchange: A pre-independence-era historic monument.
Manek Chowk: A popular sultanate-era site known for its traditional jewellery marketplace. In the morning it's a vegetable market, while at night it becomes a food market.
Rani no Hajiro (Queen's Mausoleum) & Badshah no Hajiro (King's Mausoleum/Resting Place): a 15th-century courtyard housing the elaborately-carved tombs of royal family members, including Ahmed Shah, the founder of Ahmedabad.
Jama Masjid: This beautiful mosque dates to 1424 and is believed to have been the largest in India at the time. It is still an active mosque today.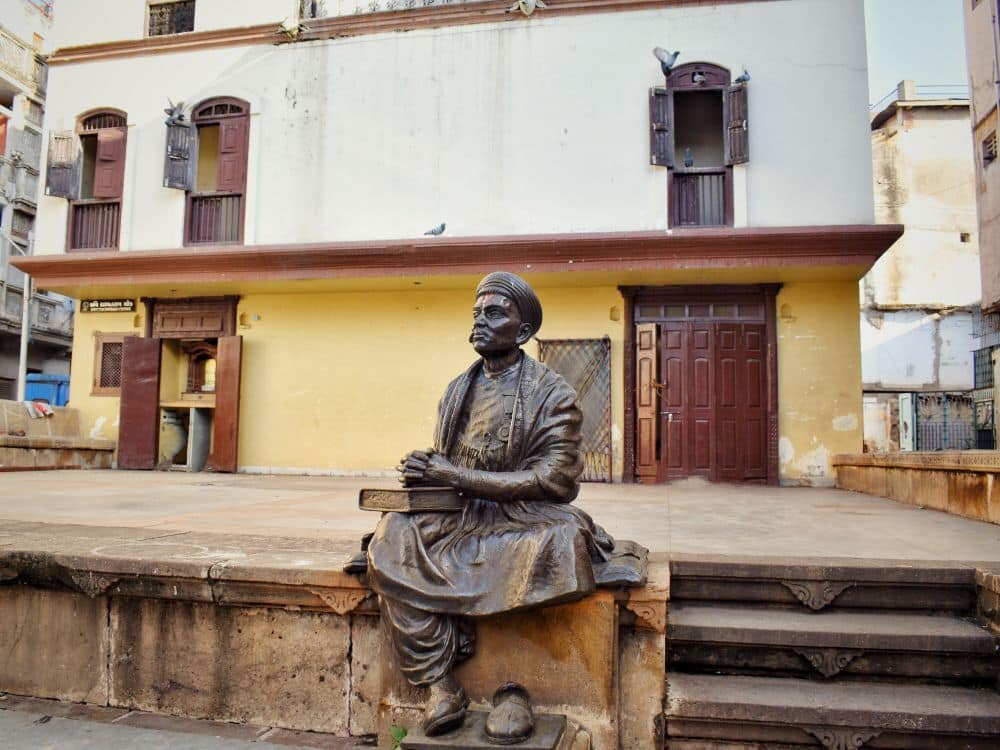 Here are three other things to see in other parts of Ahmedabad:
Sabarmati Ashram: This was Gandhiji's home for many years and is now a museum about his life and his thought.
Calico Museum of Textiles: This extensive textile collection can only be visited on the tours offered by the museum. They also offer tours of the surrounding garden.
Sidi Saiyyed Mosque: This mosque preserves beautiful carved filigreed stone screens. It was built by the descendents of Africans.
Is Ahmedabad worth visiting?
Ahmedabad's journey from a modest town to a UNESCO World Heritage City showcases its fascinating history, culture and architecture. Although the city is now more well-known for its modernity, visits to the heritage attractions can provide immense satisfaction. There are remnants of great architects and thinkers in every cobblestone of the old colorful pols, ancient mosques, and temples.
Simply put, it's worth visiting this gems-filled heritage city, as it offers a chance to explore centuries-old monuments brimming with stories, legends, art and magnificent architecture. It is recommended that visitors spend at least two full days exploring the city's heritage sites.
Book accommodations in Ahmedabad!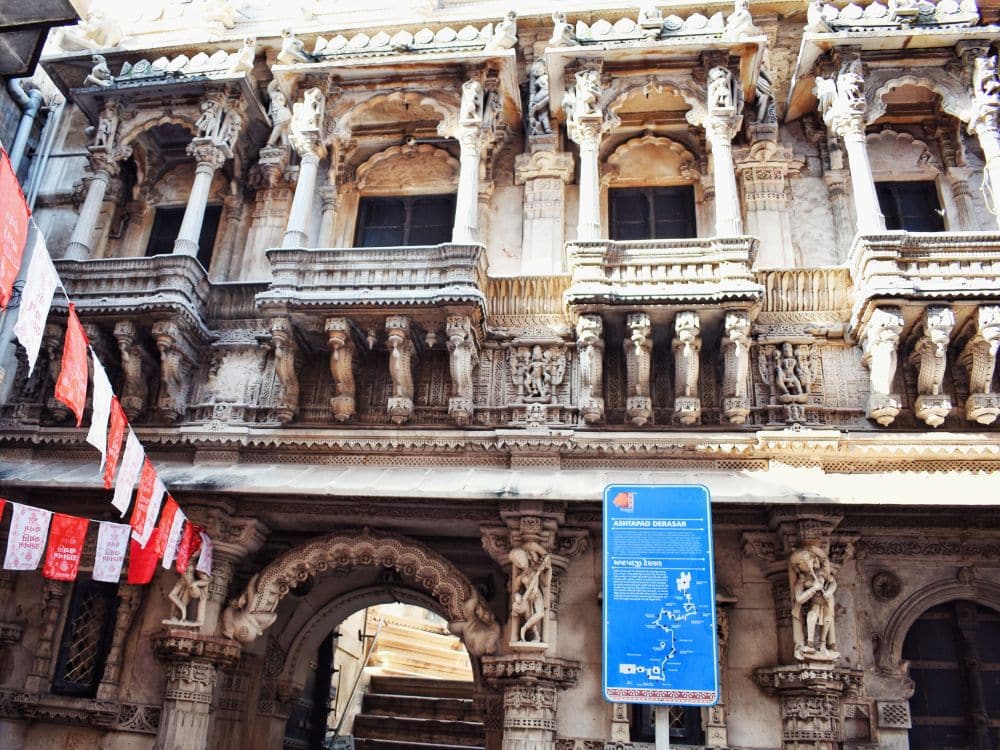 What sorts of travelers would like Ahmedabad?
There are a variety of travelers who might enjoy Ahmedabad, including:
History and culture enthusiasts: Ahmedabad offers many historical buildings, temples, mosques, and other landmarks that provide insight into the city's rich history and culture.
Architecture buffs: This World Heritage city is a fusion of architectural styles. Travelers will enjoy exploring the diverse buildings built for common people and birds, the religious sites and the mansions for the rich.
Food lovers: If you visit Ahmedabad and do not eat at Manek Chowk at night, your trip is incomplete. One can eat mouth-watering Gujarati cuisine like dhokla, gathiya, pav bhaji, dal vada, dabeli, bhakhri pizza, etc.
Shopaholics: Ahmedabad is home to many traditional markets and shops selling local handicrafts, textiles, and other items. Be sure to haggle before you make a purchase.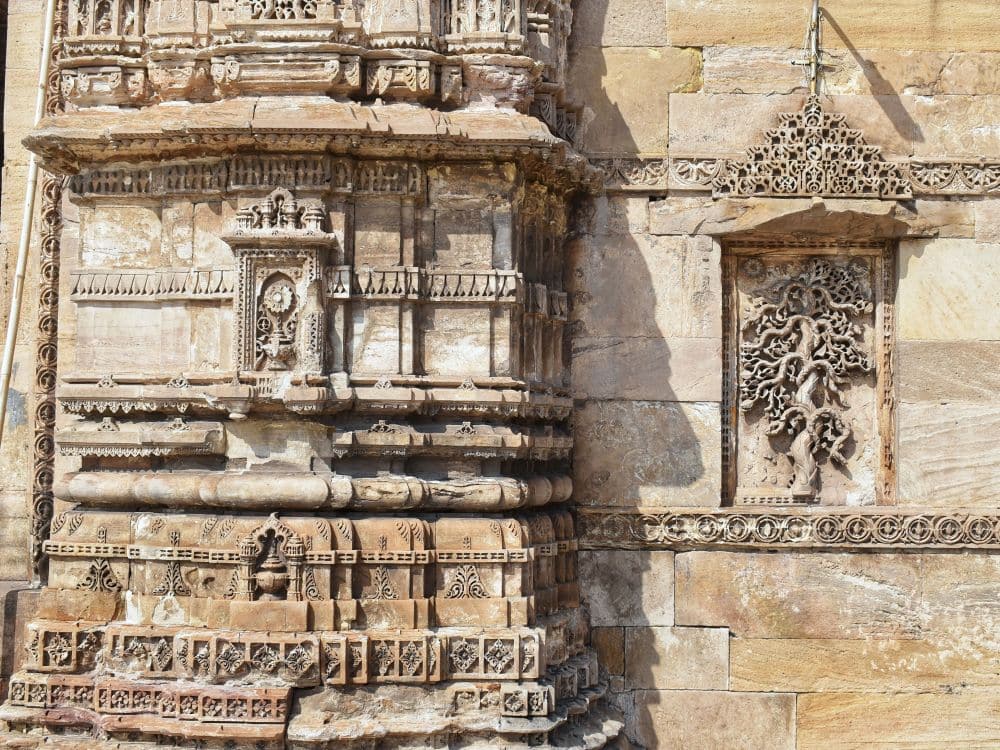 Tips for visiting the Historic City of Ahmedabad
The Walled City is an absolute maze so you'll need a tour to find your way around. Ahmedabad Municipal Corporation (AMC) and Akshar Travels have designed a special Heritage Walk to experience the fusion of heritage and architecture in Ahmedabad. This 2-hour guided tour led by local residents starts at 7.45 am from Swaminarayan Mandir (temple) in Kalupur and ends at Jami Masjid at 10 am, covering two kilometers. Hence, it is also called "A journey from mandir to masjid." The heritage walk will take you to about 22 places, which include pols, temples, mosques, and old mansions. You can just show up, or book it by calling them through the link on their website.
Notice, in any pol you enter, the parrot holes on the buildings and the chabutaro – a sort of small tower that serves as a place to feed and water the birds.
Ahmedabad is hot and humid for more than six months: in the summer it can reach 45 degrees celsius (113F). For this reason, it is best to visit between November and February. The walled city tends to be a bit cooler in the mornings.
It is required that you cover your chest, shoulders, and knees before entering religious places. You might also need to remove your shoes, so wear footwear you can take off and put back on easily.
In general, the food is spicy, so if you can't handle spicy food, say so when you order.
Ahmedabad is quite safe, even at night, when the city is still alive and vibrant. That said, take the same precautions that you would at home.
While you're traveling in India, consider its many other World Heritage sites.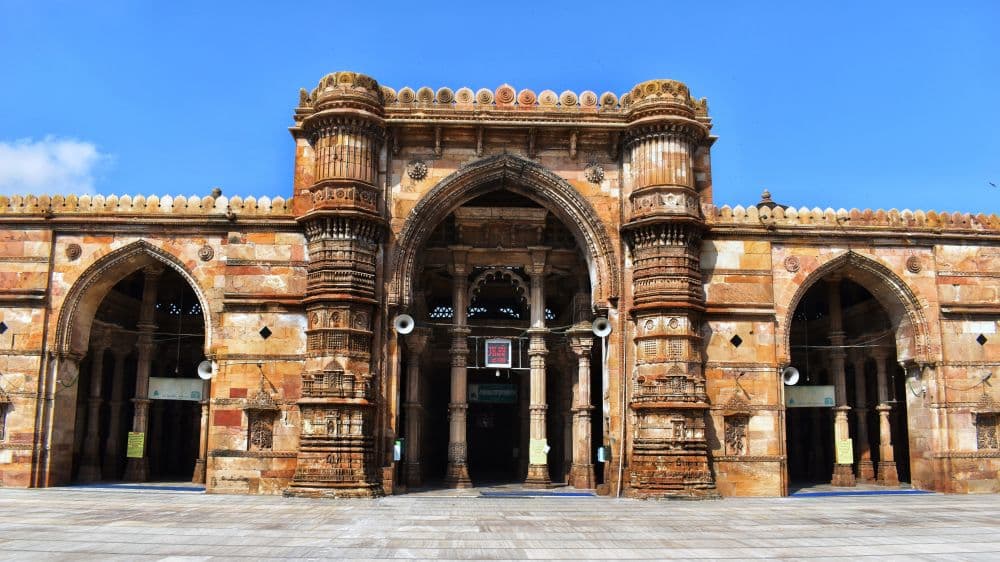 Where is the Historic City of Ahmedabad?
Ahmedabad is the largest city in Gujarat state, which is located in western India.
Getting to Ahmedabad
Here are the driving distances and times from some of the major cities in Gujarat:
Gandhinagar: approximately 30 kilometers (17 miles), takes around 1 hour.
Surat: approximately 265 kilometers (165 miles), takes around 4 hours.
Vadodara: approximately 110 kilometers (69 miles), takes around 2.5 hours.
Rajkot: approximately 200 kilometers (125 miles), takes around 5 hours.
The walled city is densely populated with narrow roads. There is almost nowhere to park nearby and traffic can be quite heavy. If you're driving, it is best to park at your hotel – make sure, when you book a hotel, that it has parking; park your car there and use taxis or auto-rickshaws or walk to get around town.
Public transportation is a much better way to get to Ahmedabad and to get around inside the city. A frequent bus and train service connects Ahmedabad with cities in Gujarat: Gandhinagar, Surat, Vadodara and Rajkot. There are also excellent train connections between Ahmedabad and all major cities in India.
The city of Ahmedabad is also well connected to all major Indian cities as well as many international destinations via its international airport.
Getting around within the Historic City of Ahmadabad
Bus: The Ahmedabad Municipal Transport Service (AMTS) operates buses in various parts of the city, including the old city area. It can take between 30 minutes and an hour for you to reach your destination by bus, depending on your location and traffic conditions.
Metro: The Ahmedabad Metro is another convenient way to reach Heritage City. There is a metro station near Kalupur Railway Station, which is close to Swaminarayan Temple. Metro rides can take between 10-15 minutes, depending on your location.
Taxi/Auto-rickshaw: The Heritage City can be reached by taxis (Uber and Ola) and auto-rickshaws (3-wheelers). You can find them at major transportation hubs such as airports, railway stations, and bus terminals. Depending on your location and the traffic, the ride can take up to an hour.
You should check with the local transportation authorities or your hotel concierge for specific routes, schedules, and fares. It is also recommended to plan your travel in advance and to allow extra time during peak traffic hours.
For more information about Ahmedabad, its monuments, opening hours, admission fees, etc., see the official website of the Ahmedabad Municipal Corporation.
Text and photos provided by Rahuldev Rajguru of Turuhi. He has traveled to 62 countries and lived in six. Travel is his passion and has always been a vital part of his life. Through his travel stories, he aspires to share insightful experiences and information that could help other travelers make the most of their travel experiences.
Have you been to Ahmedabad? If so, do you have any additional information or advice about this UNESCO World Heritage site? Please add your comments below!