By Cath
What is the Batalha Monastery?
The Monastery of Batalha is a Dominican convent located near Leiria in Central Portugal. Established in the late 14th century, Batalha Monastery became the burial church for some of the 15th-century Portuguese monarchy.
Building was started in the late 14th century but not completed until over 100 years later in the early 16th century. It was built as a dedication to the Virgin Mary after the Portuguese victory over the Castilians in 1385.
The Batalha Monastery is one of the finest examples of Late Flamboyant Gothic architecture intermingled with Manueline style. It became a UNESCO World Heritage Site in 1983, a few short years before the nearby Alcobaça Monastery.
Disclosure: This article contains affiliate links. Making a purchase through an affiliate link will mean a small commission for this website. This will not affect your price.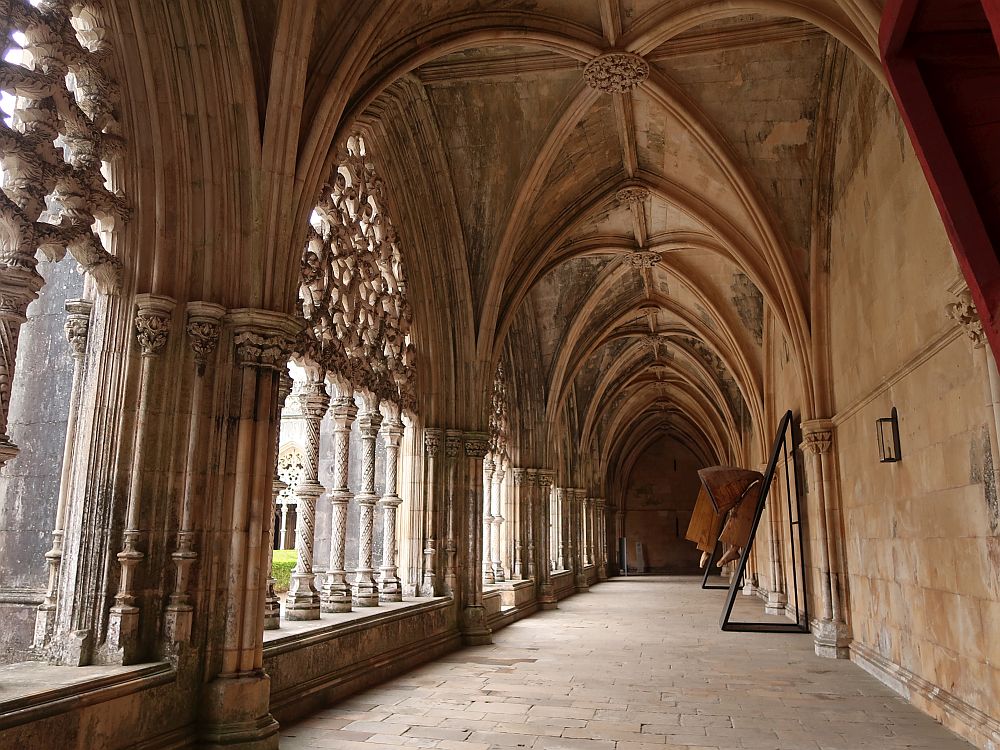 Why is the Batalha Monastery a UNESCO World Heritage site?
Batalha Monastery is a UNESCO World Heritage site due to it being an outstanding example of Gothic ecclesiastical architecture.
UNESCO explains that Batalha Monastery "preserves its authenticity by maintaining its original plans, materials and social and religious significance. The property's most relevant attributes have been preserved and even reinforced as far as quality is concerned. Conservation and restoration of all stained glass windows and mural paintings in the Royal Cloister and in the Sacristy have been carried out according to the Nara Document on Authenticity."
What can you expect on a visit to the Batalha Monastery?
As one of the most impressive religious buildings in Portugal, visitors to the Mosteiro da Batalha can expect to be wowed by incredible architecture of the Gothic and Manueline style as mentioned.
The main church, with its high vaulted ceilings and original, beautiful stained-glass windows, can be visited for free. However, as with its sister site of Alcobaça, to enjoy the true beauty of this monastic site, visitors must pay a small entrance fee.
For those opting to go to the inner sanctum to visit the cloisters, other chapels and see the tombs of King John and his wife Queen Philippa, expect to spend at least an hour, perhaps more, exploring and visiting these areas of Batalha Monastery.
There are two cloisters to enjoy, which are peaceful as would be expected in a monastery. There are chapels, one of which holds a memorial to the Unknown Soldier, the refectory with its high ceilings, and the octagonal unfinished chapel to the rear of the main church with its huge pillars and intricate architecture.
You can expect to spend around half an hour in the free church but more than an hour in the paid sections of the monastery.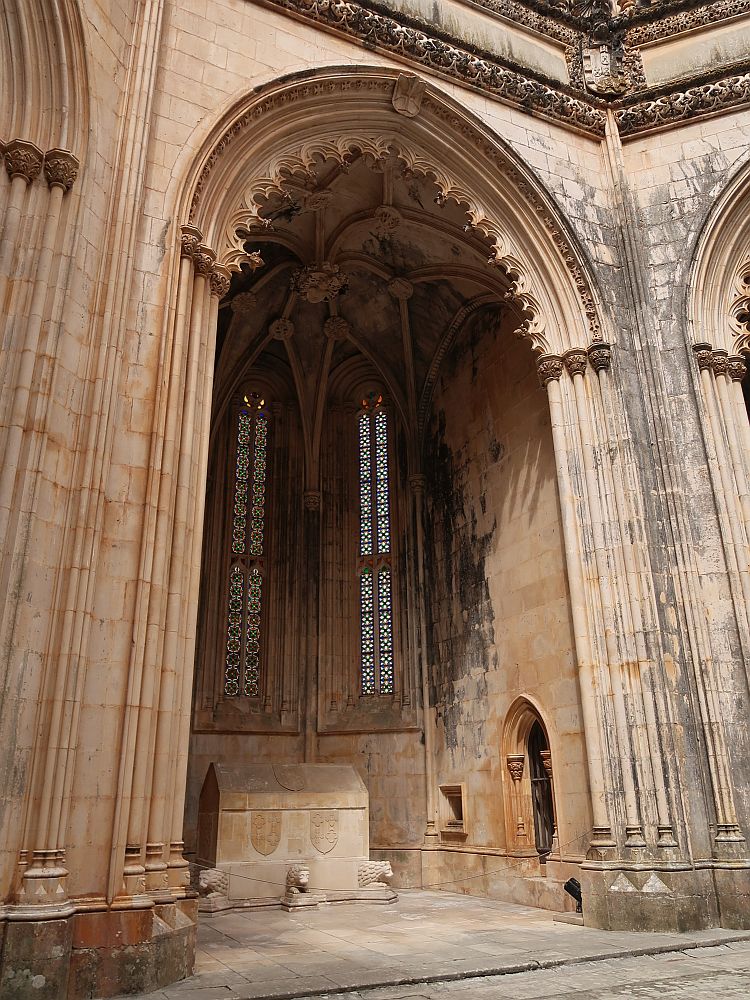 Is the Batalha Monastery worth visiting?
From the outside façade to the huge, vaulted ceilings of the main church, double cloisters and unique octagonal unfinished chapel, Batalha Monastery is a must if you are visiting this part of Portugal or looking for a day trip from Lisbon. The architecture is outstanding and worth the visit alone.
What sort of travellers would like Batalha Monastery?
Batalha Monastery is a must for travellers who enjoy history and architecture in particular. While visitors of every type will enjoy Batalha, young children may find it a bit boring if you don't make it interesting or create a game out of it. And those with limited mobility may find some areas inaccessible to them.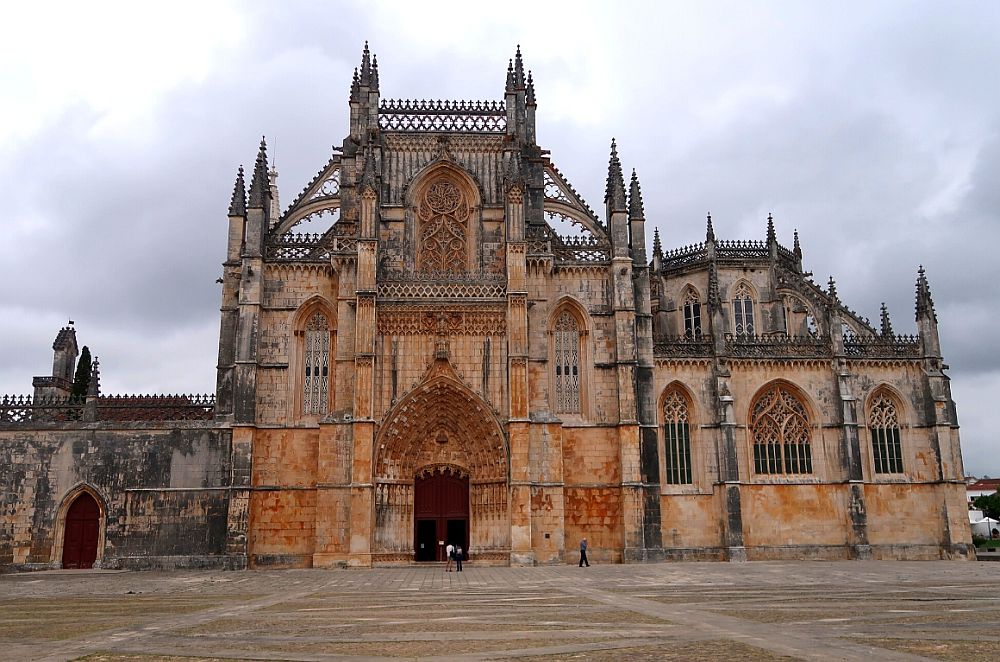 Tips for visiting the Batalha Monastery
Batalha Monastery is easy to reach by car and well sign-posted within the town of Batalha. Public transport in this part of Portugal can be sparse and sporadic, so going by car or guided tour from Lisbon is advisable.
There is a large public car park to the rear of the monastery which may get busy during peak summer months. However, there are plenty of spaces so even if it is full, you should get a spot without too much waiting.
Make sure to get your pictures of the exterior façade before entering as you exit through a different part of the monastery if you opt to pay to see the inner sanctums.
Keep your ticket; you will need to show it to enter different parts of the monastery.
As part of the trio of UNESCO World Heritage Sites within this area of Central Portugal, along with the Alcobaça Monastery and the Convent of Christ at Tomar, if you plan to visit all three, get the combination ticket which is valid for a year. It saves you a few euros instead of paying for individual tickets to each site. The drive to Alcobaça is 30 minutes, as is the drive from Batalha to Tomar.
If you have a Lisbon Card, it includes free admission to all three UNESCO sites as well as many other sights and museums in Lisbon or nearby.
And remember, always look up at sites like this. The architecture and design often continue on the ceilings and tops of columns.
Plan to stop for lunch in one of the many restaurants in the town after your visit. Some have views of the monastery itself.
Book a stay near the monastery:
Where is the Batalha Monastery?
Batalha Monastery is located in the town of Batalha in Central Portugal. The nearest large town is Leiria, and Lisbon is roughly one hour and forty minutes' drive.
As mentioned, there are day trip tours from Lisbon that you can join to visit this site, as well as Alcobaca Monastery and the convent at Tomar. Click on the image below to see some options:
For more information about Batalha Monastery, its opening hours and admission fees, see its official website.
Text and photos provided by Cath of Wales with Kids who visited the site with her young son during a visit to Central Portugal as a family.
Have you been to the Monastery of Batalha? If so, do you have any additional information or advice about this UNESCO World Heritage site? Please add your comments below!