By Cath
What is the Monastery of Alcobaça?
Located in central Portugal, Alcobaça Monastery is a Catholic monastic site located 120km north of Lisbon. Established in the 12th century by the first Portuguese king, it is part of a trio of UNESCO World Heritage sites in Central Portugal, along with Batalha Monastery and the Convent of Christ in Tomar.
Disclosure: This article contains affiliate links. Making a purchase through an affiliate link will mean a small commission for this website. This will not affect your price.
The Mosteiro de Santa Maria de Alcobaça, to give it its real name, had a close relationship with the Portuguese monarchy over several centuries and was the first site to introduce Gothic buildings to Portugal.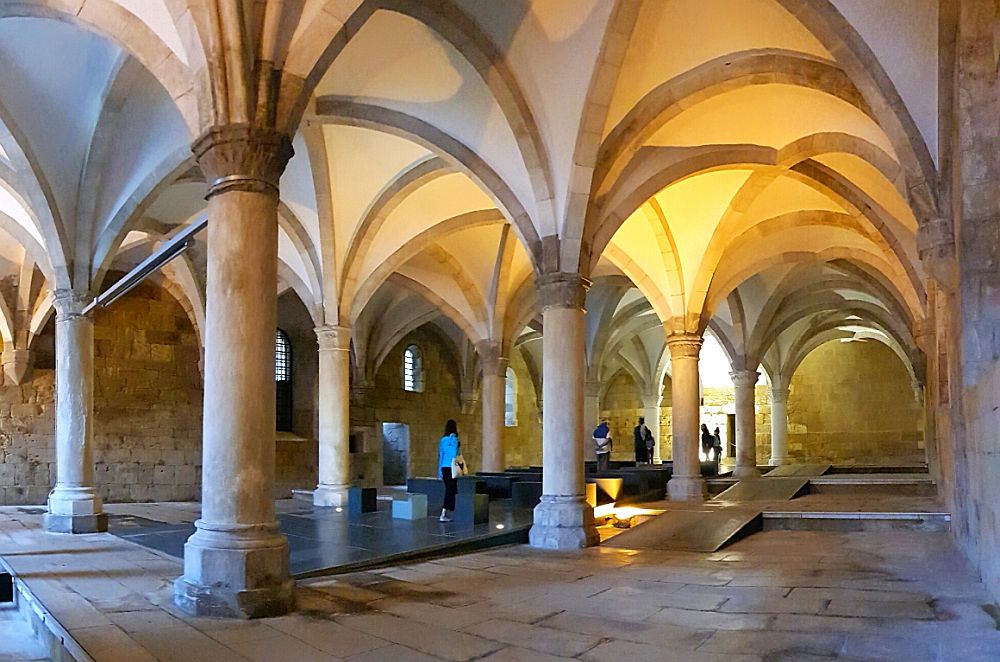 Why is the Alcobaça Monastery a UNESCO World Heritage site?
The Monastery of Alcobaça was added to the list of UNESCO World Heritage Sites in 1989 because of its importance in Portuguese history, due to its cultural and artistic importance, and its incredible architecture that still remains at the site today.
UNESCO says "By virtue of its magnificent dimensions, the clarity of the architectural style, the beauty of the material used and the care with which it was built, the Monastery of Alcobaça is a masterpiece of Gothic Cistercian art. It bears witness to the spreading of an aesthetic style that developed in Burgundy at the time of St Bernard, and to the survival of the ascetic ideal which characterised the order's early establishments like Fontenay. The tombs of Dom Pedro and Dona Inês de Castro are beautiful examples of Gothic funerary sculptures."
It was also given its place on the list due to the fact that it is a great example of a Cistercian establishment and because of it being properly conserved. It retains its authenticity as no major alterations have been done to the site, other than minor modern additions and restoration of sculptures from the Baroque period.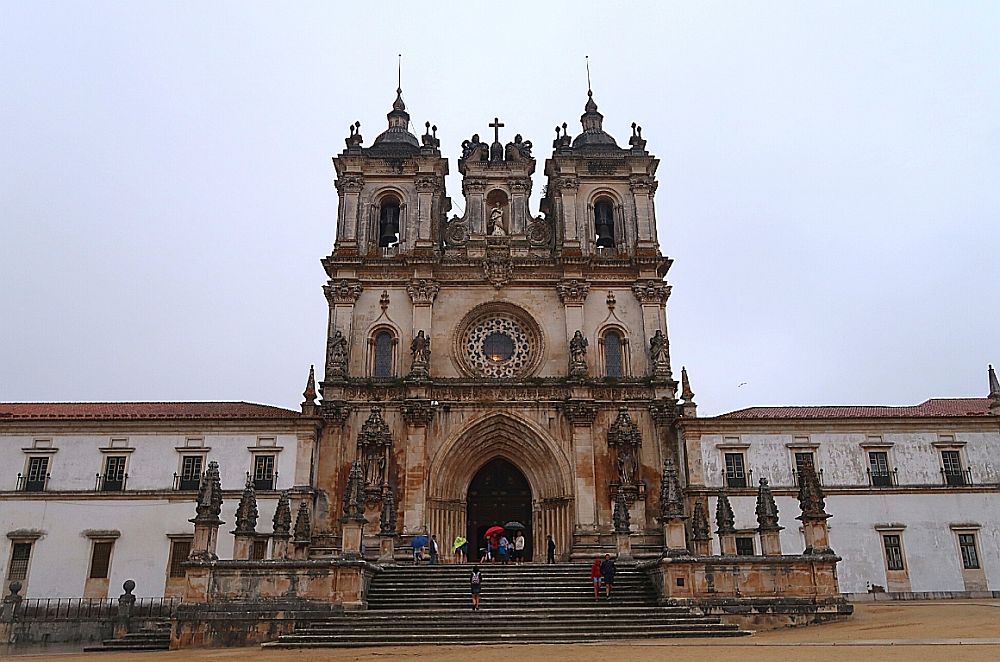 What can you expect on a visit to the the Monastery of Alcobaça?
Alcobaça, as mentioned, is a monastic site that includes an impressive church – whose grand exterior is breathtaking – cloisters, and more. Visitors to the site can view inside the church and the nave for free, including the tombs of King Pedro I and Inês de Castro, but to see behind-the-scenes and explore the cloisters and other monastic buildings, visitors are required to pay an entrance fee.
While the church and its naves are impressive on their own, the real beauty and architecture of Alcobaça are hidden behind the cloister entrance doors. The cloisters themselves are a double layer and are referred to as the Cloister of Silence. Beautiful fountains are in the central courtyard. The cloister can give visitors an idea of what life must have been like for the hundreds of priests and monks who have resided in Alcobaça over the centuries.
One of the most impressive areas of Alcobaça is the kitchen, with its huge fire pit over which stands a central chimney reaching to the roof. The kitchen is tiled and at first glance, you might think it is a bathroom due to the 'bathtubs' and tiled pool-like construction in the room.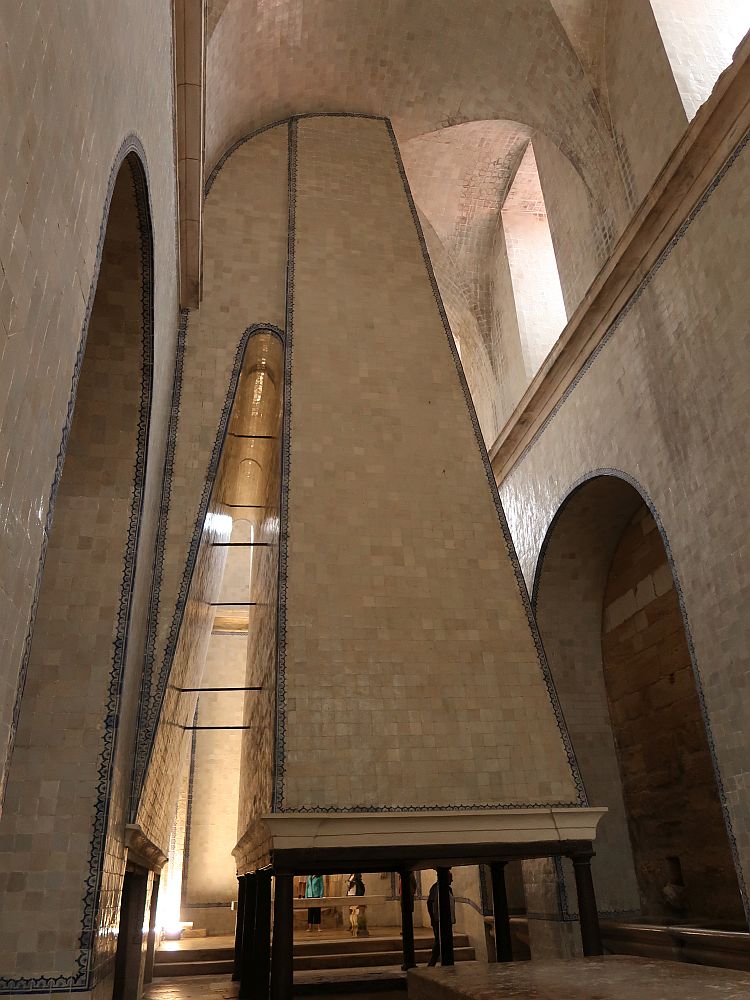 Expect to spend no more than 30 minutes in the church (free part) and up to about an hour more should you decide to pay to visit the cloisters and other areas of the Alcobaça Monastery.
Is the Alcobaça Monastery worth visiting?
Alcobaça is often referred to as the least rewarding of the trio of UNESCO World Heritage Sites in central Portugal, but in my opinion, that is wrong. The façade is impressive alone, but the architecture that you can see inside the cloisters is truly awe-inspiring.
What sort of travellers would like Alcobaça Monastery?
Travellers of all kinds will enjoy a visit to Alcobaça Monastery, especially those interested in history and architecture. It is easily visited by solo travellers, couples, and families. Little kids may enjoy seeing inside the monk's hall and the cloisters, and the impressive monks' dormitories.
Visitors with limited mobility may not enjoy this site as much, as there are steps to other areas of the site which are not accessible to those with mobility issues.
Use the map below to book accommodations near Alcobaça Monastery:
Tips for visiting the Monastery of Alcobaça
Because Alcobaça is part of a trio of UNESCO World Heritage Sites in Central Portugal, there is a combination ticket for entry to the inner sections of each site, which offers visitors a small discount over individual tickets. If you are planning to visit the other sites, Batalha and Tomar, get this ticket. It is valid for one year and allows one visit per site.
Guided tours are offered, so if you want to know more about the site and each room you visit, join one of the free guided tours.
Don't miss the King's Hall, where you can see 19 statues of Portuguese kings.
And make sure to look up. Some of the best architectural designs can be viewed up high in majestic arches and statues.
The Lisbon Card includes admission to Alcobaça Monastery, Batalha Monastery and the Convent of Christ in Tomar, as well as many other sights in the vicinity of Lisbon.
Where is the Alcobaça Monastery?
Alcobaça Monastery is located in a town of the same name. It is approximately 120km (75 mi) north of Lisbon, a journey of around one and a half hours by car.
Tour groups from Lisbon visiting this site combined with other stops.
Note that this site is not easily accessible by public transport.
For more information about Alcobaça Monastery, its opening hours, and admission fees, see its official website.
Text and photos provided by Cath of Passports and Adventures who visited the site with her young son during a road trip in Central Portugal as a family.
Have you been to Alcobaça Monastery? If so, do you have any additional information or advice about this UNESCO World Heritage site? Please add your comments below!