Rietveld Schröderhuis (Rietveld Schröder House)
By Constance
What is Rietveld Schröderhuis?
Once the home of Truus Schröder-Schräder, Rietveld Schröderhuis was commissioned by Schröder and designed by Gerritt Thomas Rietveld, one of the top architects in Utrecht. Schröder was very involved in the design of the building and had specifically requested for the home to be simple and a space that freed her rather than constrained her.
Disclosure: This article contains affiliate links. Making a purchase through an affiliate link will mean a small commission for this website. This will not affect your price.
The home provided Schröder with ample opportunity for her freedom, bringing the outside inside with large windows and flexible interior walls that could easily change and rotate. Once facing picturesque open land, the home is now located near a motorway that was built in the 1960s.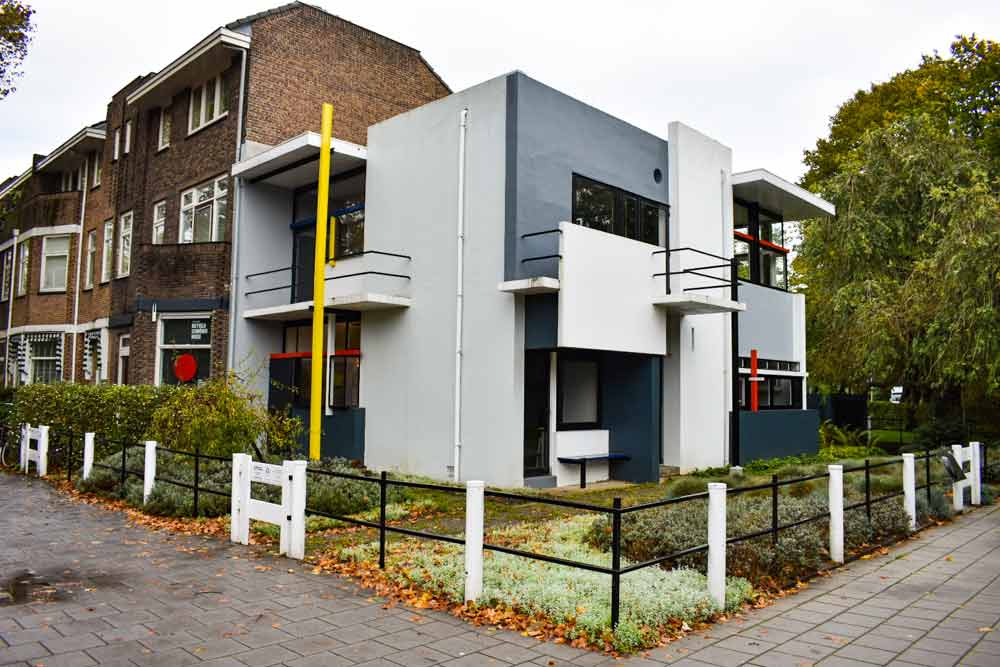 Why is Rietveld Schröderhuis a UNESCO World Heritage site?
Rietveld Schröderhuis was built in 1924 and designated a UNESCO World Heritage site in 2000. It is one of the best examples of De Stijl architecture and also considered to be the only true De Stijl building. Rietveld was also a leader in the De Stijl art movement, well known for its geometric lines and use of primary colors as well as whites, grays, and blacks.
Its unique value as a World Heritage site is obvious as it demonstrates modern architecture in the 1920s as well as its special use of space within a single family home. The visual appeal and use of color and design make it particularly remarkable.
Use the map below to book your accommodations in Utrecht:
What can you expect on a visit to Rietveld Schröderhuis?
Today Rietveld Schröderhuis is a museum and can be visited with a timed ticket purchased through the Centraal Museum in Utrecht. Tickets include a partially guided tour and you'll be treated to demonstrations of the changing walls seen with your very own eyes.
Is Rietveld Schröderhuis worth visiting?
As the only true De Stijl building and house in the world, it is definitely worth visiting. Especially since you have to join the tour in order to see Rietveld Schröderhuis, you'll definitely get a better sense of how the walls move and how Rietveld was able to fulfill Schröder's dreams of feeling free and unconfined at home while providing a simple and modern aesthetic.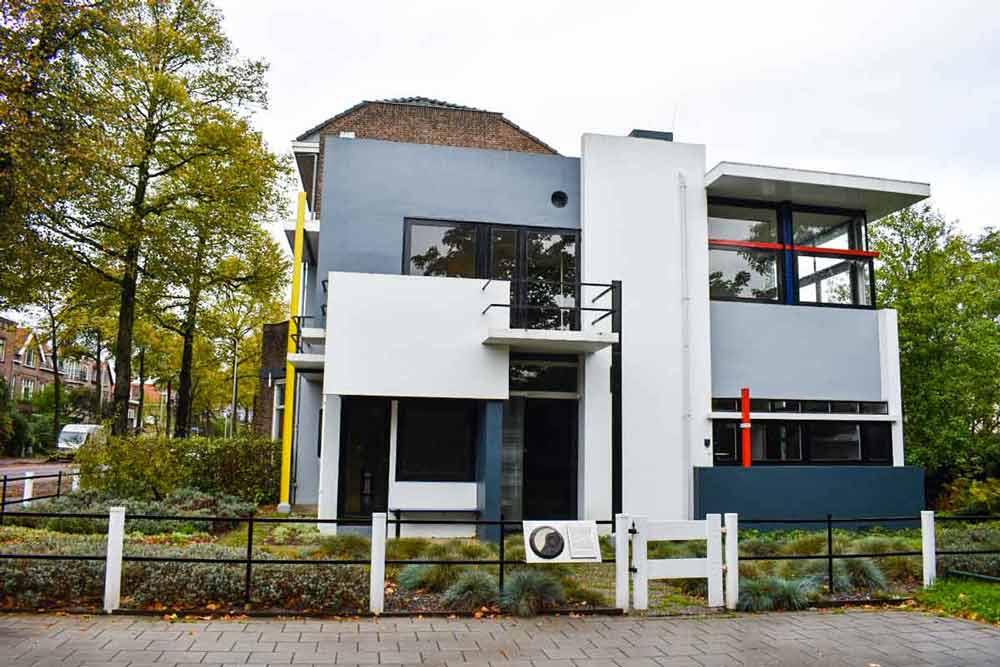 What sorts of travelers would like Rietveld Schröderhuis?
Rietveld Schröderhuis is best visited by architecture and contemporary design lovers. However it is still great for an average tourist to see because the house remains extremely modern looking for its time. Take a stroll around the neighborhood and you'll find that the home is unlike any other.
Tips for visiting Rietveld Schröderhuis
You must purchase a ticket through Centraal Museum for a partially guided tour of the grounds as it is not possible to visit Rietveld Schroderhuis on your own. The tour includes a media tour of the rooms downstairs. Upstairs a guide will demonstrate the movable walls and other unique features of the house. The media tour is available in Dutch, English, Spanish, German, French, Italian, Japanese, and Mandarin.
After you check out Rietveld Schröderhuis, be sure to also see Rietveld's other buildings, including a block of four townhouses located on Erasmuslaan.
Where is Rietveld Schröderhuis?
Rietveld Schröderhuis can be reached by walking, biking, or bus. It is located at Prins Hendriklaan 50 in Utretcht.
By public transit and a bit of walking from Utrecht Central Station, take the number 8 bus towards Wilhelminapark and get off at De Hoogstraat. From there, Rietveld Schroderhuis is a five-minute walk away.
Text and photos provided by Constance of The Adventures of Panda Bear. Constance is a techie designer by day and a travel blogger by night. She founded this blog while living in the San Francisco Bay Area, to share her adventures in travel and food with the world.
Have you been to the Rietveld Schroderhuis? If so, do you have any additional information or advice about this UNESCO World Heritage site? Please add your comments below!