By Stu O'Brien
What is Wadi Rum Protected Area?
Wadi Rum Protected Area is a vast desert landscape in the south of Jordan. Spanning 74,000 hectares (286 sq mi), the site boasts giant sandstone mountains, naturally carved gorges, and endless oceans of sand. Amongst the stunning natural attractions are scattered vestiges of human settlement. UNESCO estimates that humans have occupied the area for approximately 12,000 years. Rock drawings from the Thamud tribes and the ruins of a Nabataean Temple are precious connections to antiquity. Presently, and for centuries past, the area is home to nomadic Bedouin tribes.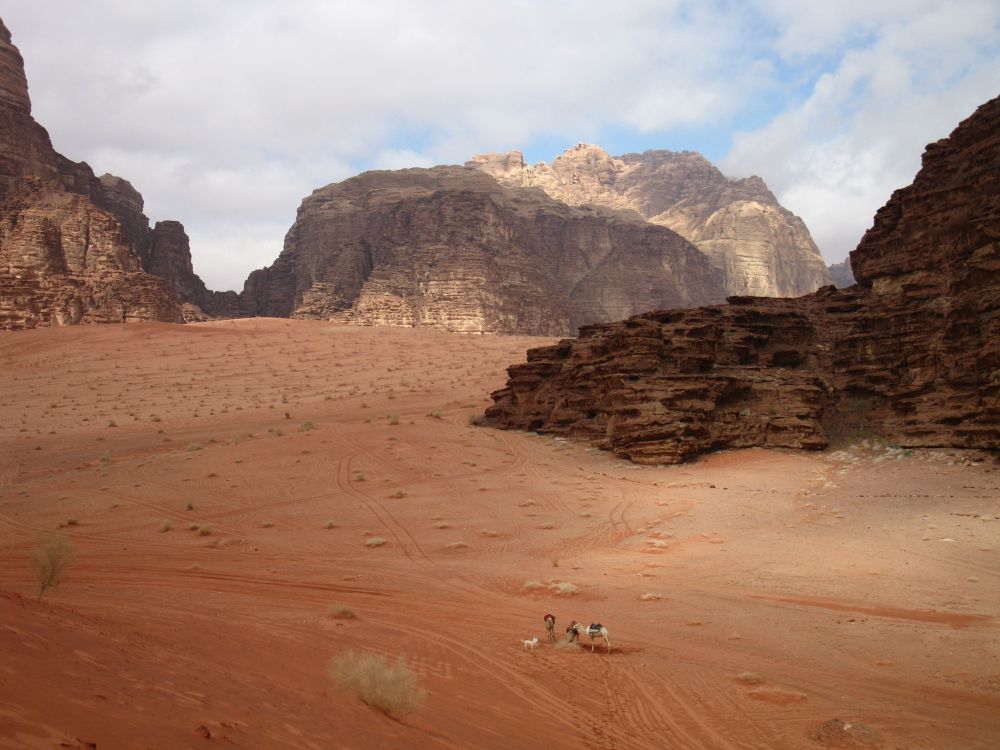 Disclosure: This article contains affiliate links. Making a purchase through an affiliate link will mean a small commission for this website. This will not affect your price.
Why is Wadi Rum a UNESCO World Heritage site?
Wadi Rum's listing as a World Heritage Site is due to its archaeological importance, including 25,000 petroglyphs and 20,000 inscriptions, and its environmental significance as an 'iconic desert landscape.' UNESCO explains that the engravings, 'indicate an elaborate sense of aesthetics in a pictorial culture, and the archaeological findings span all eras from the Neolithic to the Nabataean.' Meanwhile, the environment of Wadi Rum is recognised for its diversity and aesthetic value, which any visitor will testify is magnificent.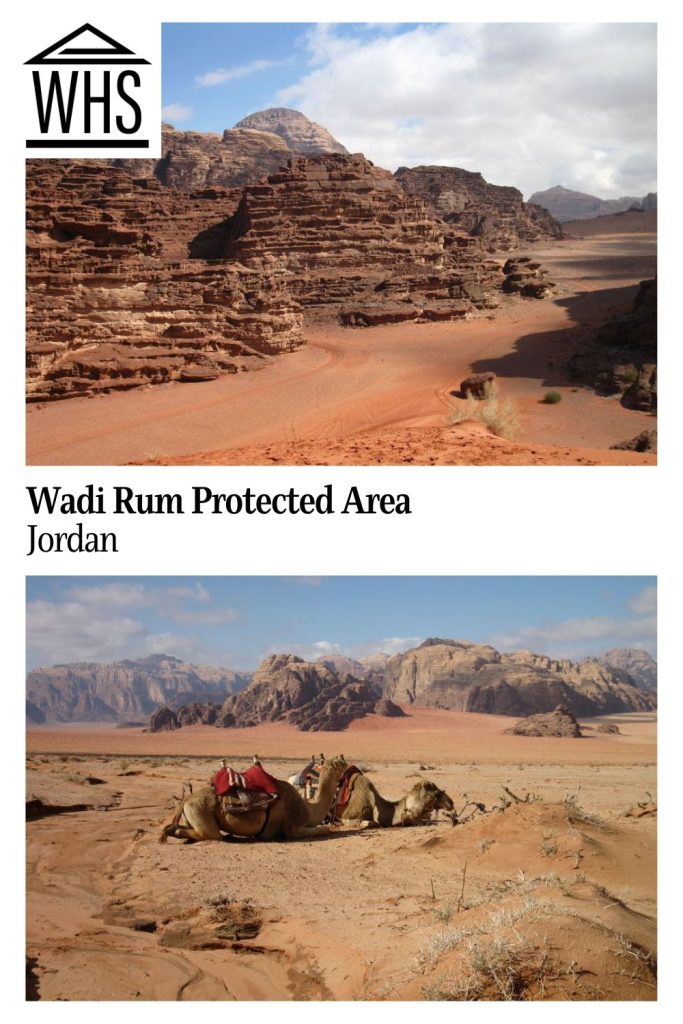 What can you expect on a visit to Wadi Rum?
Visitors to Wadi Rum can experience its splendour in many different ways, from camel rides to jeep tours, and overnight stays in Bedouin camps. For those wanting a little more adventure, the 120km (75mi) Wadi Rum Trail opened in 2023. Some guided tours include sand-boarding and hiking.
The natural wonders of Wadi Rum are the main attraction for most travellers, including the towering Jebel Umm Al Ishrin which glows deep orange at sunset, the Barrah Canyon, and Khazali Siq, a shaded narrow gorge explorable by foot. Evidence of human settlement is plentiful in Wadi Rum, and visitors can view the ruins of a Nabataean temple, learn about the Bedouin culture, and explore the many rock drawings found throughout the site.
If you don't book a tour, use the map below to book accommodations within or near the Wadi Rum Protected Area:
Is Wadi Rum Protected Area worth visiting?
Yes! Wadi Rum is one of the top tourist destinations in Jordan, with spectacular rock formations, vast desert landscapes, and impressive ancient artifacts.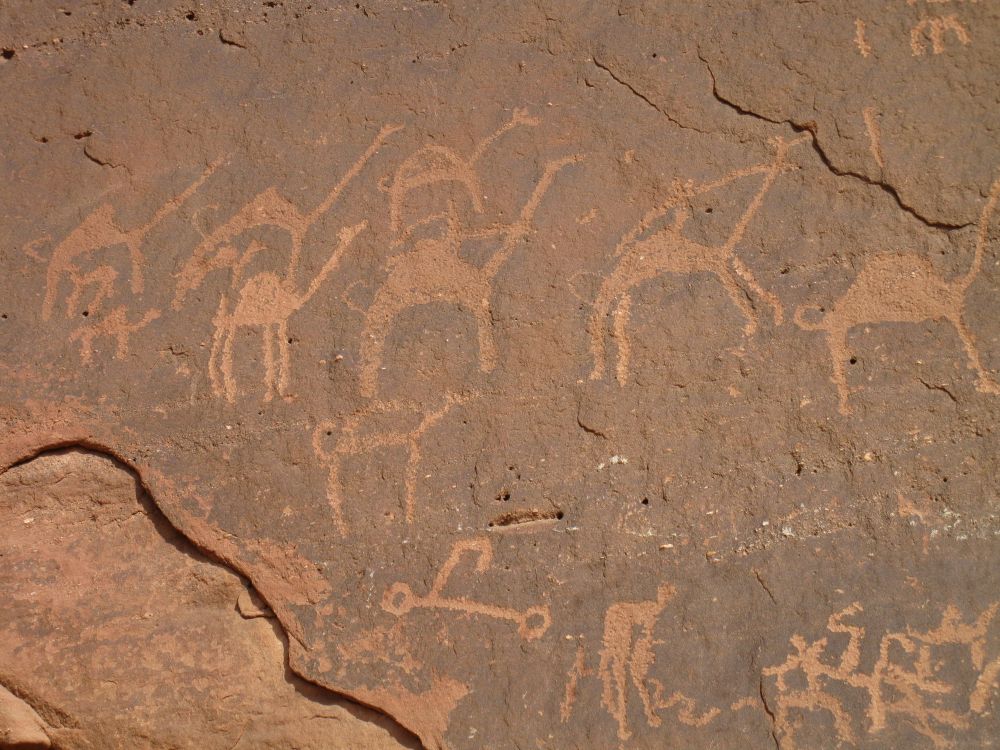 What sorts of travellers would like Wadi Rum?
Wadi Rum is a destination that caters for every sort of traveller from the budget-conscious backpacker to the high-end tourist. The site can be explored on foot, camelback, or in the comfort of a private 4×4 vehicle. Tours range from a couple of hours to several days, with accommodation options including Bedouin tents and camps. Often they combine seeing Wadi Rum with a visit to Jordan's other famous UNESCO site, Petra.
Tips for visiting Wadi Rum Protected Area
The number one tip for visiting Wadi Rum is to ensure you book with a reputable guide or company. Beware of booking through hotels or being lured by a cheap deal that sounds too good to be true. It is not uncommon for hotel operators to take commissions, or for unknowing tourists to be taken to nearby Disi, which is nice enough, but is not Wadi Rum. Only licensed tour operators are allowed into the Wadi Rum Protected Area. Passing through the Visitors Centre is a sure way to know that you are in the right place.
Tipping is not mandatory in Jordan and is at your discretion.
It is important to prepare for the practicalities of visiting a desert. Ensure you carry enough food and water; wear sunscreen and a hat. You may want to consider a face mask, in case of a sandstorm. Finally, remember to bring something warm; overnight temperatures in the desert can plummet, even if the days are warm and sunny.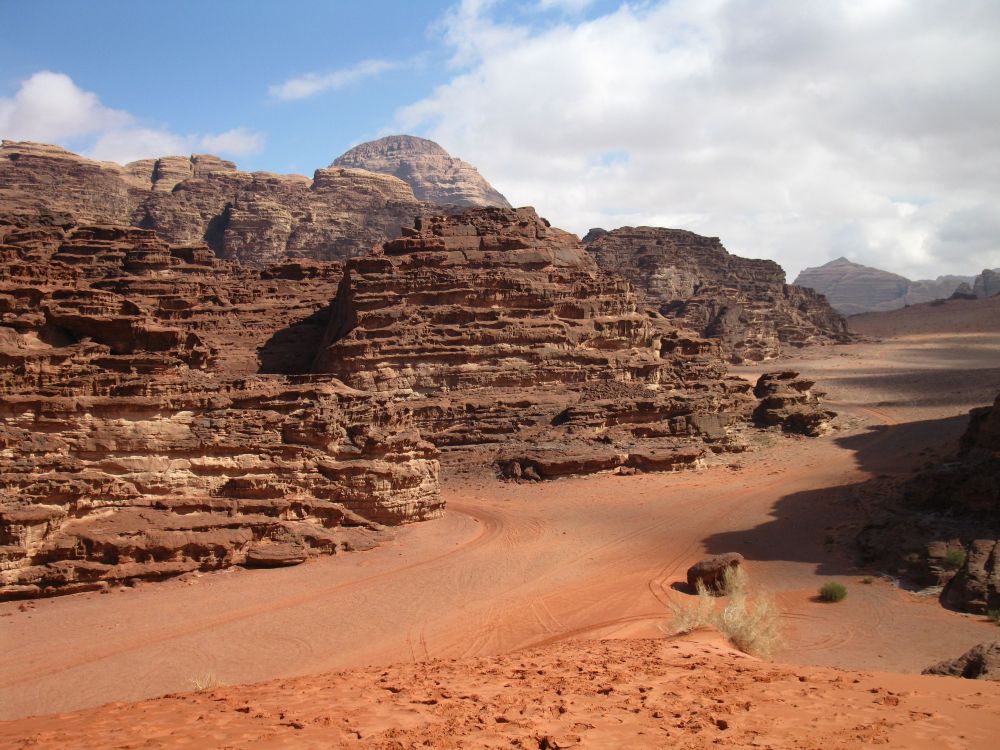 Where is Wadi Rum?
Wadi Rum is located in the south of Jordan, near the borders of Saudi Arabia and Israel. As one of the country's premier tourist sites, it is easily accessible by road. From the capital, Amman, the drive is 5-8 hours; from Petra 1.5-2.5 hours; and from Aqaba 2-3 hours.
Compare rental car prices here.
For more information on Wadi Rum Protected Area visit the official website of the Jordanian government.
Stu O'Brien is a travel writer and founder of travelonastustring. Each month a new article is published, inspired by his experiences living, working, and travelling in more than 75 countries.
Have you been to Wadi Rum? If so, do you have any additional information or advice about this UNESCO World Heritage site? Please add your comments below!