The Sanctuary of Asklepios at Epidaurus
By Chris Heckmann
What is the Sanctuary of Asklepios at Epidaurus?
The Sanctuary of Asklepios at Epidaurus is an ancient archeological site on the Peloponnese peninsula in southern Greece. Asklepios is the Greek god of medicine, and the ancient site was dedicated to the power of healing. It featured – among other things – a hospital, a gymnasium, a stadium, a temple, baths, and one of the most impressive theaters in the world. Built in the 4th century BC, the ancient theater at Epidaurus is widely considered the most magnificent example of Hellenistic theater architecture and acoustical design. To this day, the theater is still used for concerts and other events.
Disclosure: This article contains affiliate links. Making a purchase through an affiliate link will mean a small commission for this website. This will not affect your price.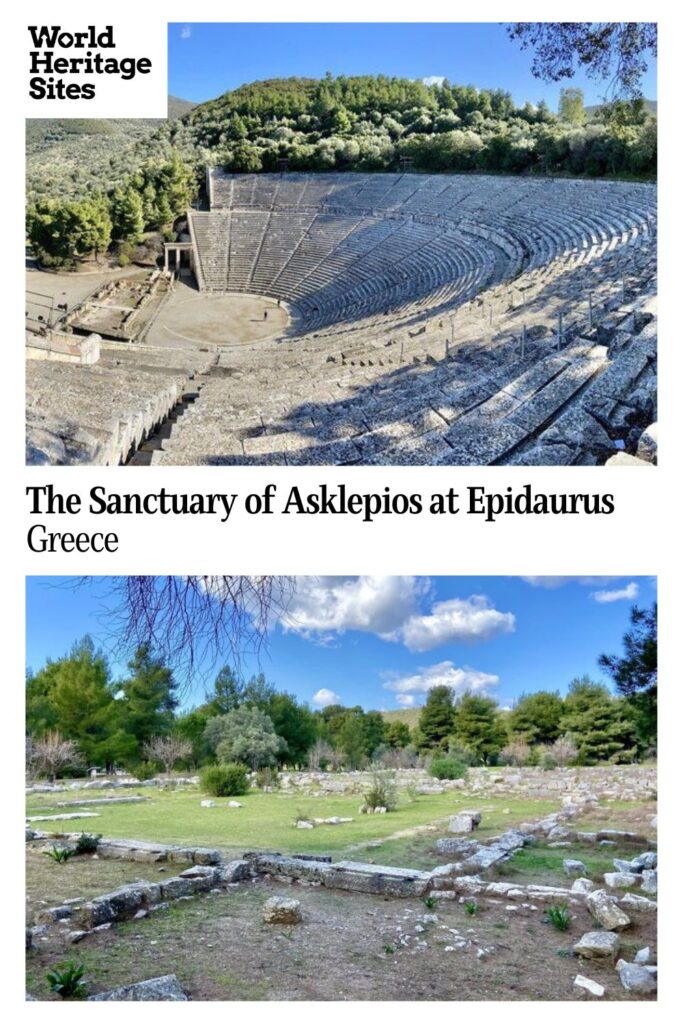 Why is Epidaurus a UNESCO World Heritage site?
Epidaurus is a World Heritage site due to its important association with the history of medicine and its spectacular examples of ancient Greek architecture. According to UNESCO, the Theater of Epidaurus in particular is "an architectural masterpiece" with beautiful proportions and excellent acoustics. The whole sanctuary, including temples and other structures, is "an eminent example of a Hellenic architectural ensemble of the 4th century BCE."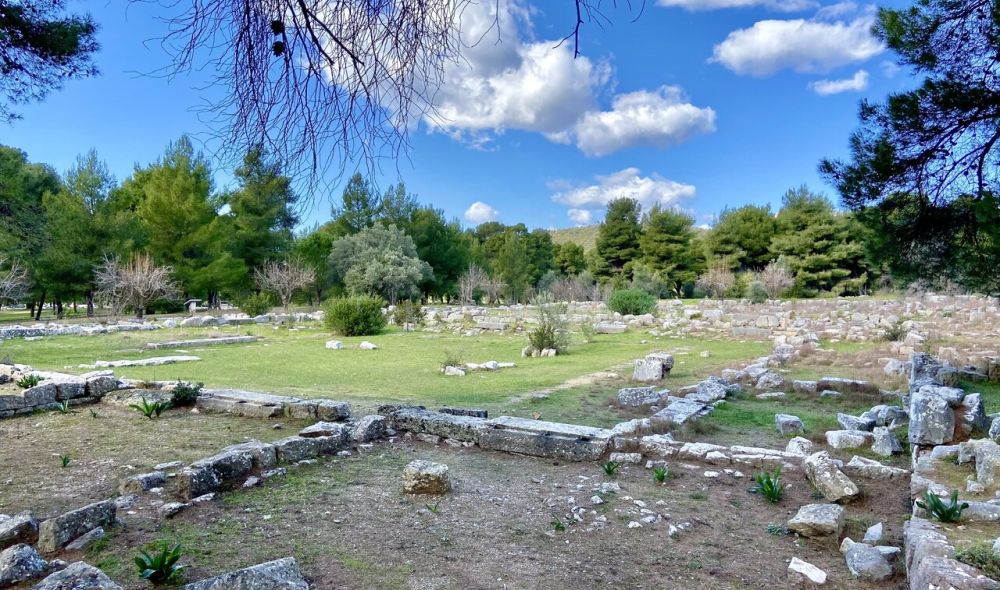 What can you expect on a visit to Epidaurus?
Visiting Epidaurus is easy and enjoyable. You can expect to see a series of ancient Greek ruins, the best of which is a still completely intact ancient outdoor theater. The Sanctuary of Asklepios, now in ruin, was where those seeking healing came to stay and to be cured.
The site is not large but will take at least an hour to fully explore. It'll take longer if you want a more in-depth experience including a visit to the indoor museum as well. The museum contains many items excavated from the site.
Is Epidaurus worth visiting?
Epidaurus is definitely worth visiting while in Greece, either as part of a longer Peloponnese road trip or as a day trip from Athens. Many group tours include it as a half day stop so if you don't want to worry about getting there on your own you can take an organized tour from Athens (though this does mean you'll be there during the busiest time of day). There's nothing quite like standing atop the ancient theater looking down at the stage and being in the audience 2400 years ago on opening night!
A festival takes place every summer, offering dance, music and theater performances in this theater and also a smaller "little theater" nearby.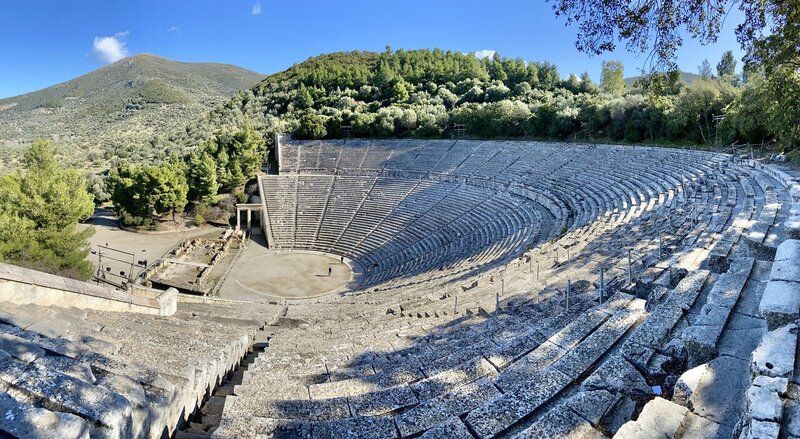 What sorts of travelers would like Epidaurus?
Anyone with an appreciation of ancient cultures and archaeology will be fascinated by Epidaurus. Or if you're a theater lover you might find the site enlightening. Even if you've never seen an archaeological site in your life chances are you'll at least be blown away by the structure of the theater itself and how incredibly maintained it is after 2400 years.
If you're planning a trip to Greece, make sure to check what other UNESCO sites you can visit.
Tips for visiting Epidaurus
No guide is needed and it's best to just stroll the grounds in appreciation of the ancient structures and gardens.
Epidaurus costs 12 euros per person for a single entry or 6 euros in the winter season. Once inside the gate you're free to roam around wherever you want, including all over the ancient theater.
If you want to avoid the crowds, you'll have to go early in the morning or during the winter low season. Come late morning, the parking lot fills with massive tour buses. And those throngs of people might ruin your photos of the ancient theater.
Summers can be pretty hot and there are a lot of steps at the theater so ensure you bring enough water.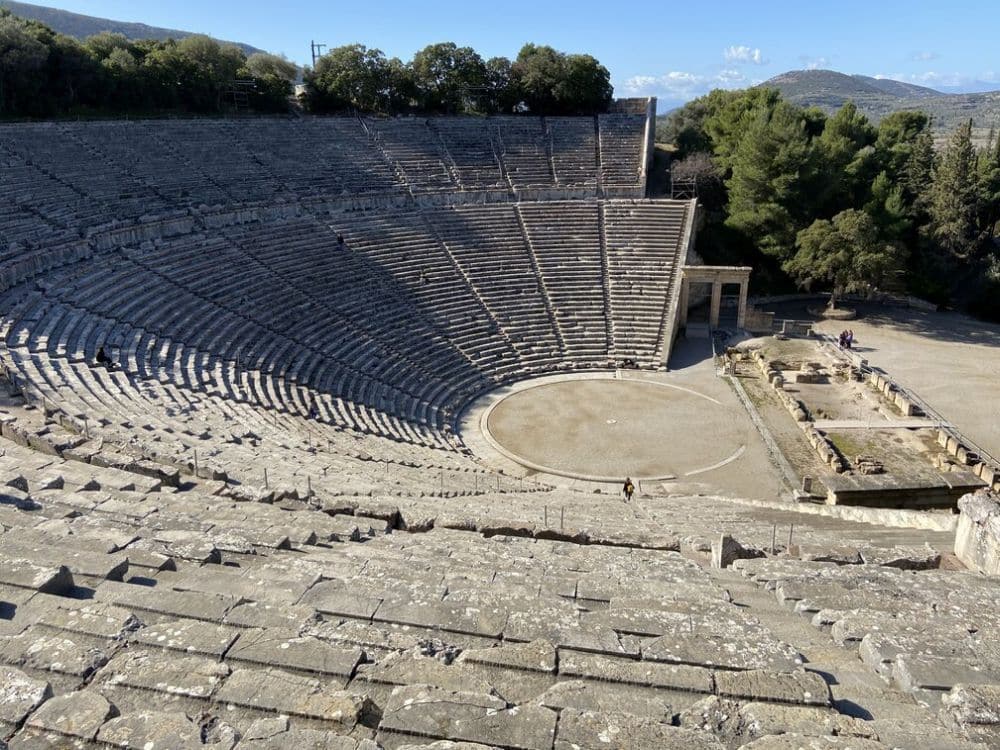 Where is Epidaurus?
Epidaurus is about a two-hour drive southwest from central Athens, nestled in some small mountains and rolling hills of olive trees. The nearest city of any substantial size is Nafplio, which makes for an awesome place to spend the night should you wish to stay closer to the site.
The easiest way to get to Epidaurus is to take a day tour from Athens to Mycenae, Epidaurus and Nafplio or a half-day trip from Nafplio to both Mycenae and Epidaurus.
To avoid the crowds, rent a car and arrive early. Rental cars in Greece are affordable and reliable and the road network is decent. Some of the two-lane highways that lead to Epidaurus are a bit run down, but nothing you can't handle.
Anyone with an appreciation of Ancient Greek architecture and culture will love Epidaurus and it makes for a perfect stop on a road trip around the underrated Peloponnese peninsula!
Text and photos provided by Chris Heckmann from aroundtheworldwithme.com. Chris is an avid world traveler who has been to all seven continents and lived on three of them. His family lineage traces back to the Peloponnese peninsula of Greece and he likes to tell people he's a quarter Spartan.
Have you been to Epidaurus? If so, do you have any additional information or advice about this UNESCO World Heritage site? Please add your comments below!