By Chris Heckmann
What is Fatehpur Sikri?
Fatehpur Sikri is an ancient city in northern India that once served as the capital of the Mughal empire. Built almost entirely from red sandstone blocks, it was completed in 1585 by emperor Akbar after nearly 15 years of construction. Fatehpur Sikri is considered one of the finest examples of Mughal architecture in the world. The ancient city itself includes a number of gates, mosques, residential quarters and temples. It is surrounded on three sides by a city wall that spans 6 km (3.7mi) and has multiple watch towers and entry gates.
Disclosure: This article contains affiliate links. Making a purchase through an affiliate link will mean a small commission for this website. This will not affect your price.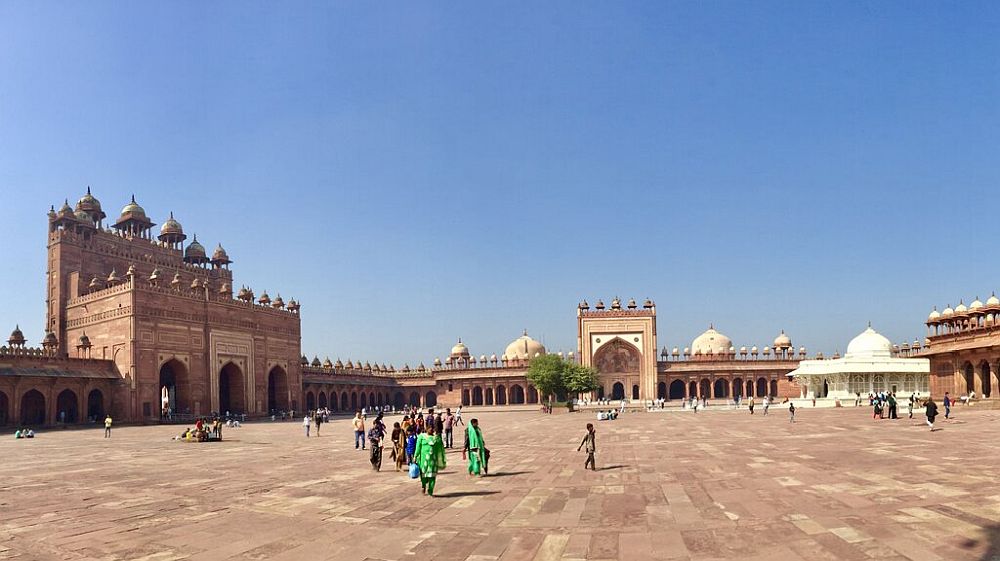 Why is Fatehpur Sikri a UNESCO World Heritage site?
Fatehpur Sikri is a UNESCO World Heritage site mainly due to its fantastic Mughal architecture and its importance to the ancient Mughal empire. The planned city rivals other more well-known ancient cities like Petra and Delphi. According to UNESCO, it represents "exceptional testimony to the Mughal civilization at the end of the 16th century."
What can you expect on a visit to Fatehpur Sikri?
Fatehpur Sikri features a vast network of exquisite temples and palaces. You can expect to walk the site for a few hours appreciating the architecture and workmanship of the buildings. If you have a local guide with you, you'll learn more about the history of the site.
You can also expect to get pretty hot out in the Indian sun, so be sure to carry plenty of water. The site is large but not huge, so you will be able to take your time and really take in the beauty of the place. When you go into the individual buildings, look up to marvel at the impressive decorative carvings in the sandstone ceilings and walls.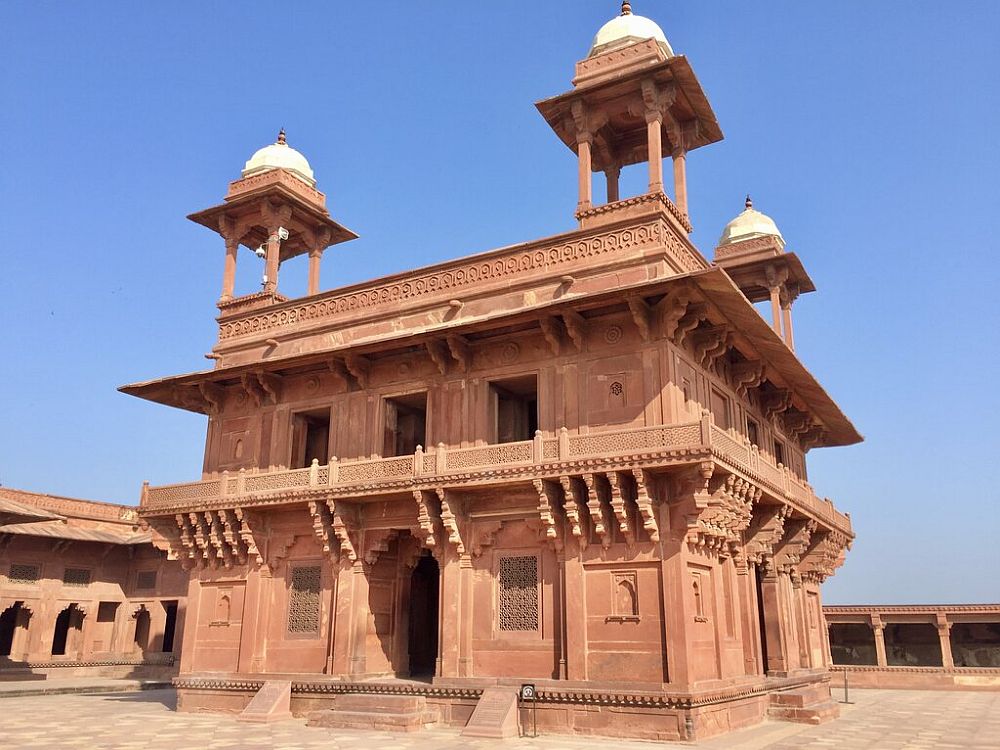 Is Fatehpur Sikri worth visiting?
Fatehpur Sikri is worth visiting as part of a larger itinerary that visits the other historical sites in the region, such as the Taj Mahal, Agra Fort, and Wind Palace Jaipur, to name a few. It's a fascinating place, showing off some of the most beautiful Mughal architecture and construction you'll ever see. The entry fee is reasonable and well worth it to experience this ancient Mughal capital city.
What sorts of travelers would like Fatehpur Sikri?
Anyone with an appreciation of the history of the Mughal empire will be fascinated by Fatehpur Sikri. Or really anyone who appreciates ancient architecture and unfamiliar cultures. All will be impressed by the buildings and the rich history behind them.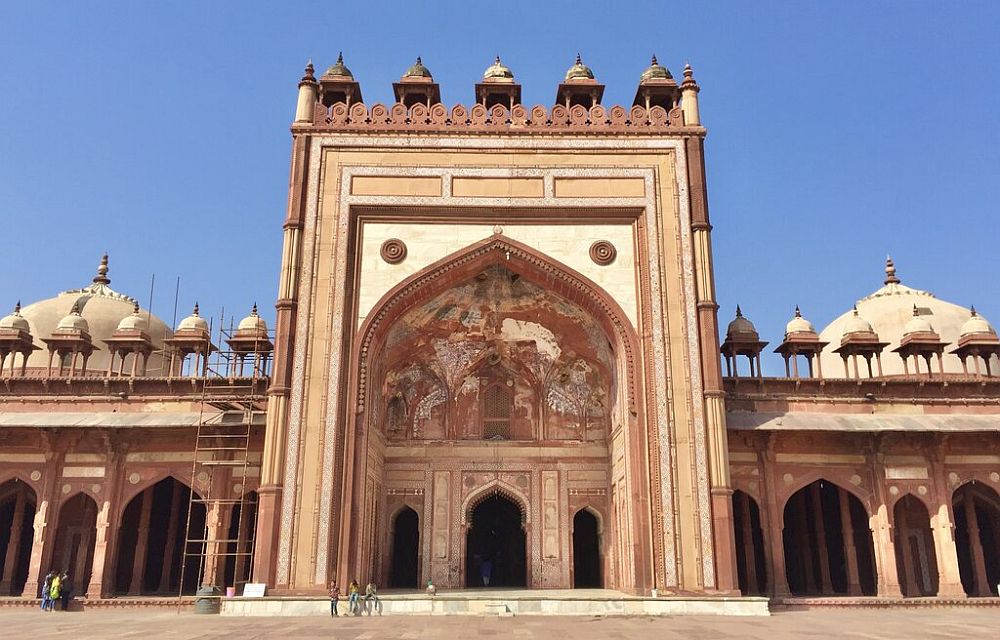 Tips for visiting Fatehpur Sikri
As in most of India, the summer in this region can be brutally hot. Ideally, you want to visit between January and March. April brings oppressive heat that lasts until the summer monsoons of late July to early September. September and October is another potential window to visit, though it's still quite hot. November and December are cooler but often ruined by the seasonal smog that engulfs this part of India late in the year. And there is nothing worse than Fatehpur Sikri (or the Taj Mahal) being covered in a thick layer of smog.
Whatever time of year you visit, be sure to wear sunscreen and carry plenty of water. If you're not visiting as part of the Golden Triangle tour, you might want to consider hiring a licensed local tour guide. They can be found at the ticket counter by the Diwam-e-Am gate. Do not accept any offers from people who approach you in the parking lot or outside the gates claiming to be tour guides.
You will also be approached by endless people begging you to buy something or give them money. If it's your first time visiting India, this can be pretty overwhelming. Do your best to ignore and do not speak back to them. Sadly, this is a problem at many popular tourist destinations in India.
Where is Fatehpur Sikri?
Fatehpur Sikri is about 39km (24mi) outside Agra on the way to Jaipur. Being situated between these two historic places means it receives many visitors who are traveling between the Taj Mahal and the various historical sites in Jaipur. Most people visit as part of the Golden Triangle tour, which starts and ends in Delhi, passing through Agra and Jaipur.
Clicking here will take you to a variety of available Golden Triangle tours from Delhi, Jaipur or Agra.
If you're not doing a Golden Triangle tour, however, there are a few other options to get to the ancient city. The nearest airport is in Agra. From Agra, taking a taxi is a popular option. While it's 39km away, you should be able to book a taxi for the entire day for around $20 USD. There is also the option of booking a day tour from Agra.
Lastly, the cheapest option is the public bus that runs from Agra to Fatehpur Sikri. Buses leave from the Idgah Bus Stand in Agra every half hour and cost about $0.50 USD. From the bus stop it's a simple walk to the entry gates.
Fatehpur Sikri has no dedicated website. For information about Fatehpur Sikri, its opening hours and current admission fees, refer to the Taj Mahal website here.
Text and photos provided by Chris Heckmann from Around the World With Me. Chris is an avid world traveler who has been to all seven continents and lives on three of them. He married into a big Indian family in 2015 and has traveled extensively around the beautiful country of India.
Have you been to Fatehpur Sikri? If so, do you have any additional information or advice about this UNESCO World Heritage site? Please add your comments below!