By Pafoua
What is the Old Town of Lijiang?
Located in the Yunnan Province of China, the Ancient Town of Lijiang is a UNESCO World Heritage site. It is one of the most important historical and cultural sites in the country, having been home to many ethnic groups over the centuries.
Disclosure: This article contains affiliate links. Making a purchase through an affiliate link will mean a small commission for this website. This will not affect your price.
This small area consists of a maze-like network of cobblestone lanes lined with traditional Naxi architecture, which is unique to the area. You can easily spend days exploring the winding alleys, discovering hidden courtyards, and enjoying the old-world charm of this city.
The main attraction in Old Town Lijiang is Dongba Culture Museum, which features exhibits on Naxi culture, history, and traditions. Visitors can also watch a religious performance by the Naxi people depicting ancient religious rites and worship.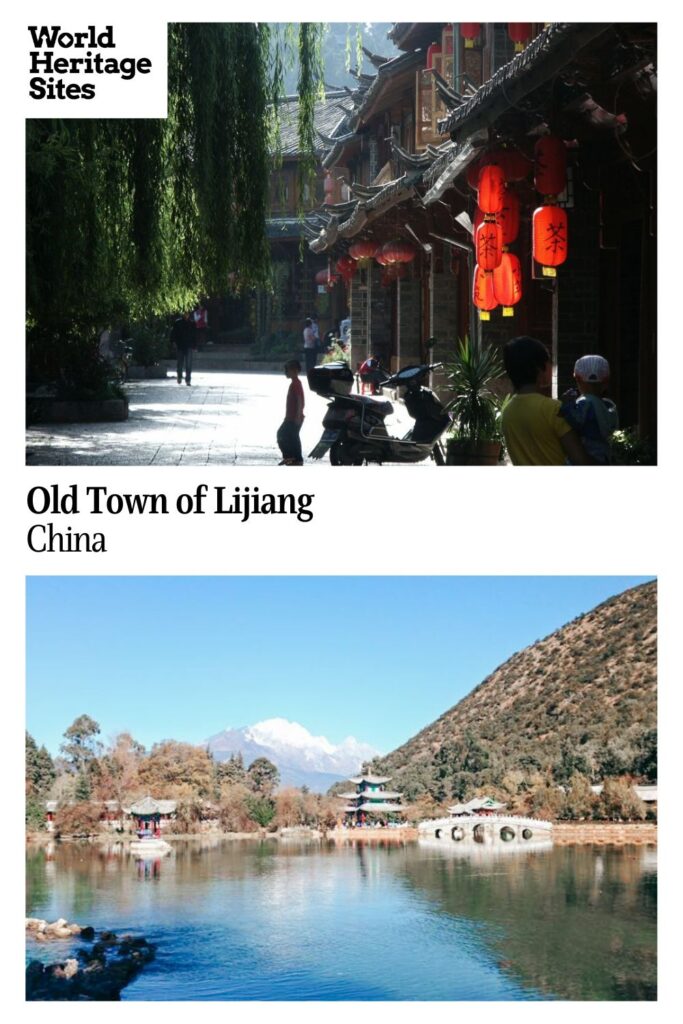 Why is Old Town Lijiang a UNESCO World Heritage Site?
According to UNESCO's website, Old Town Lijiang was the epicenter of trade for the surrounding cities starting in the 12th century. Even more, "The three parts of the Old Town of Lijiang… fully reflect the social, economic and cultural features of the different periods, following the natural topography of mountains and water sources to form an outstanding settlement combining the residential traditions of Naxi, Han, Bai and Tibetan people."
The town has integrated the natural beauty of the surrounding mountains and water to display the traditions of the minority people groups found in Lijiang. Its ingenious water system plays an important role in the city's design and its relationship to nature.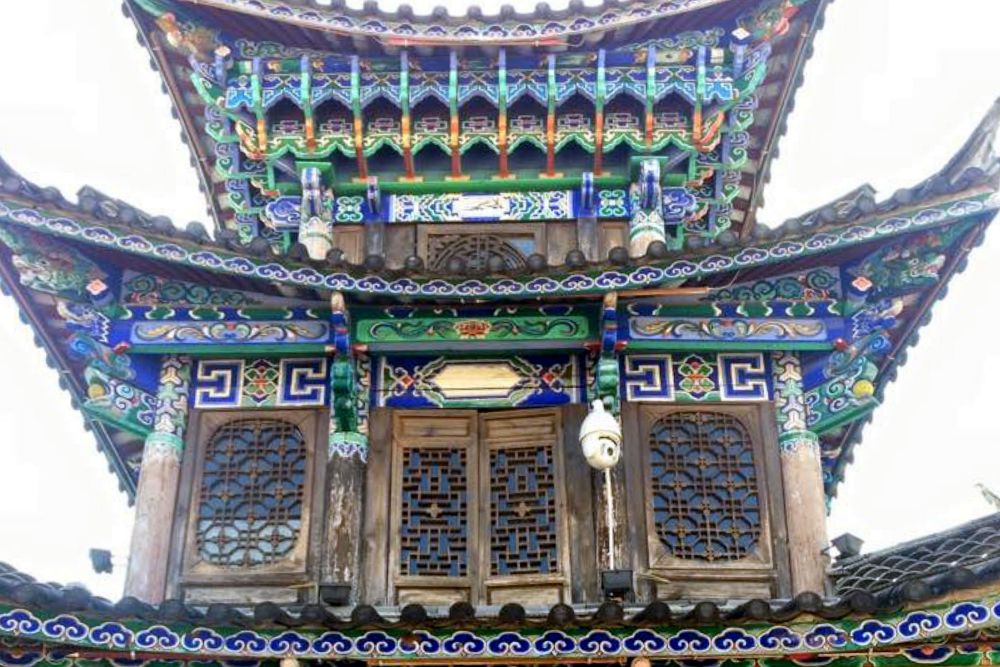 What can you expect from visiting Lijiang?
When visiting Lijiang, visitors can expect to be surrounded by centuries of history and culture. The architecture is unique, with traditional Naxi elements being combined with Chinese styles from various dynasties.
There are plenty of places to visit within the old town, including many historical sites such as temples and old residences like the Mufu Palace, as well as local markets and shops selling traditional crafts and specialties. The nearby Black Dragon Pool Park and the Jade Dragon Snow Mountain are also popular attractions.
Old Town Lijiang is an amazing place to experience the culture and traditions of the Naxi people. The city's streets are lined with centuries-old buildings, each with its own unique history and story. Visitors should take their time discovering the many hidden gems of Old Town Lijiang.
Is Lijiang worth visiting?
Yes, Lijiang is definitely worth a visit because it is a great example of the traditional Naxi culture and architecture. It has been recognized as a World Heritage site due to its unique beauty, history, and cultural significance, and offers visitors an opportunity to explore some of China's most important sites.
Even more, visitors will be surrounded by the gorgeous views of Jade Dragon Snow Mountain which lends itself to the design and structure of Old Town Lijiang.
Consider this half-day guided tour of Lijiang.
What types of travelers would like Old Town Lijiang?
Old Town Lijiang is perfect for travelers who are looking to experience authentic Chinese culture and explore a diverse range of architecture and history. It's also great for those who are keen to explore the area's unique Naxi minority traditions, as well as learn more about their beliefs and customs.
The city is best suited for those who are interested in a mix of sightseeing, cultural immersion, and outdoor activities. Those looking for nightlife will also find that some of the bars are open late in Old Town Lijiang even though most of the activity is centered around the historical sites.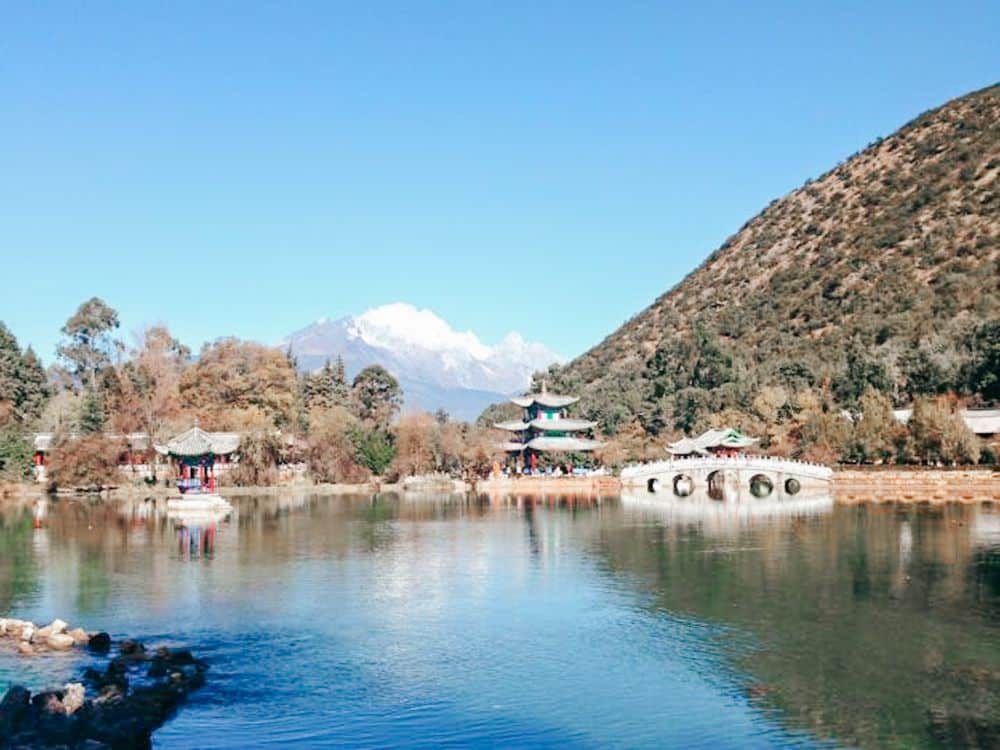 Tips for visiting Lijiang
There is so much to see and do in Old Town Lijiang. Take your time strolling the cobblestone streets and exploring the shops and their offerings. However, if you head to Old Town in the early morning hours to explore the streets, you'll avoid the hustle and bustle and experience calm and peaceful tranquility.
Be sure to see the sites that are found in Old Town Lijiang, including the water wheels, Mu Mansion, Sifang Street, Dongba Museum, and the Black Dragon Pool.
Enjoy a variety of local Chinese food in Lijiang, especially Pu'er tea which is a fermented tea known for its health benefits. You'll also want to try Lijiang stuffed buns, called ba ba, chickpea jelly, and Naxi hot pot.
Compare accommodations in Lijiang. Use the map function to choose a hotel that's nearby the old town.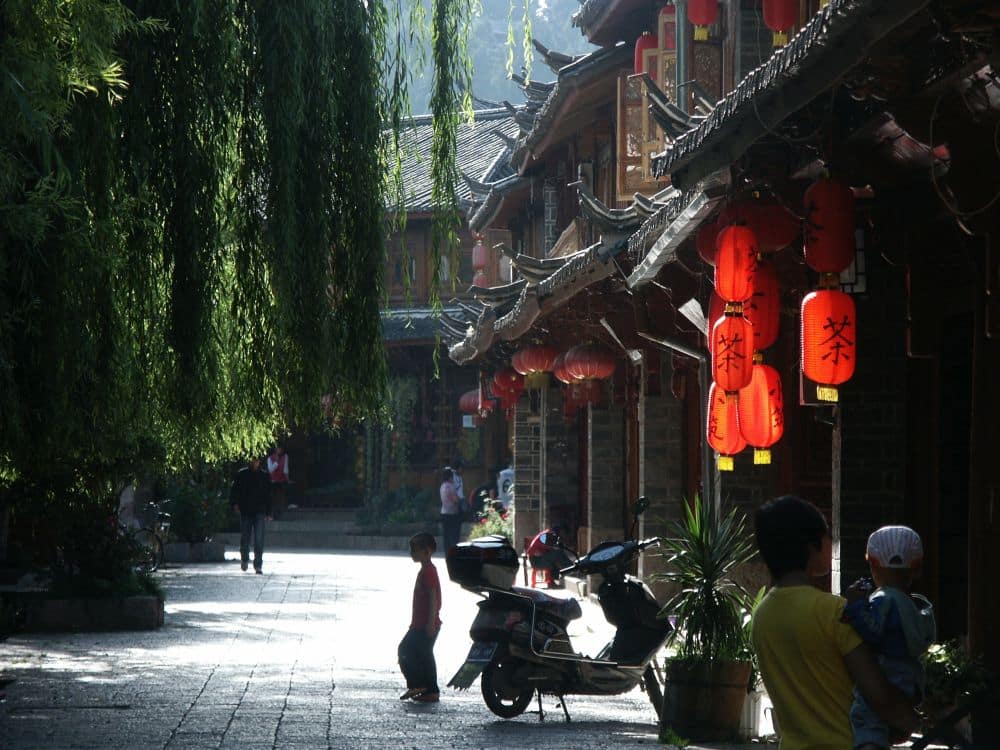 Where is Old Town Lijiang?
Address: Lijiang is in the southwest of China, in Yunnan province.
The best way to get to Old Town Lijiang is to fly into Lijiang Sanyi Airport, which is located around 25km from the city center. From there you can take a bus or taxi to the Old Town area.
Alternatively, you can take a train or bus to Lijiang railway station and then catch a local bus to the old town, if you are coming from one of the other cities in the Yunnan province. However, the fast train does not extend to Yunnan province from the other parts of China.
It's also possible to get to Old Town Lijiang from Shangri-La, Dali, and Kunming by taking a bus.
Old Town Lijiang is always open and there is no admission fee to enter the town. Be sure to enjoy your time as you explore this cultural beauty.
Text and photos (except where indicated) provided by Pafoua of Her Wanderful World who writes from her numerous excursions about all things travel, from fun itineraries to creating memorable experiences on the road. When she's not traveling, Pafoua loves a fun board game night with her friends or is snuggled up reading a good book.
Have you been to Old Town Lijiang? If so, do you have any additional information or advice about this UNESCO World Heritage site? Please add your comments below!