Sanctuary of Bom Jesus do Monte in Braga
By Pafoua
What is Bom Jesus do Monte?
The Bom Jesus do Monte, meaning Good Jesus of the Mount, is a popular pilgrimage site in northern Portugal located near the town of Braga. It is one of the most important Christian sites in the country and serves as a major destination for both local and international visitors.
The church and its elegant stairway are a stunning example of Portuguese baroque architecture, with intricately carved stonework and beautiful gardens around it. People come to this site to experience its spiritual atmosphere and admire the breathtaking views over the city of Braga.
An elaborate baroque staircase leads up to the church at the top of the hill. The pilgrimage route up the steps is believed to offer spiritual renewal and redemption, as it is said to represent the journey of life, with each step taking a person closer to God.
At the summit there are beautiful gardens and several statues dedicated to various saints. Visitors can also take a ride on the famous Bom Jesus funicular railway which provides an easy route up the hillside.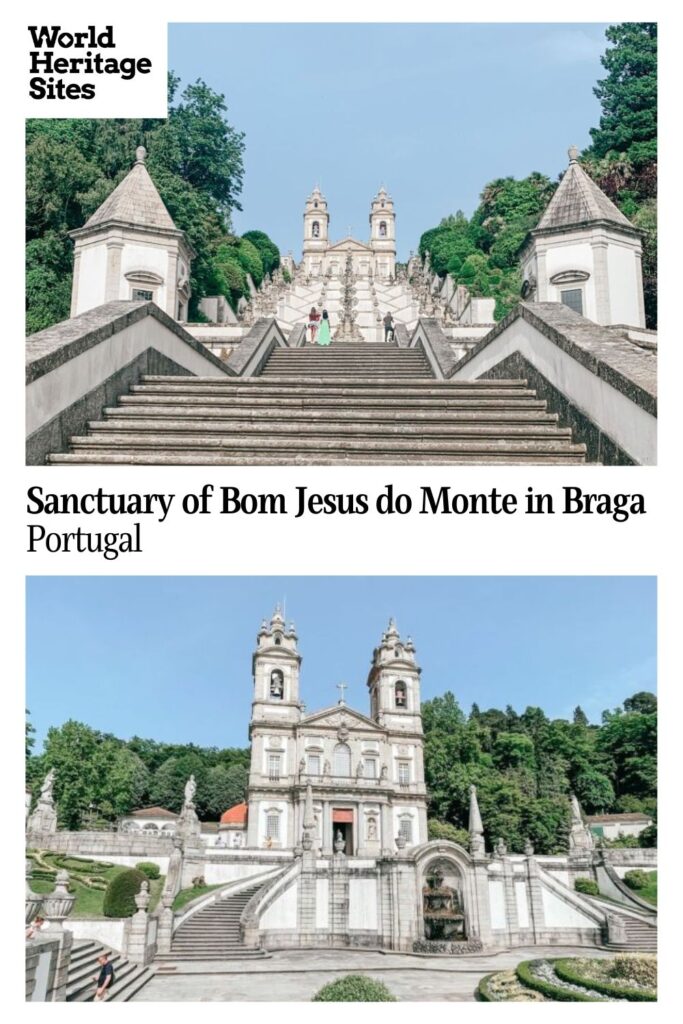 Why is Bom Jesus do Monte a UNESCO World Heritage site?
According to UNESCO's website, Bom Jesus do Monte represents the Passion of Christ, which is noted as an important moment in human history. The church itself represents the route traveled by Jesus Christ carrying his cross to his death. Visitors to the site can experience a portion of that by climbing the zigzagging staircase.
Furthermore, the lands and gardens surrounding the pilgrimage site create a sense of harmony, aesthetics, and design, making it a stunning example of Baroque architecture. The church and its grounds have been perfectly preserved, making the site an important part of Portugal's history and culture.
This combination of spiritual significance and stunning architecture is what makes Bom Jesus do Monte a UNESCO World Heritage Site, ensuring that this important site will remain preserved and protected for many generations to come.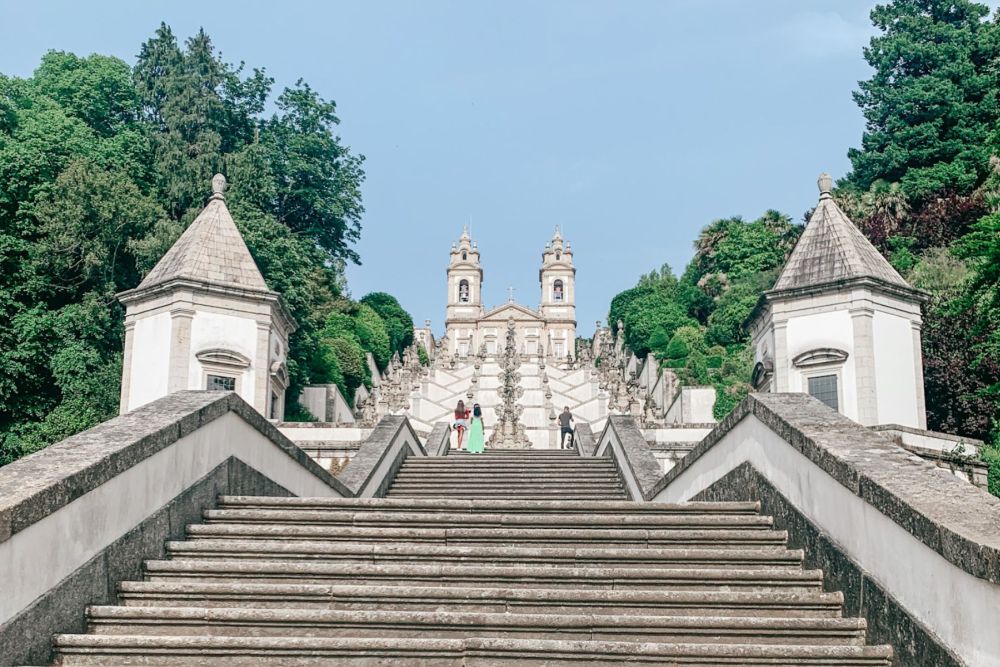 What can you expect from visiting Bom Jesus do Monte?
Visiting the Bom Jesus do Monte provides a unique experience that is both spiritual and visually appealing. The stunning landscape, church grounds, and gardens create a place of peace and tranquility that visitors can enjoy.
Climbing the 577 steps of the zigzagging staircase is also a meaningful experience as it symbolizes the journey of life and brings visitors closer to God. There are five fountains to represent the five human senses and three fountains to represent the theological virtues of faith, hope, and love. This provides an opportunity for reflection and prayer.
In addition, visitors can take a ride on the Bom Jesus funicular railway, powered by water, which offers an easy route up the hillside and provides stunning views over the city of Braga.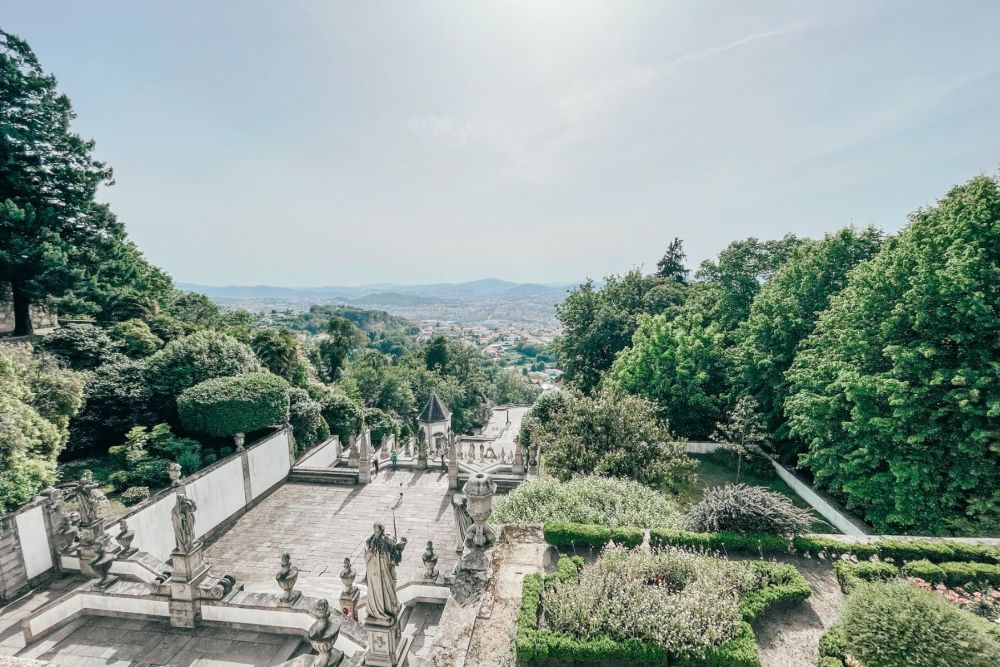 Is Bom Jesus do Monte worth visiting?
Yes, it is definitely worth visiting. Not only does visiting this UNESCO site provide a spiritual experience and stunning views, but it is also an important part of Portugal's history and culture.
When visiting northern Portugal, you must make time to see the Bom Jesus de Monte in Braga.
What types of travelers would like Bom Jesus do Monte?
This UNESCO World Heritage site offers something for all types of travelers, from people seeking a spiritual experience to those who are looking for beautiful scenery and unique cultural experiences. Anyone interested in Portuguese Baroque architecture or gardens will enjoy it, as will those interested in Catholicism.
The site is accessible to all ages, with the funicular making it easy to get up the hill. Visitors of all faiths are welcome and can take part in spiritual activities such as reflection and prayer and then explore the stunning gardens together.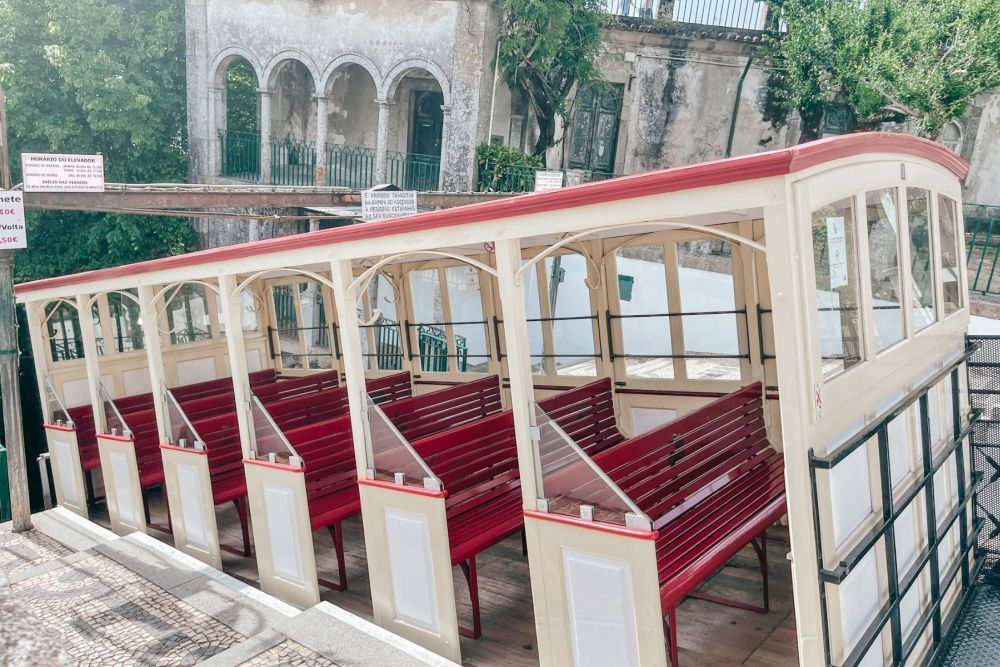 Tips for visiting Bom Jesus do Monte
The funicular railway is one of only three powered by water in the world, making it an amazing bucket-list item while visiting the Bom Jesus do Monte. However, the 577 steps start closer to the bus stop.
The church itself is still a place of worship. When you visit, be respectful of the people worshipping by keeping quiet.
A visit here would work well as a day trip from either Guimarães or Oporto, both of which have historic centers that are UNESCO World Heritage sites.
See Braga and Guimarães on a small-group tour or a private tour.
Where is Bom Jesus do Monte?
Address: Estrada do Bom Jesus, 4715-056 Tenões, Portugal
The location is about seven kilometers (4.5 miles) away from the city center of Braga, which means that visitors will need additional transportation to the site.
To get there by bus, head to the Liberdade bus stop on Avenida de Liberdade and take line 2 to the last stop, which is the Bom Jesus do Monte stop. This ride takes about 20 minutes.
If you drive, parking is available for cars at a small fee, and there is limited parking near the funicular. There is also free parking at the foot of Mount Espinho, but visitors will need to climb the 577 steps to get to the top.
Compare rental car prices here.
Alternatively, visitors can hire a tuk tuk or taxi to get to the church.
To ride the funicular, the ticket is about €2.50 roundtrip or €1.50 one way.
For more information about Bom Jesus do Monte, opening hours, and admission fees, see its official website.
Text and photos provided by Pafoua of Her Wanderful World who writes from her numerous excursions about all things travel, from fun itineraries to creating memorable experiences on the road. When she's not traveling, Pafoua loves a fun board game night with her friends or is snuggled up reading a good book.
Have you been to Bom Jesus de Monte? If so, do you have any additional information or advice about this UNESCO World Heritage site? Please add your comments below!