Lumbini, the Birthplace of the Lord Buddha
By Erika
What is Lumbini?
Lumbini is a Buddhist pilgrimage site and UNESCO World Heritage Site in Southern Nepal. Lumbini is where Siddhartha Gautama was born in 623 BC, who later became Gautama Buddha or the Buddha himself, and is the person who founded the Buddhist religion.
Disclosure: This article contains affiliate links. Making a purchase through an affiliate link will mean a small commission for this website. This will not affect your price.
The key point of interest in Lumbini is the Maya Devi Temple, named after Queen Maya Devi or the mother of the Buddha. The holy temple contains architectural ruins of a pool where she gave birth to Siddhartha Gautama, and is considered the holiest place in Buddhism. Surrounding the Maya Devi temple is the Lumbini Development Trust, a development area of over 60 square kilometers. Within this development area are Buddhist temples and monasteries constructed using architectural influences from countries all around the world, as well as a museum and a World Peace Pagoda.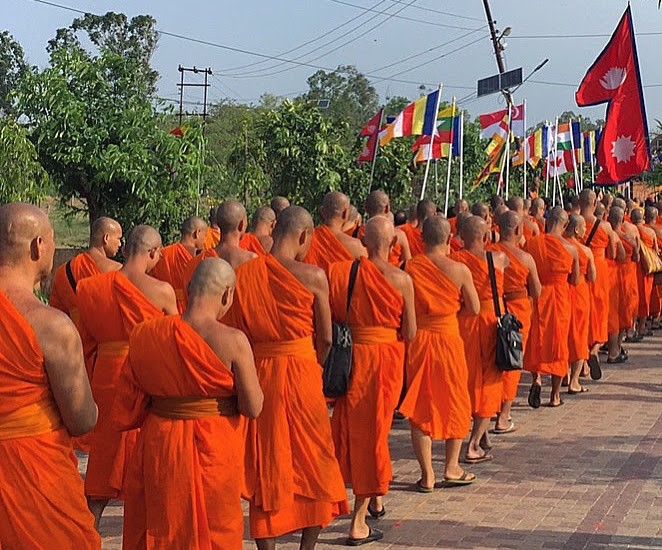 Why is Lumbini a UNESCO World Heritage site?
The architectural remains at the Maya Devi Temple include a pillar constructed by Emperor Ashoka in 249 BC, which contains inscriptions testifying to its location as the birthplace of the Buddha. Additional excavated remains of Buddhist monasteries and stupas dated between the 3rd century BC and the 15th century AD provide evidence around how Lumbini has been an important Buddhist pilgrimage site for centuries. The UNESCO website calls Lumbini "one of the most holy and significant places for one of the world's great religions" and visitors liken it to a "Mecca for Buddhists."
What can you expect on a visit to Lumbini?
The holy aspect of Lumbini is clear when visiting the development area. Visitors report feeling uplifting and positive vibes when they visit Maya Devi temple and stand close to where the Buddha was born. To be among Buddhist pilgrims and monks from all over the world, all in Lumbini to be close to the Buddha, adds to the feeling of being in a religiously significant location.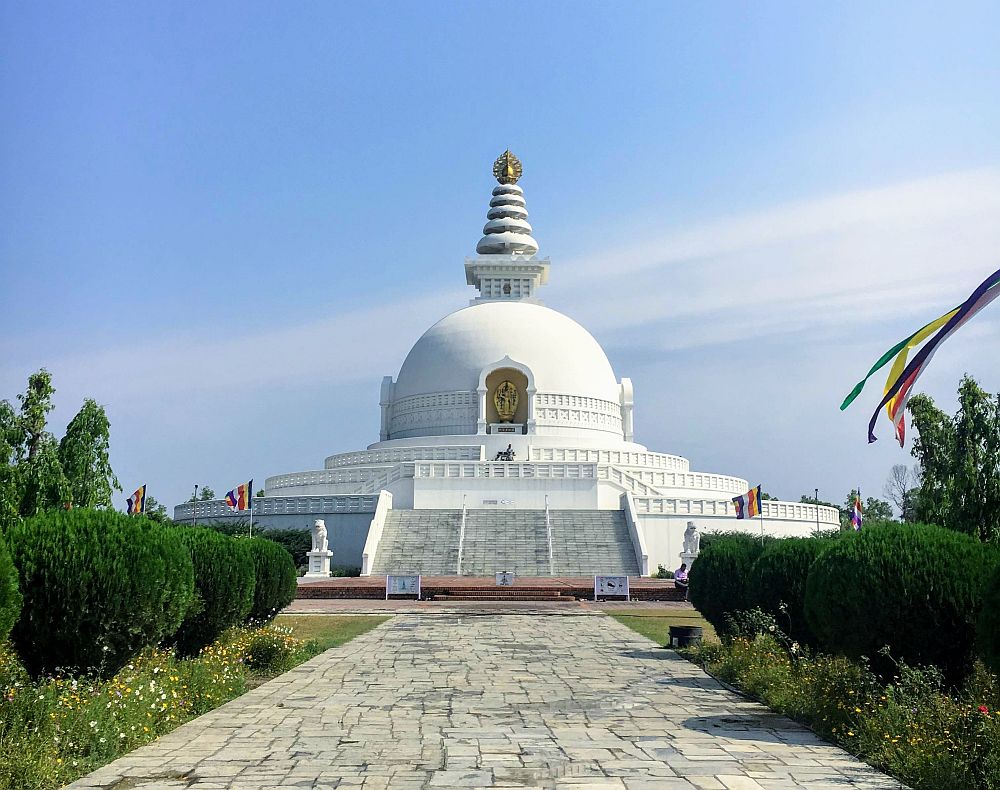 I visited Lumbini on the Buddha's birthday (by chance!), which was celebrated on April 30th. Within the Lumbini development area there was a long procession of pilgrims, monks, and students praying, singing, chanting, and playing musical instruments in honor of the Buddha. The entire atmosphere of the Lumbini development area is peaceful and holy, but vibrant and cheerful.
After visiting the Maya Devi Temple, visitors can walk through two large Monastic Zones where temples and monasteries from countries all over the world were constructed. Travelers from Asia will recognize Buddhist art and architecture from Thailand, Myanmar, Cambodia, and more. Architects and Buddhists from places like Germany and Australia have also built temples here in honor of the Buddha.
Lumbini is being further developed to accommodate Buddhist pilgrims visiting from around the world. For that reason, monasteries and pilgrim guesthouses on site can accommodate visitors who want to experience Lumbini for themselves. I stayed at Lumbini's Korean Temple and Monastery, which is built in a Korean architectural style. For a donation of 500 Nepali rupees per day ($4 USD), the community offered monastery-style sleeping accommodation and three meals per day alongside the resident monks.
Or use the map below to book accommodations near Maya Devi temple – zoom out for more options:
Is Lumbini worth visiting? What types of travelers would like Lumbini?
Lumbini is likely already on every Buddhist traveler's bucket list, for good reason. For travelers interested in places of religious significance, or who are interested in religious or spiritual experiences, Lumbini should not be missed. Devout Buddhists from around the world spend weeks and months in Lumbini, and visitors of all types have the opportunity to stay in monasteries and enroll in meditation courses to make the most of their Lumbini experience.
For general travelers to Nepal, Lumbini is still an interesting place to learn more about Buddhist culture, and learn about the history of Nepal and Buddhism. In a country that's known for its challenging mountain hikes and busy cities, Lumbini is a perfect place to take a break from both.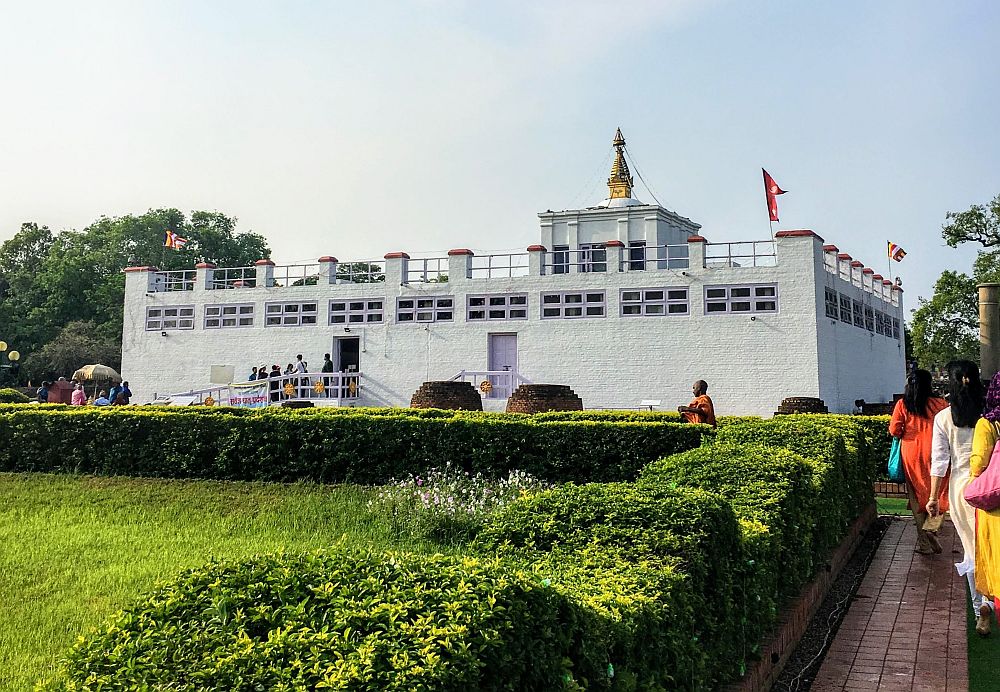 Tips for visiting Lumbini
Visitors to Lumbini can see the Maya Devi temple and many of the other temples in Lumbini in a single day, but traveling slowly and appreciating the atmosphere of this holy place is key to enjoying what this UNESCO World Heritage site is about. Visitors can sightsee around Lumbini by bicycle or on foot, so it's best to bring good walking shoes. Many temples also require you to take your shoes off inside as a sign of respect, so shoes that are easy to take off and put back on are ideal.
If planning a trip to Lumbini and Nepal, especially if you are Buddhist and interested in making the pilgrimage yourself, I recommend timing your visit to align with the Buddha's birthday celebrations on April 30th.
Where is Lumbini?
Lumbini is located in southern Nepal near the border with India, a considerable distance away from large population centers in Nepal like Pokhara and Kathmandu. Because Lumbini is also a region in southern Nepal, to reach the UNESCO World Heritage site specifically it's best to search "Lumbini Development Trust" or "Maya Devi Temple" in your maps app or GPS device.
By car or private transfer, expect the drive from Pokhara to Lumbini to take about 7 hours, and from Kathmandu to Pokhara to take about 9 hours.
Another option is to book a multiple-day tour that includes transportation and accommodations. Click on the links below:
Using public transport from Pokhara, it takes 8-9 hours on a local bus for 750 rupees ($6 USD) per person. From Kathmandu, there are early morning and overnight buses available to Lumbini, costing about 1000 rupees ($8 USD) per person and taking anywhere from 9-12 hours.
For more information about Lumbini, its opening hours and admission fees, see its official website.
Text and photos provided by Erika of Erika's Travelventures. At Erika's Travelventures I share my travel tips and stories of being a budget backpacker, solo female traveler, and hiking enthusiast. Follow my journey from the Americas to Australia, Japan to the Himalayas, and everywhere in between.
Have you been to Lumbini? If so, do you have any additional information or advice about this UNESCO World Heritage site? Please add your comments below!