By Lana
What is the Greater Blue Mountains Area?
The Greater Blue Mountains Area (GBMA) is a sandstone tableland spread over eight conservation reserves, just 90 minutes' drive inland of Sydney, in south-eastern Australia. The site includes a huge range and diversity of habitats and flora, including a large proportion of scleromorphic flora, as well as endemic and threatened species.
Disclosure: This article contains affiliate links. Making a purchase through an affiliate link will mean a small commission for this website. This will not affect your price.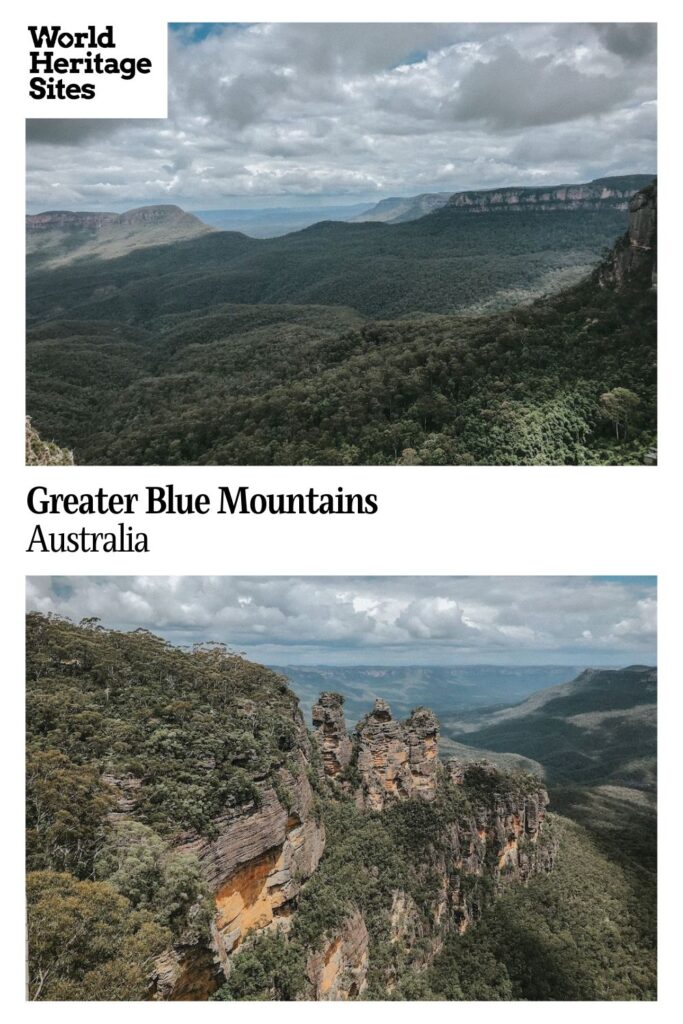 Why is the Greater Blue Mountains Area a UNESCO World Heritage site?
The GBMA was named a UNESCO World Heritage site in 2000 for being a "centre of diversification for the Australian scleromorphic flora," as well as the fact that it contains "a wide and balanced representation of eucalypt habitats including wet and dry sclerophyll forests and mallee heathlands, as well as localised swamps, wetlands and grassland." The site also includes "primitive species of outstanding significance to the evolution of the earth's plant life, such as the highly restricted Wollemi pine (Wollemia nobilis) and the Blue Mountains pine (Pherosphaera fitzgeraldii)."
The site maintains a huge diversity of species and habitats with 152 plant families, 484 genera, and about 1,500 different species.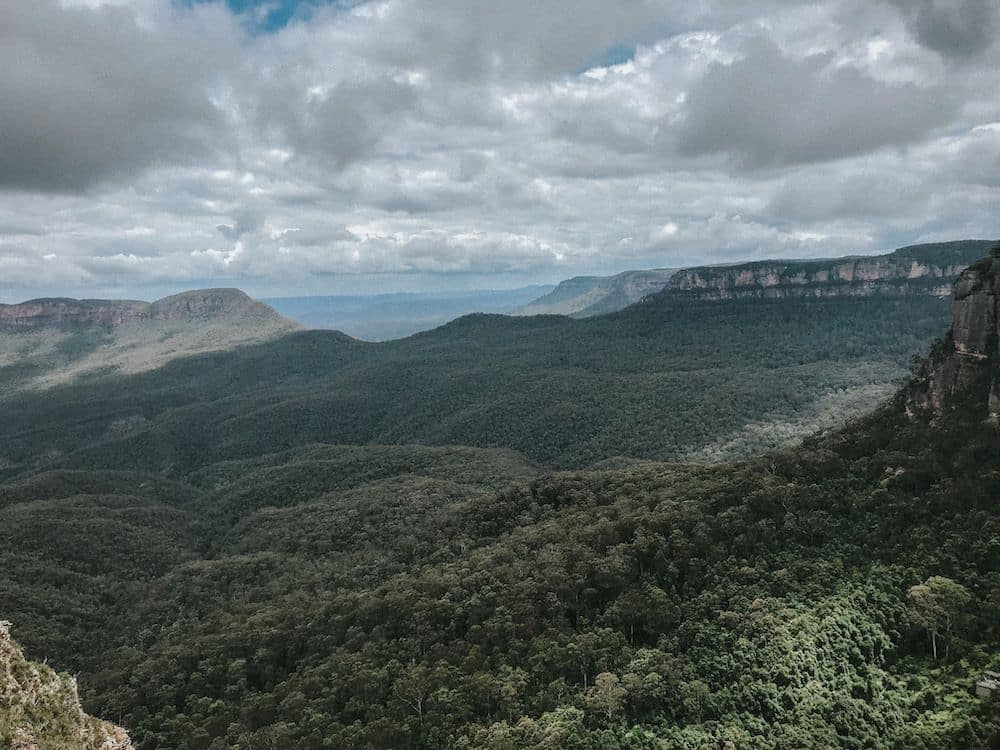 What can you expect on a visit to the Greater Blue Mountains Area?
The Blue Mountains were one of the first stops on my 2-month itinerary up the Australian East Coast. As well as absolutely breath-taking views, the Blue Mountains offers a rich history. The mountains were originally inhabited by the Gundungurra and Darug people. It is estimated that they inhabited the region for many thousands of years.
You may see a lot of green and wonder what gave the mountains their name. It is thanks to the eucalyptus trees found in the mountains. When their leaves are hot from the raging sun, a hazy oil blue mist emerges.
My favourite sight within the Blue Mountains was "The Three Sisters" – three massive rocks at the top of a sandstone cliff overlooking the Jamison Valley. As well as being a natural wonder, the sight has an infamous Dreamtime story attached to it.
I'd recommend looking for rock art and paintings. They can be found in caves or gorges, each telling an incredible story of indigenous history.
There are many lookouts to choose from, with the most popular being Echo Point, where you can see the Three Sisters and Jamison Valley. Others include Govetts Leap Lookout, Evans Lookout, and Sublime Point Lookout.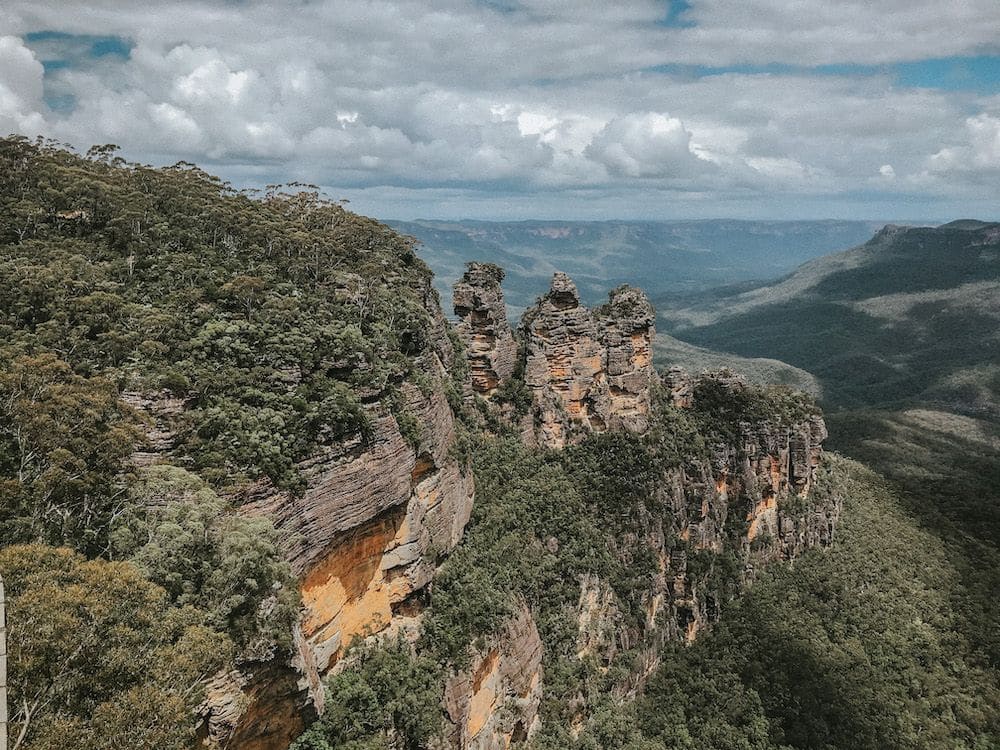 Is the Greater Blue Mountains Area worth visiting?
Absolutely. The Blue Mountains offer so much, and there's many ways to see them. I would recommend an early train ride or transfer to Katoomba from Sydney, drop your bags at a hotel or hostel, then spend the day exploring the Blue Mountains. You can then head on your way early the next day or explore Katoomba a little bit.
What sorts of travelers would like the Greater Blue Mountains Area?
The Blue Mountains are for all kinds of travellers. There are plenty of treks to keep the active traveller busy, there are smaller walks for semi-active travellers, and then there's also the skyway and cableway. The Greater Blue Mountains Area is for the history traveller, the curious traveller, and the adventurous.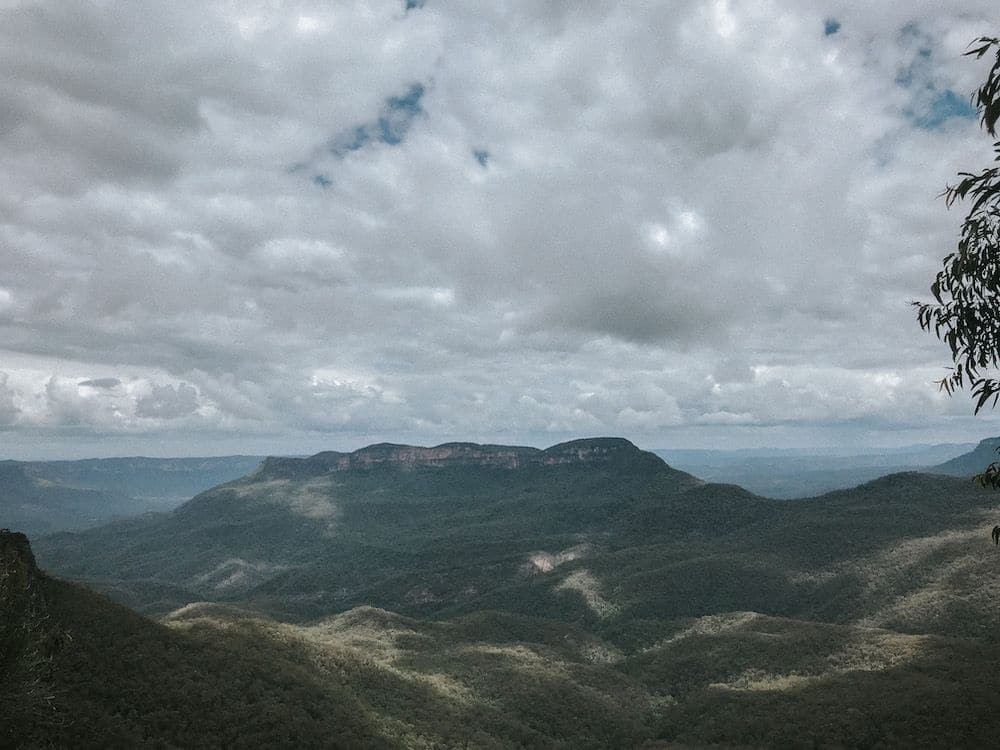 Tips for visiting the Greater Blue Mountains Area
Bring appropriate footwear and clothing with you. The weather in Australia is highly unpredictable, so be sure to plan for all kinds of weather. The hikes can also be a lot for your feet if you are not wearing proper shoes. I wore Teva shoes but just did small walks.
Know where you're going. There's hardly any reception in the mountains, and it's very easy to get lost. Make sure to stick to the marked trails or find a private tour or group tour.
Things to bring. Make sure you're prepared by having some sunscreen, an umbrella, a hat, lots of water, and some snacks to power you through.
Where is the Greater Blue Mountains Area?
The Greater Blue Mountains Area is located in the New South Wales Central Tablelands just inland from Sydney, in south-eastern Australia. There are three entry points to the Blue Mountains National Park, at Glenbrook, Katoomba, and Mount Victoria.
Most people either visit on day trips from Sydney or stay in Katoomba.
Find accommodations in Sydney or Katoomba.
You can rent a car and reach the site from Sydney in around 90 minutes. There is parking available at numerous spots including: Blue Mountains Heritage Centre, Butterbox Canyon, Conservation Hut, Dunphys campground, Echo Point lookout, and many many more. You can see more parking spots and information here.
The site is also accessible via public transport from numerous cities: plan your trip on the Transport NSW website. The most hassle-free way to get to the site is via train to Katoomba, and then via bus to the Blue Mountains.
Another great way to get to and around the Blue Mountains is via the explorer bus.
Alternatively, try this tour from Sydney.
And if Australian history interests you, take a look at the Australian Convict Sites that are in the region as well.
For more information about the Greater Blue Mountains Area, its opening hours and admission fees, see its official website.
Text and photos provided by Lana of Wallflower in Wanderland. Lana is a twenty-something book-loving traveller from England who writes her travel, mental health and lifestyle blog hoping to inspire others who also struggle with mental health and give them something to relate to. As well as writing about her personal mental health struggles, Lana also provides tips, itineraries, survival guides and other travel advice in order to help make things a little easier for your adventure planning.
Have you been to the Greater Blue Mountains? If so, do you have any additional information or advice about this UNESCO World Heritage site? Please add your comments below!