By Paula Morgan
What are the Australian Convict Sites?
Comprising 11 properties across three Australian States and Norfolk Island, the Australian Convict Sites represent the history and practice of forced migration of convicts from Britain to Australia, known as "transportation."
Disclosure: This article contains affiliate links. Making a purchase through an affiliate link will mean a small commission for this website. This will not affect your price.
Each of these places were built using convict labour and several were prisons or structures built to house convicts or labourers.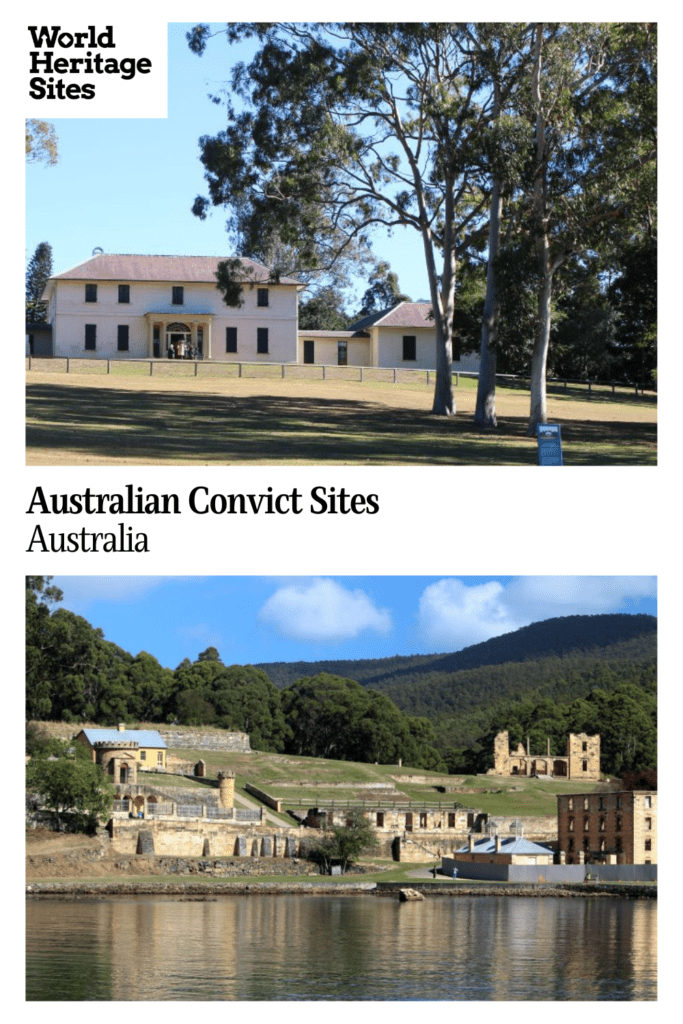 Why are the Australian Convict Sites a UNESCO World Heritage site?
The sites included in the UNESCO listing were chosen because "each of the sites had a specific purpose, in terms both of punitive imprisonment and of rehabilitation through forced labour to help build the colony."
These sites provide an example of how convict labour was used by the British Empire to build new settlements.
What can you expect on a visit to Australian Convict Sites?
Each site is different. Below is an overview of each. Practical information is in the next few sections after that:
Cockatoo Island Convict Site (1839–1869)
Sitting on the western side of the Sydney Harbour Bridge, Cockatoo Island was originally built as a prison for the settlement's worst reoffenders, but also served as a naval shipyard.
Over a dozen structures, built using convict labor, remain on the island but they are in good condition and include the convict barracks, kitchen and mess hall. The guides do an excellent job of bringing the site to life.
Hyde Park Barracks, Sydney, New South Wales (1819–1848)
One of the standouts in this list of sites, Hyde Park Barracks was originally built by convict labour to house up to 600 male convicts. At times, it housed over a thousand.
The site was recently completely renovated and a self-guided interactive tour gives a very detailed introduction to the colony of NSW and the conditions the convicts endured. It also documents some of the first interactions with the Cadigal, the First Nations people who lived in Sydney at the time of colonisation.
Old Government House and Domain (1788–1856)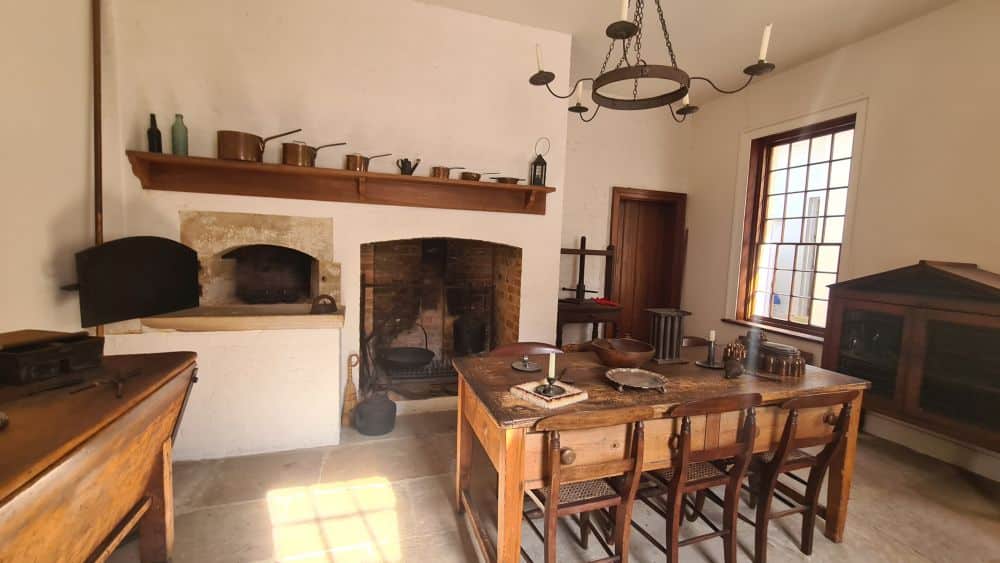 Located what would have been a half-day carriage ride from Sydney Cove, Parramatta served as the country property for ten of the first governors and their families. The house was built using convict labor and convicts worked as their servants on the property.
Visitors to this Georgian mansion today will discover a fine collection of colonial furnishings and homewares from the period. The surrounding park contains various outbuildings like a bathhouse and a dairy.
Old Great North Road (1828–1835)
Located over an hour northwest of Sydney, the Old Great North Road was built with convict labour under incredibly harsh conditions. Besides creating a road, complete with retaining walls, buttresses and culverts, that resembled the Great Roads in England, the purpose was to punish the worst offenders.
The road linked Sydney to Hunter Valley, where much of the colony's food came from. Forty-three kilometers (27 miles) of the road remain, though the preserved UNESCO-designated section is about seven kilometers (4.3 miles) long. The preserved section is in great condition and lovely for a walk, but a visit is probably not top of the list if you have limited time in the city.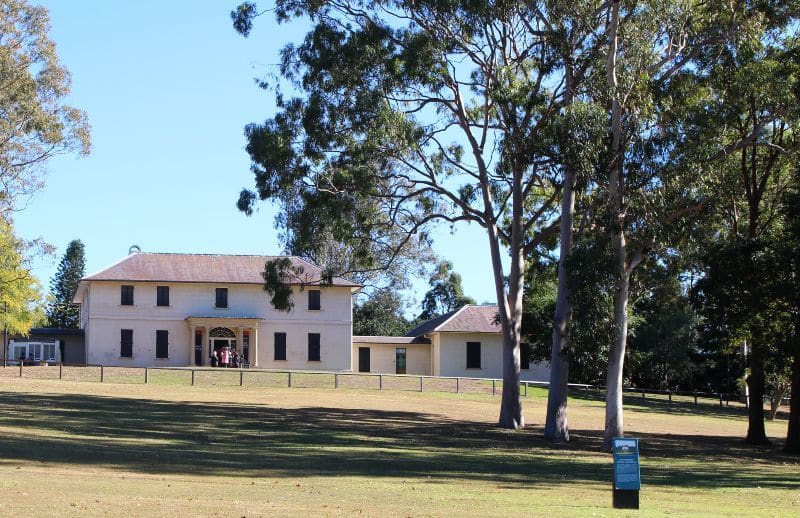 Brickendon-Woolmers Estates (1820–1850s)
Brickendon and Woolmers were two large estates in Tasmania where convicts were assigned to work. Each estate includes a main house as well as a complex of other buildings such as a stable, smoke house, woolshed, blacksmith's shop, quarters for the convicts and other workers, etc.
Convicts throughout the period were assigned to "private masters" like these, so these two estates serve as an illustration of this aspect of the Australian convict system. They built the estate buildings, practiced crafts like blacksmithing, as well as farming the land. Some of the female convicts worked as servants in the household.
Darlington Probation Station (1825–1832 and 1842–1850)
Originally a convict station intended for punishing convicts transported to the colonies, Darlington, on Maria Island in Tasmania, was later repurposed as part of a "progressive" approach to convict management. The idea of a Probation Station was to classify the convicts based on their behavior and keep them productive in farming, livestock, brick-making, etc. If they did as they were told, they could progress through a series of "classes" and, eventually, be released for good behavior.
This site has a number of intact structures, and is practically unchanged since it was a convict station. Once chosen because of its isolation, today this location is part of Maria Island National Park.
This Maria Island day cruise includes a visit to Darlington Probation Station.
Cascades Female Factory (1830–1877)
During the years of transportation, over 25,000 women were banished to Australia. More than 12,000 of these were sent to Tasmania (previously known as Van Diemen's Land). For just under 30 years, women lived, worked, gave birth and died at Cascades. It housed a laundry, a hospital, a church and, of course, prisoners' quarters, where the prisoners' children also lived until they were three years old, at which point they were sent away to an orphanage.
The prisoners were assigned to classes. The highest class was the "assignables," who were eligible to be "assigned" to work for a "private master" outside the prison. The lowest class was the "crime class" – those who had re-offended. The classes were segregated, with the higher classes earning some privileges the others did not have.
Not much remains of this site: the Matron's Quarters still stands, but otherwise, most of the site is only visible through the remaining walls outlining the rooms that once stood on the site. There are guided tours, or our favourite convict site experience: a dramatised one-woman performance that puts you in the center of daily life for those who lived there in the 1800s.
This Mt. Wellington tour from Hobart includes a stop at Cascades Female Factory.
Port Arthur Historic Site (1830–1877)
At this convict site, prisoners worked in industrial production like iron work, leather working, brick-making, or building small boats, or they worked on farms nearby, often performing tasks normally left to horses or oxen, such as plowing. Over its lifetime, the site was used to try out different types of punishment and methods of promoting reform.
With remnants of over 30 buildings and some intact structures, this site takes at least half a day to see and many visitors spend a full day here. This is an excellent site to learn about the types of punishment and the daily lives of the convicts. See cells, a church, the foundations of the hospital, and much more.
Join one of the guided tours or the special experiences to get the best understanding of this large site.
Book your tickets to Port Arthur Historic Site ahead of time, good for two days' admission and a walking tour.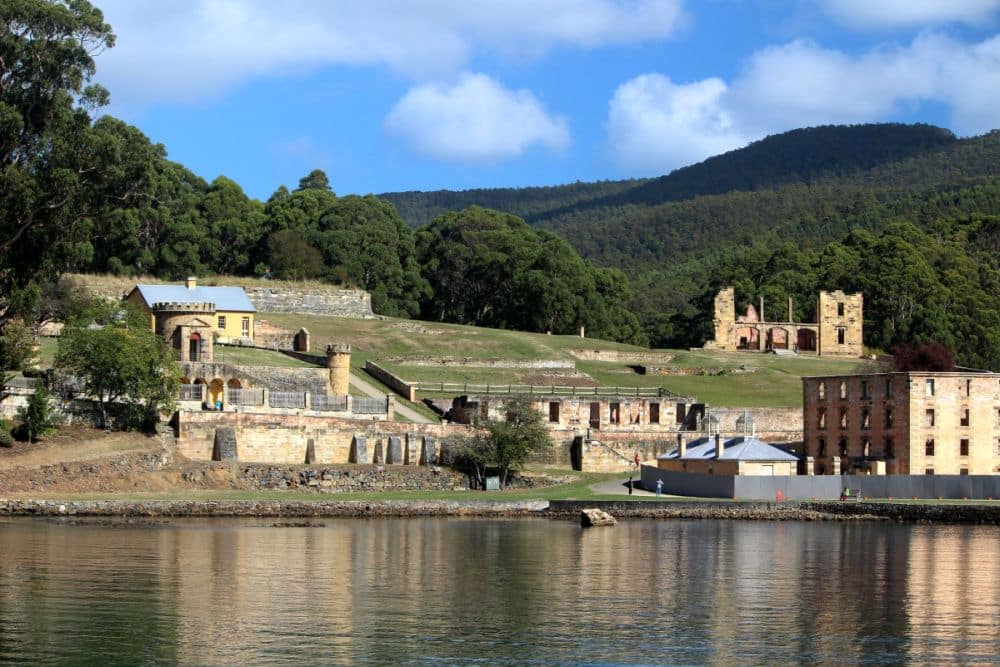 Coal Mines Historic Site (1833–1848)
As the name makes clear, this convict site was devoted to coal mining. The convicts sent here were re-offenders and received particularly ruthless treatment, though that may have changed when it became part of the probation system like Darlington, starting in the 1840s.
Besides the usual array of cells, barracks and workshops, this site has remnants of the coal-mining industry such as quarries, trial shafts, brick kilns, the winding house, and the like.
Fremantle Prison (1852–1886)
This was the main prison in Western Australia. Built by convicts, it is massive, with a huge block of cells, an Anglican church, and a refractory containing the solitary confinement cells. Fremantle saw the end of the transportation system, but continued to be used as a high-security prison until as recently as 1991, so it looks more like what we might picture a prison to be.
A number of themed tours are available, one of which focuses on its convict site history, while the rest focus more on its history as a regular prison.
Try this downloadable self-guided audio tour of the historic town of Fremantle. The tour includes Fremantle Prison on the route.
Kingston and Arthur's Vale Historic Area (1788–1814 and 1824–1855)
This prison clearly qualifies as the most isolated, located on Norfolk Island, a pinpoint of land 1600 kilometers (1000 miles) away from Australia. It's also the oldest of the sites, founded only 14 years after James Cook first landed there. A collection of Georgian buildings still stand, the administrative buildings on higher ground than the convicts' quarters.
An interesting aspect of Norfolk Island's further history is that in 1856, after the penal settlement was abandoned, the British government decided to move the residents of Pitcairn Island – descendents of the men who mutinied on the Bounty and Tahitian islanders – to Norfolk Island. About half of Norfolk Island's current residents are descendents of these Pitcairn Islanders.
Tours are available of the historic buildings, and you can visit the Norfolk Island Museum to get an overview of the island's history.
Are the Australian Convict Sites worth visiting?
The heritage of Australia is deeply rooted in the history of so-called "transportation" from Britain. If that heritage and the history of Australia interests you, it's certainly worth visiting at least one of these sites if you're in the area. There's so much else to see in Australia that these sites probably wouldn't be your primary reason for visiting, but if you find yourself in Sydney, Hobart or Perth, they're definitely worth fitting into your plans.
Tips for visiting the Australian Convict Sites
For the New South Wales sites, the best place to stay is Sydney. Cockatoo Island and Hyde Park Barracks are right there, while Old Government House and Old Great North Road are both good day-trip destinations.
Book your accommodation in Sydney here.
The same goes for the sites in Tasmania. Stay in Hobart. Cascades Female Factory is in the city, the others – Brickendon and Woolmers, Darlington, Port Arthur and Coal Mines are day-trip distance from Hobart.
Click here to book your Hobart hotel.
Alternatively, stay in Port Arthur to visit both the Port Arthur site and Coal Mines Historic Site.
To visit Fremantle, Perth would be the best place to stay.
As for Kingston and Arthur's Vale, visiting it would be a vacation in itself, given its location on a far-off South Pacific island whose people blend British with Tahitian culture. It markets itself as a vacation island with water activities and a beautiful natural environment.
Where to stay on Norfolk Island.
Where are the Australian Convict Sites?
The general website for the Australia Convict Sites is here.
New South Wales
Cockatoo Island Convict Site: Sydney, New South Wales. You can reach the island by ferry from Circular Quay or Barangaroo. The trip takes about 20 minutes. Free and paid tours are available – you can also camp, glamp or rent a house on the island if you want to stay a little longer. Website.
Hyde Park Barracks: Queens Square, Macquarie Street, Sydney, New South Wales. The Barracks are just a few minutes' walk from St James or Martin Place train stations. Alternatively, walk about 15 minutes from Circular Quay Website.
Old Government House and Domain: Cnr Pitt and Macquarie St, Parramatta Park, New South Wales. You can reach Parramatta from Sydney city centre by train in 45 minutes or by ferry from Circular Quay in 60 minutes. Website.
Old Great North Road: Wiseman's Ferry, New South Wales. The preserved section is in Dharug National Park. By car, Dharug is about an hour and a half north of Sydney. Website.
Tasmania
Brickendon and Woolmers Estates: Both estates are in Longford, Tasmania, about two hours north of Hobart. Woolmers is at 658 Woomers Lane and Brickendon is at 236 Wellington St. Woolmers website. Brickendon website.
Darlington Probation Station: Maria Island National Park, Tasmania. A passenger ferry runs from Triabunna, which is an hour and 15 minutes northeast of Hobart. There is free parking at the marina. The ferry takes about 45 minutes. Website.
Cascades Female Factory: 16 Degraves St, South Hobart, Tasmania. The site is just 10 minutes from Hobart city center. Take a 2.7 km (1.7 mi) walk along the Hobart Rivulet track or jump on a local bus to stop 13 at No. 58 Cascade Road. Website.
Port Arthur Historic Site: 6973 Arthur Highway, Port Arthur, Tasmania. Located 100 km (62 mi) southeast of Hobart, the Port Arthur Historic Site is best reached by car from Hobart (in 1.5 hours) or on a tour. Website.
Coal Mines Historic Site: Norfolk Bay, Tasmania. From Port Arthur it's a 25-minute drive, while from Hobart it will take 1.5 hours. There are three walking tours on their website. This site is not far from Port Arthur Historic Site, so they would combine well for a day trip from Hobart.
And if you're going to be in Tasmania, consider a visit to the Tasmanian Wilderness UNESCO World Heritage site as well.
Elsewhere
Fremantle Prison: 1 The Terrace, Fremantle,Western Australia. The prison is about a half-hour from downtown Perth by car or bus. Paid parking is available on site. Website.
Kingston and Arthur's Vale Historic Area: Norfolk Island, a South Pacific island 1600 kilometers (1000 miles) east of Brisbane, Australia. There are scheduled direct flights from Sydney and Brisbane in Australia and Auckland in New Zealand. Rent a car for the duration of your stay, or take a tour to the Historic Area. Website.
Text and photos provided by Paula Morgan of Australia Your Way. For the last 6 years Paula has been working full time writing about travel in Australia. When she is not writing, she volunteers as a manager of Sydney Greeters Service and a board member of the International Greeter Association (IGA) and the Australian Society of Travel Writers (ASTW).
Have you been to any of the Australian Convict Sites? If so, do you have any additional information or advice about this UNESCO World Heritage site? Please add your comments below!