By Jitaditya Narzary
What is Ellora Caves?
Ellora is a series of rock-cut caves on a hill in the state of Maharashtra, India. They were built between the 6th and the 12th century. Originally there were more than 100 caves, although only 34 are surviving and open to the public now.
Different caves are dedicated to the Hindu, Buddhist, and Jain religions. These caves were developed over multiple centuries under the aegis of different dynasties. That is why caves dedicated to different religions came up, depending on the preferences of their patrons.
Disclosure: This article contains affiliate links. Making a purchase through an affiliate link will mean a small commission for this website. This will not affect your price.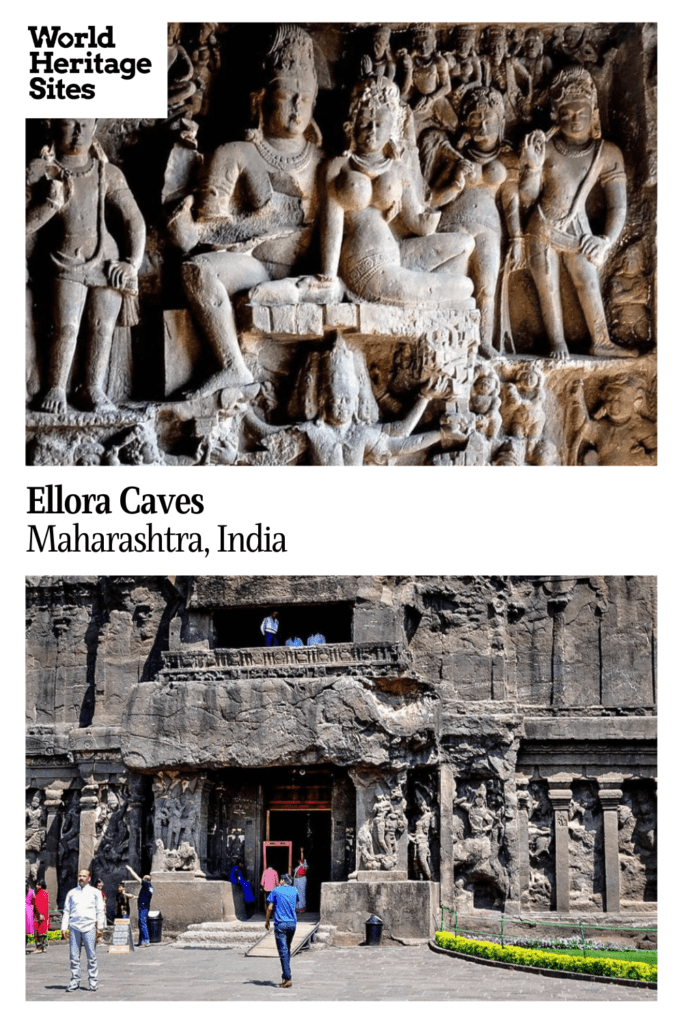 Of the 34 caves, the ones numbered 1 to 12 are the oldest (5th-8th centuries) and are Buddhist. Caves 13-29 (7th-10th centuries) are Brahmanical (Hindu) and the youngest caves, numbered 30-34, date to the 9th-12th centuries and are Jain.
These caves were in use until the 13th century but they were gradually abandoned with the Islamic conquest of the subcontinent. However, they have managed to survive several centuries of neglect and now they are one of the most famous tourist attractions in India.
Why is Ellora a UNESCO World Heritage site?
The caves are technologically interesting since they are works of architecture but carved out of rock, while the images carved into them are beautiful. As mentioned by UNESCO, "Not only is the Ellora complex a unique artistic creation and a technological exploit but, with its sanctuaries devoted to Buddhism, Hinduism and Jainism, it illustrates the spirit of tolerance that was characteristic of ancient India."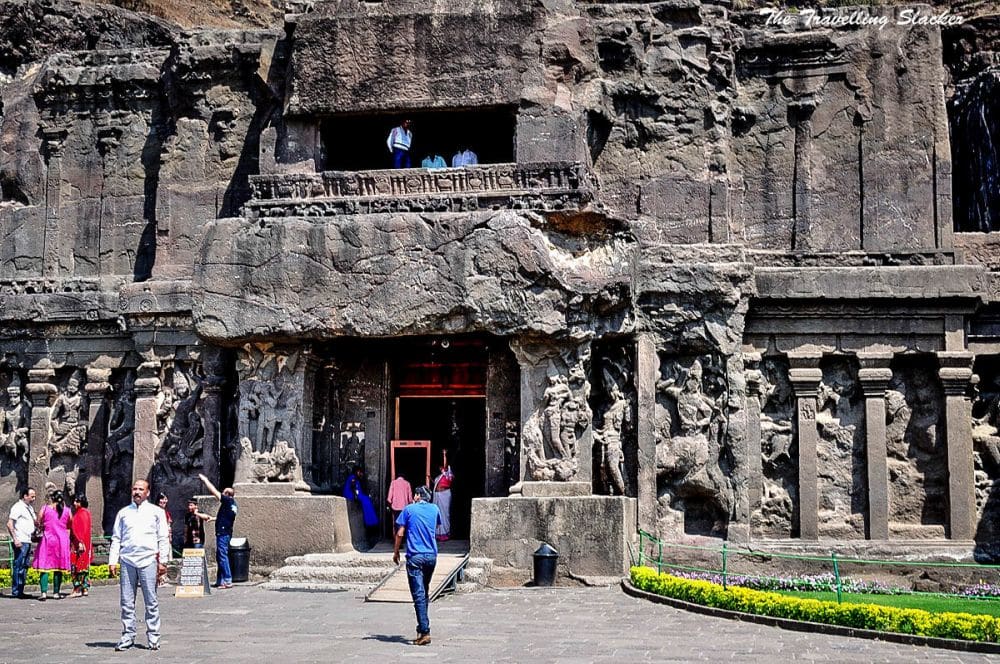 What can you expect on a visit to the Ellora Caves?
For anyone who's remotely interested in art, history, and heritage, Ellora is an exhilarating experience. Just to think of those nameless artists who managed to build such gigantic structures with such perfection without the help of modern technology is mind-boggling.
Caves 10, 11 and 12 have representations of Buddhist deities – Cave 12 is the largest: three stories high. Caves 15, 16, 21 and 29 are special as well, and so are the Jaina caves, which have very finely-detailed sculptures.
The crowning glory of Ellora is the Kailashnath Temple (dedicated to Lord Shiva) at cave number 16. It is a massive temple. According to UNESCO, "the temple is decorated with some of the boldest and finest sculptural compositions to be found in India." The sheer size and intricate details inside make it hard to believe that it was cut out of one single piece of rock!
Every cave has a unique story to tell. All of them can't be covered in a small space but my favourite sculpture is in cave 16; it's the one that depicts Ravana shaking mount Kailash with Lord Shiva and Goddess Parvati seated above it (as shown in the image below).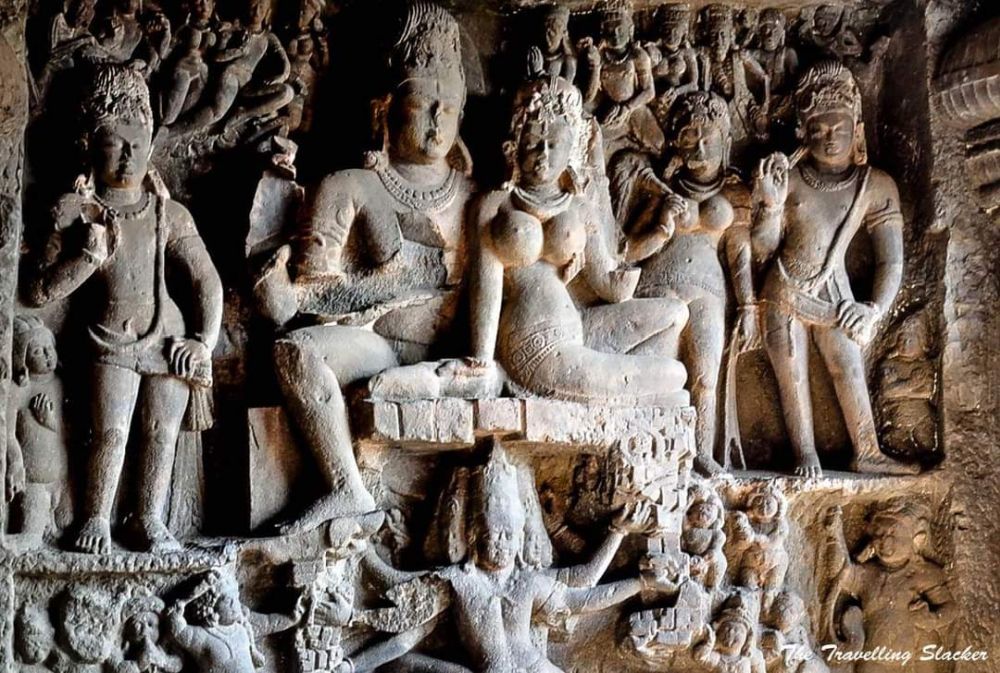 Is Ellora worth visiting?
It's an artistic masterpiece that must not be missed, especially if you are already in Western India. If you are interested in the history of art and sculpture as well as Indic mythology and philosophy, this place will keep you occupied for days. It is actually part of a circuit that is rich in heritage.
Tips for visiting the Ellora Caves
Note that the caves are cut on a rocky hillock. So there will be some amount of walking and hiking. Wear comfortable walking/running shoes and carry some water.
It is more comfortable in the early morning or afternoon. Especially if it is a sunny day, it'll be pretty hot at midday.
Another major site, Ajanta Caves (also a UNESCO site), is located nearby and can be covered together with Ellora. You should also not miss the Daulatabad Fort en route and Bibi ka Maqbara in Aurangabad.
If you are going to be in Mumbai, you might be interested in seeing Elephanta Caves too.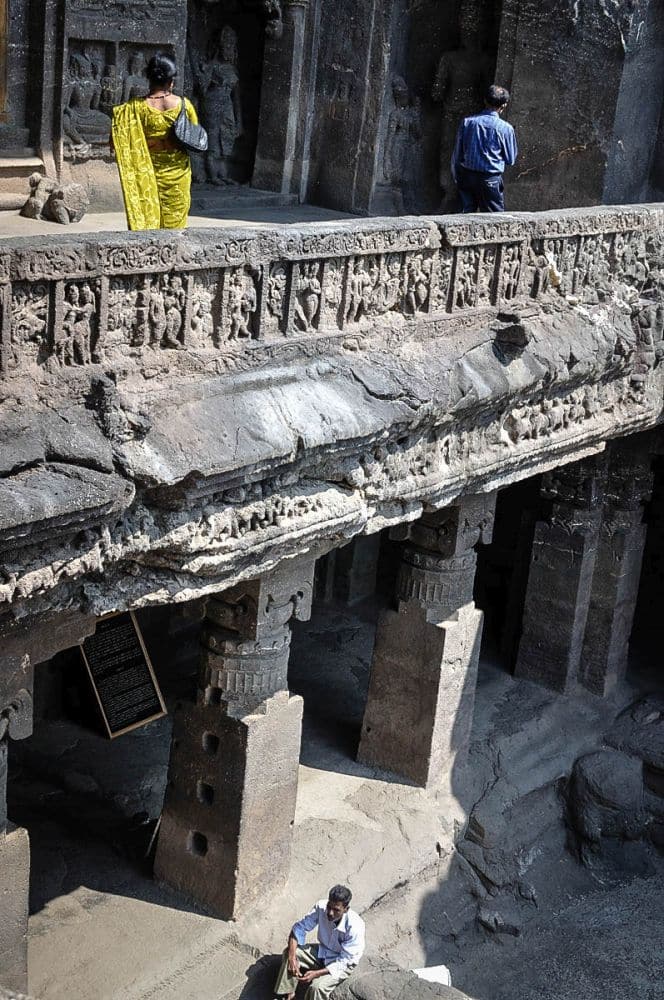 Where is Ellora?
Ellora Cave Rd, Ellora, Maharashtra 431102
The nearest major city here is Aurangabad, from where one can find buses and cabs. It's the most famous attraction here, so any local will be able to guide you if you ask them. (In India it is not hard to find an English-speaking person).
Book accommodations in Aurangabad here.
It's around 32 km (20 mi) from Aurangabad and should take no more than 1-1.5 hrs.
Alternatively, sign up for a full-day tour to Ellora and Ajanta Caves.
Opening times: 6am to 6pm every day except Tuesdays, when it is closed.
For more information, see the Maharashtra Tourism site.
Text and photos provided by Jitaditya Narzary of Travelling Slacker. He focuses on remote corners of the subcontinent and loves hiking, heritage, and budget backpacking.
Have you been to Ellora Caves? If so, do you have any additional information or advice about this UNESCO World Heritage site? Please add your comments below!