By Nancy Michelle Cote
What is the Royal Building of Mafra?
The Royal Building of Mafra is a UNESCO World Heritage Site in Portugal that is known for its impressive architecture. The palace was originally built as a Franciscan friary and also served as a second home for the royal family. The building is incredibly large, with over 1,000 rooms built around a basilica, and was constructed near the king's hunting grounds.
Disclosure: This article contains affiliate links. Making a purchase through an affiliate link will mean a small commission for this website. This will not affect your price.
Today the site consists of a convent with a hospital and library on the lower floors, the palace on the upper floors, a central basilica with six historical organs and two carillons, the Cerco Garden, and the Tapada Hunting Grounds.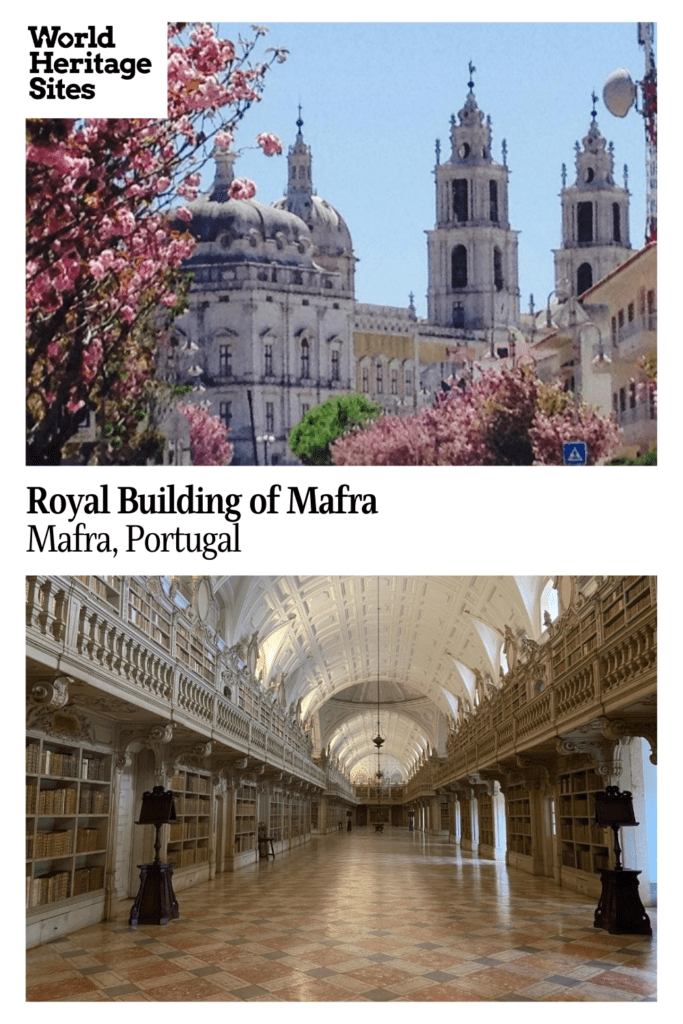 Why is the Royal Building of Mafra a UNESCO World Heritage site?
The building was commissioned by King João V in 1717 and took more than 40 years to complete. It's now considered a masterpiece of Baroque architecture and one of the largest palaces in Portugal. As stated on the UNESCO site, "Altogether, the Royal Building of Mafra with the Cerco Garden and the Tapada offer a rare and almost complete example of [a] baroque estate comprising a multifunctional palace, a formal garden and a Tapada, which have been elsewhere lost." Its impressive rococo library is considered one of the finest in Europe, and the basilica carillon, which consists of 98 bells, is also the largest historical collection in the world.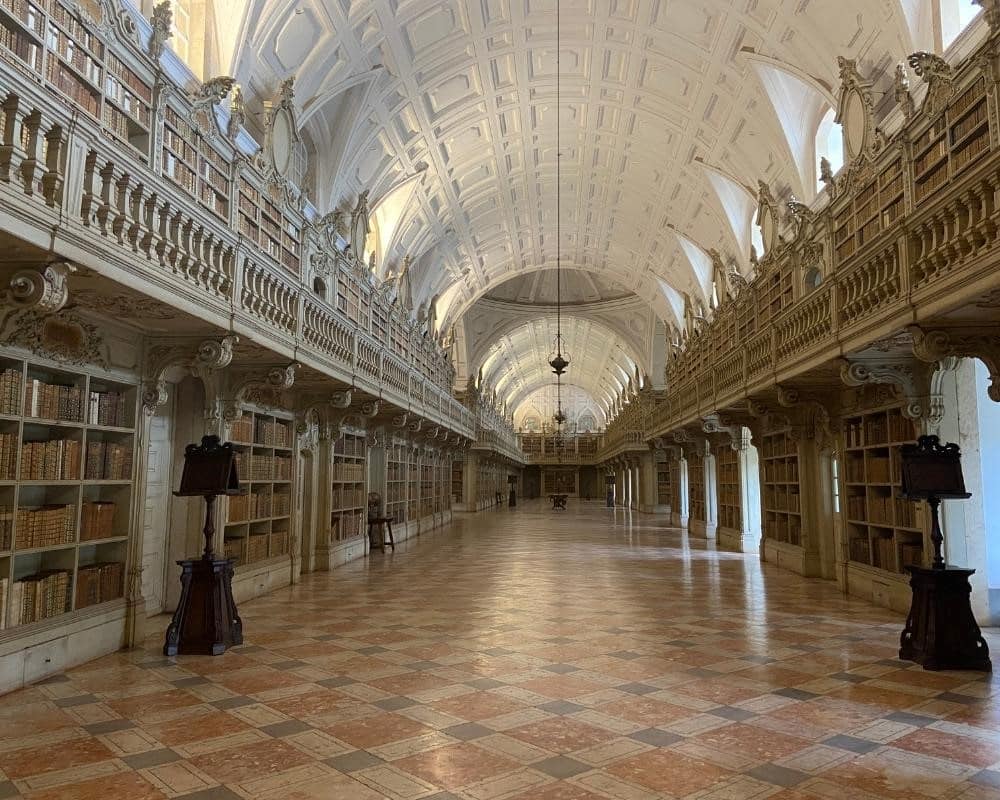 What can you expect on a visit to the Royal Building of Mafra?
When you visit the Royal Building of Mafra, you can expect to see some of the most opulent architecture in all of Portugal. The palace is full of beautiful rooms and ornate details that will take your breath away and provide insight into the everyday life of the royal family over 200 years ago.
The music and game rooms have historically-accurate features and furniture which really let your imagination join the court in their evenings of entertainment. The hunting room's impressive antler furniture is really remarkable, and all the bathtubs, toilets, cribs, and kitchen equipment are a really interesting peek at how people used to live.
Enjoy visiting the kitchens full of massive pots and pans as well as the haunting stillness of the hospital from over 200 years ago. The library is a must-see, as is the basilica with its six historic organs.
Be sure to take an hour to wander through the Cerco Garden to see the ancient water lifting wheel at work irrigating the vast grounds of flower beds.
The Tapada Hunting Park has recently been included in an educational project and turned into a protected area for indigenous species such as wild boar, deer, birds of prey and smaller species. It is a fabulous place to spend a day hiking or biking the 1200 hectares of grounds.
You'll definitely want to take your time to enjoy all this magnificent site has to offer.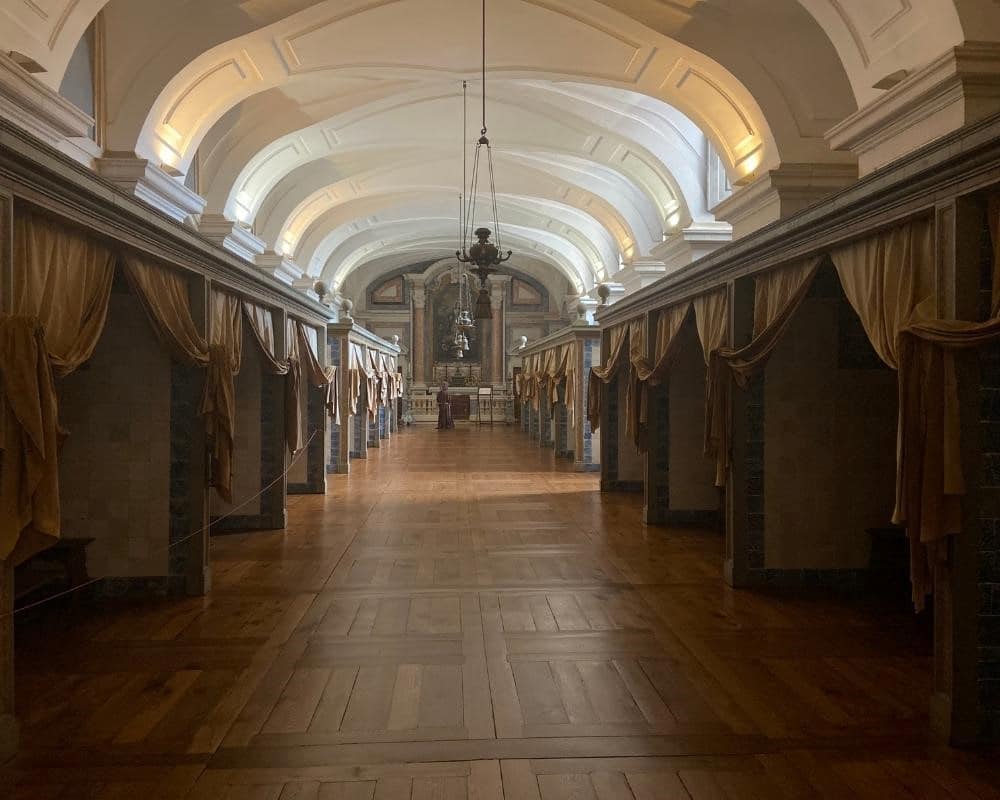 Is the Royal Building of Mafra worth visiting?
The answer is unequivocally yes! The Royal Building of Mafra is one of the most interesting national monuments in Portugal. The opulent decoration and furniture make it a must-see for any visitor. At six euros, it's also relatively cheap. Its proximity to Lisbon makes it worth your while as a day trip combined with lunch or dinner by the sea in Ericeira. There are day trips available which offer this palace as part of a package visiting several things in the area, but if you decide to go on your own, a few hours suffice to visit the palace, basilica and convent itself.
If you'd like to see the Tapada, put aside at least half a day since there are so many activities and workshops on offer. The Tapada is also slightly on the expensive side at between 7 and 15 euros per person depending on the activity, so plan a longer stay to get your money's worth.
If you decide to stay nearby, book your accommodation here.
What sorts of travelers would like the Royal Building of Mafra?
The Royal Building of Mafra is perfect for those who are interested in history, architecture, and opulence. It is perfect for families too since it is sure to please all ages, but be prepared to climb steps and walk for two hours solid, so make sure you have a stroller if necessary. You'll definitely want to wear proper walking shoes for this visit! The Royal Building of Mafra is a great day trip for anyone staying in Ericeira, or in Lisbon since it's so easy to get to either as part of a tour, by bus, or by car.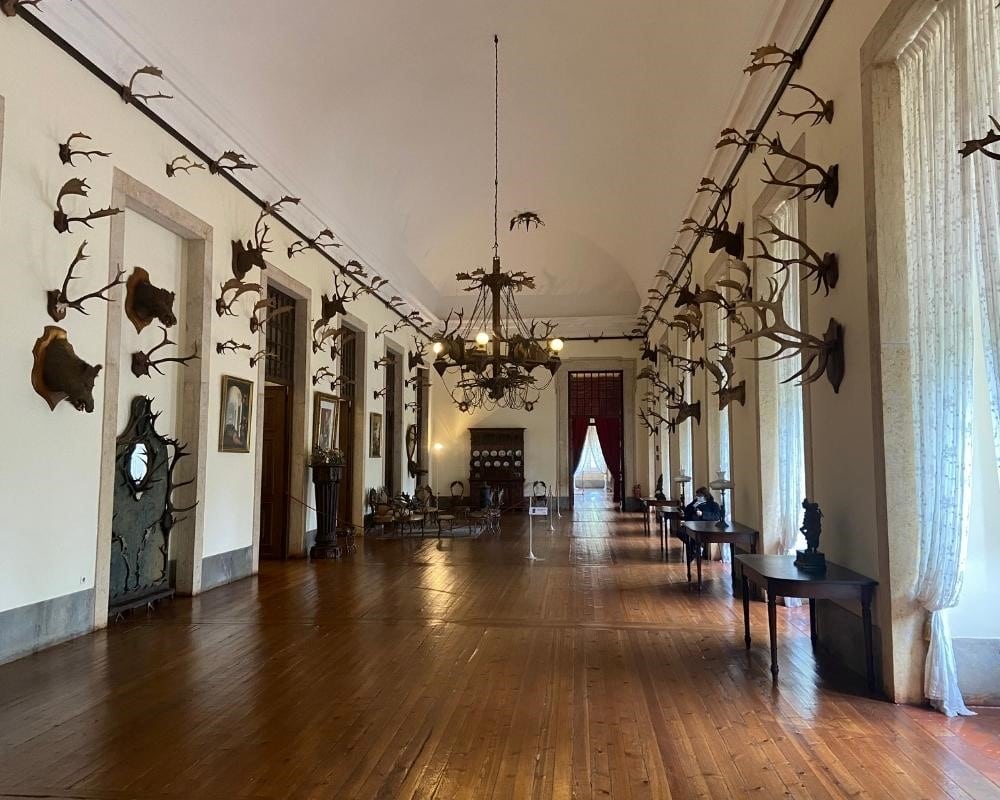 Tips for visiting the Royal Building of Mafra
The best time to visit is in the morning, so you can avoid the heat and the crowds.
Wear good walking shoes.
The palace is not wheelchair accessible.
If you have decided to visit several national monuments on your own, the Lisboa Card is a great option for you since it will allow you free entrance to several monuments including this one!
Keep in mind that the Palace is closed on Tuesdays, and that the Cerco Garden closes earlier at 5 pm in winter months due to lack of light.
Visit on a Sunday and get to hear a carillon concert! Every Sunday the carillons are played for all to hear. On the first Sunday of every month, a six-organ concert of classical music is held as well.
This is a great palace to visit as a day trip since it only takes a few hours. I recommend visiting it as part of a tour from Lisbon or combining this visit with an afternoon at the Tapada for some outdoor activities. It can also easily be visited on the way to neighboring seaside Ericeira for lunch or dinner.
Other UNESCO sites fairly nearby are the Cultural Landscape of Sintra and the Tower of Belem in Lisbon.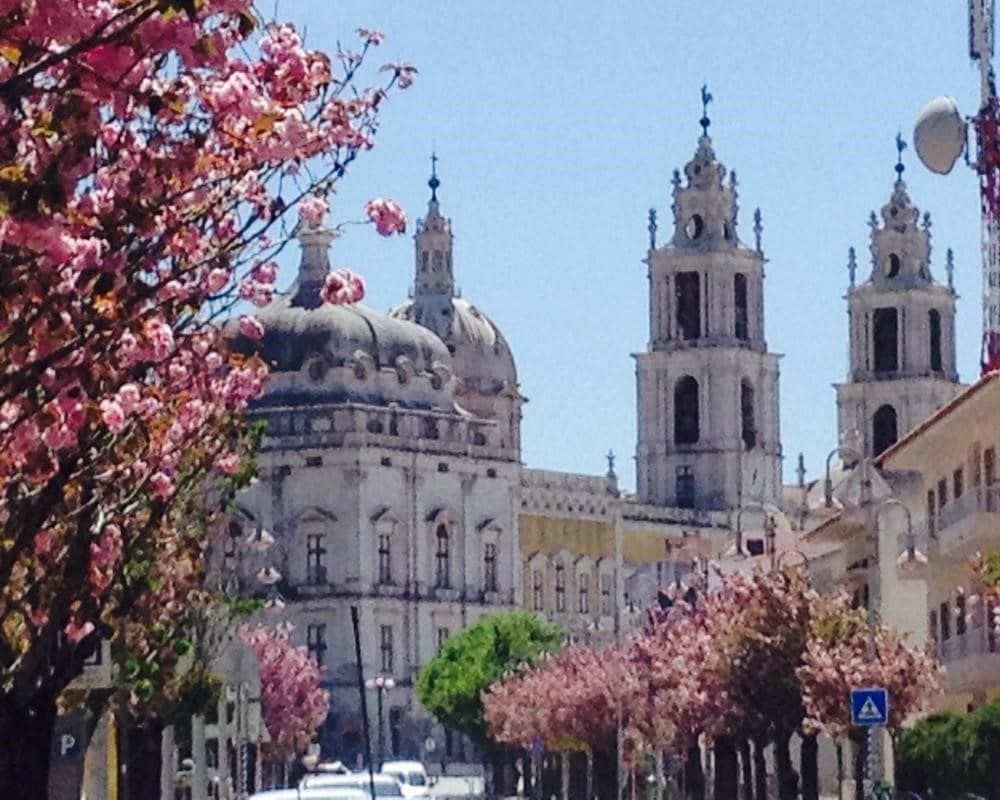 Where is the Royal Building of Mafra?
The Royal Building of Mafra is located on the main road, in the centre of Mafra, Portugal. You can see it from anywhere in the village so it's not hard to find! It is about a half hour's drive from Lisbon, or you can take a bus from Campo Grande metro station in Lisbon. The bus stops right in front of the building, and there is a large parking lot to the left of the palace, right in front of the Cerco Garden.
For more information about the Royal Building of Mafra, its opening hours and admission fees, see its official website.
Text and photos provided by Nancy Michelle Cote of Ericeira Family Adventures. Beachcomber, avid bookworm and teacher, Michelle is a Canadian Travel Blogger who writes about Ericeira. She fell in love with the charming village when she was enticed to move there by her Portuguese husband and never looked back. She now lives between Mallorca and Ericeira, with her family and Fluffy the hamster.
Have you been to the Royal Building of Mafra? If so, do you have any additional information or advice about this UNESCO World Heritage site? Please add your comments below!