Cultural Landscape of Sintra
By Stillman Rogers
What is the Cultural Landscape of Sintra?
Portuguese royalty chose Sintra's cooler climate for their summer palaces, transforming its verdant hillsides into the first center of European Romantic architecture.
Disclosure: This article contains affiliate links. Making a purchase through an affiliate link will mean a small commission for this website. This will not affect your price.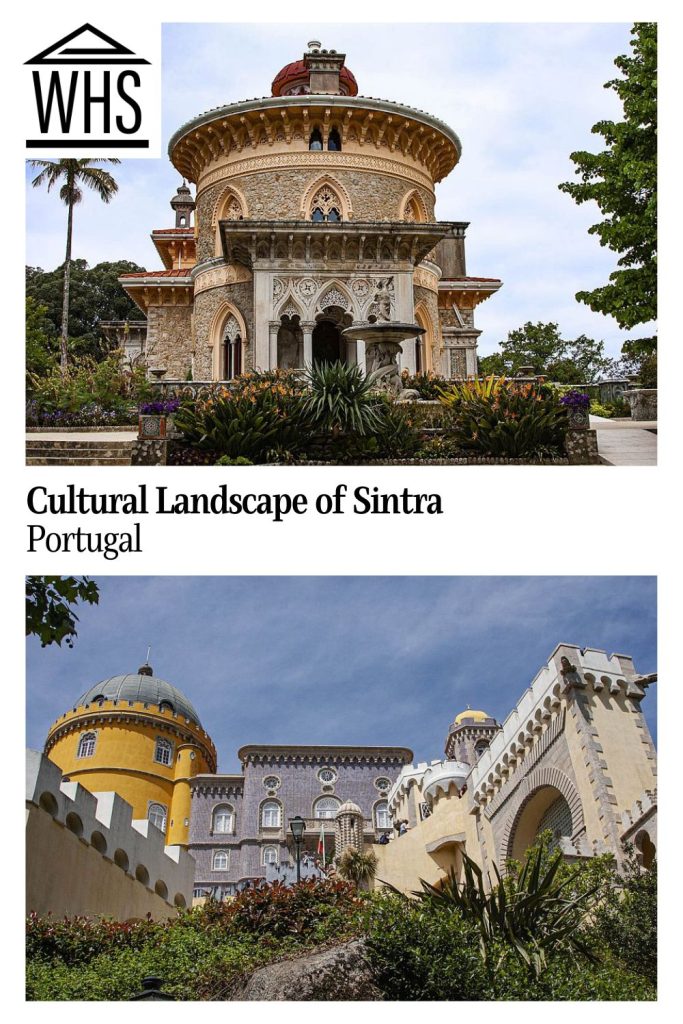 Two royal palaces, private estates, and their gardens combine to make Sintra a poster child of European romanticism. Nineteenth-century poets and writers rhapsodized over its atmospheric buildings, landscapes, and ruins. Although more than a dozen places are mentioned in the UNESCO inscription as contributing to the romantic Cultural Landscape of Sintra, four major ones are the highlights:
Pena Palace
A fanciful hilltop castle embellished with all the architectural and decorative elements demanded by a great romantic, this extravaganza was built in the 1840s by the young King Consort Ferdinand II. Below it, the epitome of romantic gardens cascade into a lush ravine.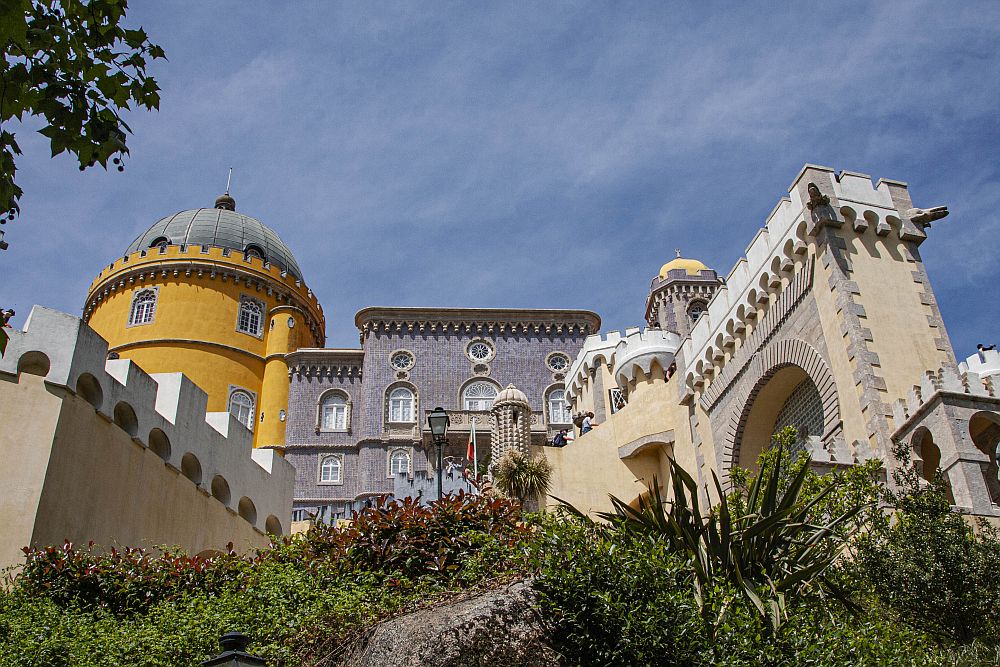 The Royal Palace (National Palace)
Dominating the town center and dating from the 15th and 16th centuries, its halls are decorated with elaborately-painted ceilings and the finest examples of Mudéjar tiles (azulejos) in the entire Iberian Peninsula.
The Moorish Castle
Built by the Moors in the 8th through 12th centuries, the fortress stands on a high clifftop with a view to the sea. Attacked in the Christian Reconquest, it fell into a romantic ruin with spectacular views.
The Palace of Monserrate
Another example of mid-19th century eclecticism, the hilltop villa combines neo-Gothic, Moorish and eastern elements. The extraordinary gardens that surround it take advantage of the unique series of microclimates to grow more than 3000 exotic species from across the world.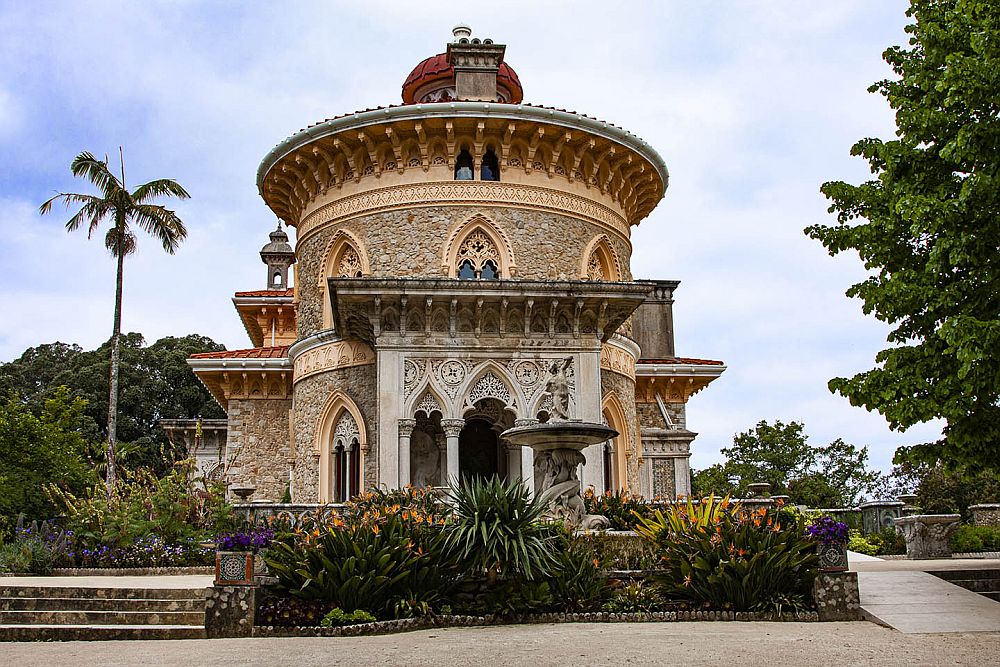 Why is Sintra a UNESCO World Heritage site?
The UNESCO inscription cites Sintra's "unique combination of parks and gardens which influenced the development of landscape architecture throughout Europe" and goes on to describe this Cultural Landscape as "an exceptional mixture of natural and cultural sites within a distinct framework." The palaces, churches and other buildings represent the era's architectural movements.
What can you expect on a visit to Sintra?
You can expect to be overwhelmed by the fairy-tale world of Pena Palace and charmed by the gardens. You'll find yourself taking photos of the multicolored towers, turrets and gates from every angle, but don't neglect a tour of the interior.
For all the castle's grandeur, you'll be surprised at how small the rooms are and how little living space. But the royals had plenty of space to roam in their 510-plus acres of garden with pools, grottos, camellias, and a Japanese bridge.
After the exuberance of Pena, the adjacent Moorish castle ruins and the gardens, we found the Royal Palace in the town center a bit stodgy. But it's worth visiting for the tiles alone. Monserrate, by contrast, recaptures that exotic fairy-tale sense, and if you want to step into a real fantasy world, make time to visit Quinta de Regaleira and its mystical gardens.
Is Sintra worth visiting?
Absolutely. Sintra is easy to get to from Lisbon, and it's one of the highlights of Portugal. It gives a sense of what the travelers of the Grand Tour era found so fascinating about Portugal. The town itself is pleasant, if crowded, and worth spending a night or two just to be able to visit all the attractions at leisure. Especially for garden-lovers, there is a lot to see and it would be a shame to hurry past.
If you plan to tour the interiors and gardens, you will need at least two days. Without the gardens you might be able to see the two royal palaces and Monserrate in a single day.
Book your accommodations in Sintra through this link!
What sorts of travelers would like Sintra?
Gardeners and romantics, certainly, and those with an interest in decorative arts and architecture. But beyond that, any traveler would enjoy the refreshing climate after the heat of Lisbon in the summer, and the relaxed atmosphere of the town at any time of year. Make sure to sample some Sintra pastries!
If you're traveling with a family, note that children love Sintra, and no wonder. It has everything a child ever dreamed of in a fairy-tale castle, from a moat to crenellations and turrets.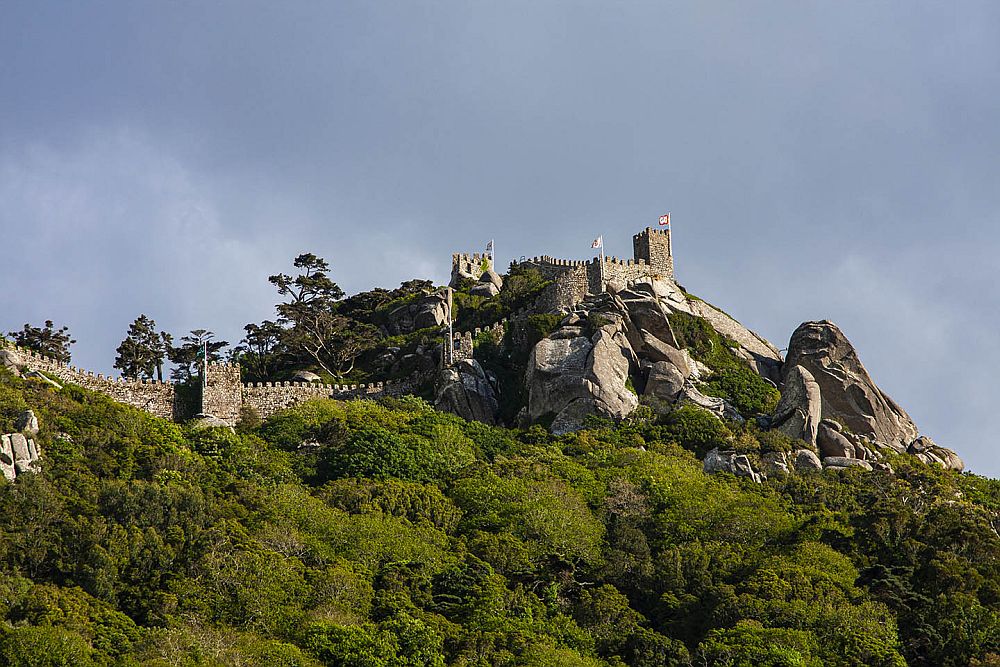 Tips for visiting Sintra
Sintra is a city on hills. Nothing is level for more than a few steps, everything built just above or just below its neighbor on steep slopes and ravines.
The sites are some distance from each other, but local bus routes connect most of them.
Taxis are inexpensive and because of timing, may be the best option for visiting Pena and Monserrat. You can arrange for the driver to meet you at the exit at an appropriate time.
Even if you don't plan to see the gardens, wear good sturdy walking shoes, and bring a hat, suntan lotion and water. You may need to spend some time standing in line, especially at Pena Palace.
Try to get to Pena first thing in the morning as it opens, to avoid the lines. Or use this link to order your skip-the-line tickets.
On the way to Sintra, either by car or train, you can stop at Queluz to visit the baroque Queluz Palace.
Fast-track tickets to the National Palace.
Where is Sintra?
Sintra is in Portugal, west of Lisbon and north of Cascais.
By car: Sintra is 33 km (20.5 miles) from central Lisbon and takes about 45 minutes by car. There are several parking lots in Sintra and those at Av. Dr. Álvaro de Vasconcelos and Praça Dom Afonso Henriques are free.
By Train: Trains leave Lisbon's Rossio station every 30 minutes for the 40-minute ride to Sintra's Estefania station (Don't make the mistake of getting off at Portela de Sintra.) The town center is a 15-minute uphill walk. Buses connect the station to the center and the Royal Palace: Bus 434 goes to Pena Palace, Bus 435 to Monserrate Palace.
Trains to Sintra also depart twice hourly from Oriente Station, near Parque das Nações and close to the airport. This station is especially convenient for those who begin or end a trip to Portugal at Sintra.
For more information about Sintra, and the opening hours and admission fees for its attractions, see its official website.
Text and photos provided by Stillman Rogers of WorldBite, a travel blog devoted to food and cultural experiences around the world.
Have you been to Sintra? If so, do you have any additional information or advice about this UNESCO World Heritage site? Please add your comments below!