Historic Fortified Town of Campeche
By Sherry Arkfeld
What is the Historic Fortified Town of Campeche?
The Historic Fortified Town of Campeche, also called San Francisco de Campeche or simply "Campeche," is a UNESCO World Heritage site located in the state of Campeche, Mexico. A port city on the Gulf of Mexico, it was founded in the 16th century by Spanish conquistadors. It played a crucial role in the Spanish colonization of the Yucatán Peninsula.
Due to Campeche's strategic location and the threat of pirate attacks and raids, the city was fortified during the 17th and 18th centuries. The defensive structures were built to protect the city and its valuable maritime trade from European pirates.
Disclosure: This article contains affiliate links. Making a purchase through an affiliate link will mean a small commission for this website. This will not affect your price.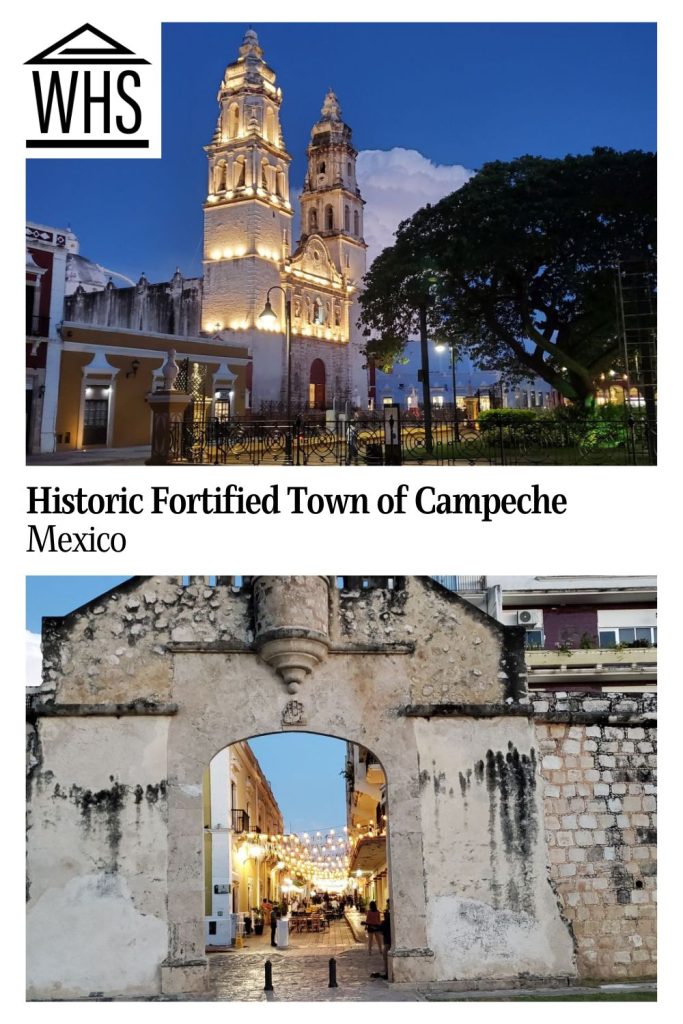 The fortifications of Campeche consist of an extensive system of walls, bulwarks, bastions, and military structures surrounding the historical city center. The fortifications were constructed using a unique blend of Spanish and indigenous techniques and materials, making them a remarkable example of colonial military architecture.
The town itself boasts a well-preserved colonial urban layout, featuring charming cobblestone streets, colorful buildings, and a mix of Spanish and Creole architecture. The historic center has many historic landmarks, churches, plazas, and public buildings, reflecting the city's rich cultural heritage.
Why is the Historic Fortified Town of Campeche a UNESCO World Heritage site?
According to UNESCO's website, Campeche exemplifies the urbanization model of a Baroque colonial town, featuring a checkerboard street plan. Its historic center is encircled by defensive walls, showcasing the strong influence of Caribbean military architecture.
In addition, the fortifications system of Campeche is a prime illustration of 17th and 18th-century military architecture. It forms part of a comprehensive defensive network established by the Spanish to safeguard their Caribbean Sea ports from the constant threat of pirate attacks.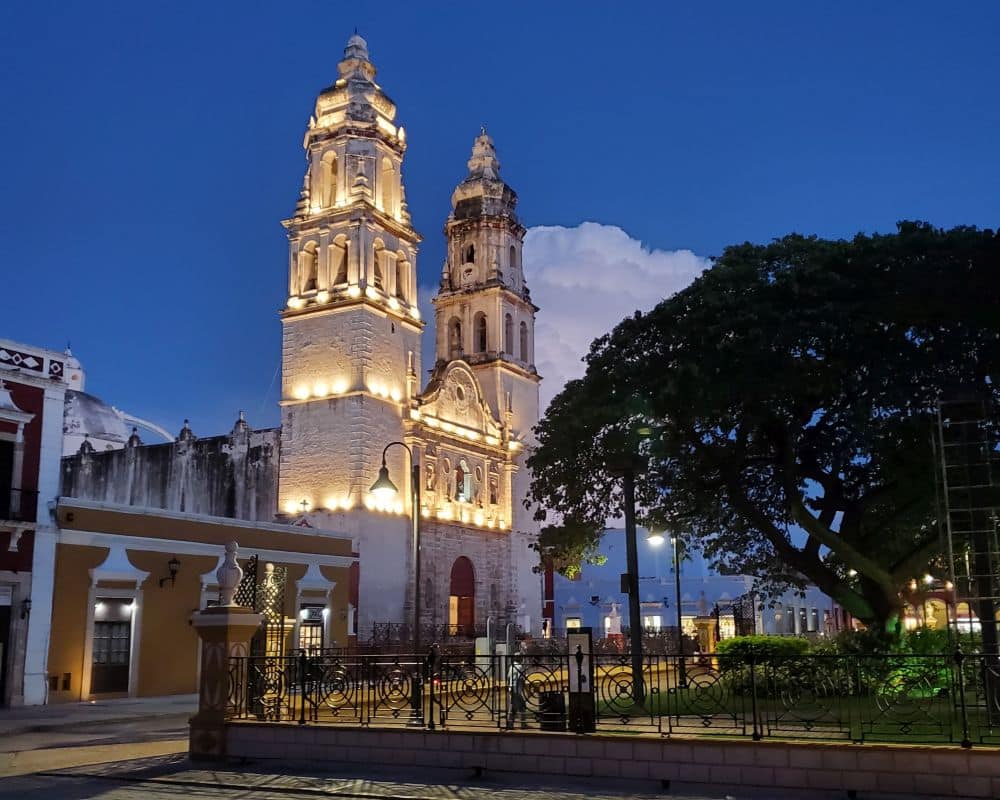 What can you expect on a visit to Campeche?
There's a lot to see and do in Campeche. The streets are lined with colorful colonial buildings and the large shady town square is perfect for a picnic.
The walled city is surrounded by museums. In fact, the walls themselves are museums. The UNESCO-designated area covers over 181 hectares (447 acres), 45 hectares (110 acres) of which are inside the walls. It includes almost 1000 buildings, the most notable being the Campeche cathedral; San Jose fort; San Miguel Fort; the seven remaining bastions (baluartes); and the Palacio Centro Cultural, a colonial building on Plaza de la Independencia that is now a history museum.
Campeche is relatively undiscovered by tourists so there are generally no crowds. This means you may have an entire museum to yourself.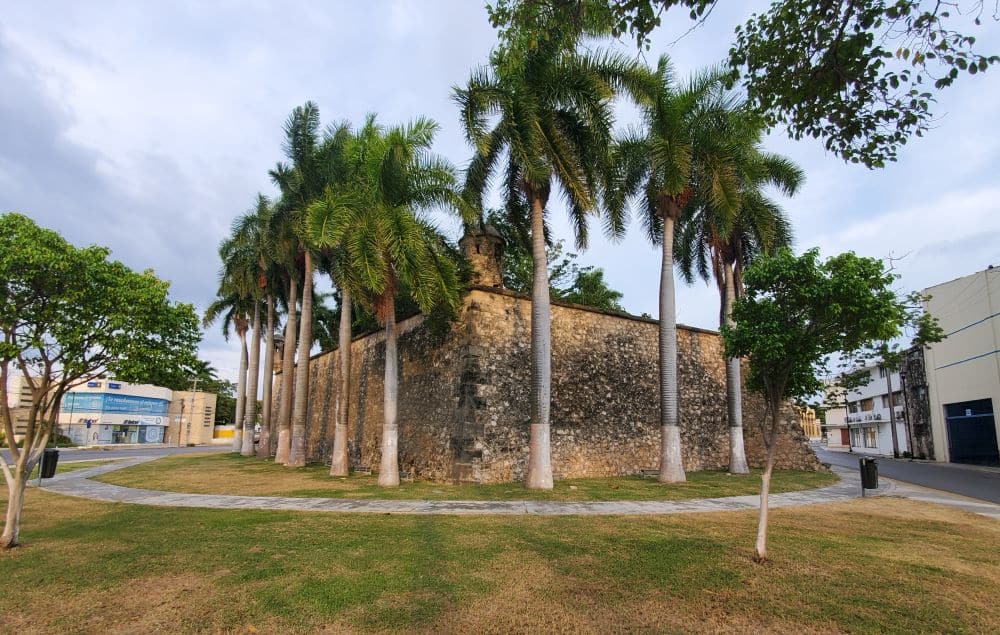 Is Campeche worth visiting?
I highly recommend visiting Campeche. Since it's less popular than other Mexican cities, it's not over-crowded or over-priced.
Not only is Campeche full of historical sites, it's a safe, clean city. I often was out alone at night and never felt unsafe.
You can see a lot of the walled city on just a day trip. I recommend at least two or three days to really enjoy it.
Book your accommodations in Campeche.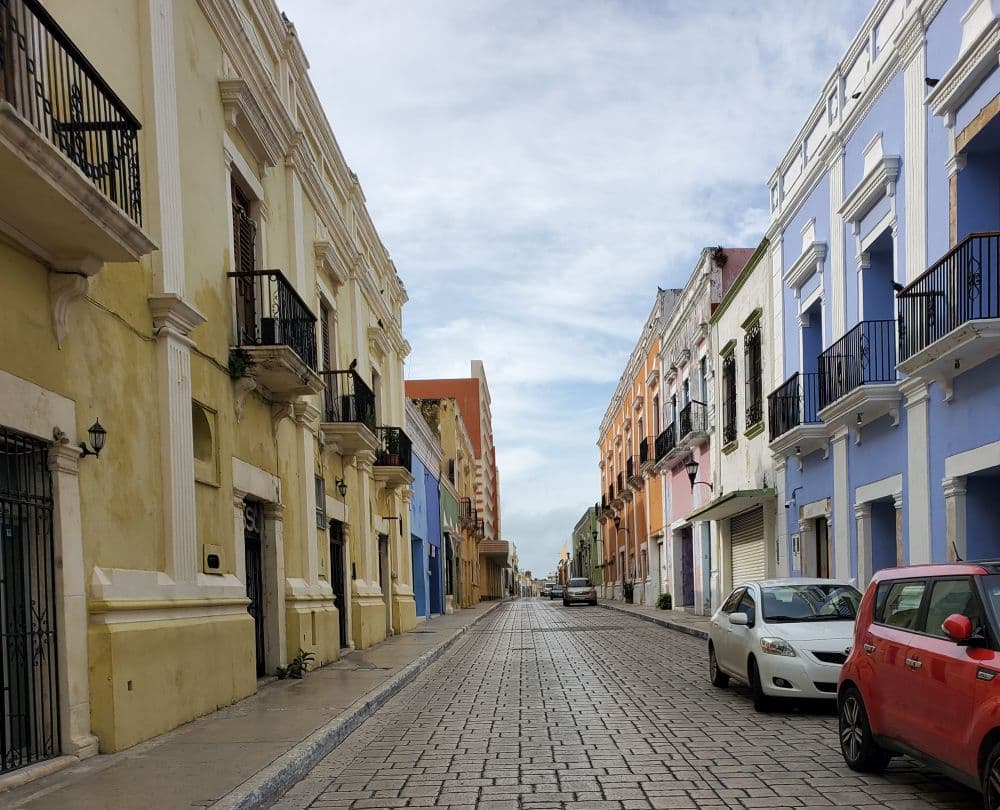 What sorts of travelers would like Campeche?
Campeche appeals to a diverse range of travelers due to its unique blend of historical, cultural, and natural attractions.
History buffs will appreciate exploring the city's numerous museums, churches, and archaeological sites that showcase the region's rich cultural heritage.
The vibrant colors, colonial architecture, and scenic landscapes make Campeche a dream destination for photographers and artists seeking picturesque and inspiring scenes.
Campeche's friendly and welcoming atmosphere makes it an ideal destination for solo travelers looking to explore a safe and culturally rich city.
Finally, Campeche provides a family-friendly environment with a mix of educational and recreational activities suitable for all ages, making it an excellent choice for family vacations.
If you're particularly interested in Spanish colonial-era towns in Mexico, consider adding UNESCO-listed Puebla or Guanajuato to your itinerary as well. If you're including Guatemala in your plans, Antigua is another example of a colonial-era town on the UNESCO list.
Tips for Visiting Campeche
The walled portion of the city is commonly referred to as "Centro." There is a lot to see outside of Centro so be sure to venture into the neighboring areas.
One of the best things to do in Campeche is walking on the walls. You can access the wall in two places – at the Sea Gate and at the Land Gate. I recommend visiting both sections.
Be sure to visit Calle 59. This street is closed to cars and is home to many restaurants with outdoor dining. You'll find delicious food at good prices.
The city is easy to navigate because the even-numbered streets run (mostly) parallel to the ocean. The odd-numbered streets are perpendicular to the ocean. The streets are narrow and the sidewalks even more so. Drivers are usually very considerate but be careful when crossing the streets because many of the corners are blind.
Take this walking tour of Campeche.
Many people in Campeche do not speak English, especially in the smaller shops and restaurants. Don't worry, though, because they are very patient and kind. Download Google Translate or similar.
Campeche is a great base for exploring the nearby archeological sites of Calakmul and Edzna. The UNESCO sites of Uxmal, Chichen-Itza and Sian Ka'an are further away on the Yucatan peninsula.
Day trip to Edzna from Campeche.
Or try this day trip to Uxmal and Becal.
Where is Campeche?
Campeche is on the Yucatán Peninsula along the coast of the Gulf of Mexico. You can reach Campeche by airplane, car, or bus.
Campeche's airport is small. You'll most likely arrive via a connecting flight in Mexico City.
Many people choose to fly into Mérida, which is the nearest major city, and rent a car or take the ADO bus. It takes approximately 2.5 to 3 hours to drive to Campeche from Mérida, covering a distance of around 180 miles via Federal Highway 180.
Compare rental car prices here.
Public transportation in Campeche is well-established, with buses and taxis available to navigate the city and its surrounding areas. The central bus terminal in Campeche connects to various destinations within the state and other major cities in Mexico.
There is a lot of free street parking throughout Campeche. Parking during the week can be tricky because of the number of locals working in Centro. On the weekends and early mornings, there is plenty of parking available. You'll also find parking lots that are reasonably priced.
For more information about the Historic Fortified Town of Campeche, visit the Campeche, Mexico website.
Text and photos provided by Sherry Arkfeld of Digital Nomad and a Dog, a travel blog focused on the digital nomad lifestyle, travel with a dog, and exploring Mexico. Sherry spent two months in Campeche and loved every minute of it.
Have you been to Campeche? If so, do you have any additional information or advice about this UNESCO World Heritage site? Please add your comments below!