By Annette Jones
What is K'gari (Fraser Island)?
Fraser Island is the world's largest sand island, accessible only by 4WD vehicles. It is approximately 25 kilometres wide (15.5 mi), 123 kilometres long (76 mi) and covers over 160,000 hectares (618 sq mi). Fraser Island is now known by its aboriginal name, K'gari (pronounced Gari).
Disclosure: This article contains affiliate links. Making a purchase through an affiliate link will mean a small commission for this website. This will not affect your price.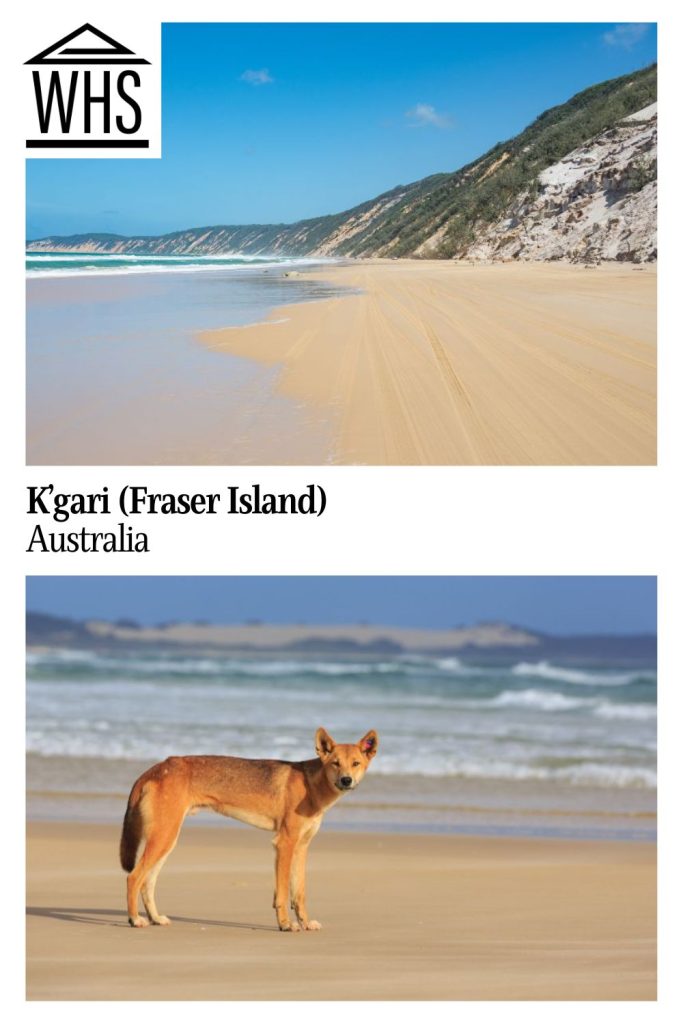 Why is K'gari a UNESCO World Heritage site?
Due to K'gari's unique wildlife and diverse landscapes of rainforests and sand dunes, K'gari was named a UNESCO World Heritage Site in 1992. Besides being the largest sand island in the world, it has "a diverse range of features that are of exceptional natural beauty," according to UNESCO. It has beautiful sandy beaches and colorful sand cliffs, remnants of rainforest growing on the dunes and a number of "perched freshwater dune lakes."
Fraser Island is also important as a prime example of geological processes: in this case longshore drift. UNESCO notes that "the superimposition of active parabolic dunes on remnants of older dunes deposited during periods of low sea level, which are stabilised by towering rainforests at elevations of up to 240 metres, is considered unique."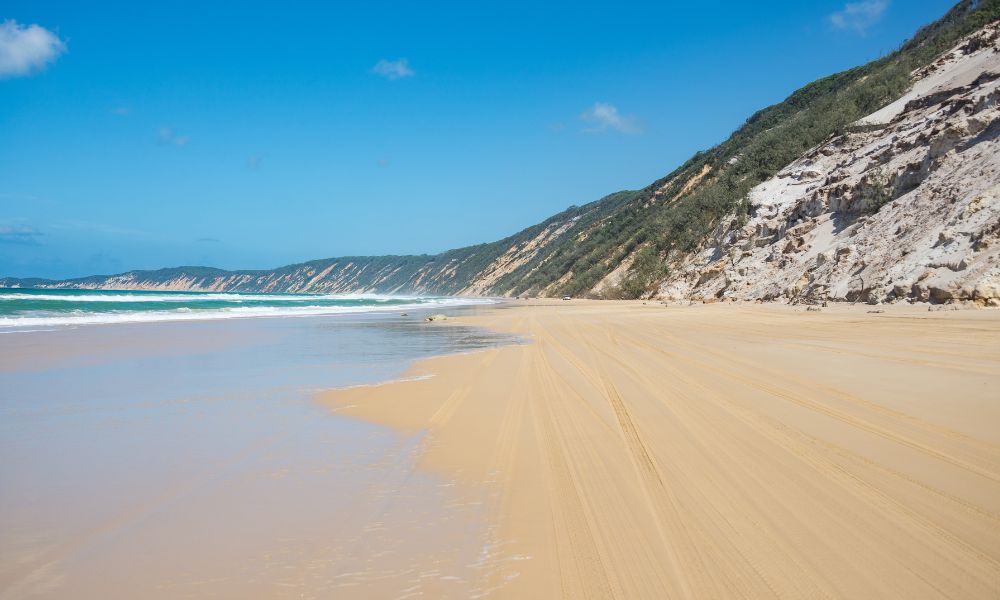 What can you expect on a visit to Fraser Island?
Expect to see diverse landscapes and wildlife. The island's natural beauty is stunning, from the gorgeous rainforests and sand dunes to the naturally formed lakes.
You can float down nature's natural water slide at Eli Creek, look over the Maheno Shipwreck and take a relaxing natural spa in the famous Champagne Pools.
At Eli Creek you'll find a boardwalk next to the freshwater creek. Walk for about a half-hour away from the beach. Then get in the water and let it take you back to where you started.
The Maheno shipwreck is the rusting carcass of a large passenger ship that ran aground on Seventy-Five-Mile Beach when it was on its way to the scrapyard. Fortunately no one died, and the wreck has become a popular sight along the beach.
Champagne Pools, in volcanic rock next to the ocean, have this name because of how the ocean waves fizz at mid-tide as they break over the rocks. When it's not high tide, you can have a soak in the pools.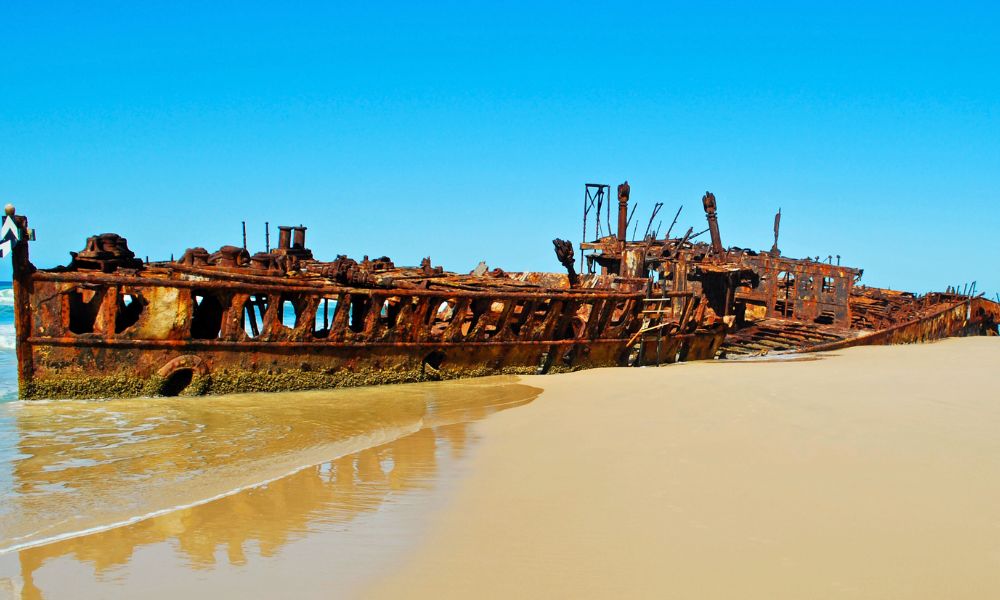 There are many walks and drives available on Fraser; the Queensland Government website lists them here. Fishing, boating and whale-watching are very popular pastimes on Fraser Island too. You can swim in many of the lakes much more safely than in the ocean.
If you are fortunate enough, you will see some of the purest strains of dingo in the world on Fraser. Dingoes are a protected native wild dog. Fun fact: Although wild dingoes are classed as a dog, they have never been recorded barking.
Is it worth visiting K'gari Island?
If you love the outdoors, driving on the beach and walking through rainforests, Fraser Island is definitely worth visiting. Allow a minimum of 3 days. However, to really relax and enjoy the beauty of Fraser and explore most of the island, I'd allow at least 7 days.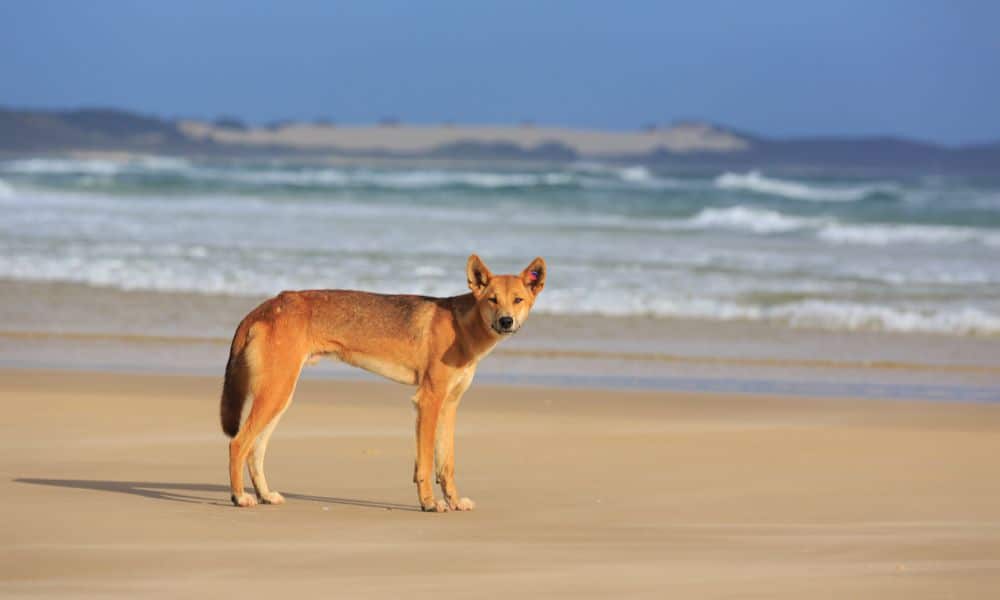 Tips for visiting Fraser Island
Visit during the week if you can, as the island can be very crowded on the weekends, public holidays and school holidays. It's a very popular spot with locals and Aussies visiting from other states of Australia.
Be dingo aware. Follow the directions given by rangers and do not approach dingoes or feed them. They are wild animals and have been known to be aggressive and bite.
If you are visiting popular spots for a swim like Lake Mackenzie, Champagne Pools or Eli Creek, an early morning visit is advised before the crowds arrive.
One of the most popular things to do on K'gari is beach driving, particularly along Seventy-Five-Mile Beach, which extends along the entire east coast of the island. This beach is at the same time a driving route and a landing strip, so stay aware of your surroundings. Parts of it are inaccessible at high tide, so keep track of the tides.
Compare rental car prices here – remember you need a 4WD with high clearance!
If you'd rather not drive yourself, day trips and multi-day trips are available.
If you intend to drive or camp on the island, you will need a permit, which you can buy on the Queensland National Parks' website.
Find accommodations on K'gari Island using the map below:
Where is K'gari / Fraser Island?
Coordinates: 25.2398S, 153.1325E
Fraser Island sits just off the Fraser Coast on the eastern coast of Queensland, Australia. It is approximately a 6-hour drive from Brisbane. Then it's just a short barge/ferry ride (20-30 minutes) from either Rainbow Beach (Inskip Point) or Hervey Bay.
Fraser is also accessible via air from Hervey Bay, landing on Seventy-Five-Mile Beach.
Another World Heritage site is south of K'gari, in the southeast corner of Queensland, as well as over the border in New South Wales: 40 rainforest parks that together make up Gondwana Rainforests of Australia.
For more information about K'gari / Fraser Island, see its official website here.
Text and images supplied by Annette Jones from All Around Oz. Annette is a travel writer and content creator. She loves helping caravaners and campers find hidden gems around Australia from the ocean to the outback so they can make their best memories.
Have you been to K'gari (Fraser Island)? If so, do you have any additional information or advice about this UNESCO World Heritage site? Please add your comments below!