Historic Centre of Puebla
By Jane Dempster-Smith
What is Historic Centre of Puebla?
Puebla is Mexico's fifth largest city and is located two hours' drive from Mexico City. Puebla was founded in 1531. The Zocalo (the main square) was the first part of the city that was constructed, and the city eventually grew to 6.9 sq km (2.7 sq mi) in size with 391 city blocks containing 2,619 monuments. Puebla claims to be the city in North America containing the largest number of monuments.
Disclosure: This article contains affiliate links. Making a purchase through an affiliate link will mean a small commission for this website. This will not affect your price.
The city is also known as La Puebla de Los Angeles.
In 1987 Puebla became a UNESCO World Heritage site.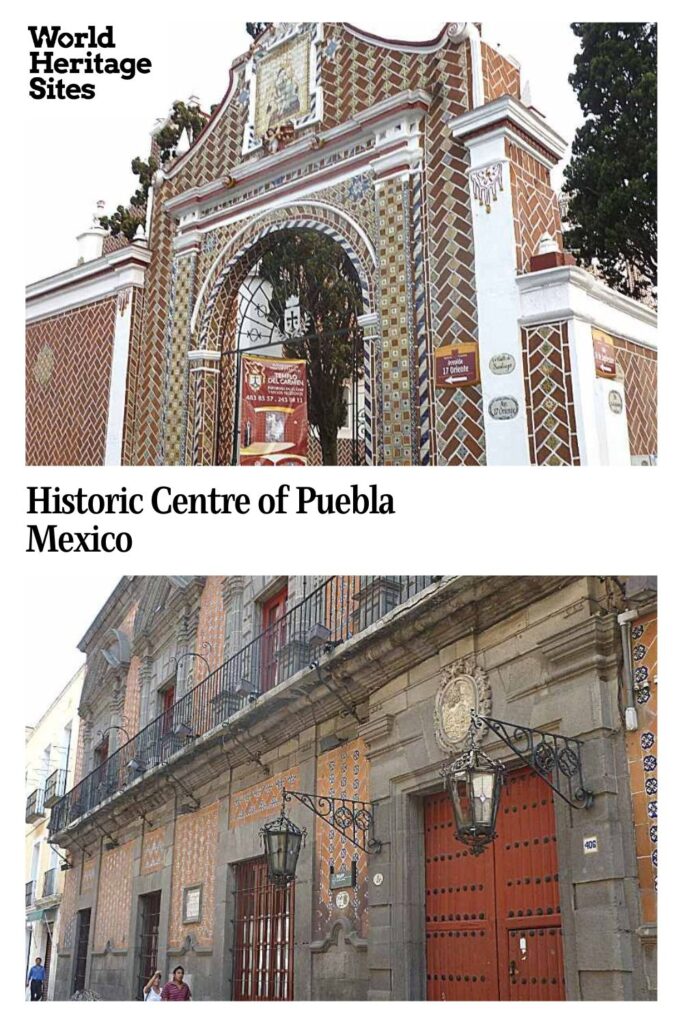 Why is Puebla a UNESCO World Heritage site?
Puebla was awarded the title by UNESCO due to its preservation of its 16th and 17th-century historical buildings such as the Cathedral and the Archbishop's Palace. Many of the colonial buildings are adorned with azulejos (colourful tiles).
In addition, its particular form of Baroque architecture, formed by fusing European and indigenous styles, as well as the fact that the city was planned in grid form, influenced the character of other cities in Mexico.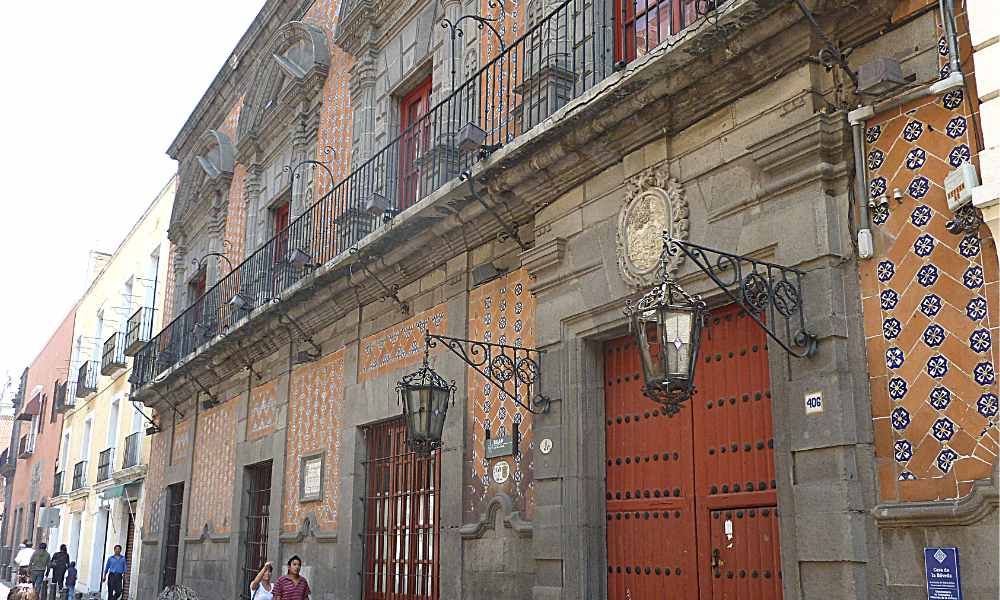 What can you expect on a visit to Puebla?
On arrival into Puebla we recommend that you head straight to the Zocalo. The Zocalo is vibrant. Balloon sellers, food sellers, buskers and families congregate there in the late afternoon to enjoy the coolness of the day in the tree-filled plaza.
Around the Zocalo you can find several noteworthy buildings:
Puebla Cathedral: Richly decorated inside with paintings, sculptures, and other decorative elements, it also houses a treasure trove of ecclesiastical items in gold, silver and gems.
City Hall: An ornate Renaissance-style city hall that dates to the 18th and 20th century.
Casa de los Munecos: Now housing a restaurant and an art museum, this 18th-century baroque house features fascinating human figures depicted in tilework between its windows.
San Miguel Archangel Fountain: This elegant fountain stands in the centre of the Zocalo.
Once you have visited the Zocalo you may want to visit the 8th Wonder of the World: the Capilla del Rosario, which is attached to the Templo of Santo Domingo. With its incredibly ornate baroque interior, this was one of our favourite buildings apart from the Cathedral. We returned on quite a few occasions. In 1987 UNESCO granted the chapel the title of Cultural Heritage of Humanity.
Just six blocks away from the Zocalo is the stunning baroque Templo de Carmen that dates back to the 17th century. We were impressed by the tiles that adorned the façade.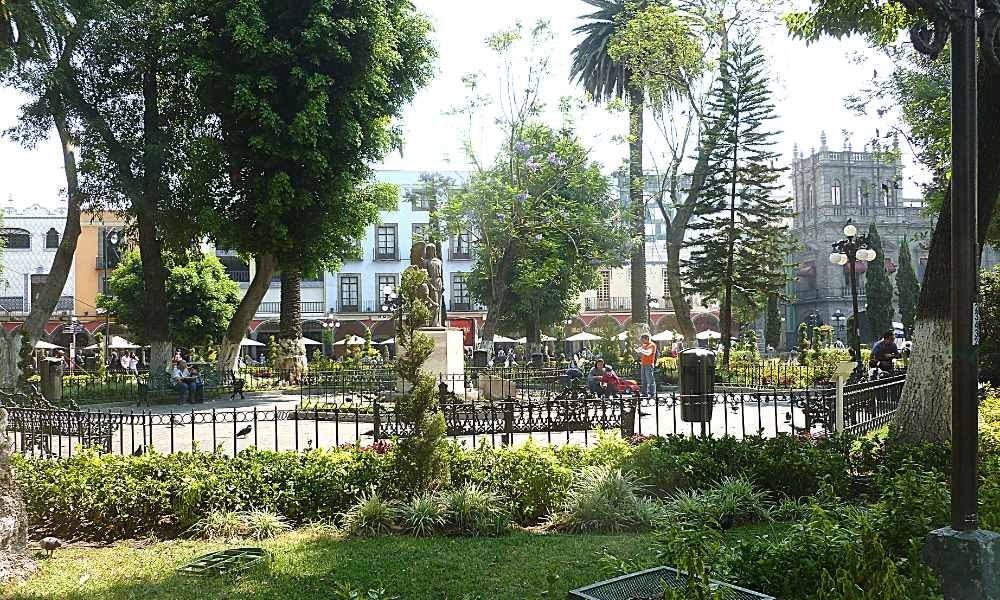 Is the Historic Centre of Puebla worth visiting?
Puebla is certainly worth visiting and we would recommend at least 3-4 nights.
Not only can you enjoy the historical buildings of the centre of town, you can also visit the museum that commemorates the Battle of Cinco de Mayo (Fort de Loreto y Guadalupe). Puebla was where, on the 5th of May 1862, the small Mexican army defeated the French army.
Puebla is also known for its cuisine and in particular mole poblano, a thick sauce made from chilli and cocoa plus up to 20 other special ingredients. It is usually served with turkey, but these days it is popular served with chicken.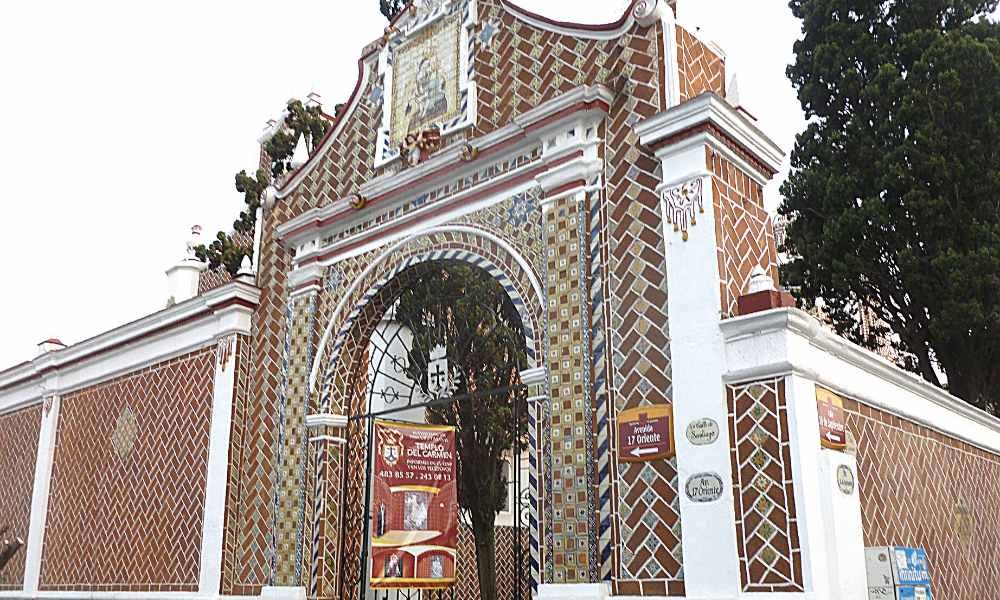 What sorts of travellers would like Puebla?
Puebla is a destination that is safe for solo travellers, couples, friends and families. There is so much to see and do in and around Puebla.
If you are a lover of history and colonial architecture you can't beat Puebla. If you love Mexican cuisine you must try the mole poblano and local dishes in local restaurants or at the market.
Head to Calle de Las Dulces if you have a sweet tooth where you have 40 stalls to choose from for the best of Mexican sweets and local pancakes.
Puebla is also famous for its ceramics and you can shop for these in the Parian Market. Address: Mercado de artesanias El Parian local 111, 72000 Puebla
If you are looking to buy handicrafts and souvenirs head to Callejon de Los Sapos or Frog Alley.
Tips for visiting Puebla
Puebla can be visited all year round but if you plan to visit around the 5th of May (Cinco de Mayo), accommodation will need to be booked ahead. Cinco de Mayo is Puebla's major event and accommodation is booked out well in advance and prices are much higher.
The best time to visit is during the dry season which runs from October to March.
There are many fun things to do in Puebla. You will need to allow at least 3-4 nights to see the city and its surroundings.
Search for accommodations in Puebla here.
A great way to see the colonial buildings of Puebla from a different perspective is to use the Hop-on Hop-off bus. Or try this walking tour.
A fun day trip is to visit the UNESCO town of Cholula with its ancient pyramid and church. Some tours also include a visit to a local ceramic factory.
Where is the Historic Centre of Puebla?
Puebla is located 110 km (68 mi) southeast or a two-hour drive from Mexico City, also a UNESCO site. It is the capital of the State of Puebla.
Puebla's airport is located 23 km (14 mi) from the city.
Buses run from Mexico City Terminal de Oriente and take approximately 2.5 hours. We travelled by the ADO buses which are comfortable and have a regular service.
Another option is to rent a car. Compare car rental prices here.
For more information on Puebla read on here.
Text and photos provided by Jane Dempster-Smith from To Travel Too. Jane is co-founder of To Travel Too, a global travel site for baby boomers and lovers of travel. Jane spent 6 months travelling around Mexico enjoying its many historical sites, sounds and local cuisines.
Have you been to Puebla? If so, do you have any additional information or advice about this UNESCO World Heritage site? Please add your comments below!