By Gabby Boucher
What is Antigua Guatemala?
This small city in southern Guatemala was founded in the 16th century and is now a top tourist destination in Central America. It was originally called Santiago de Guatemala and served as the first capital of the country. Because the city is located at 1,500 meters above sea level in an area surrounded by volcanoes, natural disasters were common. In 1773, the Santa Marta earthquakes destroyed most of the town so the capital was moved to Guatemala City.
Disclosure: This article contains affiliate links. Making a purchase through an affiliate link will mean a small commission for this website. This will not affect your price.
Despite frequent disasters in Antigua, many of the beautiful colonial architecture, religious monuments, and cultural landmarks remain. After being abandoned for a century, the city was rebuilt and re-inhabited in the mid-1800s. Nowadays, travelers from all over the world travel here to admire historic sites, ruined churches, charming colonial buildings, and breathtaking volcano-studded landscapes.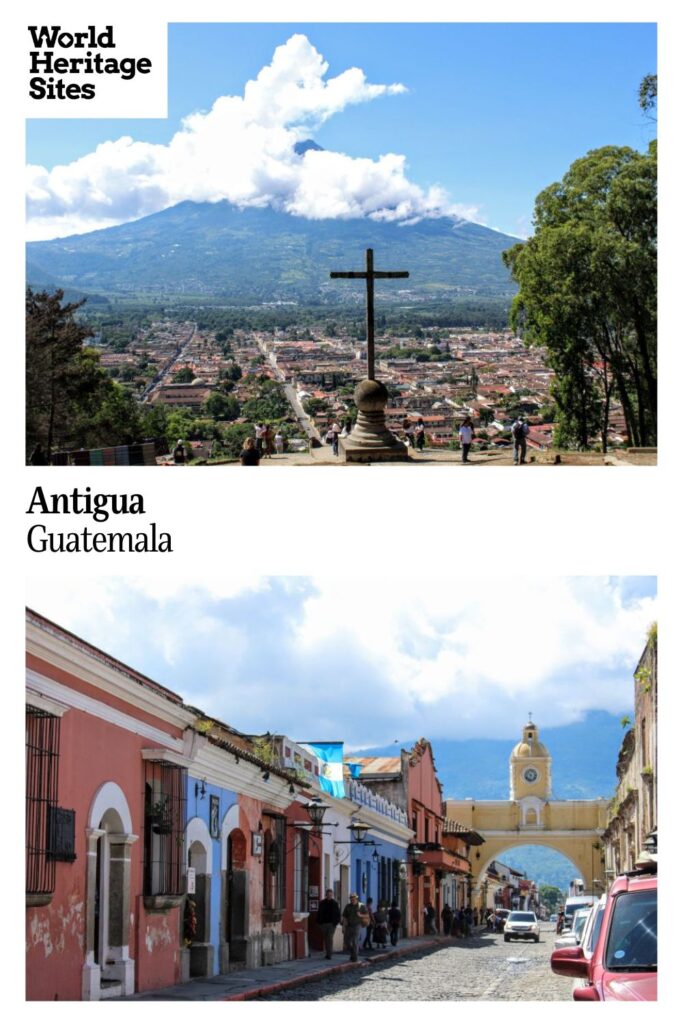 Why is Antigua Guatemala a UNESCO World Heritage site?
Antigua became a World Heritage site due to its fascinating display of Spanish culture, colonial architecture, and city planning. Antigua is one of Latin America's earliest examples of city planning, with grid-like streets inspired by the Italian Renaissance. UNESCO recognizes that the city "contains living traces of Spanish culture," mainly through its Baroque architecture and impressive Christian monuments and churches.
This incredible city has managed to survive despite intense earthquakes, volcanic eruptions, and avalanches. Impressive examples of Spanish religion, culture, and artistry still stand tall, even though some landmarks remain in ruins.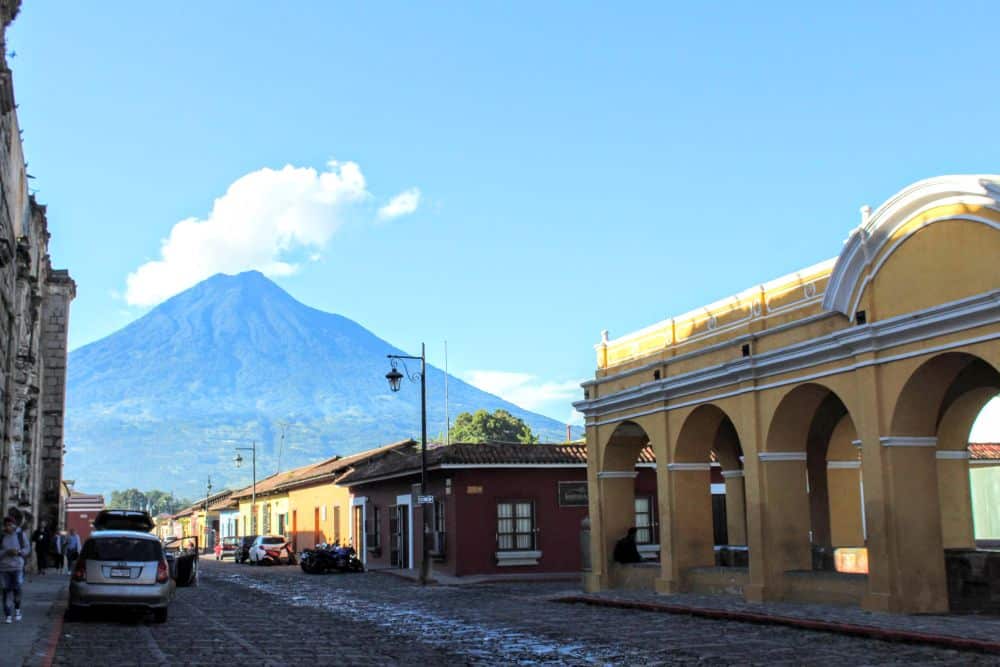 What can you expect on a visit to Antigua?
Antigua Guatemala is a visually stunning town that is full of interesting sights and activities. My favorite way to see the area is just going on a self-guided walking tour. Stroll down the rickety, cobbled streets and admire the intricate architecture and colorful buildings.
While exploring, stop at impressive churches like Iglesia De La Merced, Antigua Cathedral, and Iglesia San Pedro. There are also numerous ruined churches that are still standing but show the damage inflicted by the famous earthquake, such as Iglesia Del Carmen and Iglesia De San Francisco. The canary-colored Arco de Santa Catalina is maybe the most photographed spot in town. This bright yellow arch used to serve as a passageway for nuns to cross between convents.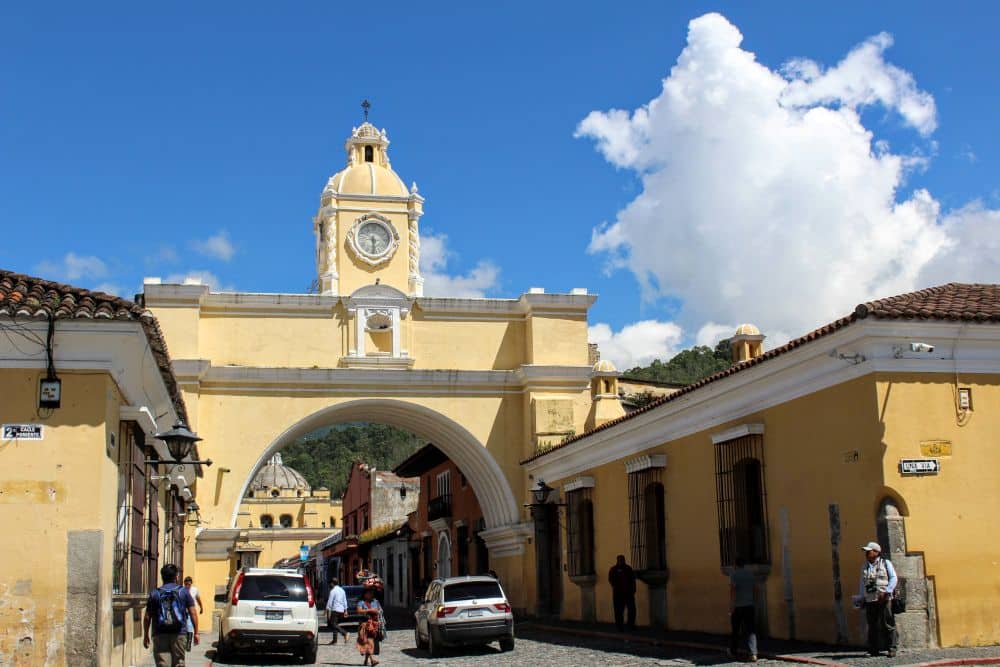 Aside from photogenic landmarks in the town center, there are plenty of other treasures awaiting travelers in Antigua Guatemala. El Mercado is the local market hall, which covers many blocks at the western end of Calle Poniente. Get lost in the crowded maze of the central market, practice your Spanish with the kind vendors, and sample some fresh local produce. Parque Central is a charming green space in the town center where you can relax in the shade, people-watch, and listen to street music.
To learn more about what you're seeing, take a short walking tour of Antigua.
My favorite part of Antigua Guatemala is the various hiking opportunities in the area. For a short uphill jaunt, you can hike to Cerro De La Cruz and enjoy an incredible viewpoint over the UNESCO World Heritage site of Antigua Guatemala. Those looking for a real adventure can hike one of the nearby volcanoes. I did a two-day trek up Volcan Acatenango and watched Volcan Fuego erupt nearby during the night. It was one of the most epic nights of my life!
Is Antigua Guatemala worth visiting?
Antigua is absolutely worth visiting. It is one of the most beautiful towns in Central America, and if you're visiting Guatemala, Antigua should honestly be at the top of your list of places to see. This charming town has plenty of attractions, including local markets, viewpoints, shops, parks, historic sites, nearby hikes, and more. There is a wide range of accommodations available, from cheap backpacker hostels to luxury hotels and guesthouses.
You can explore this small city in one full day, though two days is better so you don't have to rush. If you want to do some day trips to nearby volcanoes, then three days is ideal. You don't really need more than three days in Antigua.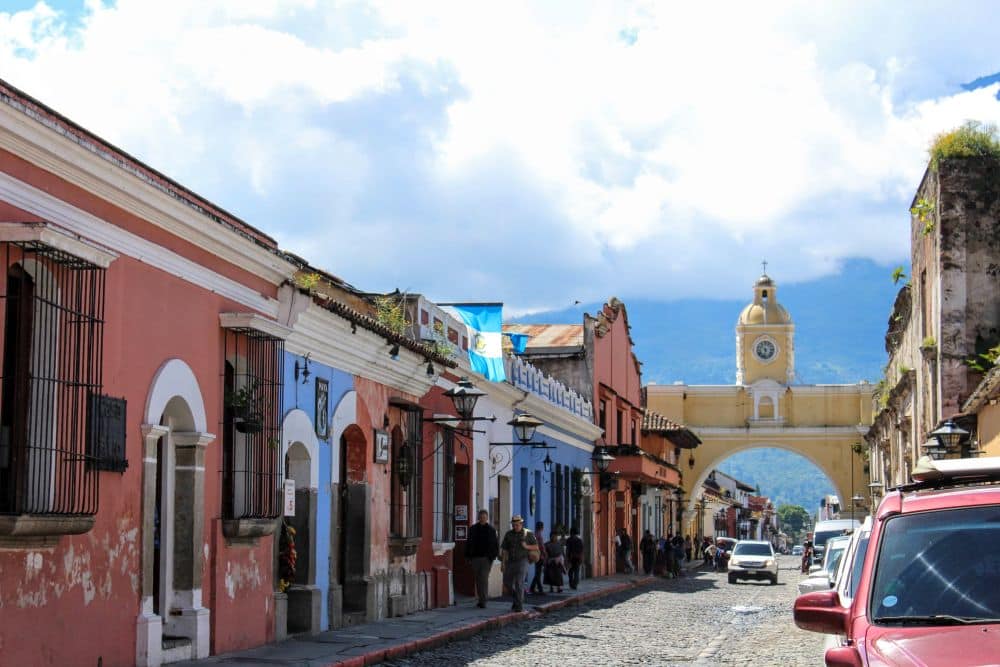 While you're in the country, also think about traveling up north to Tikal National Park to see the pre-Columbian ruins.
What sorts of travelers would like Antigua?
If you're interested in history, architecture, hiking, food, and culture, there is something in Antigua for you! There are so many historic sites, ruins, and churches to entertain any history buff. Local markets, shops, parks, cafes, bars, and restaurants are plentiful to satisfy all your cravings for local cuisine and culture. Nearby volcanoes make epic hiking spots, and the scenic cobblestone streets lined with colorful buildings are picturesque enough to amaze any traveler.
Antigua is also very popular for people who want to learn Spanish. It is home to a number of language schools that offer intensive daily half or full-day lessons, either private or in small groups, often combined with accommodations in homestays.
Book your accommodations in Antigua.
Tips for visiting Antigua
The best time to visit Antigua Guatemala is during the dry season, which runs from November to early May. You can still visit the city in the rainy season, from May to October, but you'll have much clearer weather during the dry season.
I also recommend wearing comfortable walking shoes in Antigua, and avoiding any shoes or roller bags that may be damaged on the cobblestone streets. Antigua is a small city and there are taxis available but you will most likely explore on foot!
Make sure your camera batteries are charged and your memory cards are empty, because Antigua is gorgeous and you'll want to take photos of everything. Popular photo spots like Arco de Santa Catalina are best visited in the early morning to avoid crowds.
If you have time, I highly recommend hiking one of the volcanoes outside Antigua. The natural scenery is outstanding! Many travelers also combine Antigua with a visit to Lake Atitlan. This beautiful lake within a volcanic crater is just two hours away from Antigua and there are many local shuttle buses that make the trip daily.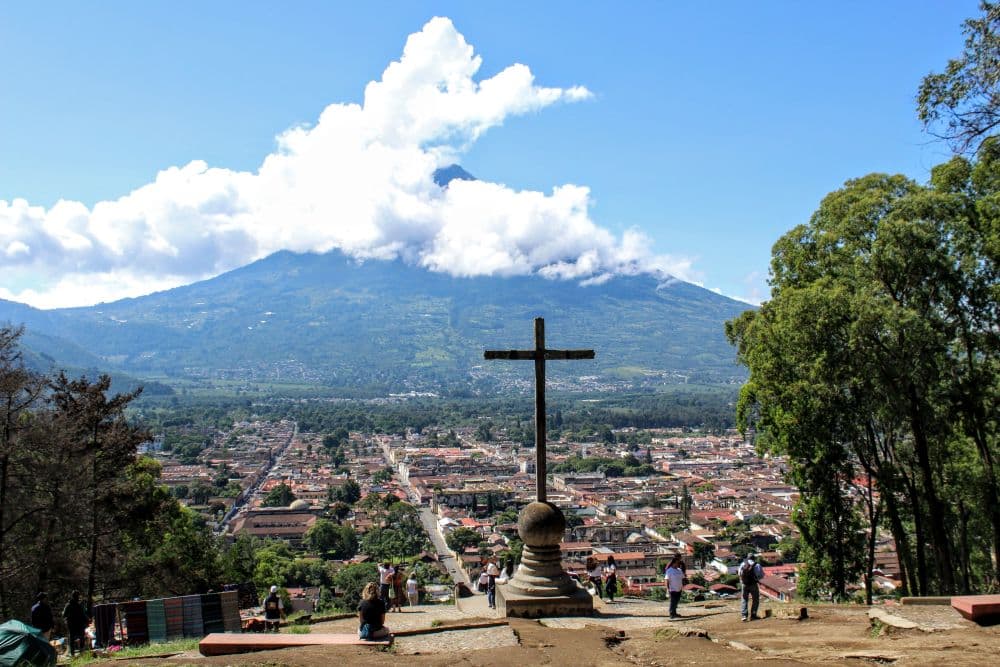 Where is Antigua ?
Antigua is a small city located in the south of Guatemala. It is a 50-minute drive from Guatemala City, the capital of Guatemala, which has its own international airport. There is plenty of public transport from La Aurora International Airport in Guatemala City to Antigua.
The cheapest form of public transport is a chicken bus, which is an old American school bus that has been painted and converted into local transport. Chicken buses are cheap, crowded, and slow-moving, but they are a wild local experience to have.
The most common form of public transport to Antigua is a shuttle bus. These small vans accommodate smaller groups and take just under two hours to reach Antigua. You can also take a relatively cheap taxi from the airport, as it's only a 50-minute drive directly to Antigua.
Once you arrive in Antigua, driving around is easy as there is little traffic and the streets are pretty quiet. But you should drive slowly and carefully because the cobblestone streets can be rough on most vehicles. Parking is 10Q per day, and you can buy a parking permit at any of the Municipal transit agents around town.
Text and photos by Gabby Boucher of Budget Travel With Gabby Currently based in Sydney, Gabby is an adventurous budget traveler from the USA who loves volunteering and working in unique places around the world. Hiking volcanoes and working at a paddle-boarding company in Guatemala are two of her favorite travel memories, and she is always looking forward to her next adventure.
Have you been to Antigua in Guatemala? If so, do you have any additional information or advice about this UNESCO World Heritage site? Please add your comments below!