San Agustín Archaeological Park
By Adam McConnaughhay
What is the San Agustín Archaeological Park?
The San Agustín Archeological Park, located near the town of San Agustín, Colombia, is actually comprised of three main sites. All house burial mounds with large statues representing gods and animals of an indigenous society that flourished in this area in the Regional Classic period, about 1-900 AD.
Disclosure: This article contains affiliate links. Making a purchase through an affiliate link will mean a small commission for this website. This will not affect your price.
The main site located just outside of San Agustín is the largest of the sites and includes of four burial mound complexes within a short distance of each other. There are statues from other sites nearby on display here as well.
The other two sites, known as Alto de los Ídolos and Alto de las Piedras, are located nearby and also have burial mounds complete with more impressive statues.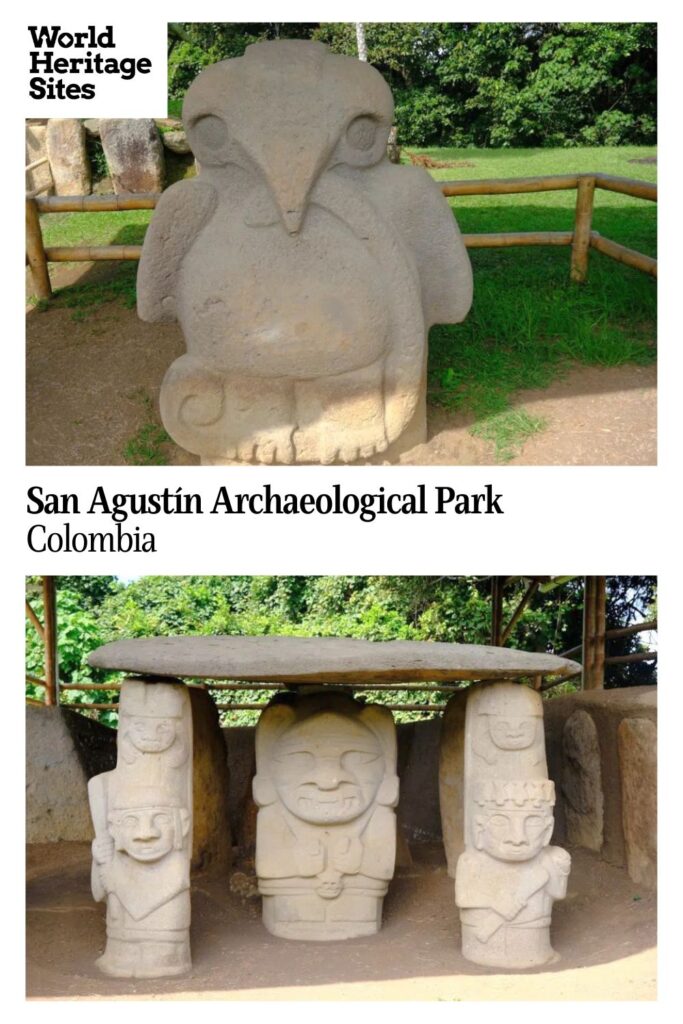 Why is the San Agustín Archeological Park a UNESCO World Heritage site?
The UNESCO website describes this as the "largest group of religious monuments and megalithic sculptures in South America." The burial mounds are believed to have been constructed in the first century CE by one of the first complex societies in the Americas.
The statues blend abstract and realistic representations and reveal the creativity and complexity of this precolonial society. The group of burial mounds and statuary "bears vivid witness to the artistic creativity and imagination of a prehispanic culture that flowered in the hostile tropical environment of the Northern Andes."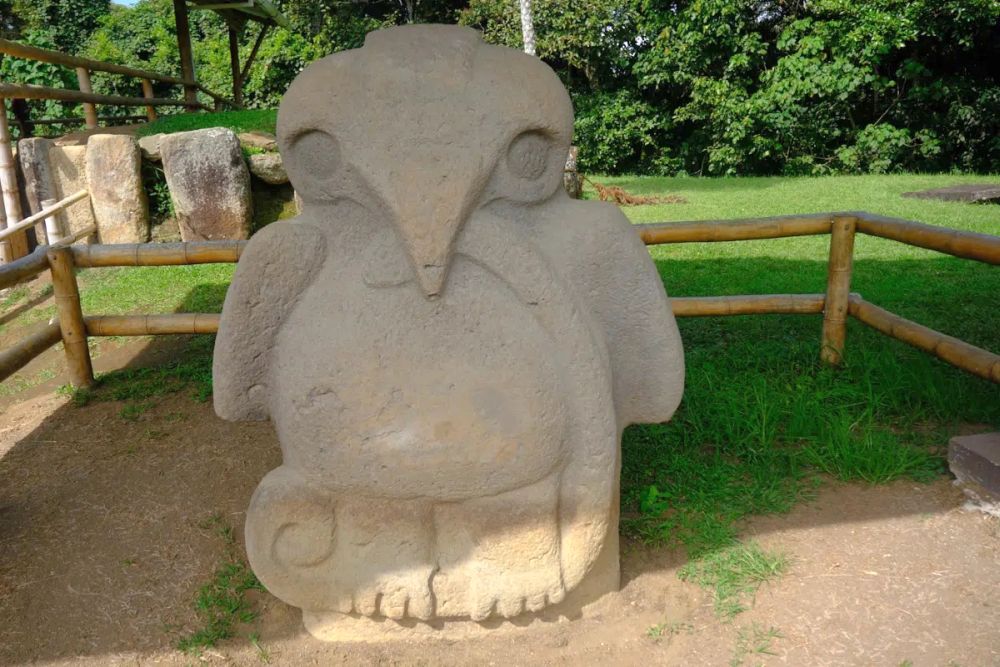 What can you expect on a visit to the San Agustín Archeological sites?
The statues are extremely well preserved and impressive at all the sites. The main site has the most examples and is the easiest to visit. You can easily walk to the four burial mounds, each with many statues ranging from a couple feet tall to some over seven feet tall.
In addition to the mounds, there is a neat carving into the stone floor of a small creek. One of the mounds is also located atop a hill that provides amazing views of the rolling green and lush hills of the Andes in this region of Colombia. The entire surrounding landscape adds to the mystique of visiting.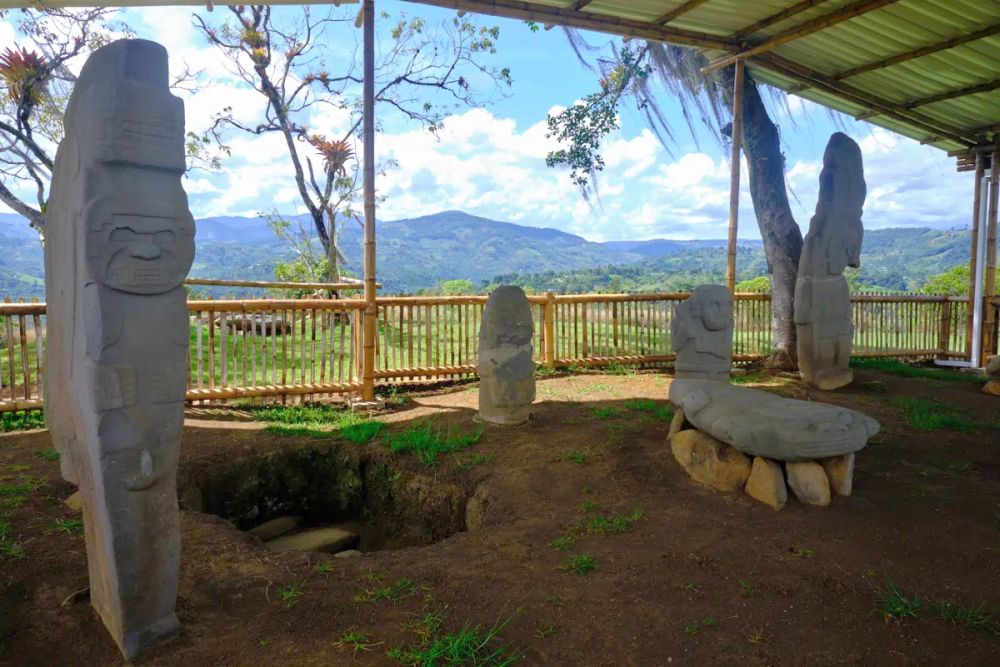 The other two sites are smaller, but also have some impressive statues. Some standouts include stones in a few tombs at the Alto de los Ídolos site that look like crocodiles, which some anthropologists believe is evidence that this society had trade and contact with Amazonian tribes. Another is the statue known as the "double me" at the Alto de la Piedras site that anthropologists believe may have been a representation of an early form of psychoanalysis.
There are several other sites nearby that are not officially part of the San Agustín Archeological Park that also have statues and tombs on display. One is La Pelota, which has statues where colored dye can still be seen. There is also a large statue overlooking the river at the site known as La Chaquira. Finally, there are small collections of tombs and statues at sites named El Tablón and Obando.
In addition to the archeological sites, there are several waterfalls that are visible, and there is a stretch of narrows near the headwaters of the Magdelena River that is another popular place to visit nearby as well.
Is it worth visiting San Agustín?
For those interested in historic sites and pretty mountain views, yes.
This area of Colombia west of Bogotá is generally much less traveled than the more well-known destinations of Cartagena, Medellín, and the Coffee Region. Nestled up in the Andes, San Agustín can also be a bit difficult to reach.
Therefore, for those with limited time in Colombia, it may be best to stick to the better-known destinations mentioned above. However, for those with more time who are interested in seeing these sites, the visit is well worth it. The scenery of the surrounding area is very pretty and it is relatively close to the Tatacoa Desert, another neat and lesser-known place to visit in Colombia.
What sorts of travelers would like San Agustín Archeological Park?
Those interested in history and archaeology would definitely like the San Agustín Archaeological Park. Those who like the mountains, nature, and small towns will also enjoy the surrounding scenery.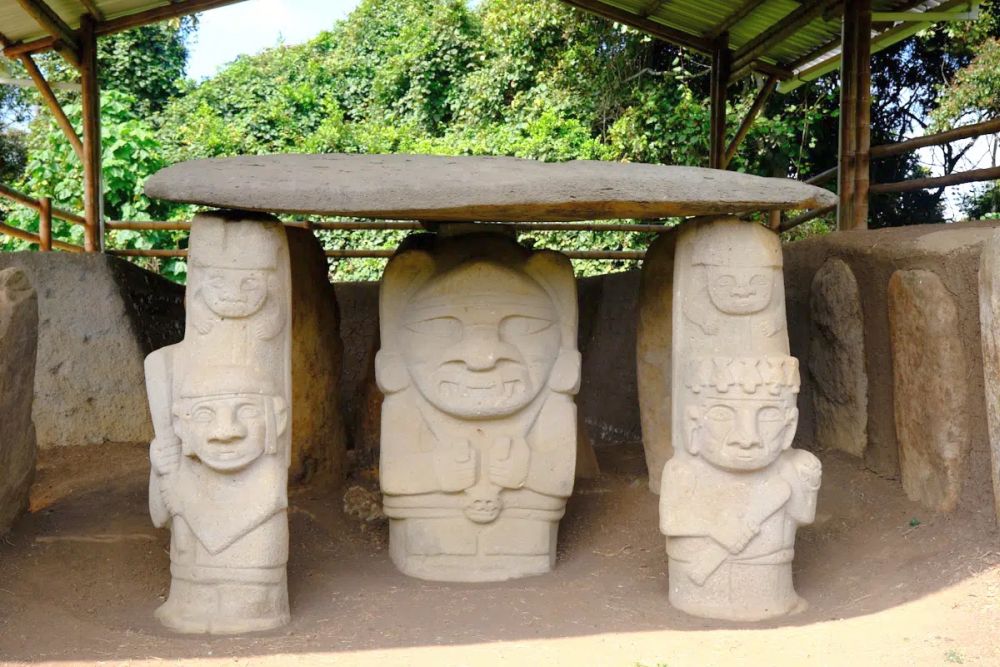 Tips for visiting San Agustín
The main park does attract a fair number of visitors, so it is best to visit early in the day. It can be reached by taxi or by walking from town. When you purchase your entrance ticket, whether it be at the main site or at one of the other two sites, you can enter them all within 48 hours.
So, it is best to plan one day for the main park and either the afternoon or the following day to visit the other two sites. Because there are several other sites to see along the way, combining them with Alto de los Ídolos and Alto de las Piedras the next day is the best way to see as much as possible in the surrounding area.
Located in the mountains, San Agustín can get chilly at night but can also warm up on sunny days. Therefore, comfortable clothes along with a jacket are essential to pack. Comfortable walking shoes are also necessary.
Where is San Agustín Archeological Park?
The main park is located just outside of San Agustín town. It is reachable by car or taxi in about 10 minutes or by walking for approximately half an hour.
San Agustín is located in southwest Colombia. There is no airport, but it is reachable by bus. The nearest cities are Popayán and Neiva, both of which have smaller airports and can also be reached by bus from the much larger cities of Cali or Bogotá. Due to the mountainous terrain and frequent work on the roads, buses from Nevia and Popayán to San Agustín can take between 4 and 6 hours. Travel by bus from Cali or Bogotá will take the better part of a full day.
Alternatively, rent a car and drive there yourself.
Many travel agencies also offer packages that include private transportation in comfortable vehicles like this jeep tour.
To reach the other two sites that are part of the park, both roughly an hour outside of San Agustín by car, travelers can hire a taxi, contract a driver for the day, or contract with a local guide that includes transportation.
The San Agustín Archaeological Park does not have an official website, but you can see its opening hours and admission fees at this informational site.
Text and photos provided by Adam McConnaughhay of CartagenaExplorer.com. Adam lived in Cartagena, Colombia from 2011 to 2022 and had the opportunity to visit much of the country, including San Agustín. He writes about his travels in Colombia on his site.
Have you been to San Agustín? If so, do you have any additional information or advice about this UNESCO World Heritage site? Please add your comments below!