Chiribiquete National Park – "The Maloca of the Jaguar"
By Adam McConnaughhay
What is Chiribiquete National Park?
Chiribiquete National Park is a large protected area in south-central Colombia. The rugged landscape known as the Serranía de Chiribiquete consists of rocky and mountainous highlands and surrounding lowlands, mostly covered by jungle. This area marks the northern reaches of the Amazon rainforest.
Disclosure: This article contains affiliate links. Making a purchase through an affiliate link will mean a small commission for this website. This will not affect your price.
The park is not only the largest National Park in Colombia but also the largest rainforest national park in the world. It consists of around 17,000 square miles (44,000 square km) of protected area. Besides its importance as a natural ecosystem, the area is known for unique examples of rock paintings made by ancient indigenous cultures. Archeologists believe these paintings may date to tens of thousands of years ago.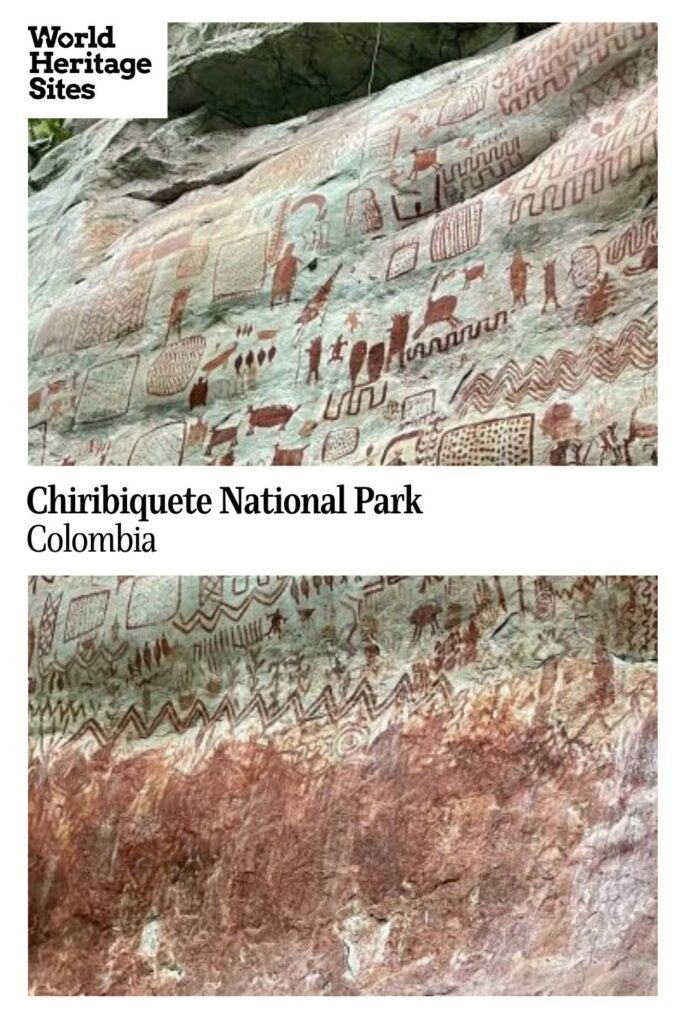 Why is Chiribiquete a UNESCO World Heritage site?
Chiribiquete is classified as a UNESCO World Heritage site for three main reasons. First is its unique geography with tepuis, or table-top mountains, that rise above the rain forest, giving the area gorgeous scenery. The area is the westernmost part of the Guiana Shield.
Second is the importance of the area as an ecosystem. In addition to being undeveloped and well preserved, it also marks the meeting place of the Andean, Orinoquia, Guyana, and Amazonia biogeographical areas. The area is rich in biodiversity and home to many important species, including the jaguar, puma, tapir, giant otter, and howler monkey. The area is home to nearly 3,000 plant and animal species in total.
Finally, the presence of ancient rock art is a testament to the area's historic importance for indigenous communities in and near the Amazon. Sixty rock walls have been found with figures and many more may remain undiscovered. Some may date to as early as 20,000 BCE. Many remaining indigenous cultures in nearby areas consider the area sacred. There may still be uncontacted indigenous communities in the park today.
As for the park's second name, a maloca is a traditional longhouse. The jaguar is one of the rare mammals that the park protects, and is also depicted in the rock art found in the park.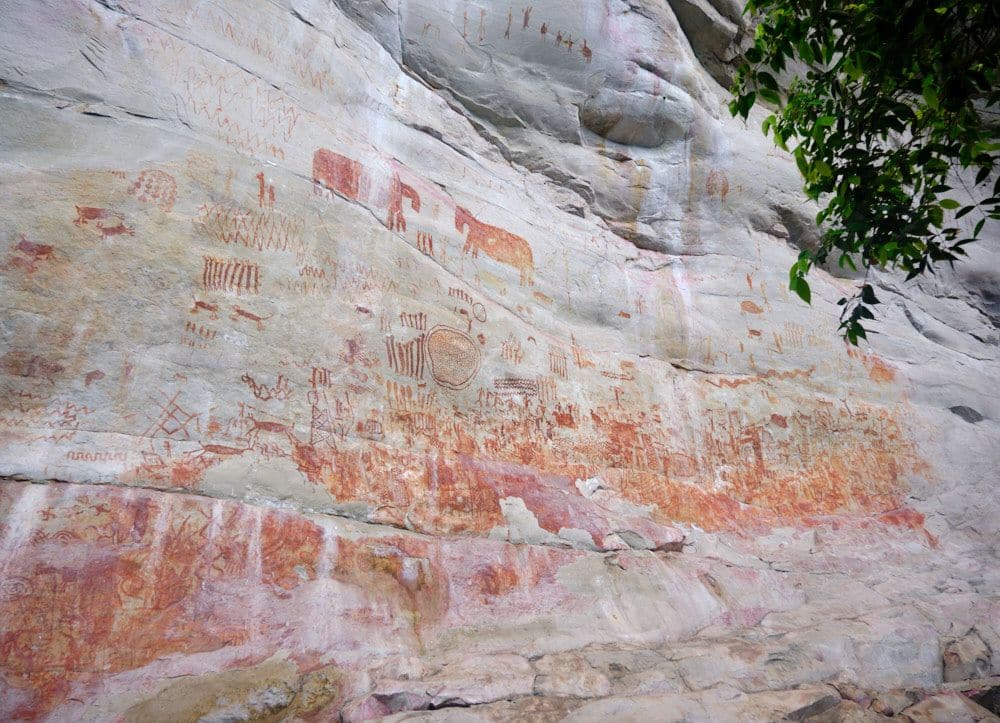 What can you expect on a visit to Chiribiquete National Park?
Due to the uncontacted tribes and remote nature of the park, visits to Chiribiquete National Park are prohibited. The only way to see the park is via flyover in helicopters or small planes from a small handful of tour agencies that have special permission from the Colombian National Park and Aviation authorities to fly over the area.
Read about other UNESCO sites in Colombia.
Is Chiribiquete worth visiting?
Yes, to the extent that you can visit it, it is worth visiting. The views on a flyover are breathtaking if you like to see sights of great natural beauty. Outside of the park there are ample opportunities for hikers to get their fill of trekking through primordial rainforest as well.
If prehistoric art interests you, then you would enjoy the locations outside the park that are open for visitors.
Take a full-day tour into the jungle to see rock paintings.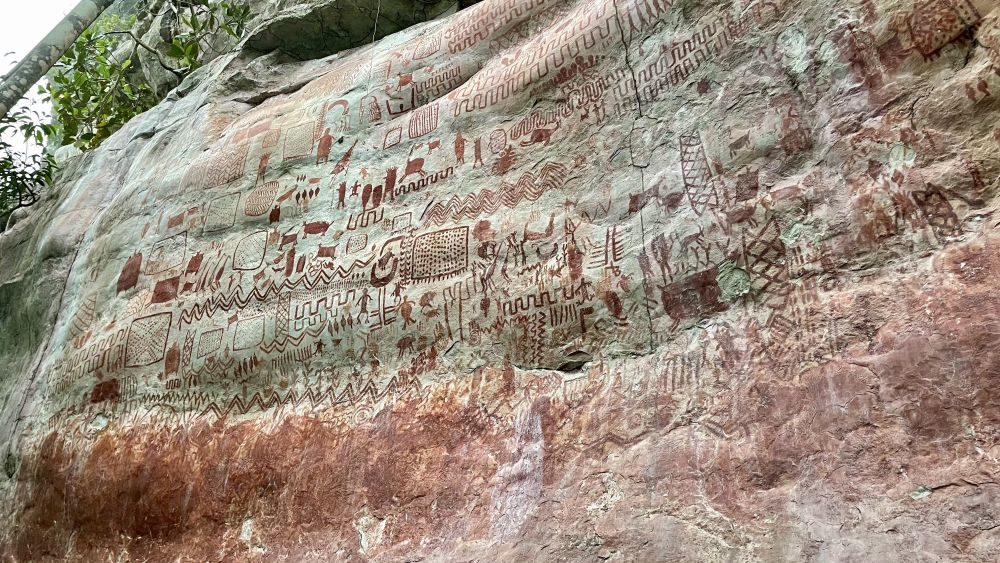 Tips for visiting Chiribiquete
Do not try to visit Chiribiquete on the ground. Instead, sign up for a flyover. The flyovers generally are organized out of San José del Guaviare, the main city in neighboring Guaviare province.
You can also visit similar examples of rock paintings that likely were made by the same ancient indigenous culture at several sites open to the public outside the borders of the protected area. They can be reached from San José del Guaviare as well. The Serranía de la Lindosa plateau in the area surrounding the city, while not nearly as impressive as those in Chiribiquete, also has interesting rock formations.
The surrounding area has lots of hiking and wildlife-spotting opportunities as well. The improved security situation in Colombia has San José del Guaviare growing as a destination for ecotourism. It is still worth a visit for those interested in nature who cannot plan or afford a flyover of Chiribiquete.
This four-day tour includes rock paintings and several hikes in the jungle.
Where is Chiribiquete?
San José del Guaviare can be reached by bus or flights from Bogotá. Flying will take about 3 hours. A bus ride can go as long as 10 hours, while driving in a taxi or rental car will be faster: perhaps 6-7 hours.
Learn more about Chiribiquete's ecosystem and geology on the Colombia National Parks website.
Text and photos provided by Adam McConnaughhay of Cartagena Explorer. Adam lived in Cartagena, Colombia from 2011 to 2022 and had the opportunity to visit much of the country, including San Agustín. He writes about his travels in Colombia on his site.
Have you been to this region of Colombia and/or done a Chiribiquete flyover? If so, do you have any additional information or advice about this UNESCO World Heritage site? Please add your comments below!