Coffee Cultural Landscape of Colombia
By Pati
What is the Coffee Cultural Landscape?
Colombia Coffee Triangle (Coffee Axis or Eje Cafetero in Spanish) is one of the most visited regions in the country, and for a very good reason. It is at the heart of Colombia, set within a lush mountainous landscape boasting rich fauna and flora, most beautiful hikes, waterfalls and vibrant culture. Colombia's Coffee Triangle extends to three departments of Colombia – Caldas, Risaralda and Quindío – and this is where some of the best coffee in the world is grown while largely retaining its original production process. Colombia is the third biggest coffee exporter in the world.
Disclosure: This article contains affiliate links. Making a purchase through an affiliate link will mean a small commission for this website. This will not affect your price.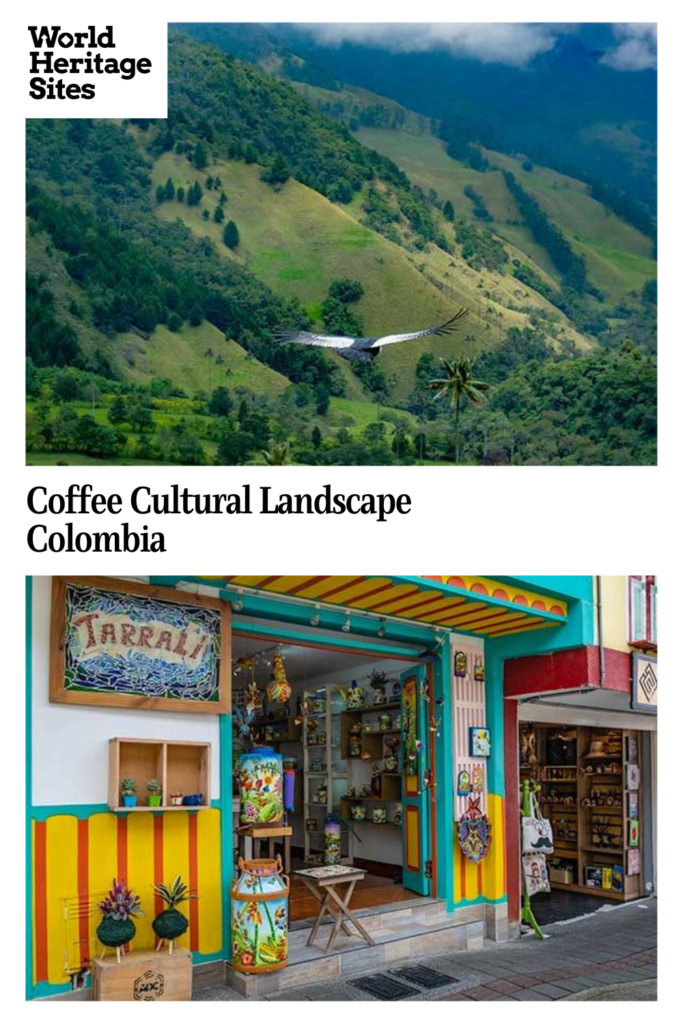 UNESCO site Eje Cafetero is most famous for its colourful traditional pueblos like Jardin, Filandia or most popular Salento, as well as spectacular Cocora Valley, where the highest wax palms in the world can be found.
There is something very special about the region. Life has not changed much for centuries. The landscape and architecture have retained their old charm, and life seems to be slower and much more relaxed. Here you can take a ride in a traditional Willy Jeep, eat the freshest trout, and spot the most incredible tropical birds. Numerous and excellent coffee farms and fincas offer complete coffee tours where you can learn about the coffee-growing process, learn how to distinguish good coffee from bad coffee and, of course, sample the best coffee in the world.
Why is the Coffee Cultural Landscape a UNESCO World Heritage site?
Colombia's Coffee Cultural Landscape, also known as Coffee Triangle or Coffee Axis, was declared a UNESCO World Heritage Landscape on June 25th, 2011. According to the UNESCO listing, Eje Cafetero is an authentic representation of "man's adaptation to challenging geographical and climatic conditions of this area" while retaining traditional forms of production as well as minimal changes to its architecture or traditions. Its landscape has indeed not changed much in the last century, and watching older men in cowboy hats sipping coffee from fancy china cups on the main square in Jardin is a great example.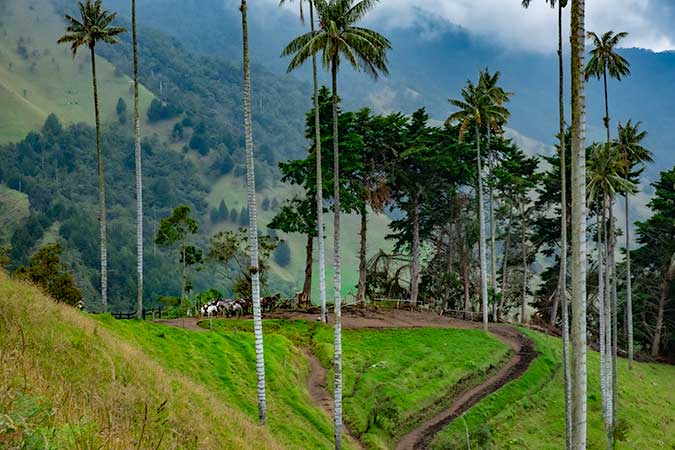 According to UNESCO, the Coffee Cultural Landscape of Colombia is "an exceptional example of a sustainable and productive cultural landscape that is unique and representative of a tradition that is a strong symbol for coffee growing areas worldwide."
What can you expect on a visit to the Coffee Triangle?
There is plenty to see and do in Colombia's Coffee Triangle. You can spend anything from a couple of days to a couple of months in the region and never run out of things to do. The two most popular attractions of the region are coffee-growing experience tours and a visit to Cocora Valley.
The coffee tour can be taken from numerous locations, but the most popular towns offering this experience are Jardin, Salento and Filandia. Those are also stunning, colourful pueblos boasting great restaurants and coffee shops and offering incredible views over the mountains and valleys.
Cocora Valley is one of the most prominent attractions of the region. This is where the tallest wax palms in the world can be found, and it is one of the most recognizable Colombian landscapes.
Is the Coffee Cultural Landscape worth a visit?
The Coffee Cultural Landscape of Colombia is a territory with a unique natural charm, striking green landscapes, and farming and production that coexists and preserves the natural environment. It is a land of great beauty boasting endless activities and places to see. Hiking, zip-lining, quad biking, strolling the streets of traditional pueblos, hot springs and waterfalls – this and so much more makes the Colombia Coffee Region not only worth a visit but a must-do for anyone travelling to Colombia.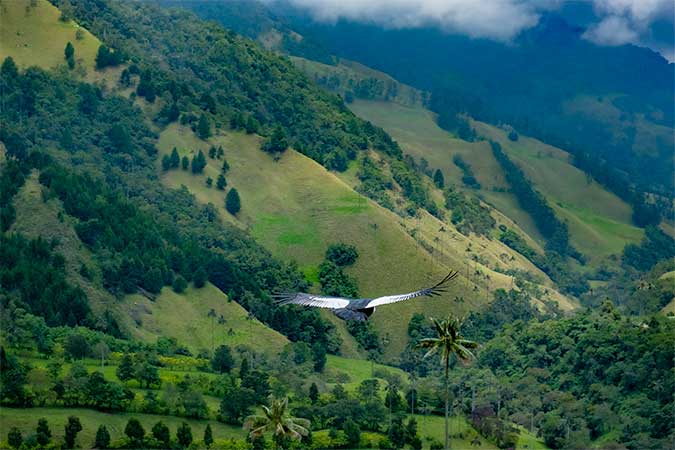 Tips for visiting the Coffee Cultural Landscape
Plan extra time for visiting the region. A couple of days is definitely not enough – it is a vast region, and a week would be a minimum time to spend in Colombia Coffee Region.
Given its location among the mountains and often higher altitude, the weather changes a lot. Take shorts and sandals but also warmer clothes, hiking shoes and a rain jacket.
Take a Willy Jeep ride – it is a one-of-a-kind experience!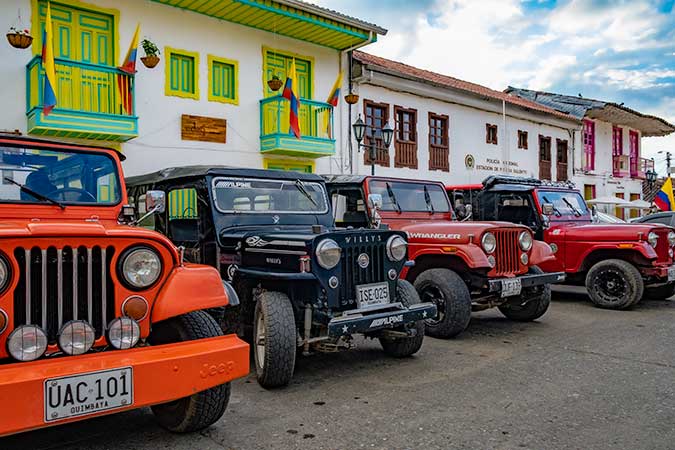 In Colombia, in general, cash is king. Cash points can be found in the majority of the small towns, and many establishments or tour companies will only accept cash.
To avoid crowds, visit during the week. This area of Colombia is very popular among foreign travellers as well as Colombians. Towns like Salento can get very busy on the weekend.
The best town to base yourself in to explore the region is Salento, as most of the tours and transportation to other parts of the coffee triangle can be found here.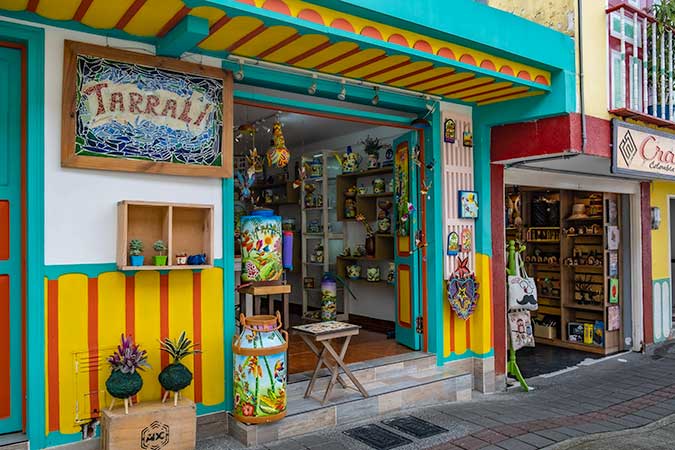 For an in-depth guide to the town of Salento, visit this article.
To book your accommodations in Salento, use the map below:
Where is the Coffee Cultural Landscape?
Colombia Coffee Region is located in the centre of the country. It spreads across three Colombian departments of Caldas, Risaralda and Quindío, with many towns located at higher altitudes. It is a part of the Colombian Paisa region in the rural part of Colombia set among the foothills of the Los Nevados National Park.
It can be easily accessed from nearby cities like Manizales or Pereira, and the bus journey will last around an hour, depending on the final destination.
Driving to the region is possible but not recommended. There are bus routes and flights from the cities of Medellin and Bogota, and given the mountainous landscape, flying is the best way to get to the region. The fastest way of getting to the Coffee Triangle is by direct flights from Bogota or Medellin, which should take around an hour. Medellin is the most popular gateway with frequent flights to Pereira and Manizales.
Buses depart Bogota or Medellin towards Salento and Jardin. A bus journey from Medellin or Bogota can take anything up to 10 hours, including a change in Armenia, Pereira or Manizales.
Although the bigger cities of Armenia, Manizales or Pereira could make a good base for exploring the region, I recommend staying in smaller pueblos like Jardin, Filanda or Salento, where you can find many charming, traditional hotels and hostels offering a more authentic experience.
Text and photos provided by Pati of 'Pati's Journey Within". Pati is a full-time traveller, blogger, photographer and who creates travel guides, stories and more on her blog Pati's Journey Within, which is geared towards conscious travellers, digital nomads and those wanting to travel slow, experience the cultures and learn more about themselves in the process. On her blog and Instagram pages, you will find stories and guides, multiple photographs, travel tips, and honest opinions derived from personal experience. Pati doesn't count the countries – she counts the memories.
Have you been to Colombia Coffee Region? If so, do you have any additional information or advice about this UNESCO World Heritage site? Please add your comments below!