By Natalie & Steve
What is Ningaloo Coast?
The Ningaloo Coast's main feature is a fringing coral reef – one of the largest in the world. It runs for 260 kilometres (162 miles) along the northwest coast of Western Australia. A feature of the reef is how close it is to land. In several locations, the inner reef is as little as 50 metres (164 feet) from shore. The many sanctuary zones along the reef make it a haven for snorkellers, divers and wildlife watchers who come to enjoy the marine life.
Disclosure: This article contains affiliate links. Making a purchase through an affiliate link will mean a small commission for this website. This will not affect your price.
Cape Range National Park is also in the World Heritage area. This long mountain range near the coast has spectacular canyons and gorges, is home to endangered eagles and wallabies and is a spectacular backdrop for enjoying Western Australia's wildflower season.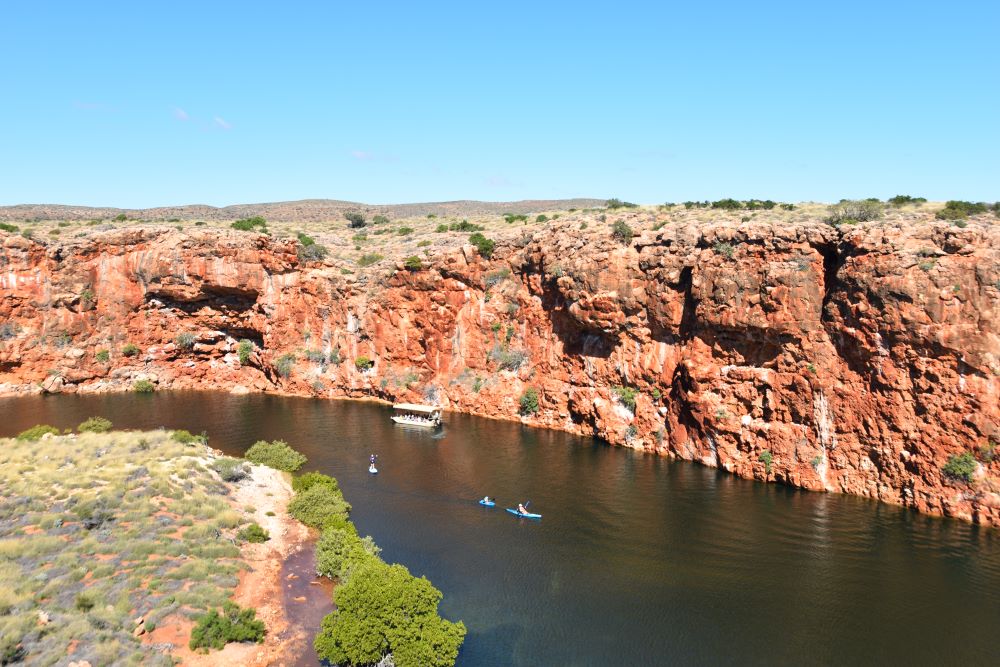 Why is Ningaloo Coast a UNESCO World Heritage site?
The Ningaloo Coast was proclaimed in 2011. The area is described by UNESCO as having "aesthetically striking landscapes and seascapes formed by the ocean and arid coast." It also features endemic species found in the Cape Range and diverse and abundant marine life on the reef.
What can you expect on a visit?
The great thing about Ningaloo Reef is how accessible it is. From the beach, you can be snorkelling on the reef in minutes. The corals at Ningaloo are one of the first things you notice. They aren't the delicate, colourful type you might find on a barrier reef. The corals here are massive – they look like giant cabbages and brains.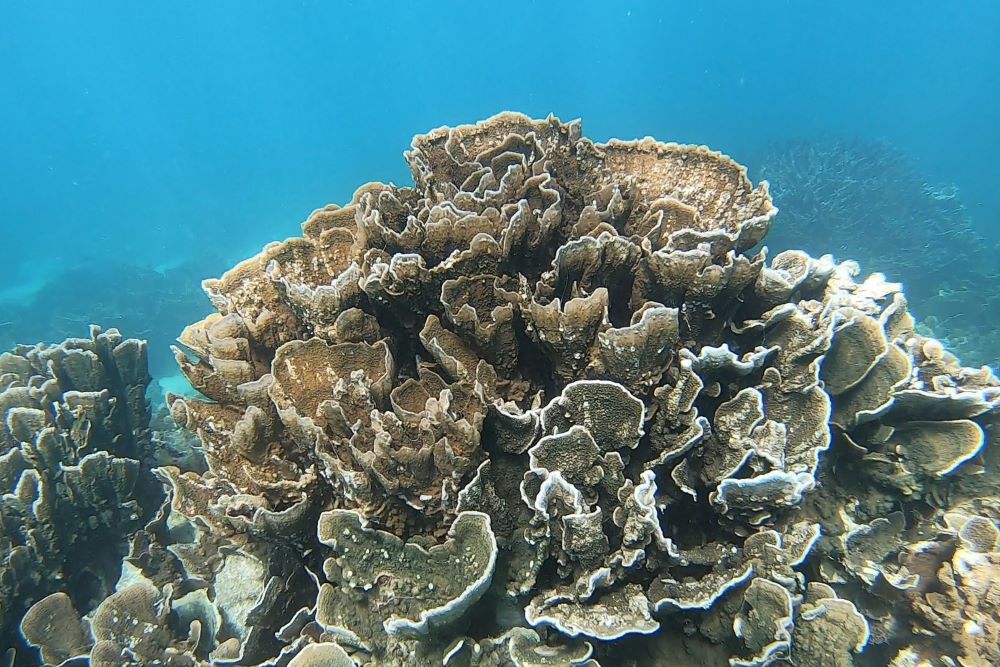 Apart from the abundance of marine life, the other thing you can expect is a wide variety of snorkelling locations. From Exmouth, the snorkels at Turquoise Bay, the Oyster Stacks and Lakeside Sanctuary are all wonderful, safe and different experiences. There is similar variety at Coral Bay: Bills Bay, Paradise Beach and Five Finger Reef are all magnificent. You can also go on tours to swim with some of the reef's bigger creatures including manta rays, whale sharks and humpback whales.
The rugged beauty of Cape Range National Park is a real contrast to the reef. You can hike, drive and cruise through it. Not only will you spot a lot of wildlife, the views of the red rock canyons and gorges out to the turquoise water of the reef are spectacular.
Is it the Ningaloo Coast worth visiting?
Given its remote location, you're not going to happen across the Ningaloo Coast as you visit some of Australia's better-known attractions. But if you like an adventure, if nature spotting and snorkelling are things you enjoy and if you want to explore a spectacular landscape, the Ningaloo Coast is a World Heritage site worth visiting.
You will want to give yourself a week to see the Ningaloo Coast. There is the length of Cape Range to explore, multiple shore-based snorkelling sites to try, day-long wildlife cruises to fit in and you'll want time to have a look around Exmouth and take in its rich social and military history. Go to this site for a selection of tours and activities along the Ningaloo Coast.
Tips for visiting
The best time to visit is from April to October, while peak season is June to August. Outside of these times, there are no whale sharks around and it is common for day temperatures to exceed 40 degrees Celsius (104F).
At Cape Range National Park, put the Yardie Creek cruise, Mandu Mandu Gorge hike, Charles Knife Canyon Lookout and Shothole Canyon scenic drive on your to-do list.
In peak season, whale shark tours book out weeks in advance so book early if this is an experience you want to have.
If you're visiting Exmouth and plan to be in the water a lot, stay on the beach side of the peninsula to avoid lots of driving. There are national park campgrounds by the beach or stay at the Yardie Creek Homestead.
The map below can help you find accommodations in or near Exmouth:
Where is the Ningaloo Coast?
The Ningaloo Coast is on the northwest coast of Australia. The nearest major city is Western Australia's capital, Perth, 1200 kilometres (746 miles) away. The best locations to access the Ningaloo Coast are Coral Bay at the southern end and Exmouth to the north. Coral Bay is a small holiday village and has some of closest access points to the reef. Exmouth is also near the reef and right next door to Cape Range National Park.
You can fly into Exmouth. then hire a car to get around. Otherwise, the road trip from Perth to Exmouth takes approximately 12 hours. The road is sealed all the way. Driving at night can be unsafe because of the amount of wildlife on the road.
For more information about the Ningaloo Coast, its attractions and where to stay, see its official website.
Text and photos provided by Curious Campers. Natalie & Steve have been travelling Australia for over ten years and have heaps of firsthand experience on a range of destinations, tours and activities. So, if you want to 'know before you go', they can help you out. From daytrips and wildlife tours to accommodation reviews and local sights, Curious Campers can help you put together the perfect itinerary. Find them on Facebook or Instagram.
Have you been to the Ningaloo Coast? If so, do you have any additional information or advice about this UNESCO World Heritage site? Please add your comments below!