Shark Bay, Western Australia
By Natalie & Steve
What is Shark Bay?
Shark Bay is a collection of dramatic landscapes, each as different as they are spectacular. On a visit to the site, you'll see everything from hyper-saline bays, home to stromatolites and tiny cockle shells, to turquoise blue water lapping against rust red sea cliffs.
The World Heritage zone covers a large area on the northwest coast of Western Australia. It comprises the Peron and Denham Peninsulas, Dirk Hartog Island and Hamelin Pool. While the locations across Shark Bay are wonderfully diverse, a constant is the abundance of wildlife.
Disclosure: This article contains affiliate links. Making a purchase through an affiliate link will mean a small commission for this website. This will not affect your price.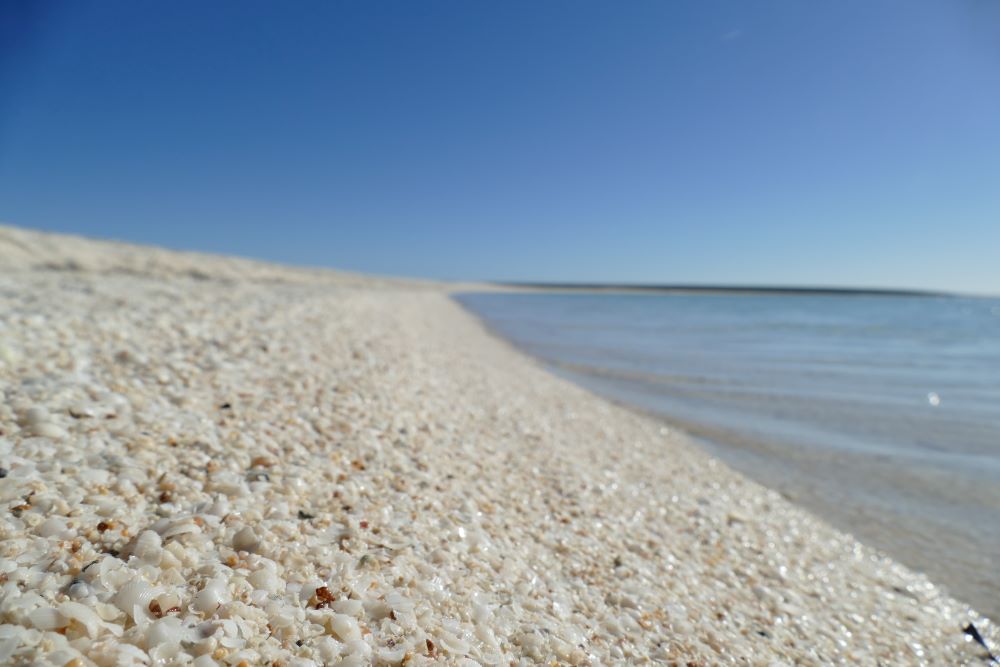 The waters around Shark Bay teem with marine life, making the area one of Australia's best for spots for fishing, diving and snorkelling. The region is also home to a resident population of dolphins that come into shore at Monkey Mia.
Why is Shark Bay a UNESCO World Heritage site?
Shark Bay is recognised for its "unique, rare and superlative natural phenomena and formations of exceptional natural beauty and its ecosystems representing evolutionary history," according to UNESCO. The headline features are the Hamelin Pool stromatolites – living fossils that were some of earth's earliest life forms – and vast beds of sea grass which are home to thousands of dugongs.
What can you expect on a visit?
You can't help being struck by how remote and dry the area is. You might never be far from bays and beaches but make no mistake, this is a part of Australia where arid land meets the sea. Against this harsh backdrop you'll see places of great beauty and abundant marine life.
Walk along Shell Beach where the shore is made entirely of tiny white shells. Four wheel drive on sand tracks to ochre red cliffs and turquoise water. Cruise to Dirk Hartog Island or the sea grass beds to see and swim with dugongs, turtles, rays and sharks. Stand atop dramatic sea cliffs at the westernmost tip of Australia: Steep Point.
It can take over two hours to drive between the attractions in Shark Bay. Along the way you'll likely spot kangaroos, emus and goannas from the road. July to October is wildflower season. The splashes of colour are also a nice sight as you drive through the area.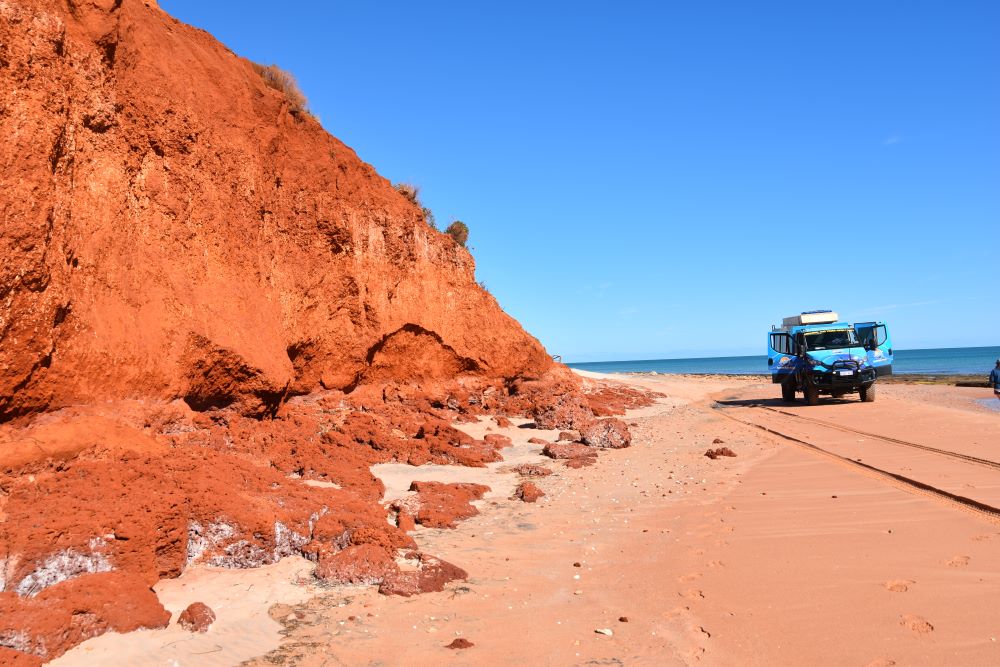 Is Shark Bay worth visiting?
You'll see things at Shark Bay you won't see anywhere else in the world; however, it does take a special trip to get there. Even if you are doing a Western Australia road trip, Shark Bay is still off the main road. For adventurous travellers who appreciate remote, wilderness settings, Shark Bay is worth the effort. It is also on the way to the Ningaloo Coast World Heritage Site.
Shark Bay is a large area and there is a lot to see. You wouldn't want to spend less than three days here and you could comfortably fill the best part of a week driving, swimming, cruising and walking around the region.
Tips for visiting
The best time to visit Shark Bay is between April and October. Over the Australian summer, Shark Bay regularly reaches over 40 degrees Celsius (104F).
The only town in the area is Denham. It has a range of accommodation options and supplies. Basic camping is available at sites in the national parks around Shark Bay.
Book your accommodations in Denham by clicking on the map below:
From Denham, make sure you check out the Monkey Mia dolphins; Eagle Bluff Lookout where you can spot sharks, rays, and dugongs; and visit the fascinating Ocean Park Aquarium.
If you don't have a 4WD, you can book tours to sites like Cape Peron and Steep Point. The local guides add enormous value to the experience.
Where is Shark Bay?
Shark Bay is on the west coast of Australia. It is 750 kilometres (466 miles) from Western Australia's capital city, Perth. There are regional flights between Perth and Denham and a bus service. But, to be honest, driving is the best option.
The sites around Shark Bay are so spread out you will need a car to get between them. It is the ideal trip to do in a campervan. There is a lot to see between Perth and Shark Bay and beyond and a camper will give you the flexibility to get the most from visiting this amazing part of the world.
For more information about Shark Bay and its many natural attractions, visit the official Shark Bay website.
Text and photos provided by Curious Campers. Natalie & Steve have been travelling Australia for over ten years and have heaps of firsthand experience on a range of destinations, tours and activities. So, if you want to 'know before you go', they can help you out. From daytrips and wildlife tours to accommodation reviews and local sights, Curious Campers can help you put together the perfect itinerary. Find them on Facebook or Instagram.
Have you been to Shark Bay? If so, do you have any additional information or advice about this UNESCO World Heritage site? Please add your comments below!