Kulangsu, a Historic International Settlement
By Mike Cairnduff
What is Kulangsu?
Kulangsu is a small, car-free island located off the east coast of China. It's part of the city of Xiamen, a metropolis which is home to about 4 million people.
In 1843, Xiamen was opened up as a commercial port to foreigners. This was due to the Treaty of Nanjing between China and Great Britain, which would also see Hong Kong ceded to the British. Thanks to its good conditions for shipping and transportation, Kulangsu Island was chosen as Xiamen's foreign trade port. Numerous countries and their peoples became established on the island, including France, Japan, England and The Netherlands.
Disclosure: This article contains affiliate links. Making a purchase through an affiliate link will mean a small commission for this website. This will not affect your price.
While foreign countries no longer have a presence on the island, old buildings such as mansions, churches, government offices, and schools still remain. The locals know this historic international settlement as Gulangyu, which is the Mandarin pronunciation.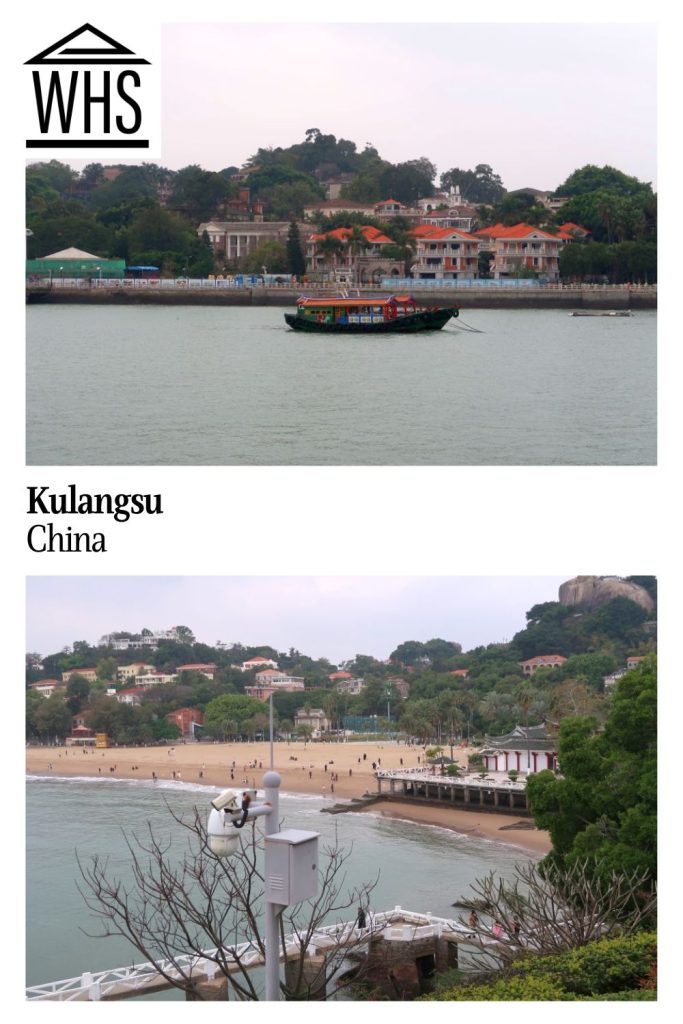 Why is Kulangsu a UNESCO World Heritage site?
The island has a rich cultural heritage that's actually drawn from a variety of foreign cultures and peoples who previously inhabited the island. According to UNESCO, the island became "an important window for Sino-foreign exchanges".
This is very different to the country's other UNESCO sites such as the Summer Palace and Temple of Heaven, which are uniquely Chinese.
Kulangsu is home to numerous buildings and structures built in a range of architectural styles. The most unique is the Amoy Deco Style, a combination of modernist and art deco, derived from its various foreign architectural influences. But it's not just buildings that make the island special – it's the historic roads, spatial layout, streets and districts.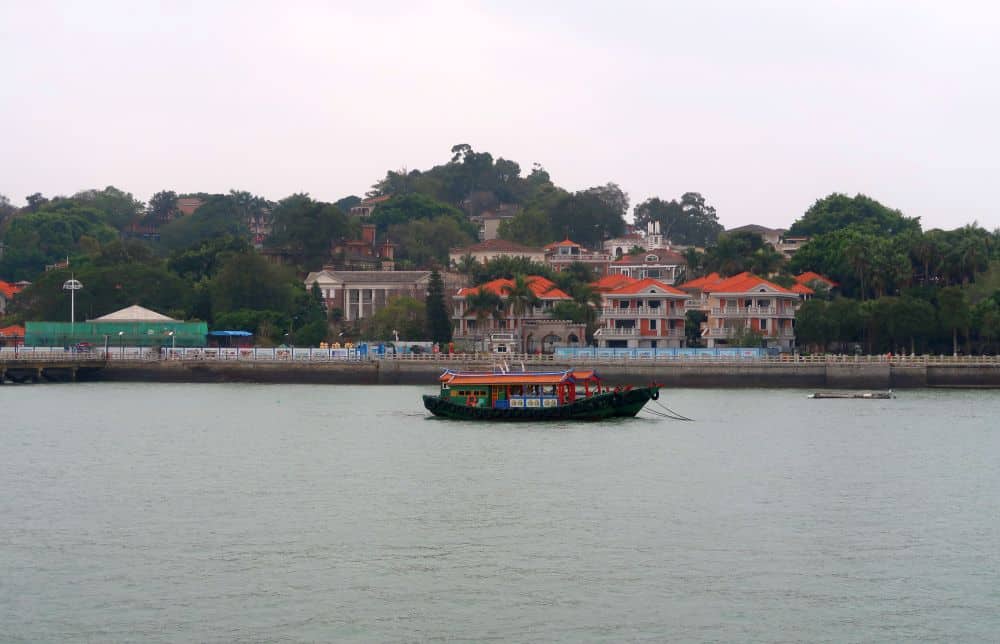 What can you expect on a visit to Kulangsu?
Foreign powers brought foreign culture into China, including classical music such as the piano and violin. That's why the island is often referred to as Piano Island. So you can expect to see some beautiful old pianos at Kulangsu's museum which is dedicated to this majestic instrument. If you're lucky, you can even catch a live music performance at the island's orchestra hall.
The best thing you will see here is all the different architectural styles. Each country had their own flair and that's reflected in the buildings you can see.
Even though the island is small, it's both car-free and bicycle-free, so you'll get to do lots of walking. This is a nice change from mainland China where cars rule the roads.
There are also intricate gardens to explore, sandy beaches, and natural formations such as Sunlight Rock for views over Xiamen. The island is well signposted, so there's no chance of getting lost!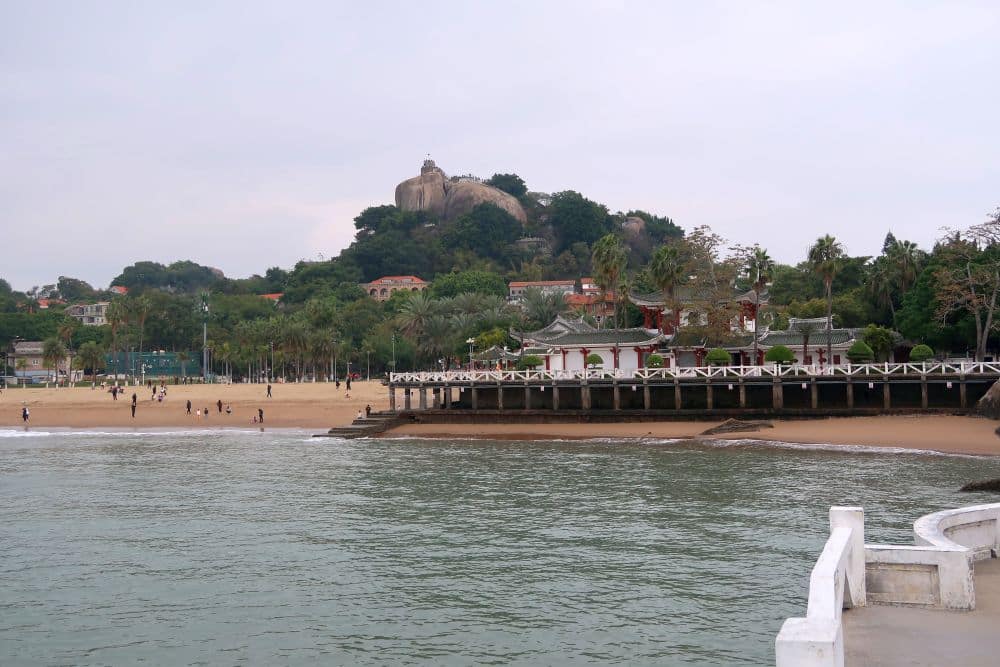 Is Kulangsu worth visiting?
Although Kulangsu is one of the best things to see in Xiamen, don't expect the massive, ornate or exquisite buildings that you might see in other parts of the world. Kulangsu was an international settlement, and while some of the buildings are pretty, they were built to be functional rather than to be masterpieces.
What's most special about the island is that it was home to a diverse range of people from different countries and cultures, creating a fusion in an otherwise homogenous society. So in this sense, it's a refreshing change from most of China's other historical sites.
There are lots of little inns where you can stay overnight on the island, or you can book a hotel near the ferry terminal. Some suggest you stay for days or even longer. However, I spent half a day on Kulangsu and that was enough for me.
I preferred the city's other UNESCO site, the Fujian Tulou, though it's impossible to compare the two as they're totally different sites.
I also expected Kulangsu to be more bohemian and laidback. But it feels like most other Chinese attractions which are super-touristy, crowded, and covered by security cameras.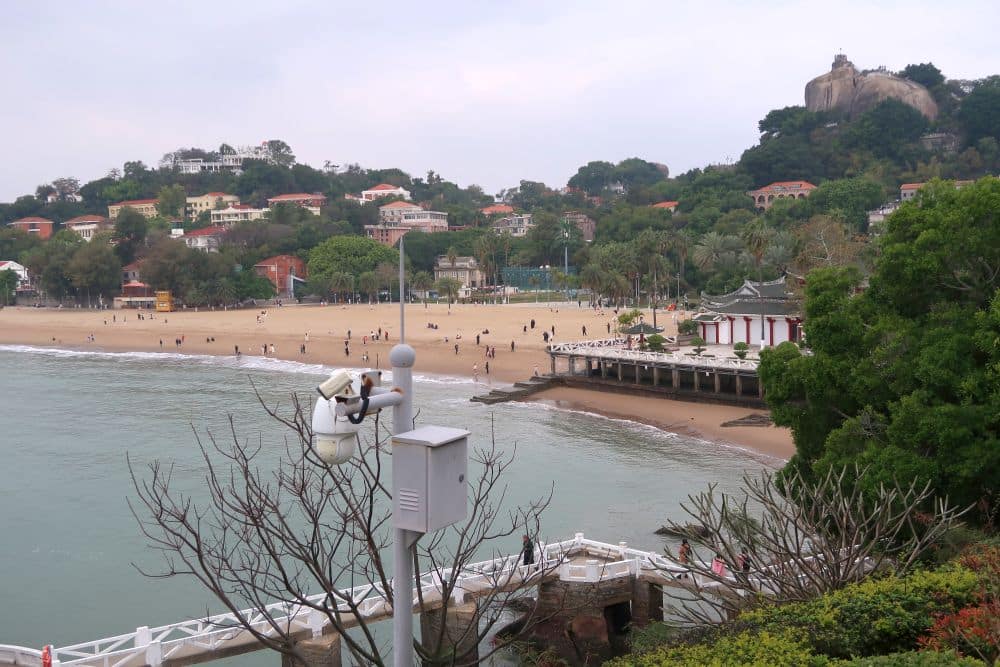 What sorts of travelers would like Kulangsu?
History lovers will enjoy spending time at Kulangsu. The good thing about the island is you can stay there all day, or longer if you spend the night there.
Even if you don't like history, you'll enjoy getting to the island itself. The only way you can get there is by catching a ferry from Xiamen's main cruise ship terminal, which takes about 20 minutes and takes in all the lovely views of the coast and city center.
You could then walk around the island and be back on the ferry within a couple of hours.
Kulangsu is also home to many cats, so if you're a cat person you'll be in your element!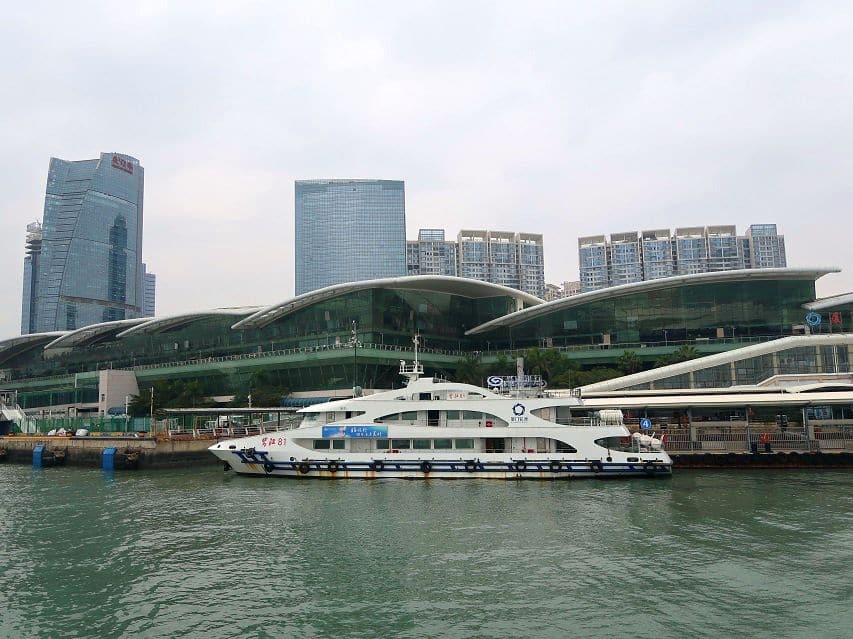 Tips for visiting Kulangsu
The entry price includes both the ferry and admission to the island – prices fluctuate depending on the time of day you choose (earliest is cheapest).
Anyway, it's a good idea to arrive at the ferry port very early (e.g. 7.30am) for fewer crowds. Avoid going on the weekend or public holidays as that will be the busiest.
Or sign up for a tour of Kulangsu and Xiamen.
Make sure you go to the correct ferry port – the one at the end of Zhongshan Road (Xiamen's main shopping street) is only for locals who live on the island.
Don't bother bringing your swimwear as all the beaches prohibit swimming.
Some sites on the island, such as the Piano Museum, require an extra fee to get in.
The Fujian Tulou buildings are a few hours away from Xiamen, so you won't be able to visit both Kulangsu and the Tulou on the same day.
Where is Kulangsu?
It's just across the harbor from downtown Xiamen. If you're not part of a tour group that will take you there, you can reach the cruise terminal by:
Taking Subway Line 2 to Cruise Center station,
Catching the hop-on-hop-off bus, or
Catching a taxi or Didi (China's Uber).
Walking is also an option, depending on where you're staying in Xiamen. Walking from Zhongshan Pedestrian Street takes one hour.
The Chinese name for the ferry port is 厦鼓码头 and the address is 湖里区东港路2号.
For more information about Kulangsu, its opening hours and admission fees, see its official website.
Text and photos provided by Mike Cairnduff of The Helpful Panda, a site dedicated to making your trip to China amazing.
Have you been to Kulangsu? If so, do you have any additional information or advice about this UNESCO World Heritage site? Please add your comments below!