San Marino Historic Centre and Mount Titano
By Pamela
What is San Marino Historic Center and Mount Titano?
San Marino is a land-locked micro country in Italy. Due to its size – about 61 square kilometers (24 square miles) – it's often overlooked by travelers. The capital of the county is also San Marino. It's the hub of the country, home to political, financial, and social gatherings. At the heart of the capital, standing proudly on Mount Titano, is the Historic Centre featuring three towers.
Disclosure: This article contains affiliate links. Making a purchase through an affiliate link will mean a small commission for this website. This will not affect your price.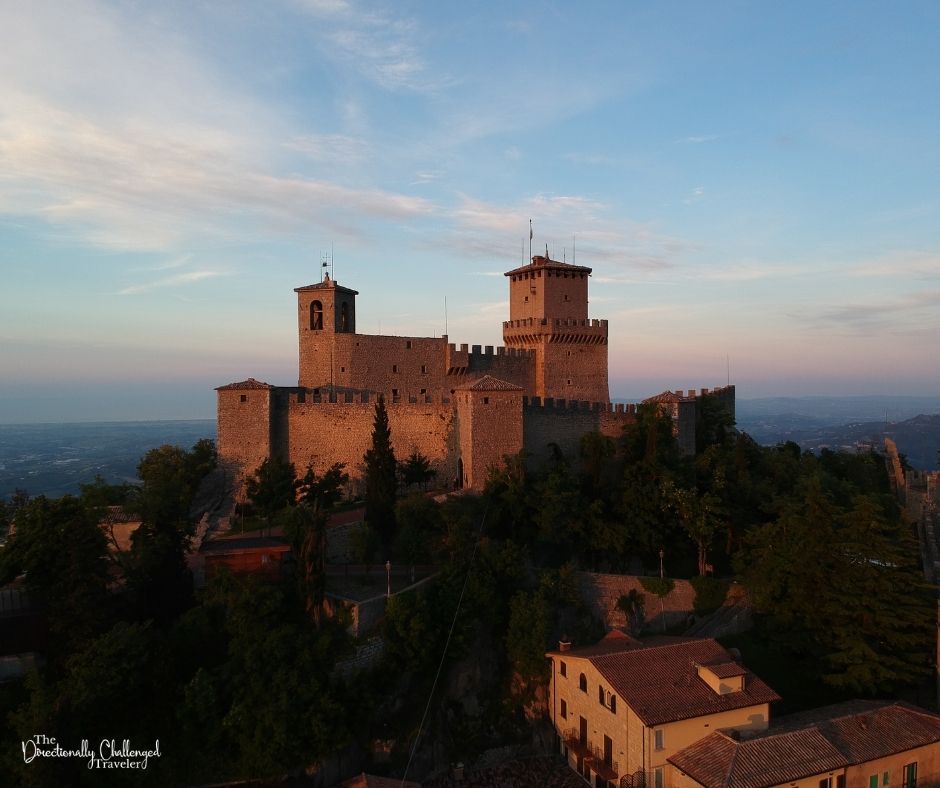 Why is San Marino a UNESCO World Heritage site?
The San Marino Historic Centre and Mount Titano were designated as UNESCO World Heritage sites in 2008. A republic since the 13th century, San Marino is the world's oldest republic and the only surviving Italian city-state. The city itself dates back to 301 AD.
According to UNESCO's website, "San Marino is inscribed as a testimony to the continuity of a free republic since the Middle Ages." It's a testament to "the establishment of a representative democracy based on civic autonomy and self-governance…"
Take a walking tour of San Marino.
What can you expect on a visit to San Marino?
For its small size, there are plenty of things to do in San Marino. The towering Mount Titano with the castle of San Marino can put any traveler in a state of awe. The history is intricately woven throughout the streets of the city. It's impressive that such a small country has so many significant sights.
Take a few hours to explore the towers of San Marino. Rocca Guaita (1st tower) is the oldest. Originally used as a prison in the 11th century, it was rebuilt a few times until its current form was built in the 15th century. Rocca Cesta (2nd tower) is home to a museum to honor Saint Marinus. It has over 1,500 weapons on display dating back to the medieval period. Rocca Montal (3rd tower) is not open to the public, but definitely worth a photo stop!
Throughout the city, you'll find plenty of churches, palaces, and squares proudly putting the history of the city on display. The Piazza della Liberta (Freedom Square), Titano Theatre, and the Church of San Francesco are beautiful places to visit. Two convents (14th and 16th century) and the 19th century Palazzo Publico are also part of the UNESCO designation.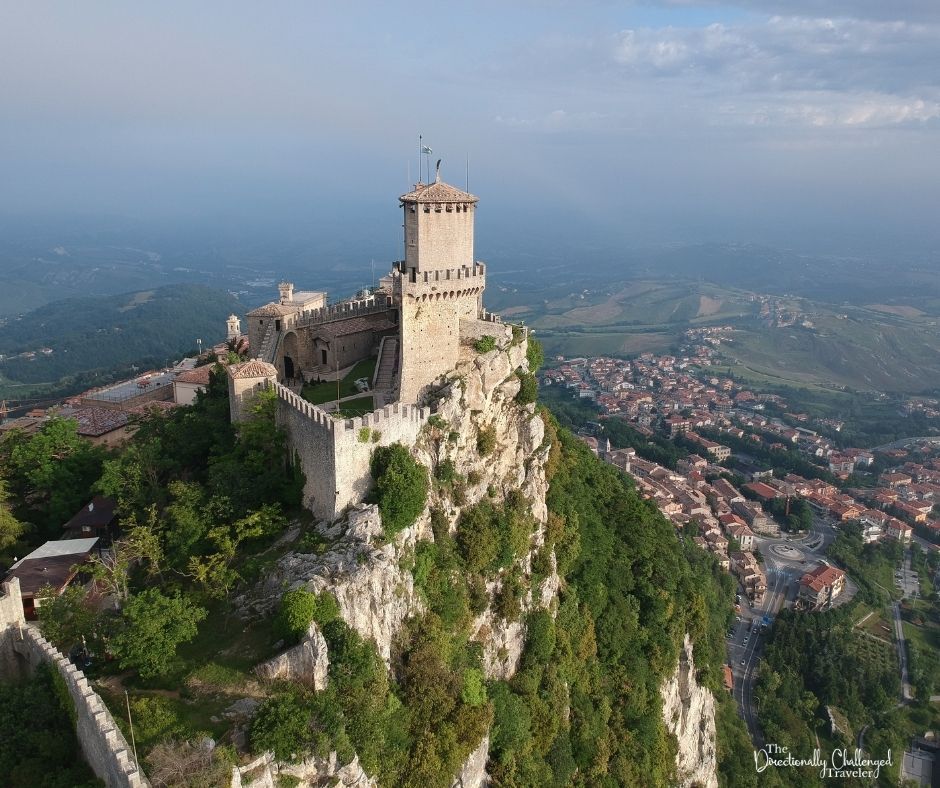 Is San Marino worth visiting?
San Marino is a hidden gem that most people assume is a city in Italy. So if you like getting off the beaten path, then it's definitely worth at least one night.
What sorts of travelers would like visiting San Marino?
Any traveler who likes European history would feel at home in San Marino. Even if you just like to relax and look at a beautiful view, you'll enjoy San Marino. You can see the rolling hills of the Italian countryside for miles and the sunset is stunning.
Tips for Visiting San Marino
The most important thing to remember is that at the center of San Marino is a mountain. Be sure to pack comfortable shoes for the inclines! If you can stay at a hotel at the top of the mountain, like Hotel Cesare, even better.
Use the map below to book accommodations in or near San Marino:
Where is San Marino?
San Marino is located about three hours south of Venice, Italy. You can take a train from Venice to Bologna to San Marino in about four hours. The longest way to get between the two cities is by bus and takes about six hours. If you're driving, it'll take about two and a half hours. You can also drive along the coast for beautiful views of the ocean.
For more information about San Marino, and how to get there, see its official website.
Text and photos provided by Pamela, the Directionally Challenged Traveler. She's gotten lost on all seven continents and doesn't plan on slowing down any time soon. Her motto is to let the bucket list flow and let the world guide your travels.