By Nina Clapperton
What is Rideau Canal?
The Rideau Canal is Ottawa, Canada's most famous landmark. It has been designated a UNESCO World Heritage Site and in 2007 was named one of the Seven Wonders of Canada by CBC viewers across the country.
The canal starts at Ottawa, heads east for 193 kilometres to Kingston, then south-west to Ottawa again.
Disclosure: This article contains affiliate links. Making a purchase through an affiliate link will mean a small commission for this website. This will not affect your price.
It was initially built as a strategic route for military purposes that allowed the British troops to defend the colony of Canada from American attacks. It was a crucial part of the development of two separate North American nations.
Today it is used mainly for recreational purposes with many people paddling their way along its banks on kayaks or canoes.
It has locks along its length which are operated daily during summer months from May 15th through October 15th each year.
In the winter, it becomes the world's longest outdoor skating rink.
Why is the Rideau Canal a World Heritage Site?
The Rideau Canal was designated a World Heritage site for two reasons.
Firstly, it is a perfectly preserved slackwater canal – the best one in North America. It shows the European technology from the 19th century. As of its designation, it was the only operational slackwater canal that remains in North America from this time period.
Secondly, the canal is a well-preserved example of a military-use canal. Its significance to the development of the two separate countries in North America makes it vital to the cultural landscape of the continent.
What can you expect on a visit to Rideau Canal?
The Rideau Canal morphs drastically from summer to winter.
During the summer, it is filled with Ottawa residents who are using canoes and kayaks to get around. Visitors can rent their own water transportation or take a river cruise offered by one of the many tour companies in the city. Find a cruise to take at one of the stands outside of Parliament.
Alternatively, book your boat trip ahead through this link!
Then during winter (from December 15th through March 31st) the canal becomes the world's largest outdoor skating rink – 17.4 km long! You'll find Beaver Tails huts, skate rentals, and maple syrup shacks on the canal while myriads of people go ice-skating past. You'll even see business people skating to work!
It's very popular to visit all year round. In spring, you can even spot the famous Ottawa tulip festival from the tributary into Dow's Lake.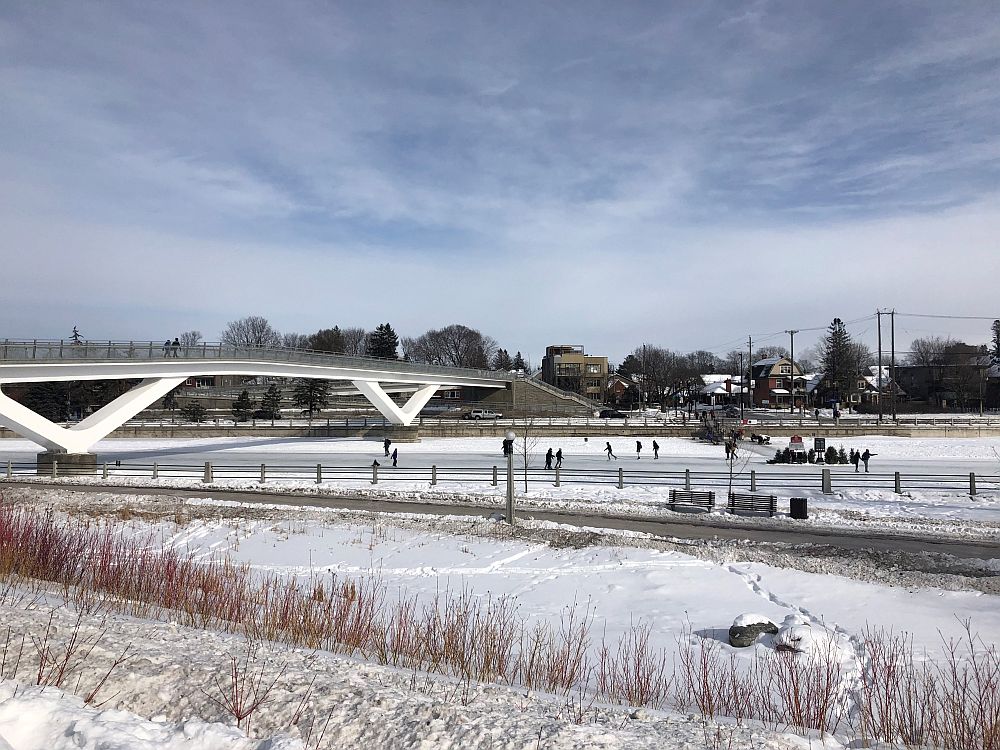 Is Rideau Canal worth visiting?
You may think a canal is nothing to write home about, but you'd be wrong. The Rideau Canal in Ottawa is not only beautiful, but also historic. It's worth visiting for both curiosity and beauty.
While there isn't much to show its relation to the former military conquests, aside from a few empty cannons near the locks, it offers a lot to see and do.
It's also easy to visit when you're in Ottawa. You can stop by en route from Parliament or the famous Chateau Laurier. Since it's free to visit, you can also just stop and enjoy the view.
And if you're feeling more adventurous, rent ice skates or boat to cruise along Ottawa's canal system.
What sorts of travelers would like it?
The Rideau Canal is perfect for any kind of traveler.
Families love to visit it year-round to enjoy the adventurous activities that will surely tire out their kids.
Couples can enjoy the romance of a winter ice skate, bundled up in their woolen scarves. Or in summer they can cuddle up on a canal boat as they traverse the lock system.
Solo travelers won't feel like they stand out amongst the crowds enjoying the natural beauty of Ottawa's most famous waterway. In fact, they'll be amongst many other solo canal-goers!
This isn't a stop for people who hate cold if you want to visit in the winter. Temperatures regularly drop to -20C (-4F).
Similarly, in summer, heat haters won't enjoy the 30C (86F) weather.
Tips for visiting Ottawa
Ottawa is a very walkable city, which means you can easily take in the Rideau Canal on foot.
Ottawa gets cold in winter. You'll need to layer up in your Canada winter gear – including some insulated thermal underwear.
You can rent a canal cruise same-day, but during summer it is safest to book ahead. (Use this link.)
Free walking tours are offered daily of Parliament, Downtown Ottawa, and Byward Market.
Ottawa has some of the best museums in Canada. Be sure to stop by for some educational experiences where you can better understand Canada.
Renting your own skates for the canal can cost as much as buying new if you go more than twice. Check out online postings for used skates nearby that you can get instead to save some money.
The best time to skate the canal is early, at sunrise. There are technically opening hours for the canal, but they really only apply to the services. Go early when there are few people and skate at the golden hour.
Use the map below to book your accommodations in Ottawa!
Where is it?
The Rideau Canal is in the centre of Ottawa. You'll easily find it on GPS. However, it has many entrances so you'll need to decide where you want to stop if you're parking to visit this site.
I recommend using Parliament Hill, Pretoria, or Lansdowne as your landmarks to search for an entrance to the Rideau Canal.
It is easy to drive from most of Ottawa's major attractions and popular accommodations, many of which are situated on the banks of the canal. However, parking can be challenging. There are paid lots at Pretoria and Lansdowne. Free street parking is limited near Lansdowne, and is especially challenging to find on nice days year-round when people flock to the canal.
It is easier to walk to the canal or to take public transport.
You would only need to take public transport to get to a different end of the canal. This is most often what happens when people skate the length of the canal and are too tired to return on the ice. In that case, you will need to catch a bus from Dow's Lake to Parliament Hill. This will take about 30 minutes, depending on traffic.
For more information about the Rideau Canal, its opening hours and admission fees, see its official website.
Text and photos provided by Nina Clapperton of Nina Out and About. Be empowered to solo female travel or move abroad alone with her resourceful travel guides.
Have you been to Rideau Canal? If so, do you have any additional information or advice about this UNESCO World Heritage site? Please add your comments below!