By Sydney
What is the City of Quito?
The City of Quito is Ecuador's capital and second-largest city by population. The city is a popular spot for tourists visiting Ecuador, and is frequently used as a jumping-off point for those visiting the Galapagos Islands.
Disclosure: This article contains affiliate links. Making a purchase through an affiliate link will mean a small commission for this website. This will not affect your price.
Quito sits high in the Andean foothills; its elevation of 9280 feet (2850 meters) above sea level makes it the second-highest capital city in the world. Quito's focal point is its historic Old Town, one of the best-preserved historic centers in the Americas.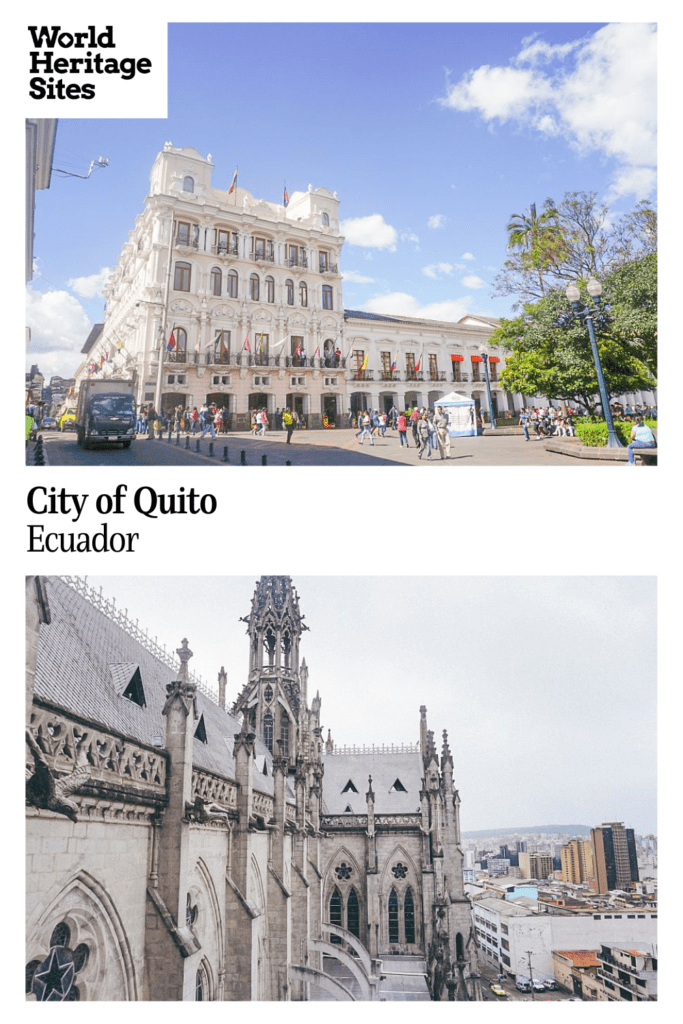 Why is the City of Quito a UNESCO World Heritage site?
The City of Quito has been a designated UNESCO World Heritage Site since 1978, making it one of the first sites chosen.
One of the primary reasons that the City of Quito was chosen to be a UNESCO World Heritage Site was because of its incredibly preserved historic center, even after facing damage from an earthquake in 1917. When visiting today, you'll be able to see churches, monasteries, and other historic buildings that look nearly the same as they did when they were first constructed.
According to the UNESCO website, Quito's architecture includes excellent examples of the "Baroque School of Quito," which is "a fusion of Spanish, Italian, Moorish, Flemish and indigenous art." It mentions the Monasteries of San Francisco and Santo Domingo and the Church and Jesuit College of La Compañía as particular examples of this style.
The city is proud of its historic center, and measures have been put in place to ensure its preservation for the future, including limits on public transport lines running through the center, the development of pedestrian zones, and measures to protect the area from natural disasters.
What can you expect on a visit to Quito?
You can easily spend a full day exploring the monasteries, churches, and other historic buildings in the Quito Historic Center. Don't miss the magnificent Basilica del Voto Nacional, Quito's largest and most famous church. You can explore the inside, taking in the ornate stained glass and neogothic architecture, and if you're feeling brave, you can climb the church towers for amazing panoramic views of the city.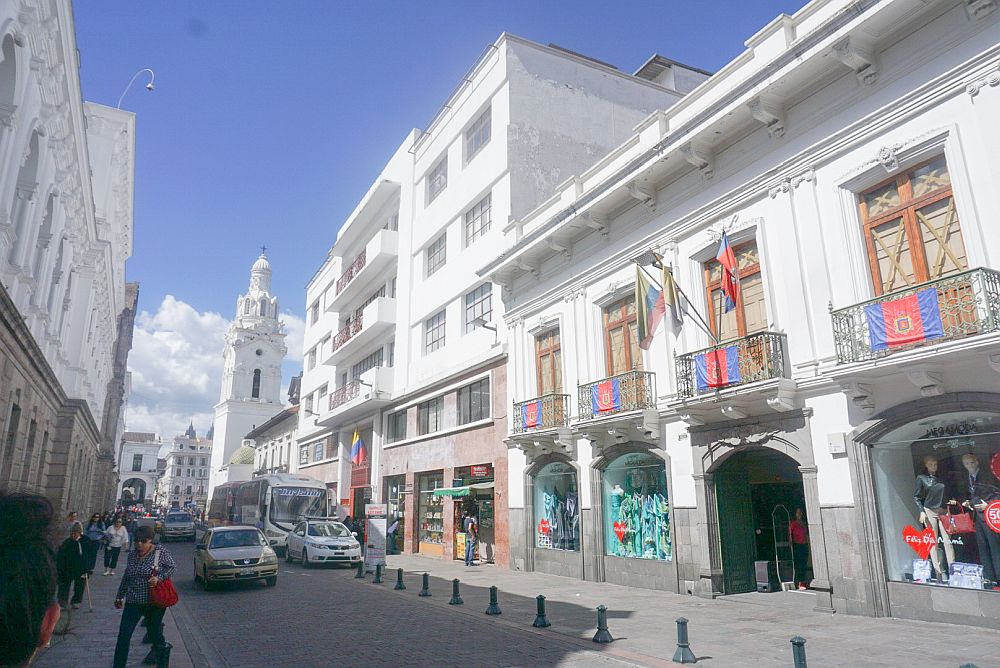 Other must-sees in the historic center include the Iglesia (Church) de la Compañía de Jesús, with an interior covered in gold-leaf, the monasteries of San Francisco and Santo Domingo, and Plaza de la Independencia – Quito's largest square.
Quito has so much to do outside of the historic center as well. Take a half-day trip to Mitad del Mundo to see Ecuador's namesake: the Equator. Here, you can visit the famous monument where you can stand in two hemispheres at once, or visit the Museo Intiñan, a fun museum that claims to sit on the most accurate equator line. More things to do in Quito include riding the TeleferiQo up the side of the Pichincha Volcano to an incredible lookout over the city, bar and restaurant-hopping in Quito's New Town, or visiting one of the city's 50+ museums.
Is Quito worth visiting?
Quito is often ignored by travelers visiting Ecuador – many visitors will spend one night in the city after flying into Ecuador before heading off to the Galapagos the next day. However, the city is full of amazing things to do. You can easily spend at least 3 days in Quito without getting bored. Even if you're short on time, simply walking around the city while admiring its architecture and surrounding scenery is worth it.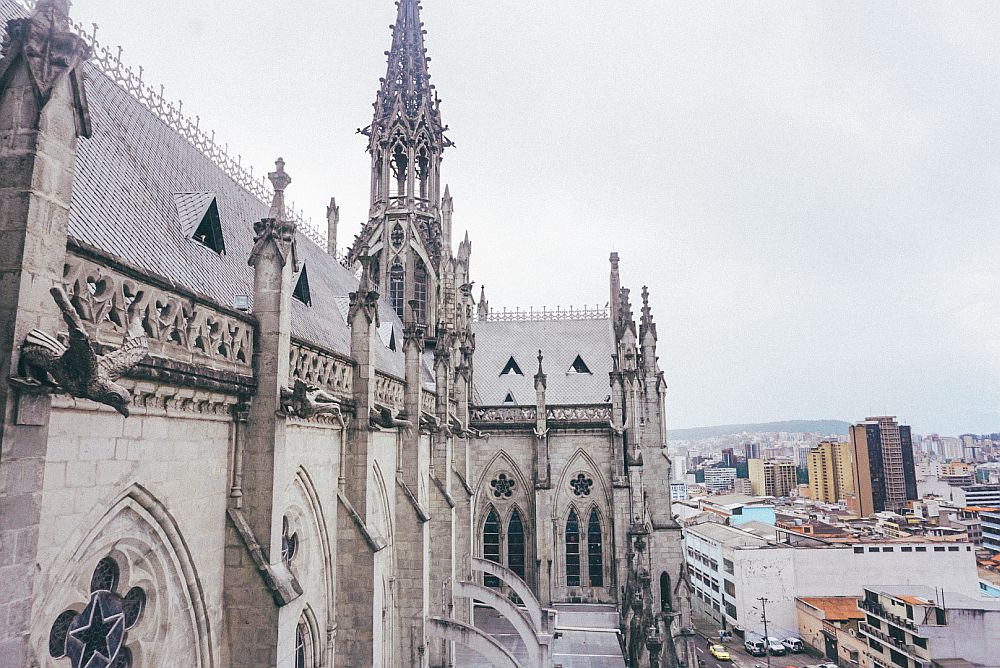 What sorts of travelers would like Quito?
Quito is a city that's friendly for both seasoned and newbie travelers. You don't need to be fluent in Spanish to get around, though it can be helpful to learn a few common words and phrases before you go.
Quito and much of the rest of Ecuador is also a great spot for budget travelers. Accommodation, admission fees to attractions, and taxi rides around Quito are all super cheap, especially compared to other capital cities around the world. Also, if you're lucky, you might be able to score a significantly-discounted, last-minute Galapagos Islands tour that's over 50% off the regular price, putting a destination that wouldn't typically be considered "budget-friendly" within reach.
Use the map below to book accommodations in or near the historic center of Quito:
Tips for visiting Quito
Quito isn't a dangerous city, but some precautions should be taken when exploring. Keep any valuables, like phones or cameras, put away when they're not in use. It's especially important to keep your phone put away while walking – some opportunistic thieves look for unsuspecting tourists holding their phones so that they can grab them out of their hands.
Unless you're a seasoned traveler, you'll probably want to use taxis to get around the city. Taxis are easy to find and pretty cheap – usually between $1-3 for a ride. Make sure your driver turns on the meter, and that the meter is visible to you (don't let them pull the car's sun visor down to cover the meter). Otherwise, you may be charged a hefty fee for a ride that should have been just a couple of dollars.
Ecuador's official currency is the US dollar, which makes everything super easy if that's the currency of your home country. Try to bring several $1 bills from home – ATMs typically dispense $20s and small shops and merchants might not be able to make change.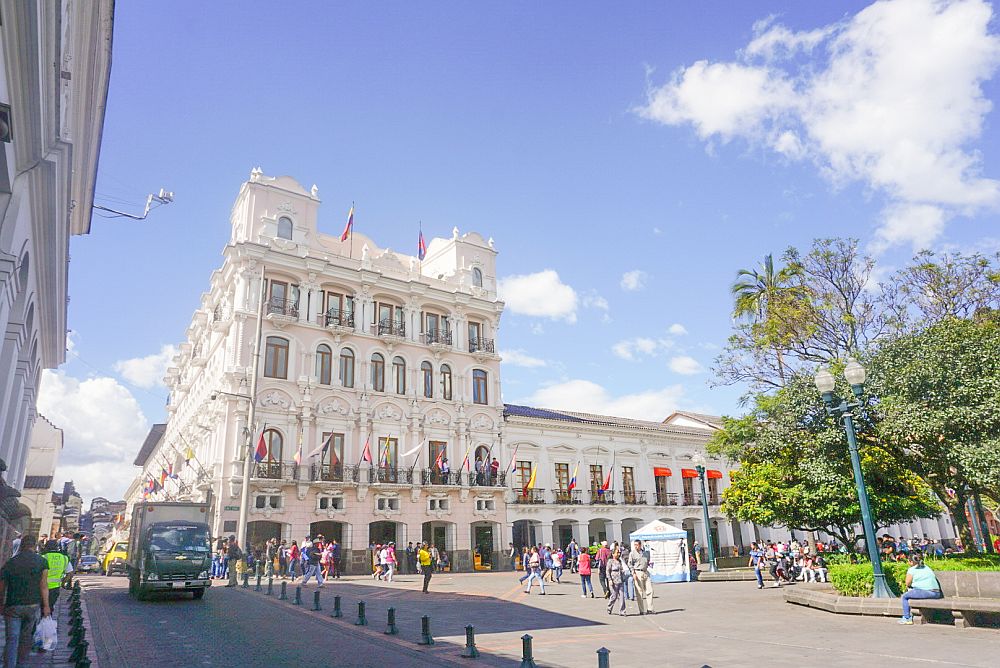 Where is Quito?
Quito is located in the northern part of Ecuador. It is served by Mariscal Sucre International Airport, one of the busiest airports in South America. The airport is well-connected with flights to and from various destinations in the Americas and Europe.
Quito is also connected to other cities in South America via bus lines.
For more information about the City of Quito, visit the Quito Tourism Official Site.
Text and photos provided by Sydney from A World in Reach. After falling in love with traveling the world while studying abroad in college, Sydney started A World in Reach to inspire other wannabe travelers to see the world while minimizing their expenses and maximizing their experiences.
Have you been to Quito? If so, do you have any additional information or advice about this UNESCO World Heritage site? Please add your comments below!