By Chris Fry
What is Purnululu National Park?
Purnululu National Park is famous for its unique natural surroundings, aboriginal heritage, and over 200,000 hectares in size. It's located on the western side of Australia and is only accessible by a four-wheel-drive vehicle or by air. One of the biggest highlights is the beehive rock formations on the Bungle Bungle Range. It's said to have existed for around 350 million years, but was a secret location to the non-aboriginal world until 1983.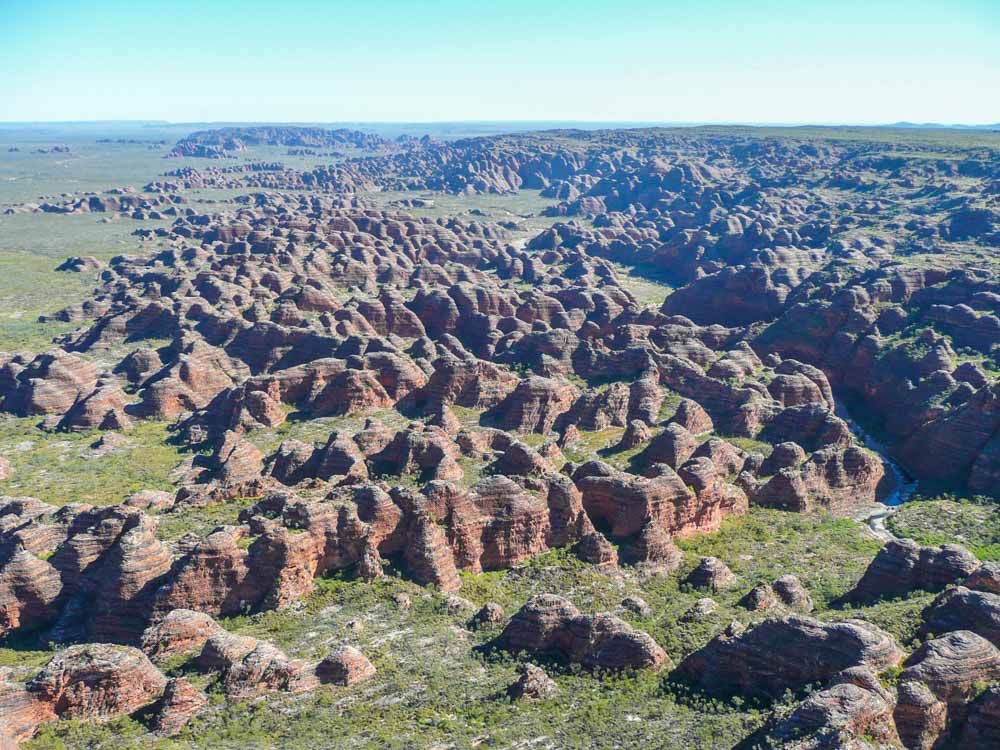 Disclosure: This article contains affiliate links. Making a purchase through an affiliate link will mean a small commission for this website. This will not affect your price.
The area has several different walking trails, the Cathedral Gorge Amphitheatre, and unique flora and fauna. On a visit here, you'll be amazed and excited at the awe-inspiring scenes you can see. It's a maze of orange and black striped sandstone domes, rising 250 metres above the grasslands of the arid Kimberley region. This is much like a giant beehive and could be one of the most loved attractions in Western Australia.
Aboriginal people have lived here for more than 40,000 years, and you can see remnants of this all over the park. If you take a guided tour, they will show you painted rock art, sacred areas, burial sites, and they'll demonstrate foraging for bush tucker (food). Listen to their ancient stories, find out how they hunt for food, and learn how they grow as a community.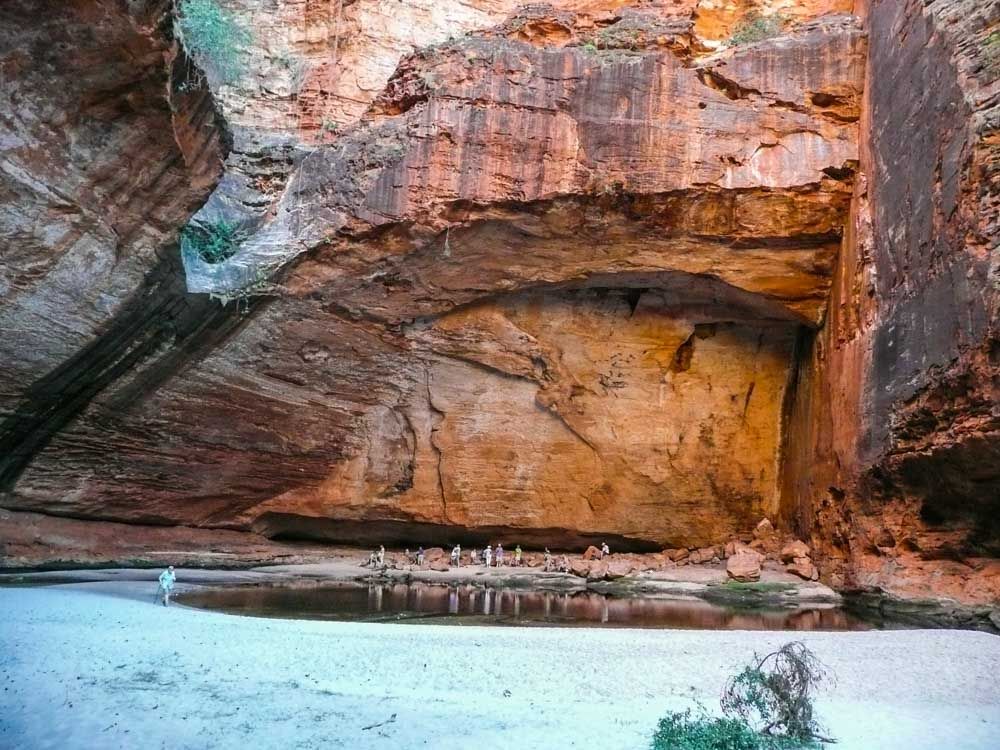 You will not regret your visit to Purnululu National Park, and it will be hard to see anything like it anywhere else.
Why is Purnululu National Park a UNESCO World Heritage site?
The Purnululu National Park is on the UNESCO World Heritage list due to its outstanding beauty: "The dramatically sculptured structures, unrivalled in their scale, extent, grandeur and diversity of form anywhere in the world, undergo remarkable daily and seasonal variation in appearance, including striking colour transition following rain and with the positioning of the sun." The Bungle Bungles are the best example of cone karst in sandstone worldwide.
What can you expect on a visit?
Natural landscape formations like Purnululu National Park can change dramatically throughout the year. In the rain, rock formations can change colour, while creeks and waterholes can increase in depth, and canyons can become inaccessible. Therefore, the winter season between March and October is the best time to visit.
You should be physically fit to handle the rocky paths, lengthy hikes, and uneven ground. However, the areas you see will be well worth it. Guided tours can make the experience easier while also helping you to learn more about the area's history and stories.
Helicopter flights are available to help you see this massive area and help you understand how big Purnululu National Park is.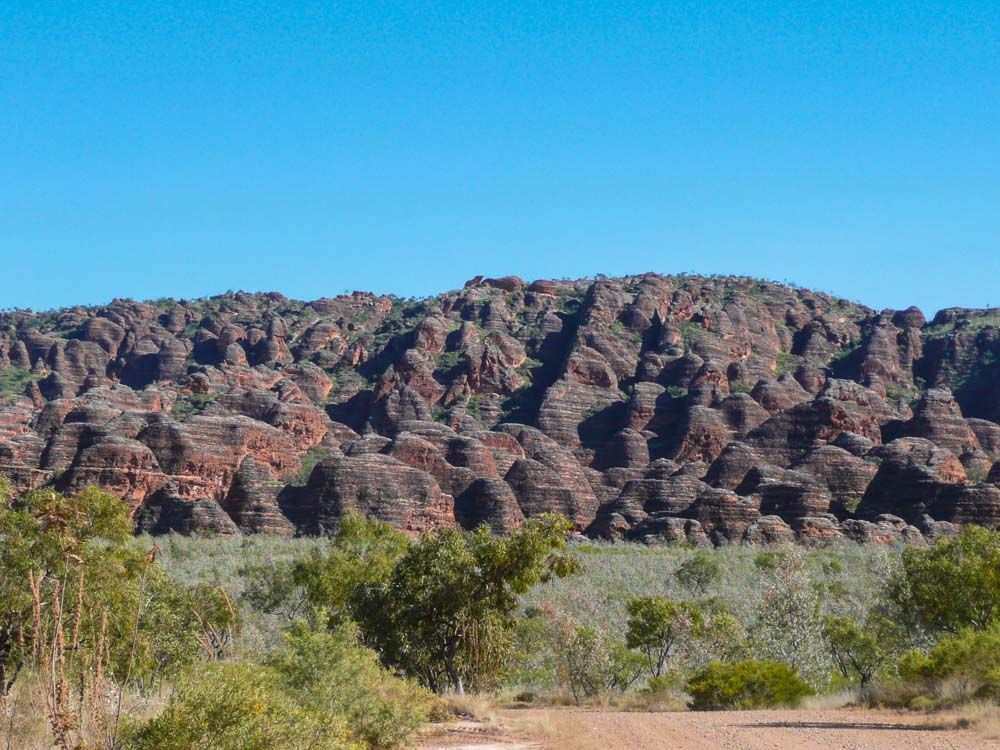 Is Purnululu National Park worth visiting?
It's definitely worth a visit if you're looking at exploring secluded and unusual locations. And the photos of the Purnululu National Park will "Wow!" your friends and family.
You could make a special trip to see Purnululu National Park on its own, but it's probably easier when visiting several different sites in the area. A couple of days will ensure you see the highlights, but a week-long visit will allow you to explore more and enhance the experience.
What sorts of travelers would like it?
This location is suited for adventure types and people who like hiking and exploring the area. Geologists and like-minded professionals would find the natural rock forms interesting. Furthermore, if plants and wildlife draw you to different places, Purnululu National Park holds a variety of native species.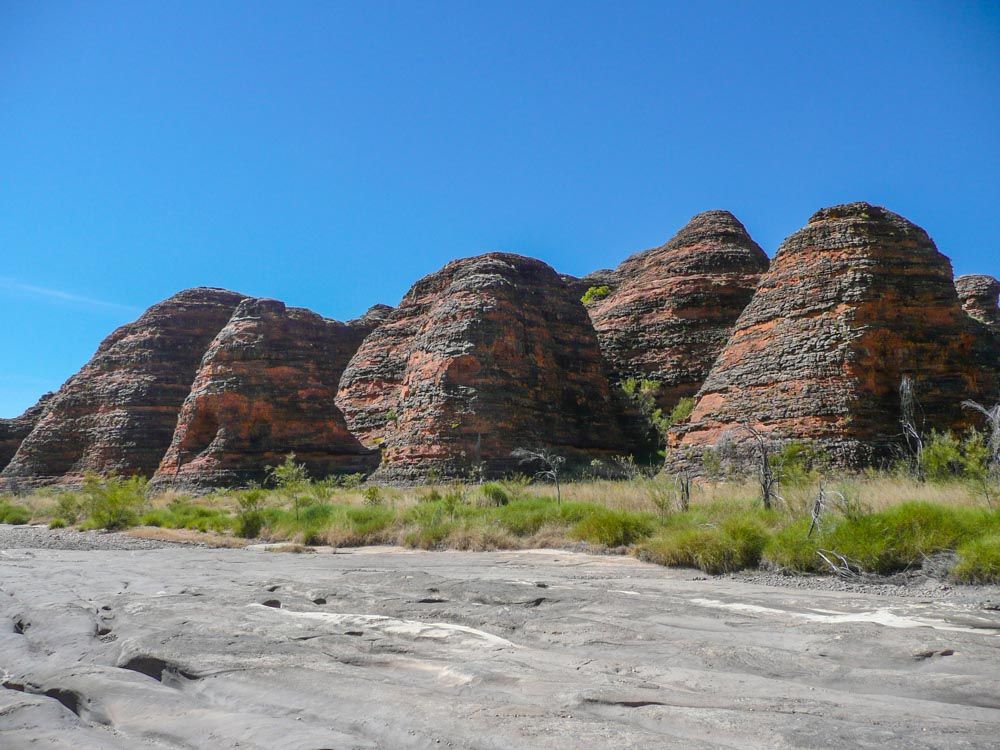 Tips for visiting
Wear comfortable, closed walking shoes.
Drive a four-wheel-drive, high-clearance vehicle and/or caravan.
Camping is the cheapest accommodation if you have the supplies.
You can enjoy staying in a cabin in the park at the Bungle Bungle Savannah Lodge or try glamping at Bungle Bungle Wilderness Lodge.
The helicopter flight will give you the best views.
Take a small tour to learn about the history from a local.
Early mornings or late afternoons will ensure fewer crowds.
Crowds increase from May to August each year.
Access domestic flights to Purnululu from Kununurra or Broome.
Recommended: a one-way guided land tour between Kununurra and Broome. This has plenty of other smaller sights along the way and includes fixed accommodations.
Try to catch a sunrise or sunset, as the colours in Outback Australia can be awe-inspiring.
Where is it?
Purnululu National Park is located in the northern part of Western Australia, bordering on the state of Northern Territory. It's a two-hour drive from Halls Creek, four hours from Kununurra, or 9.5 hours from the coastal town of Broome.
Travelling yourself, you will definitely need a four-wheel-drive, high-clearance vehicle. The roads are corrugated and long and if issues arise, there is limited assistance available. You will need to ensure you plan out your journey and are organised with sufficient supplies to travel.
There is no bus/train or any type of public transportation available to Purnululu National Park. However, without your own vehicle, you do have the choice to join a 7 to 10 day guided tour from either Kununurra or Broome. This will take you to several different towns and sights, all together in a fully-equipped 4WD bus.
For more information about the Purnululu National Park, its opening hours and admission fees, see its official website.
Text and photos provided by Chris Fry, the Aquarius Traveller. This is where she shares her journeys, provides valuable information and inspiration for your land and underwater travels.
Have you been to Purnululu? If so, do you have any additional information or advice about this UNESCO World Heritage site? Please add your comments below!